In 1993, Neil Tadken, a Los Angeles-based actor, was so moved by the HIV/AIDS-awareness storyline involving the character Billy Douglas (Ryan Phillippe) that had been running on One Life To Live that he wanted more attention paid on soap operas to people who have AIDS or who are HIV-positive. Tadken saw daytime television as the perfect medium in which to show and instill compassion toward individuals who have AIDS or HIV. He wrote to the producers of all ten daytime dramas, suggesting that on June 21 their shows mention AIDS and HIV in some way.
"Specifically, the focus would be on compassion, which taps into the better parts of ourselves," he said in an interview with Soap Opera Weekly at the time. "It's an opportunity for our colleagues in the entertainment industry to help educate and inform the public on the human side of AIDS, and to create passionate role models."
ABC's four soaps were the first to agree. That first year, Loving's entire cast wore red ribbons. On All My Children, Brooke and Edmund discussed a Tempo article on mothers with AIDS. One Life To Live's Sloan Carpenter made a speech at a Veterans Hospital about how angry he was about AIDS, since he had lost his son to the disease. On General Hospital, Bobbie counseled a woman with AIDS.
On NBC, Days of Our Lives featured Sami learning that a classmate had AIDS, and also had a scene in which Alice talked about AIDS awareness. Interestingly, The Young and the Restless and The Bold and the Beautiful -- both of which are big on socially relevant storylines -- did not participate that first year. Neither did the Procter & Gamble soaps -- Another World, Guiding Light, and As the World Turns. In later years, however, all of those daytime dramas joined in what was now being called the Day of Compassion.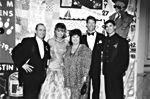 The soap that has gone all out for the Day of Compassion has been General Hospital, which now holds an annual Nurses' Ball to benefit the hospital's pediatric AIDS unit. But that's only the fictional side. In reality, the lively production educates viewers about AIDS and the people it affects, often dispelling stereotypes. One year, General Hospital even incorporated four 12" x 12" panels from the NAMES Project's AIDS Memorial Quilt. (Earlier, One Life To Live had also obtained some Quilt panels for the Billy Douglas storyline.)
In 1995, General Hospital displayed more panels from the Quilt in its Nurses' Ball, including several panels dedicated to Ryan White. Executive Producer Wendy Riche said at the time that she hoped "this Nurses' Ball and the Day of Compassion will help us to realize the importance of caring, commitment, and generosity when it comes to individuals who, for any reason, need our help."
Daytime television has long gotten a bad rap for being all T&A. But truth be told, this medium can do and has done more good than many others. With the luxury of time and continuity, the soaps are able to enlighten and educate their audience on countless issues, among them AIDS. And many viewers consider the characters on their favorite soaps as their families, so the lessons of these dramas hit close to home and stick.
This June 21, most if not all of the soaps will in some way participate in the Day of Compassion. The Young and the Restless's Malcolm might remember Keesha, whom he married right before she succumbed to AIDS. One Life To Live's Reverend Andrew Carpenter might have a special service for his brother, as well as others who have died of AIDS. All My Children's Stuart will no doubt remember his beloved Cindy, another soap character lost to AIDS. And, of course, General Hospital and _Port Charle_s will air the powerful and poignant Nurses' Ball.
The regular daytime storylines don't stop on June 21. The drama simply takes a backseat to the message these shows want to get across to have compassion for people whose lives have been affected by the scourge that is AIDS.
Mark McGarry is the Assistant News Editor at Soap Opera Weekly and a copy editor for Body Positive.
Back to the June 1999 Issue of Body Positive Magazine.