Civil Rights Legend James Meredith Lends His Voice to Mississippi's Upcoming Stand Against AIDS
In 1966, James Meredith embarked alone on the March Against Fear, a 220-mile walk from Memphis, Tennessee to Jackson, Mississippi. The March was intended to encourage African-Americans to register to vote and make an impact on elections. Meredith was no stranger to courageous acts: He had already become the first black student to enroll in the University of Mississippi. On the first day of the March, Meredith was shot by a sniper. The next day, civil rights leaders, including Martin Luther King, Stokely Carmichael and Floyd McKissick, continued Meredith's journey. Between 2,500 and 3,000 black Mississippians were registered to vote along the route, which ended in rally of 15,000 people in Jackson.
Now, 42 years later, Meredith lives in Jackson and is lending his support to another Mississippi march, the Stand Against AIDS, organized by the Campaign to End AIDS. Hundreds of people living with HIV/AIDS and their supporters will walk from Jackson to Oxford for the September 26 presidential debate. They will be joined by hundreds of others from around the country who are coming in caravans. Together all these activists will remind the presidential candidates that they must make ending AIDS a priority.
When Meredith was contacted by AIDS Action in Mississippi field organizer Valencia Robinson (who found his number in the Jackson phone book) about the Stand Against AIDS, it didn't take long to convince him to endorse it.
"AIDS is to poverty what voting was to the civil rights movement," Meredith told the Update. "When you give somebody the right to vote, it means you're giving give them all these other rights. If you raise HIV to the level of full discussion, you raise it to the level where it is a public policy to deal with, as well as all other issues of poverty." In a conversation with the Update, Meredith shared extraordinary insights about AIDS, poverty, homophobia -- and why he's not actually marching this time around:
Housing Works Update: Why did you want to get involved with Stand Against AIDS?
James Meredith: This is really the same issue that Dr. King was dealing with when he got killed: poor people. If the Campaign to End AIDS is successful, it will change everything by focusing on the conditions and the circumstances of the poor. This will be a thousand times bigger than the right to an education.
Why do you think this march can have an impact on the fight against AIDS?
What impressed me the most is that the leaders [of the Stand Against AIDS] themselves were people who had AIDS and were ready to tell the world. They knew the people who were not getting treatment in Mississippi. I'm hoping when they go through these communities, people will come forward.
Why aren't you marching yourself?
I'm 75 years old, and I don't have HIV. If I march, then the focus will be on me. I don't want to be a spokesman. What the march needs, and I hope the organizers do this, is to pick one spokesperson who is willing to talk when the media comes. I was the spokesman for all of my activities, and I made sure no one else got in the way. Everybody talks about the three branches of government. But I realize that the fourth branch is the media.
Do you think black leaders are doing all they can to address the AIDS epidemic among poor black people?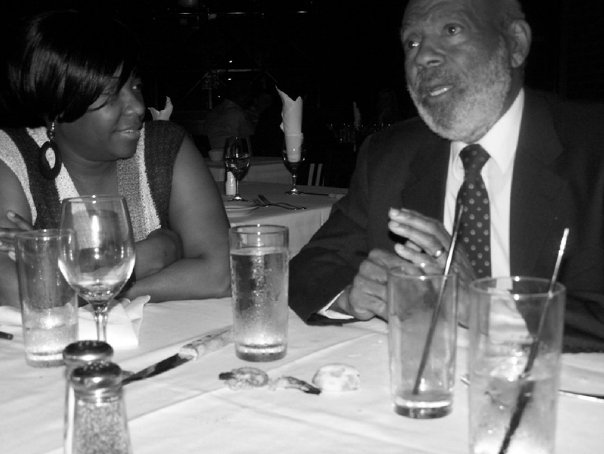 Robinson and Meredith discuss activism
No. Educated black people have been neglecting poor people. The blacks that have gone to Ole Miss since me have just wanted to get money. They are the ones in the best position to raise the issue about the poor, but we are victims of our realities. One of the biggest things about educated people is that if there's something they don't know about, it can't be important. America has a public policy of not talking about the poor.
What role has homophobia played in the spread of AIDS in the black community?
It has been a completely nondiscussable subject in the black world. I know people in Jackson who died of AIDS, but nobody knows it but insiders. It's primarily because of the shame. Because people with AIDS were accused of being homosexual, there's a stigma, even of people who got it from a blood transfusion. But I think that America has made things better. It is an open conversation. In the grocery store yesterday Oprah Winfrey and her friend were on the cover of a magazine saying, 'We're not homosexuals, but if we were we'd say it.' For the high echelon, that's how it has operated. But poor people operate 40 years behind everybody else. The truth has to be told but has to be told by the people who have already dealt with it.
Does the unwillingness to talk about poverty in the U.S. contribute to the lack of discussion about AIDS?
Absolutely. Even in this presidential campaign, one of the best we've had in recent times, they are not talking about the poor. And America and its public policy won't discuss AIDS in America. They'll discuss it in Africa. For the past five, ten years, you would think that no one in America has AIDS. When the epidemic started, and people were talking about it in San Francisco, most of the people with AIDS there were not identified as poor people. Now most of the people who don't have access to medication in this country are poor people.
Meredith takes a stand against AIDS