Women, Injection Drug Use, and the Criminal Justice System
Women inmates have consistently higher rates of drug use and HIV infection than do male inmates. The needs and circumstances of women in prison and jail require increased emphasis and tailored interventions.
Women Inmates Need Special Attention and Programs Designed Just for Them
In 1980, 13,420 women were in prison or jail. In the 20 years since then, this number has soared more than 500 percent. Women are now the fastest growing group of inmates. At the end of 1999, 90,688 women were in prison or jail. There are compelling reasons why women inmates need more attention and tailored interventions.
Women inmates' behaviors and past lives place them at high risk.
At the end of 1999, 3.4 percent of women in state prisons were HIV positive. In addition, various studies show hepatitis C infection prevalence ranging between 22 percent and 55 percent of women inmates.
Sexually transmitted diseases are another major problem for women inmates: 3-28 percent have syphilis, 1.4-6 percent have chlamydia, and 0.7-7.4 percent have gonorrhea.
Many have mental health problems, including anti-social personality disorder, depression, and post-traumatic stress disorders, possibly due to histories of abuse.
Most women inmates are mothers who are separated from their children.
About three-quarters of women inmates are mothers. Of these, 62 percent are single mothers and 66 percent have children under age 18. At the time of their arrest, 6-10 percent of women inmates are pregnant. In 1998, more than 1,400 women delivered a baby in prison. In most correctional systems, babies are taken away shortly after delivery and placed with family members or in foster care. The Federal Bureau of Prisons and 11 states have residential programs for inmate mothers and their infants.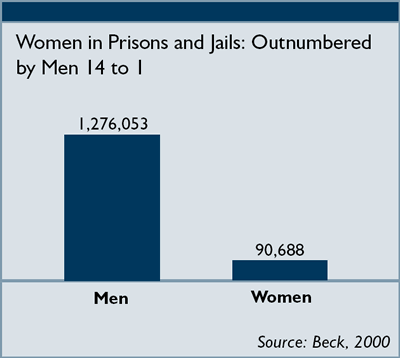 Correctional Infrastructure and Programming Should Meet the Needs of Women Inmates
The Federal Bureau of Prisons and most states have separate facilities for women. Some women prisoners serve their terms in alternative settings, such as halfway houses, pre-release centers, work release centers, or day supervision programs. Many women inmates, however, are housed in prisons and jails that also house male inmates. Because of their much smaller numbers compared to male inmates, the needs of women inmates are often overlooked. Their particular characteristics and situations should be taken into consideration when interventions are designed and resources allocated:
Many facilities use the same type of screening instrument to assess male and female inmates when they first come into the system. As a result, information about women's risk profiles or health status -- especially previous physical or sexual abuse, mental health issues, and HIV infection status -- may not be gathered or appropriate interventions provided. This gap is especially common in states or facilities with small numbers of female inmates.

Few state and local jurisdictions provide sufficient substance abuse treatment, particularly treatment tailored to women's higher rates of victimization and mental illness.

Few provide gender-specific HIV programming, such as AZT or other anti-HIV medications for pregnant inmates to reduce perinatal transmission.
Innovative Programs and Strategies Are Addressing the Problem
Agencies, organizations, and providers are working to meet these challenges by establishing and maintaining innovative programs for drug-using women who are involved with criminal justice. Here are a few examples:
Health Link
This New York City-based program is designed to help drug-using women return to their communities, reduce HIV risk behaviors and drug use, and avoid rearrest. It works toward this goal by providing case management and other services to women while they are in jail and for one year following release. The program also furnishes technical support, training, and financial assistance to community providers who serve former inmates and offers staff support for a network of local service providers. In addition, Health Link develops policy analysis and advocacy to identify and reduce barriers that prevent women released from jail from successfully returning to their communities. For more information, see Richie et al., 2001.

Centerforce Parent Project for Women
Centerforce is a California organization that works with prisoners, their families, and the community to provide direct support services, health programs, and advocacy. The Parent Project, begun in 1995 through a contract with the Marin County Sheriff 's Department, offers parenting, reunification, and coping classes for women prisoners. Classroom topics have included: parenting and recovery; age-appropriate responsibility; anger management; parenting from a distance; effects of parental substance abuse; effects of parental abuse and violence; effective communication with children and teens; and child health and safety. For more information, visit www.centerforce.org.

ACE Peer Education Program
ACE (AIDS Counseling and Education) is an inmate organization of the Bedford Hills Correctional Facility, New York State's largest women's prison. ACE promotes safe behaviors and works to eliminate fear and stigma associated with AIDS and HIV. ACE conducts education workshops, runs programs for those living with the virus, and encourages expression through art, poetry, and song. It also works with outside groups to provide support to women coming out of prison. For more information, see Boudin et al., 1999.
To Learn More About This Topic
Read the overview fact sheet in this series on drug users and the criminal justice system -- "Drug Use, HIV, and the Criminal Justice System." It provides basic background information, links to the other fact sheets in this series, and links to other useful information (both print and internet).
Check out these sources of information:
Alemagno S.A. Women in jail: is substance abuse treatment enough? American Journal of Public Health 2001; 91(5):798-800.
Beck A.J. Prisoners in 1999. Washington (DC): U.S. Department of Justice Programs, Office of Justice Programs; August 2000. NCJ 183476. www.ojp.usdoj.gov/bjs/pub/pdf/p99.pdf
Boudin K., Carrero I., Clark J., Flournoy V., Loftin K., Martindale S., Martinez M., Mastroieni R.E., Richardson S. ACE: a peer education and counseling program meets the needs of incarcerated women with HIV/AIDS issues. Journal of the Association of Nurses in AIDS Care 1999;10(6):90-98.
de Ravello L., Brantley D., LaMarre M., Qayad M., Blake P., Paris J., Morgan M. High-risk women in a high-risk world: having babies behind bars. 2001 National HIV Prevention Conference. Atlanta, Georgia, August 12-15, 2001. Abstract No. 588.
Lockwood D., McCorkel J., Inciardi J.A. Developing comprehensive prison-based therapeutic community treatment for women. Drugs and Society 1998;13(1-2):193-212.
Morash M., Bynum T.S., Koons B.A. Women offenders: programming needs and promising approaches. Research in Brief. Washington (DC): U.S. Department of Justice, National Institute of Justice; August 1998. NCJ 171668. www.ncjrs.org/pdffiles/171668.pdf
Office of Justice Programs, U.S. Department of Justice. Proceedings from the National Symposium on Women Offenders. Washington, DC; December 13-15, 1999. Washington (DC): USDOJ; 2000. www.ojp.usdoj.gov/cpo/womenoffenders/women.pdf
Richie B., Freudenberg N., Page J. Reintegrating women leaving jail into urban communities: a description of a model program. Journal of Urban Health 2001;78(2):290-303.
U.S. General Accounting Office (GAO). Women in prison: issues and challenges confronting U.S. correctional systems. Washington (DC): GAO; December 1999. GGD-00-22. www.gao.gov