Does Watching Bareback Porn Increase Your HIV Risk?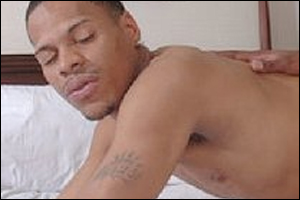 A lawsuit has been filed against California's Occupational Safety and Health Standards Board challenging the lack of condom use among pornography performers. The AIDS Healthcare Foundation (AHF) charges that pornography sets that allow barebacking -- unprotected anal, oral or vaginal sex -- expose workers to hazardous work conditions: in this case, the exchange of bodily fluids that may contain HIV or other STDs.
AHF is also confronting Florida's growing adult-film industry, which includes productions featuring people of color. In January the group filed a "sanitary nuisance" complaint with the state's health department for the lack of condom usage on many sets.
Most heterosexual, and an increasing number of gay, adult-film companies opt not to use condoms, with some saying that safer sex doesn't fit viewers' fantasies. But with African Americans accounting for 49 percent of all HIV/AIDS infections despite making up only 13 percent of the U.S. population, and HIV rates among Black gay and bisexual men approaching 50 percent, the implications of unprotected sex in pornography for Black communities cannot be ignored. Some experts even believe that the media, including porn, cause viewers to engage in riskier behavior.
Is Sex Safe on the Set?
In 1998, after a porn actor tested HIV-positive, former sex worker Sharon Mitchell founded the Adult Industry Medical (AIM) Healthcare Foundation to provide HIV testing to help decrease performers' HIV-infection risk. But while actors now take a mandatory HIV test every 30 days, any performer infected off-set within that time frame can still spread the virus to other performers. Mitchell has tried to convince pornography companies to make condom use mandatory, to no avail.
In 2004, African American adult-film star Darren James tested positive and unknowingly infected three actresses. After a media maelstrom in which his identity and status were revealed to friends and family who hadn't known of his work, James attempted suicide, survived and later became an activist, advocating condom usage among adult performers while they are on the job. Twenty-two performers are reported to have tested positive since James, including an unidentified female performer, who tested positive for HIV last year. A state advisory committee is now exploring mandatory on-screen condom use.
In gay pornography, unprotected sex -- once stigmatized in the post-AIDS era -- is now a growing phenomenon. Websites blatantly market bareback scenes among Black men, and on several on-demand websites, bareback pornography is often rated most watched. With the highest HIV rates occurring among gay and bisexual men, the risk associated with unprotected sex is great. Until recently, gay-porn companies typically mandated condoms for anal sex, since many of the performers are HIV-positive.
Non-HIV STD infections have also been an issue. According to a 2007 article in the PLoS (Public Library of Science) Medicine Journal, between January 2003 and March 2005, approximately 976 performers were found to be infected with 1,153 STDs, including chlamydia and gonorrhea. And according to a 2009 ABC News report, L.A.-county officials have counted more than 3,600 cases of chlamydia and gonorrhea among performers since 2004.
Spreading the Love?
Does watching pornography in which performers do not use condoms affect the sex practices of its viewers? There's little data on the effect of pornography on its audience's individual practices, but many health practitioners believe that media play a large role in encouraging high-risk behavior.
For UCLA professor Gail E. Wyatt, Ph.D., a clinical psychologist, sex therapist and author of the book No More Clueless Sex, the problem is the nature of adult films overall.
"Pornography reinforces risky behaviors, so whether the person is using a condom or not is picking one small detail out of generally exploitative, high-risk behavior," Dr. Wyatt says. She notes that viewers can watch movies depicting extreme, often violent, sex acts that tear performers' rectal, oral and/or vaginal tissues, thereby increasing the risk of HIV transmission. According to Dr. Wyatt, several years ago her research team tried to inform the clinics that handle testing for the adult-film industry that current testing standards didn't take into account what was happening with performers' sex lives off-set; however, no change was instituted.
"You don't know what [performers are] doing in their personal lives ... You have to insist on condom use in these movies," she says.
Dr. Wyatt points out that other avenues need to be created to provide more responsible, comprehensive and holistic representations of sex, particularly for young people. She calls for African Americans to follow the spirit of our ancestors in choosing a more responsible path, "to look at sex, to look at what we do individually ... to not promote disease transmission.
"We can't expect someone to come into the community to do that for us," she says. "It's our job."
Clarence A. Haynes is a New York-based book editor, writer and performance artist who focuses on cultural expressions of race, gender/sexuality and the erotic.