A Walker Between Two Worlds
Ethnic cleansing and forced acculturation have had a devastating effect on the health and well being of contemporary American Indians. Racism, poverty, ill health, STDs, family violence, alcoholism, drug abuse and suicide have disproportionately impacted American Indian/Alaskan Native (AI/AN) populations.
A study of suicide rates conducted by the Indian Health Service from 1989 to 1991 found the suicide rate among Native Americans ages 15 to 24 was almost three times the national average. According to the Indian Health Service, alcohol-related mortality rates among Native Americans are the highest for all U.S. populations. According to the Department of Health Services Office of AIDS Programs and Policy, AI/ANs comprised less than 1 percent (.07 percent) of all HIV tests given in Los Angeles in 1998, yet the seropositive rate for AI/ANs (3.9 percent) was highest among all the racial and ethnic groups.
In this article, Steven Solberg of AIDS Project Los Angeles' POWER Program writes about his experience with one member of Los Angeles' AI/AN community.
Traditionally each American Indian tribe has their own name for varied-gendered people within their particular culture.
"Two-Spirit" is the preferred generic term adopted by an intertribal contemporary movement amongst gay, lesbian, bisexual, and transgender American Indians. Gender variation traditionally had less to do with sexual orientation for many American Indian tribes and more to do with a certain quality of spirit. "Two-Spirit" reflects a distinction in spiritual terms. Such persons were often considered as "walks between worlds people" -- possessing healing powers and a capacity to experience multiple realms of ordinary and spiritual reality.
Between 1998 and 2001, I worked as an art interventionist for the Men's Art Program at the Prevention Division of the Van Ness Recovery House. This program uses art as a harm-reduction strategy for active substance-using gay and bisexual men. Three times a year, the program publishes The Good, the Bad and the Twacked: A 'Zine From the Guys of the Boulevard. It was here that I met a contemporary two-spirited person whom I will call Johnny Changingwolf.
Johnny was part Navajo, part Apache and HIV-positive. According to traditional Navajo culture, Johnny would be considered as nadleeh. Within a contemporary context nadleeh would be similar to the English term homosexual, gay, lesbian, or transgender.
Navajo translation, however, indicates "one's ability to change" and would traditionally have referred to an individual who can comfortably walk the path of both male and female -- blending the two genders rather than expressing just one. On his Apache side, he would perhaps be considered as nde-isdzan (man-woman).
Johnny "walked between worlds." Neither old nor young, he possessed a sweet androgynous spirit.
Johnny traveled between the culture of his Southwestern reservation and the street culture of Los Angeles. He transported between the realms of the spirit and ordinary reality as well, even reporting dialogues with the birds. It would be easy to attribute such a statement to drug use or relegate it to one of psychology's pathological categories -- but why? Sitting Bull, the great Hunkpapa Sioux warrior/holy man who was killed in 1890, toward the end of the American Indian Wars, also reported communicating with our feathered and four-legged creatures, as did Christianity's St. Francis of Assisi.
Johnny and a Yaqui Indian pal named Jackson lived out of a camouflaged tent they'd pitched in the Hollywood Hills. Descending to the streets of the city during the day they'd hustle for their daily bread and access social services such as the Men's Art Program at the Prevention Division of the Van Ness Recovery House. The initial incentive to come to the program may have been to fill their empty stomachs with a home-cooked meal, but the non-judgmental atmosphere, community support respite from the pressures of survival on the streets and the opportunity to communicate their daily thoughts and experiences in art kept them coming back.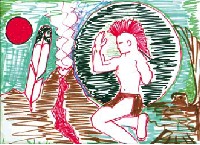 This image was created during the Men's Art Program at the Prevention Division of the Van Ness Recovery House. This image is not to be duplicated or used without permission of the Van Ness Recovery House.
Art can be an amazing tool for building self-esteem and a powerful medium for HIV prevention, harm reduction, education and intervention. Johnny attended the groups at the Prevention Division of the Van Ness Recovery House often. His way of working was incredibly focused and deliberate. He was a marvelous artist and his work frequently found its way into the 'zine Twacked. Johnny's artwork sometimes fused Christian imagery with feathers, medicine wheels, eagles, snakes and other power animals as well as illustrations of his life on the streets. He often embellished the images with traditional Southwest Indian design elements.
Given that the Men's Art Program at the Prevention Division of the Van Ness Recovery House is based on the philosophy of harm reducation, increased condom use, safer sex and other behavior change among participants can be slow and incremental. But many participants made significant behavior changes. And we had our share of major victories such as clients entering residential drug treatment and getting off the streets.
Johnny was definitely one of our victories. Over time he stopped drinking alcohol, using drugs and doing sex work. Johnny also decided that he would abstain from sex altogether. The program promoted enjoyable safe sex. Abstinence was Johnny's decision.
He was never able to navigate the health care system for his HIV, though. He just couldn't seem to deal with the bureaucracy. In the one instance when he managed to get that far, he was unable to adhere to HIV medications.
The last time I saw Johnny was on the corner of Santa Monica Boulevard and Fairfax Avenue. He did not look well and he told me in his gentle lilting voice that he was on his way back to visit his relatives in Arizona. I had a feeling that I would not see him again.
In April, Johnny called from the Phoenix Indian Medical Center. He had finally crashed. His body was shutting down and he was dying of AIDS-related complications. He was waiting for his sister to move him to a hospital nearer to his relatives and friends on their reservation. He asked me to pass the word on and say goodbye to his "family" at the Van Ness Prevention Division.
In our conversation, I was able to thank Johnny for the many ways he had touched my soul. I was moved to tears while he sang two sweet Navajo songs over the phone to me. Then with my blessings for a smooth transition into the next world, we said goodbye. Some days later, I received a call from his sister that he had died.
Later that month, I attended an ancient Shoshone/Paiute ceremonial dance of renewal and healing I participate in at least once a year. There I placed a photo of Johnny under the central tree we dance around for honoring the ancestors. At each circling around the tree I thanked the Creator for bringing Johnny into my life. And at each circling of the tree felt the release of his Spirit.
As we danced, I'm pretty sure that was Johnny I saw laughing and dancing blissfully in the clouds, looking down on us below.
Resources
HIV Education and Prevention
United American Indian Involvement Center
Seven Generations Child and Family Counseling Services
Kohl Miner, HIV Prevention Program Manager
1125 W. 6th St.
Los Angeles 90017
(213) 202-3970



Indian Centers
Southern California Indian Center, Inc., Indian Child & Family Services
3440 Wilshire Blvd., No. 904
Los Angeles 90010
(213) 387-5772, (213) 387-1243



Youth
American Indian Club House
Youth ages 6-16
1614 W. Temple St., Suite 300
Los Angeles 90026



Alcoholism Rehabilitation
American Indian Changing Spirits Residential Alcohol Treatment Center
2001 River Ave.
Long Beach 90806
(562) 599-6866

Robert Sundance Family Wellness Center
1614 W. Temple St.
Los Angeles 90026
(213) 353-9429

Indian Alcoholism Commission of Los Angeles County
Kimberly Smith, Director
1614 W. Temple St.
Los Angeles 90026
(213) 483-1589



Museums and Cultural Centers
Southwest Museum
234 Museum Drive
Los Angeles 90041-0558
(213) 221-2164



Selected Readings
Two-Spirit People: Native American Gender Identity, Sexuality, and Spirituality
Sue-Ellen Jacobs, Wesley Thomas and Sabine Lang, editors
University of Illinois Press

The Spirit and the Flesh: Sexual Diversity in American Indian Culture
Walter L. Williams
Beacon Press



Web Sites
National Native American AIDS Prevention Center
www.nnaapc.org

American Indian Health Services HIV/AIDS Needs Survey for L.A.'s American Indian Community
http://members.tripod.com/~AIHC1998/survey2.html

www.androphile.org/preview/Culture/NativeAmerica/amerindian.htm

Office of Justice Programs-American Indian & Alaska Native Affairs
www.ojp.usdoj.gov/americannative/links.htm
| | |
| --- | --- |
| | Steven Solberg is a Health Promotion Specialist in AIDS Project Los Angeles' POWER Program. He can be reached by calling (213) 201-1558 or by e-mail at ssolberg@apla.org. |