Wake-Up Call from HIV
Living with HIV
It has been said that adversity builds character. Since my AIDS diagnosis almost 11 years ago and surviving my most recent health crisis, I think character-building is well overrated.
"Chronic and manageable, miraculous recovery, full and productive life": these are the headlines consistently being used when discussing HIV disease. After months with a non-detectable viral load and T-cells high enough to make me feel guilty for having so many, I believed these words.
"I am going to live forever," I thought, not knowing what "forever" really meant, but understanding my present living situation needed to change.
Getting off Social Security, acquiring private health insurance and finding employment, I determined, was the best way to transition back into mainstream society. I felt great taking my first step working for a large AIDS-service organization. Six months later, I knew I was back as I began a job for the city I live in and appreciate working for a council member I respect and admire.
One and a half years later, the term "chronic and manageable" seemed to embody me. I was comfortable striking the balance between taking medications, seeing the doctor quarterly and performing my job to the satisfaction of myself and others. Under the stress of this high-profile position my health remained strong. I was challenged by the blood sport we call politics but enjoyed solving community issues while being a part of a dynamic and concerned City Hall staff.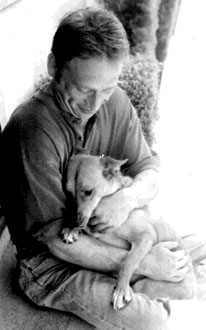 I tuned out my reality of seeing friends getting sick or hearing about another death at a local AIDS housing facility. That was, of course, until the day I could not lift my head off the pillow or drag my body out of bed. I knew there was something seriously wrong as I made the appointment to see my physician. Two weeks later I was lying in a bed at Cedars-Sinai Hospital.
I almost fell back as the digital scale blinked 139 pounds. "One-hundred and thirty-nine pounds," I muttered, watching the overworked sometimes uncaring nurse's assistant walk out of my room, not recognizing the power of these blinking numbers. Jesus, I thought, I haven't seen that on any scale since sixth grade. My body began to shake and my mind started racing wildly. I've never been this sick, I've never been this skinny and I've never been this scared.
I had to laugh at the irony, hearing the television blare "chronic and manageable" while I watched my astute, well dressed and well mannered doctor walk down the hallway into my room. Noticing the seriousness in his eyes, I could not resist asking if "chronic and manageable" had any time limitations. He smiled and tried to reassure me I would get better. I was grateful for his confidence feeling certain it was my turn to die. How long could my body hold up fighting the immediate crisis of pneumonia, bacterial peritonitis, chronic hepatitis and ascites along with insulin dependent diabetes and HIV?
Eight weeks after my hospital stay, the scale read 158 pounds. "I survived this one," I said to my usual nurse, uncertain as to how but unduly grateful for the understanding of my employer, the assistance of family and friends as well as an outpouring of concern from community residents and co-workers.
"Do you think HIV disease is chronic and manageable?" I asked her. "I guess it depends on who you ask and when," she replied.
From personal experience I knew she was right.