Albert J. Winn, Brothers -- Tryptich, 1990, black-and-white gelatin silver print, 16" x 20" each photo
There's something new at www.thebody.com. That's the Internet address of The Body, the online HIV and AIDS resource and information service and the place where Body Positive (among others) has its website. The new feature is called the Web Gallery, and it's the latest project of Visual AIDS.
The Web Gallery is different from The Body's longtime features -- basic HIV/ AIDS information, treatment news, conference schedules, the service menus of AIDS organizations, and online issues of Body Positive and other HIV publications -- and it's also similar. It's different in that it works primarily (though not exclusively) through visual arts -- painting, sculpture and photography -- similar in that one of its main purposes is to increase public awareness about HIV/ AIDS and people living with the virus.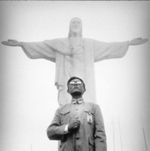 Tseng Kwong Chi, Rio de Janiero, Brazil, 1984, Silver print, 36" by 36"
Visual AIDS And The Archive Project
Since Visual AIDS was founded in 1988, it has carried out its awareness-raising mission through programs such as The Ribbon Project and the annual Day Without Art/Night Without Light. But equally important is the organization's other purpose, that of providing support and services to the many visual artists living with HIV/AIDS. Visual AIDS makes grants to artists to help them purchase materials, arranges free access to lawyers for estate planning, and offers advice and advocacy regarding artists' opportunities to exhibit in professional contexts.
One of Visual Art's largest endeavors, The Archive Project, is another service to HIV-positive artists and provides the fodder for the Web Gallery.
The Archive Project was formed in 1994 in response to a growing concern about the dispersal or destruction of the work of HIV-positive artists after their death. The Archive provides free-photographic documentation of the artists' work to ensure that their cultural legacy will be preserved. Visual AIDS recruits volunteer professional photographers who go out into the field -- the studios and workspaces of artists with HIV/AIDS -- and click away. After five years, the Archive is home to over 6,500 35mm slides representing the work of over 200 artists.
The Archive Project slides preserve the work of a broad spectrum of artists: mostly men, but a significant number of women. Artists from the East Coast, the West Coast, and various Mid-American regions; gays, straights, and every other sexual orientation; people of every race and ethnicity; well-known professionals and unknowns who came to their crafts for therapeutic reason; artists whose work addresses their HIV status and those whose work does not; living artists and artists who have died.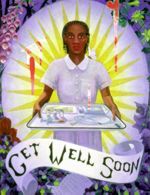 Frank Moore, Pearline, 1991, oil on canvas, 45" x 57"
The Web Gallery
While the Archive Project has been very successful in preserving a photographic record of the work of HIV-positive artists, space constraints have limited access to the work by the public. The slides, which are kept in at the offices of Visual AIDS in Manhattan's Chelsea neighborhood, can be seen only by appointment, and they must be viewed using a light board.
The problem was to find a way to make the work of HIV-positive artists available to the widest possible audience. Today's technology provided the solution. The Web Gallery was born.
The way it works is simple. About every six weeks, a guest curator chosen by Visual AIDS selects ten to fifteen works from the Visual AIDS Archive Project to exhibit on the Internet. Guest curators are drawn from both the arts and AIDS communities. They range from doctors to lawyers to AIDS service organization workers. They include artists, both those whose are represented in the Archive and those who are not, and artworld professionals -- curators, gallery owners, dealers, and the like.
By inviting artworld professionals to use the Archive to curate a Web Gallery or any other exhibition, Visual AIDS gives galleries and museums the opportunity to see the quality and the variety of work being produced by artists they may have otherwise rejected outright.
Visual AIDS Assistant Director Stephanie Nagorka and artist Eric Rhein agree that there is still stigma attached to artists whose work contemplates their positive HIV status. Nagorka, for instance, says that she has heard more than once about an artist being asked to write a statement for an exhibition catalogue. In doing so, the artist discloses his or her HIV status and/or discusses how the work being shown addresses HIV. "Especially now that AIDS is no longer fashionable," say Nagorka, "gallery owners and art dealers don't want to hear that. That's not true in every setting, but there's enough of it that it's a problem. Other artists with HIV hear stories like that and then are more inclined to hide their HIV status."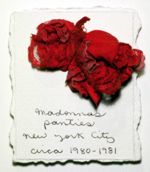 Barton Lidice Benes, Repository (detail), 1997, mixed media, 6" x 8"
"Art. AIDS. Action." is VA's 1997 companion text to a series of exhibitions and events that were were held across New York and New Jersey. In it, Visual AIDS artist Becky Trotter wrote: "To declare the work of an artist living with HIV/AIDS as bad art that lacks skill, training, or talent is dangerous. It denies what we know from history, that these judgments change with the process of time -- Van Gogh, Manet, Duchamp. This declaration of judgment may prevent the process of documentation of their work; of them. How will we know who they were, or what their artwork was, when they have died?
"Documentation is really a way to have proof of the past," according to Trotter. Documentation is also a way to give artists their due attention and keep them producing. Trotter tells of years when "I stopped making my art because of the fear of negative criticism. I stopped because of self-criticism, the perceived criticism of others, and ongoing debates about what constitutes good art or bad art." Indeed, increasing an artist's sense of self-worth, along with documentation, visual and written, are the other goals Visual AIDS works toward through both the Web Gallery and the Archive Project, not just through the visual arts but the written word.
Visitors to this virtual gallery can view the work at their convenience, without worrying about appointments or exhibition hours, without fighting crowds or weather, whether they live in the next building or on another continent.
Facts and numbers around Web Gallery exhibitions are as impressive as those around the Archive Project. Visual AIDS Executive Director Barbara Hunt once ran a gallery in London where she says that was happy to see 3,000 visitors a month. Since the Web Gallery opened its virtual doors in March of this year, it receives an average 40,000 "hits," or visitors, a month. It generates inquiries from Hawaii and Thailand. It allowed a Portland, Oregon, collector of the work of Eric Rhein, an artist long associated with Visual AIDS, to view the work of other HIV-positive artists. "He visited the website," says Rhein, "with no prompting from me."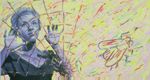 Rene Santos, Spider Woman, 1979, oil and encaustic on canvas, 60" x 34"
The Curators
Aside from the common goal of raising AIDS awareness, each of the Web Gallery curators has his or her own reasons for working in partnership with Visual AIDS. Artist Ricardo Morin, for example, said yes to the partnership for a variety of reasons. One, he wanted to show his gratitude for the help Visual AIDS has given him in the past. He has received two of the organization's art-supply grants for low-income artists. In addition, by referring galleries to Morin and/or by briefing him on the ins and outs of specific spaces, Visual AIDS has helped Morin get shows at places such as the Museum of El Barrio and Saint Mark's Church in the Bowery. Finally, Morin welcomes a challenge ... but, as a busy artist who juggles career and health concerns, not too physical a challenge. "I selected pieces," Morin says, "wrote a statement, and found someone to help me edit it. VA did the rest."
For a community figure like Laura Edidin, an attorney and Coordinator of the HIV-Related Violence Project at the New York City Gay and Lesbian Anti-Violence Project, acting as a Visual AIDS curator was an extension of her work. "I chose these pieces," Edidin writes in her curator's statement, "as a way of honoring victims of violence."
A Web Gallery curator's statements may not be as fully fledged as an exhibition catalogue or "Art. Aids. Action." Web Gallery curators' statements are remarkable, however, for similar reasons. Visual AIDS publications are almost always filled with sobering statistics that burn off some of the euphoria brought about by protease inhibitors. While perhaps not directly embedded in a curator's statement, statistics as well as testimonials from PWAs who visit the site can be found on the same site.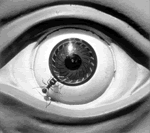 David Wojnarowicz, Untitled (ant and eye), 1988-89, black-and-white photograph, 20" x 15.7"
The Messages
Web Gallery statements and VA publications are also remarkable for not dumbing down their subjects, for not shying away from intellectualization.
In "Art. AIDS. Action," gallery director Thomas Sokoloski writes, "The AIDS movement in America ... is searching for a new voice or voices to speak about a crisis that has not ended, but simply mutated into something else. While art cannot help to save lives," he continues, "it can help the rest of us to live."
In his statement as curator of June's Web Gallery exhibition, artist Ernesto Pujol, expresses similar sentiments: "HIV and AIDS have too quickly created a contemporary visual history of the sadly ravaged male body." Pujol's selection presents 33 photographs that he believes show that "Desire does not co-exist with death. The body of a young man with HIV or AIDS is still the body of a young man. The self-portrait of an artist with HIV or AIDS is not completely defined by that laboratory fact."
"The historical importance of the Web Gallery," Eric Rhein muses, "is that it shows, to a wide audience, the shift from activist-related art about AIDS to work that is more personally reflective."
Examples of Rhein's own work illustrate what he means by "personally reflective." Seven sheets of paper hang on a wall, each mounted with a wire beautifully manipulated into the shape of a leaf, each a distinct, particular leaf. Oak, perhaps, or maple. Six of the sheets have been mounted with one leaf; one has been mounted with two. (see Body Positive, Nov., 1999, p. 27.)
Reading the title of the series, Leaf Portraits (for people who have died of AIDS), a viewer realizes that these are not strictly representations of oak or maple leaves but, more expansively, each is a kind of portrait of someone who has died of AIDS. Owen, perhaps, or Michael. The sheet that bears two leaves may be a portrait of Orlando and Mike. Orlando and Mike, brothers or lovers.
Rhein had someone particular in mind as he fashioned each leaf-portrait. But, as the center of each leaf-shape is hollow, a viewer can "fill in the blank" with the name, the personality, of someone she or he has lost.
But the emphasis is not on HIV and AIDS, so much as it is on the messages and the messengers. As VA's Executive Director Barbara Hunt puts it, "Whatever the case, we hope you will see the artist writ large rather than the disease."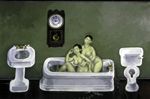 Martin Wong, Saturday Night, 1992, acrylic on linen, 30" x 45.7"
On The Road
Visual AIDS does not limit itself to the Archive Project and the Web Gallery. For instance, Bodies of Resistance, an exhibition curated by Hunt, will be shown in Durban, South Africa, in July 2000.
Timed to coincide with the scheduled International Conference on AIDS, Bodies of Resistance is being billed as "the first major contemporary art exhibition in ten years to reconsider the AIDS pandemic in the United States and the first significant art initiative to question the global impact of the disease and the complex relationships between the West and the developing world regarding AIDS." The exhibit will consist of fifteen new works by artists based in South Africa, the United Kingdom, and the United States and originally from Canada, Cuba, Hong Kong, India, and Nigeria.
The Visual AIDS Web Gallery's Internet address is www.thebody.com/visualaids/web_gallery. And don't forget to explore the other parts of the Visual AIDS website and the other resources available at thebody.com.
Steven Cordova is a poet and activist who lives in New York.<p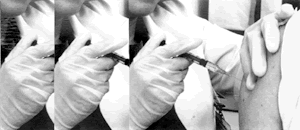 Robert Farber, Western Blot No. 13 (detail), 1992, mixed media on wood panels, 48" x 66" overall
</p
Back to the December 1999 Issue of Body Positive Magazine