Trekking With AIDS, Part 3 -- a Special Report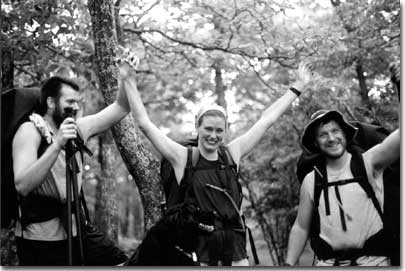 On Wednesday, June 28, 2000 -- the twelfth anniversary of her HIV diagnosis -- Dawn Averitt (center) and her companions Scott Averitt (left) and Brad Bridge (right) walked home to Georgia, having hiked the whole of the Appalachian Trail over the preceding year.
The sky was gray and lowering, and a steady drizzle fell, making the trail slick. The air was fetid and close, and the humidity was high, making clothes cling and sweatbands useless. A swarm of bees materialized out of nowhere and stung virtually every member of the party. And none of this mattered -- because after twelve months of determined effort, Dawn Averitt was completing the last few miles of the Appalachian Trail. On Wednesday, June 28, 2000 -- the twelfth anniversary of her HIV diagnosis -- Dawn walked home to Georgia, having hiked the whole of the Appalachian Trail over the preceding year. She may not be the first person living with HIV to complete the Trail, but she is the first to dedicate her arduous journey to raising awareness that HIV infection need not be a barrier to achieving one's life goals. As Averitt says, "No one with HIV should allow the virus to thwart their ambitions, to fog their future, to derail their dreams." This is the message that Averitt sought to convey over the course of her 2,167-mile odyssey -- because, as she says, "it is as effective an antidote to hopelessness and despair as the most powerful drug regimen available today."
Dawn Averitt has been bucking the odds for more than a decade now -- ever since she learned that she had been infected with HIV by a man who took callous advantage of her when she was just 19 years old. She was told at the time that she would be lucky to live two years. Averitt defied those odds, and she defied the advice of her family physician, who counseled her to tell no one that she is HIV-positive. Instead, Averitt told the whole world -- in both words and deeds. She founded a national service organization for women with AIDS, and she became a passionate, compassionate, clear-headed, warm-hearted spokesperson for all people living with HIV.
This past year Averitt celebrated her thirtieth year of life -- and her eleventh year of living with HIV -- by hiking the entire Appalachian Trail, from Maine to Georgia. For her, this trek fulfilled a lifelong dream, one that had its origins in the day-long hikes that she, her brothers, and her parents took on the stretch of the Trail that passed near her childhood home. But Averitt's determination to follow her dream down the green spine of the Eastern Seaboard was something else as well -- it was vibrant, vital, valiant, visible proof that people with HIV need not set aside their aims and ambitions.
Dawn's Appalachian odyssey began on June 11, 1999, atop Mount Katahdin in north-central Maine. Katahdin, at 5,268 feet, is the highest peak in the state -- and the northern terminus of the trail, which runs 2,167 miles down the green spine of the eastern United States.
In this, too, the odds were against her. Nearly 3,000 people try to hike the whole of the Appalachian Trail each year . . . but less than 10% of these intrepid souls actually achieve their goal. Few of them have to be as scrupulous as Averitt has had to be about purifying all of the water they drink, and not one of them had to manage, despite the rigors of life on the Trail, to adhere to a highly complex five-drug anti-HIV regimen, as Averitt had to, day in and day out.
But then Averitt has been defying the odds for a long time now, on and off the Trail. As she reported in previous installments of her Trail diary -- published in Vol. 5, Nos. 3, and 4 of HIV Newsline -- life in the wilderness wasn't easy. First there was the record-setting heat wave, then the clouds of voracious black flies, then the misstep that resulted in a badly turned ankle . . . 3,000 feet up a mountain in northern Maine. But Averitt is apparently made of equal parts grit and gumption: after a detour through the emergency room of a local hospital, she and her party returned to the Trail -- and they marched steadily southward until a mixture of snow and ice, driven by 50-mile-an-hour, tree-toppling winds, caught them in the Shenandoahs of northern Virginia.
When a pine tree fell so close to Averitt that it left her with splinters in her face, she and her team abandoned the Trail for ten weeks. But as soon as spring arrived, they picked up where they left off. And on the early afternoon of June 28th, she reached Springer Mountain, the southern terminus of the Trail. After a decade of counseling other HIV-positive individuals to realize their dreams, Averitt had lived out one of hers. And, who knows? Her family may even be able to persuade her to rest up for a week or two, before she sets out on her next great adventure -- whatever it may be.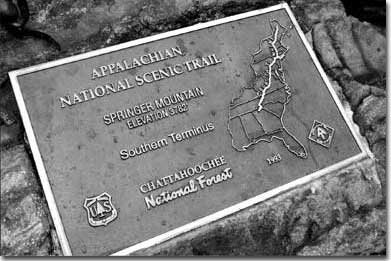 Dawn's 12-month trek ended at Springer Mountain, Georgia, where a bronze plaque set into a granite boulder marks the end of the trail.
-- The Editors
Trekking with AIDS: An Appalachian Trail Diary
By Dawn Averitt
Founder, Women's Information Service and Exchange
We walked our final miles as I was sure we would: under the dark clouds and through the intermittent downpours that had been our more or less constant companions during our last weeks on the Appalachian Trail. But we also walked those final miles as I hoped we would: accompanied by some of our staunchest supporters -- friends and family who chose to share our triumph despite Mother Nature's best efforts to spoil a glorious day.
As we climbed the mountain that we had openly longed for and quietly pondered for so many months, we struggled for words and fought back tears of joy and awe. For each of us -- for me, for my brother Scott, for our friend Brad Bridge -- it was a day of enormous significance and accomplishment. (I suspect that Guinness, my six-year-old Lab-Cocker mix, who accompanied me every step of the way, shared our feelings, but as usual he kept his own counsel.) It wasn't just that we had finished the Trail -- although walking more than 2,000 miles in one year is an indisputable accomplishment -- but that we had finished it together, as we had planned from the start.
For me, June 28th had additional significance: it was the twelfth anniversary of my HIV diagnosis. On this same day in 1988, at age 19, I sat in my doctor's office, with my mother holding one of my hands and my father holding the other, while our kindly -- and obviously distraught -- family physician told us the impossible but inescapable results of my elisa test. Back then, no one imagined that I would live two years, let alone 12. And no one imagined that I could do anything significant with my life, let alone conquer the Appalachian Trail -- an accomplishment usually reserved for young, hale, trail-hardened men.
And yet, 12 years after the stunning news that shattered and then reshaped my life, I was actually completing a lifelong goal -- and clasping life to me.
At the top of Springer Mountain we lit a candle in honor of friends and family -- those who walked the last miles with us and those who walked those miles with us in spirit. We also lit a candle for all the benevolent strangers who shared our journey -- passing us on the Trail, bedding down near us in one of the lean-to shelters along the way, shuttling us back and forth from resupply points to the trail head, or simply following our progress, and offering words of encouragement and support, via our Web site, www.trekkingwithaids.com. And, finally, we lit a candle for the world of people who are living with HIV. Some of them are close friends, all of them are important, and we carried every one in our hearts throughout this incredible journey. Then, after a moment of silence, we let out a great cheer -- making the mountain ring, making our presence known, making the day complete.
There are so many people who touched our lives in the past year -- often in ways they never fully appreciated. For those who followed our progress, who cheered us on with e-mail messages or supportive thoughts, there are no words that really express our gratitude. You should know that there were days when we dragged our tired, blistered, homesick bodies into some small-town post office to find our resupply box had been sweetened by print-outs of e-mails, reminding us how incredibly fortunate we were to be together, to be hiking the Appalachian Trail, to be alive. We have had the experience of a lifetime.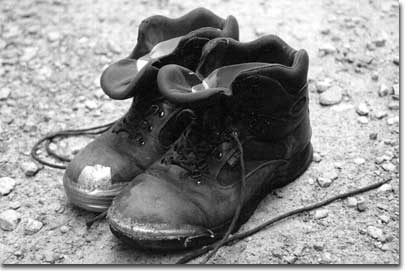 Twelve months, 2,167 miles, and one roll of duct tape: If these boots could talk, what a story they would tell . . . .
We have learned about ourselves and each other. We have forged bonds, made friends, found the good in people's hearts. We have discovered happiness and meaning in the smallest of things. We have walked through time, and towns, and travail, and tears. And we finished in triumph. We found all this, and so much more, along the Appalachian Trail. As the sage observed, it is the journey itself, not the goal, that is the destination.
For Part 1 of this report, click here.
For Part 2 of this report, click here.