Treatment and Mistreatment Behind Bars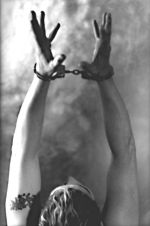 As a New York State prisoner PWA, I am appalled and saddened by the appearance of bias by the community in connection to incarcerated PWAs. This bias contradicts the semblance of caring, unity, brother/sisterhood and advocacy which the AIDS community (heterosexual/gay) seeks to exhibit. Even the words of the Body Positive Creed, "You are not alone ... don't isolate yourselves," are a slap in the face to every PWA incarcerated in the state.
There are more than 5,000 PWAs in New York prisons. Yet support services are not available to us. We are treated as "personae non gratae" because of our incarceration, despite extreme suffering. Please allow me to offer a few of my own experiences:
I entered prison in 1996 for a nonviolent, drug-related crime. I soon collapsed, and nearly died, from PCP pneumonia, thrombocytopenia, thrush, etc. During my lengthy hospitalization, I had difficulty getting fresh water to drink. When I complained I was told, "The nurses are afraid because you may have TB." (Mysteriously, although all inmates entering New York prisons are given initial examinations and blood tests, no one ever told me I had just three T-cells left. Someone later noted in my file, "Blood tests lost." It was also noted that I received pre-/post-test counseling, although I never received any.) When I was discharged from the hospital, back to the prison, the hospital ordered I receive six cans of Ensure per day because I wasted from 193 pounds to 105 pounds. The doctor at the prison put me on the "Supplemental Feeding Program," which consisted of one slice of bologna on bread, once a day. YUMMY! I couldn't eat it because the thrush made my throat too sore.
During the last three years I have seen my drug regimens fail. At times prison doctors refused to refer me to an infectious disease specialist until members of my family wrote letters to the prison Superintendent about it. Nurses have explained to me privately that "the Administration tells the doctors to keep costs down." Specialists have ordered that I be given Oxandrin for wasting, but one week into that regimen my prescriptions was mysteriously discontinued. Specialists have continuously requested prison officials to provide me with dental care, but for more than three years my dental needs have not been met. In fact, I was given partial dentures without ever having cavities filled. I sought help concerning this obvious malpractice. AIDS Related Community Services (Newburgh) never replied; Prisoners' Legal Services of New York (Manhattan) never replied; Legal Aid Society (Manhattan) said they don't offer legal services outside New York City. At least thirty other agencies NEVER REPLIED.
While the number of AIDS-related deaths has decreased in prison since the advent of protease inhibitors, we are still abused and we are still dying faster than free PWAs. But the worst of our neglect comes from our own community. A multitude of Body Positive "Positive Connections" ads sate "NO INMATES," and the Prison Pen Pals Project" cited in BP ("Breaking Down the Walls," Cheryl Whittier, July 1999) is a mockery. I wrote to the Prison Pen Pals Project. After a year I received a brief note from someone in an alternatives-to-sentencing program stating, "Hang in there." Spare me such indignity. Are people on probation or parole the only persons the PPPP could think of to write us. They are bigger hypocrites than the prison officials.
Let's face facts. A large percentage of free PWAs are lucky not to be in prison themselves. How many free PWAs have never used drugs or done anything illegal? One would think that incarceration renders us inhuman. May God forgive your hypocrisy, because it is difficult for us to. We are human beings, just like you, who made a foolish mistake, but got caught. We aren't animals. Why won't you acknowledge us?
Your responses would be appreciated by this incarcerated PWA. Write to: Robert Partridge, #96B0062, Greenhaven Correctional Facility, Drawer B, Route 216, Stormville, NY 12582-0010.
Photograph by Michele Serchuk
Back to the September 1999 Issue of Body Positive Magazine.