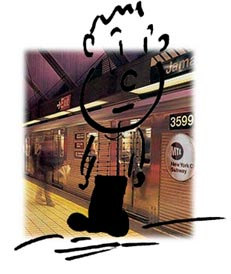 I am an HIV-positive New Yorker and I find myself getting angry everyday as I wait to board a crowded subway car. My mind is focused on how much I can't stand rush hour.
When I finally push through the packed car and stand with wall-to-wall strangers for the duration of the ride, my mind is filled with how much I hate crowds, how much I hate my job and finally how much I hate my life! The stress of living in the city really gets to me and it can't be good for my health, but I don't want to live anywhere else -- I really do love New York City. But first things first: how do I at least lower my stress level when dealing with crowds of people on the subway?
When under stress many people seem almost programmed by nature to only focus on the negative aspects of their life. It's as if we can't help but predict doom around every corner or at least focus on the downside. It's a very easy natural thing to do when we are faced with stressful crowding.
Without a doubt, riding on crowded subway cars with all the pushing and shoving can certainly be a torturous process every day. The effects of subway crowding on you may depend on your own situational and personal issues. If you are content in other aspects of your life, crowding during rush hour may only be seen as a mild distraction. If you view your life as problematic then crowding can only add to an overall negative outlook.
Crowding can actually enhance some positive experiences and situations. Consider football games, rock concerts, and most forms of entertainment; if a crowd is laughing usually one can be carried away by the effect of the crowd's laughter and laugh too. But it also can make unpleasant situations even more unpleasant. Most psychologists agree that if a person has a perception of control in their crowding situation they are better able to cope with it. We all tend to do better when we get some kind of warning and have an idea about how long we may have to endure the crowding.
Keep in your mind at all times that how you live your life is your choice. There are pay-offs and trade-offs to living in an urban setting. By living in a big city, you know full well what you maybe in for everyday. If most people react much better to crowding when they are forewarned about a crowded situation, then let me forewarn you now! Face it: riding the subway at rush hour will never change, it will always be people packed. To hold on to some pipe dream that we will someday have more subway cars or fewer people is unrealistic. This is the way it is!
To go over and over in your mind that someday there maybe less crowding on the subway is a pathway to nowhere and useless stress. You do have the power to get up earlier or later in the day and forego "rush hour" completely. If you must ride only during "rush hour" and you must take the subway then chose a way to make it as pleasurable as possible. Here are six suggestions:
Wear a Walkman and listen you your favorite music or audiotapes. Please hear me out before you dismiss this idea. Most studies agree that when people are engaged by what they are doing, they are least likely to focus in on their crowded conditions. Music can have a calming effect and allow your mind to wander to more pleasant thoughts. Are there any novels, self-help books or comedy tapes you would like to listen to on the subway? Regardless of the cost, it is important that you treat yourself to a tape from time to time. Your health is important and having less stress is worth it.
Pull out a notebook and write. If you must spend the 30 or 40 minutes on the subway at least make it productive. Focus on being productive during that time, and not on how much you hate the crowds. You must be the one in control. Find what works for you and experiment with what would be a pleasurable writing interest while you ride the subway. Make lists, set short- and long-term goals, or plan out your day, week or month. One teacher I knew actually corrected her papers every morning standing up during rush hour. She hated correcting papers and it gave her something to focus in on while riding the subway. Is there any office work that you could complete or read while riding on the subway?

Going over and over in your mind about how much you dislike crowds or how much you hate your employment is pointless if it leads nowhere. This negative thinking gives you stress and it can't help but pull you down mentally, emotionally, and physically. Negative thoughts do not help, because they do not give you the solutions you crave. They only damage you health wise. You must learn to get control over your thoughts, in very much the same way you will try to gain control over riding in the subway. Turn yourself around and stop focusing on the negative things in your life and attempt to pull yourself toward positive thinking. It's a very simple concept, but very hard to change when many of us have a lifetime of doing just the opposite with our thoughts. However, for your health, you must at least consider it. Having discussed your negative outlook (subway crowding), you now must decide what to do about it (whatever corrective action seems to be possible). Now return to focusing on the positive with what steps you have taken (your Walkman music tape, your writing or reading). This is a lifelong process -- working on eliminating the negative thoughts that you seem to be more prone to having while riding on the subway.
Now for the negative thoughts you are having toward your employment. Since you start the day with a negative thought it is not hard for me to believe that everything from that point on is viewed only with a negative coloring. What is it that you like and dislike about the job? If you hate it, then leave it or begin the process of finding a better job. That's a positive step. If you don't want to leave, then work at making the job better for you. This is something you have great power and choice in. Work should at the very least give you back one the following paybacks: a sense of love or belonging from the people you work with or serve; a sense of power or control from the work you produce; a sense of fun or freedom from the actual task of working; or a sense of financial pay-off (generally we are talking big bucks). Ask yourself what is it that you get from your employment.

Stay away from situations that upset you. If a crowded subway ride upsets you and damages your health with stress, then let go of that as a solution. You could discuss this with your employer, ask if you could come in early or later in the day in order to avoid rush hour completely. Change your apartment location to one closer to where you work, or take a bus ride instead of the subway. Go one-step further ride a bike in the summer, walk or ski in the winter. Be creative!

Keep your sense of humor and laugh! Laughter and humor are essential to our overall health. Whatever it takes to make you laugh on that crowded subway do it. Comedy tapes, joke books, or just your own sense of humor from your mind. Most psychologists would agree humor and laughter have a curative effect on the body, the mind and the emotions. Try to think of a crowded subway car as the best party you will ever been invited to in your life! So enjoy the ride and enjoy life! Good luck!
J. Buzz von Ornsteiner, Ph.D., is a psychologist and behavioral consultant in New York City and will periodically write the "Psychologically Speaking" column.