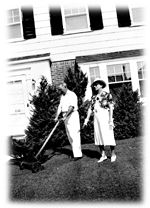 For many years, my image of life outside of New York City was represented by the two famous New Yorker posters. You know, the two where everything beyond Manhattan is vaguely located. Queens, Texas, California, Kansas, New Jersey, Japan, and Europe are all somewhere over there, an expression punctuated by the back-and-forth wave of a hand with splayed fingers.
I've since learned differently, having lived outside of New York several times. Those once vast empty areas have been filled in with actual people, real places, and genuine experiences. There is life beyond the tunnels. Unfortunately, there is also HIV beyond the tunnels.
The Suburban Face of AIDS
Strip malls, office parks, acres of parking lots, expressways, shopping malls, fast food joints, suburban rails, Kiwanis and Rotary Clubs, row upon row of cloned ranchhouses and pseudo-Tudors, manicured lawns, serial killers, "kiss-n-rides": Everyone recognizes the components of suburbia. It shares the modern mythic consciousness of America with Silicon Valley, Las Vegas, and Monica Lewinsky.
Suburbs carry with them the fantasy of middle-class privilege. Growing up in the projects of the South Bronx, I always thought that you couldn't be poor if you owned a house and a car. That is untrue. Poverty is not restricted to urban housing projects or rural farming communities. Life in the suburbs ranges from the estates of Long Island's North Shore to the slums of Mt. Vernon, with every socio-economic permutation of the American dream in between.
My first experience of the suburbs was in 1966 when my mother took us on vacation to Puerto Rico. The houses, lawns, and cars of the suburbs were something totally foreign and consequently terrifying to me. It was and is a lifestyle basically foreign to my own. Now that adulthood has brought some understanding of the unique dynamics of suburban life, it is apparent to me that it is both different from and similar to life in the big city.
It follows that the epidemic in the areas surrounding New York City (Long Island, Westchester and Rockland Counties north of the city, and parts of Connecticut and New Jersey) will be both familiar and unknown to many urban dwellers.
These are large areas, each with diverse communities and unique characteristics, and this article can't offer the kind of in-depth coverage each one of them deserves. Instead, this is a general overview of HIV/AIDS in the suburbs around New York City. Commonalities of the suburban experience will be discussed generally. Later I'll touch on some of the more striking or interesting features of these localities.
For years people have been talking about the "changing face of AIDS." For some communities, AIDS has had the same face all along. New York is Number One, with the greatest number of AIDS cases in the U.S., followed by New Jersey at Number Five and Connecticut Number Fifteen. The AIDS demographics of the epidemic in the environs of New York City resemble those of some of the outer boroughs (Brooklyn and the Bronx). For example, the epidemic has predominantly been among recognized intravenous drug users, especially on Long Island (34.9 percent of that area's cases of HIV/AIDS are among IDUs, according to the New York State Department of Health's 1997 report) and in the lower Hudson counties (49.2 percent). Even New Jersey and Connecticut share similar statistics, 48 percent and 51 percent respectively. Nationally, MSMs (men who sleep with men) are 49 percent and IDUs are 26 percent. I say "recognized IDUs" because there is also a community of "socially functioning" IDUs who have jobs, families, bills, and lives like "normal" people. This community is seldom acknowleged or discussed, since these addicts do not present a problem to their neighbors.
Ethnically and/or racially, statistics show the epidemic to be predominantly "white" on Long Island (44 percent), while people of color (especially African-Americans) are the majority in the other suburban areas (50.2 percent for Lower Hudson County, 43 percent for Connecticut, and 51 percent for New Jersey). Nationally, whites still dominate AIDS. Blacks follow. Then come the Latinos, Asians/Pacific Islanders, and Native Americans. Everyone after that is "Other."
Although men still dominate the numbers, the overall number of infected women, both with children and without, is tragically on the increase all across the country. These women are overwhelmingly black and Latina. So are most of the kids with HIV/AIDS. Increasingly, HIV/AIDS is becoming a disease of poor, marginalized, and disenfranchised communities, and that's true whether you're talking about the big cities or the suburbs. None of this is new.
Getting Around
When talking with suburban service providers in the New York metropolitan area, I was struck by the many concerns they had in common. By and large, the most serious problems in dealing with suburban AIDS are those posed by transportation -- or rather the lack of it.
If we think of AIDS as a tapestry, then transportation is a major thread in a complex pattern. Pull on that thread and the entire pattern, each individual thread, moves. Contrary to popular belief, not every suburbanite has a car. Many low-income families are dependent on public transportation to get to and from their various appointments or jobs. But given the nature of suburban public transportation (shitty, to say the least), a simple appointment with a medical professional or service provider can take all day. Although some providers have vans, there simply aren't enough to go around. Any New Yorker who lives outside Manhattan understands this frustration.
Jeff Reynolds of the Long Island Association for AIDS Care, known as LIAAC, puts his finger on the problem: "They call it Long Island for a reason. Getting around is difficult. Some people don't have the money, time, or energy to do it." Adds Lesley Stein of AIDS Related Community Services in Elmsford (that's Westchester), New York, "Medicaid won't reimburse for transportation to a support group." And according to Charles McCarren of Catholic Charities of Long Island, the state apportioned funds for transportation based on New York City public transportation rates, but "transportation on Long Island can be really expensive."
Catholic Charities now has two vans and two full-time drivers. Even so, when a client in Montauk (at the tip of Long Island) wanted to come to the organization's program in Nassau County (closer to the city), he had to catch public transportation to a place where the van could then pick him up. In response to the transportation problem, Catholic Charities and LIAAC are trying to decentralize their services, trying to do more things offsite by initiating satellite programs.
With transportation such a nightmare, many PWAs skip or cancel important appointments. Mothers who can't get childcare may be forced to miss doctor's appointments, increasing the possibility that they will become ill, or even add to the increasing number of AIDS deaths among women. As Nina Brown of the Hyacinth AIDS Foundation in New Jersey says, "Women in urban areas are more prone to go to doctors. Women in small towns don't go for services."
I remember living in Hempstead and taking a bus and then a train at the crack of dawn to make it to work in midtown Manhattan by 8:30 a.m. It was torture. Imagine doing that when you're feeling sick or suffering with Viracept-type diarrhea -- Kill me now.
Transportation might not be such an issue if there were enough service centers in the various villages, townships, and counties outside of New York. But services can be spread out over a county or even several counties. Your doctor may be in one town, your caseworker in another, and your support group somewhere else.
The AIDS Community Resource Center serves six counties in upstate New York. The scarcity of services forces people to travel. Folks in rural areas like Sullivan County (north of Rockland County), where there are even fewer services, are forced to go to the suburbs for their care. Think of the massive stress related to just getting around being added to everything else, like problems with your benefits or a medication that doesn't work. To paraphrase an old Arab proverb, traveling is hell.
Being Alone
There are other issues that result directly from the transportation nightmare. Intimately tied to the problem of getting around is the problem of isolation. If you aren't making it to all your appointments, then you stand the chance of becoming seriously disconnected from the various sources of medical and psychosocial support. "Some people believe that they are the only [HIV-positive person or PWA] in town. It's hard to find someone to talk to," says Stein. "Thank God for the telephone."
It's easy to fall out of touch in the suburbs. Not everyone has access to the Internet. And sometimes calling a hotline isn't easy. Loneliness for a PWA or HIV-positive person can be an enormous burden. As the Swedish statesman Dag Hammarskjöld said, "What makes loneliness an anguish is not that I have no one to share my burden, but this: I have only my own burden to bear."
In some areas, language difficulties can fuel an individual's sense of isolation. Services for Latinos in the suburbs are much scarcer than they are in the city. In rural areas, groups of migrant workers have little contact with local communities. So providers who can speak the language are few and far between. On the plus side, these same differences in language and culture can serve to bring Latinos together with each other, while discrimination, prejudice, and fear about HIV/AIDS continue to isolate them from the mainstream.
Isolation can also breed ignorance, as it can make information harder to come by. Howard Cutler of Jewish Family Service of MetroWest, an Essex County, New Jersey-based AIDS service organization, says, "Isolation is reinforced because there are fewer services and they are less advertised." Suburban communities are small clusters of individuals and families with larger clusters of businesses in between. The AIDS community is consequently broken up, making it hard for people to pull together. According to Cutler, "PWAs don't come together."
Tom Bowie of AIDS Project Hartford (Connecticut) agrees. "There really isn't any community, just bunches of isolated men." That's why AIDS Project Hartford sponsors a party for HIV-positive gay men every fourth Sunday of the month. "It's a way to build community," he says. Cutler adds, "Living in a city, there is more anonymity. You have a better awareness of resources. You have a better chance of meeting someone."
Geographic isolation can lessen the opportunities for AIDS activism or PWA advocacy. When a group of individuals comes together, the opportunity for some kind of group action arises. According to Stein, "We've never been able to put together a strong 'infected' population. There's not a lot of PWA activism [in Westchester]." Reynolds concurs, "Leadership development is harder because people don't want to come out."
Getting the Facts
The lack of information bred of isolation is dangerous when it comes to HIV. Nina Brown, who travels through Essex County doing HIV education, says, "I see more misunderstanding now about transmission, especially because of protease." (More about protease inhibitors later.)
Cutler agrees. "Many affluent suburban families don't think AIDS affects them. It's not perceived as an issue for them. AIDS is more surprising to suburbanites because it seems more rare to them. People feel more immune." He describes the fear that still exists. "People are still worried about [PWAs] holding babies, about [HIV-positives] working with small children. People are still scared."
Stein comments, "There's a crisis in public perception. AIDS is almost passé now." Jeff Reynolds agrees. "There's more denial out there in the general community about HIV/AIDS. People are content to think that those things -- drug use, homosexuality, people of color, AIDS -- can't make their way through the Midtown Tunnel." McCarren calls this population "city refugees."
Thus community education in the suburbs takes on even greater importance, and it takes on different forms. In Hartford, Connecticut, Tom Bowie helps run Positive Interventions, a prevention program geared to HIV-positives. There are two components, Project Athena, for female IDUs or women in relationships with male IDUs, and Project M, for gay men. At Project M, gay men discuss their sexual behaviors and issues like disclosure as a defense strategy because, as Bowie puts it, "You want to know what your partner can give you."
In Yonkers, Joan Gardner works with six minority graffiti artists who design and paint HIV-prevention murals for schools and other institutions. The young artists approached her because they wanted "to do legal work." Working with the art departments of various elementary and secondary schools, they are HIV peer educators who share HIV/AIDS information with young people while they work. The information they provide is very much needed, says Gardner, because "The kids aren't reading the literature." But the kids are talking to the artists about AIDS in their communities. The program recently won a New York State Educational Award.
The Mid-Hudson Valley AIDS Task Force has Personal Experience Speakers, who are trained in storytelling (another of the world's oldest professions). Moving around the area in pairs of infected and affected individuals, they speak at schools, churches, and synagogues.
Finding Programs
The lack of education can also result in a lack of potentially life-saving programs, but a lot depends on the social climate of the area. In politically conservative Long Island, for example, there is not a single needle-exchange program. But Connecticut has five such programs, in Bridgeport, Danbury, Hartford, New Haven, and Stamford. Mt. Vernon's needle-exchange program is run by the Urban League of Westchester. At its first public forum, its supporters included the Mayor of Mt. Vernon, the Police Commissioner, the Health Commissioner, City Council members, and the pastor of Mt. Vernon's largest Baptist Church. Mt. Vernon's League "sister city," San Diego, recently visited the program in hopes of emulating its success. According to Larry Hilton, the program's director, needle-exchange peer educators speak the gospel of harm reduction at schools, churches, and even at the Boy Scouts. As in all human endeavors, and most especially in the wacky world of AIDS, it's hard to predict when or where something is going to work.
Educating the Caregivers
Members of the general community aren't the only ones in the suburbs who need to be educated. In talking about suburban doctors, Karen Kuhn from the New Jersey Women and AIDS Network makes the point that "No matter how progressive or informed doctors are, any doctor will have limitations since so much less is known about women. There is still a lack of basic research about women." At NJWAN's yearly conference, approximately 300 women and providers come together to discuss the unique problems of women with HIV/AIDS.
Medical care in the suburbs seems to be like everywhere else. There are some really good doctors and great facilities, and then there are some okay docs and medical centers, and then there are the doctors who look at you blankly when you talk about the triple cocktail. Individuals who have the time, energy, education, and means go to New York City for their treatment.
Even HIV/AIDS service professionals need to be educated. There is now a generation of AIDS workers who haven't experienced the intense crises, the skyrocketing death rates that existed before protease cocktails. It is a new thing for them when a client dies.
As a veteran, I find that both astounding and heartening. It's also a little scary.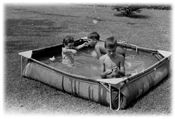 Privacy and Disclosure
Broader community education is necessary to combat one of the universal causes of isolation for all HIV-positives and people with AIDS. On the fear scale, fear of disclosure ranks right up there with fear of losing medical benefits and maybe even fear of death. All of the providers I spoke with agreed. Reynolds calls it "the threat of discrimination due to the small-town dynamic."
I have never experienced the contradictions of small-town life. The closest I've come to it was living in a South Bronx neighborhood in the early '60s, before we moved to low-income housing (commonly known as the projects). I knew everybody on my block, but everybody on my block also knew me. Although there is safety in familiarity, the familiarity can be oppressive. Anyone could ask me what I was doing. By tacit agreement, all the moms on the block took responsibility for all the kids. So even if my mother wasn't watching, somebody's mother was. Suburban life can be very similar. Total privacy is hard to maintain.
Nina Brown says, "Women are afraid to go to the doctor because they're afraid people will gossip. They're even scared to get tested. It's easier for them to say they have cancer or that they got it from a blood transfusion rather than disclose their serostatus."
Women tend to focus on their children, often disregarding their own needs. Karen Kuhn from NJWAN points to the consequences. "So women [in the suburbs] tend to feel very alone." The dangers that come with being labeled with HIV or AIDS can be even more severe in a small suburban town than in a larger, more anonymous, community. Remember the family whose house was fire-bombed years ago? Howard Cutler, who works in Essex, Morris, and Hudson Counties in New Jersey, observes, "People don't go to groups in their neighborhoods. They are so fearful about others finding out. In the suburbs, people tend to know each other, so it's harder to keep things secret." In a survey of rabbis conducted by his agency, most had never been approached by an HIV-positive congregant. HIV/AIDS remains a personal or private dilemma, something potentially destructive and too dangerous to share lightly. But lack of disclosure also now carries the threat of legal prosecution. As nondisclosure is criminalized, and the trial of Nushawn Williams looms, we all await the fallout. You're damned if you do disclose and damned if you don't.
According to McCarren, "Homophobia still remains a problem. People on the Island are more closeted. Remember those cases about the suburban men who took AIDS home to their wives? There's a weirder culture around sexuality issues [on Long Island]." (Author's note: I would broaden that weirdness to include all of the United States. Even New York City, that bastion of liberalism, gets weird about sex.)
Yet disclosure is not so simple. Coming out of any "closet" is not all roses and butterflies. Nor are fears of disclosure always invalid, although sometimes they are hard to comprehend. Many suburban organizations don't put their names outside of their buildings for several valid reasons.
Both Charles McCarren from Catholic Charities and Barry Feldstein from the Long Island People with AIDS Coalition told me the same story. After a long negotiation with Catholic Charities of Long Island, PWAC decided to move into that organization's building. Few AIDS organizations in Long Island share space. In front of the building, PWAC planted a tree with a commemorative plaque honoring the contributions of Long Island's gay and lesbian community to PWAC­Long Island. According to Feldstein, the clients of Catholic Charities HIV day treatment program objected strenuously to the words "People with AIDS." They were afraid that people would think that all those entered the building were infected. "Yet a lot of people walk here," says Feldstein. "You can't hide here." The tree and the plaque were moved to another, less conspicuous, location.
All is not doom and gloom in the world of suburban AIDS. Protease inhibitors have brought their bag of mixed blessings to the land beyond the tunnels. Although access to combination therapy remains limited, many providers have noted the changes in the PWA community. Attendance in support groups has lessened. People are feeling better and returning to their lives, and many feel less need for support.
Although suburban HIV/AIDS services are limited and hard to get to, some agencies have seen a decrease in service utilization. Given the history of AIDS funding, fewer clients may ultimately result in less funding and a diminution of services, not a good thing in the suburbs. After all, protease inhibitors are not a cure, and the long-term situation isn't yet clear.
It also becomes harder to tell what services, if any, people are actually getting. The advent of protease treatment brings new challenges to providers, who are forced to reconfigure in this new treatment landscape. "People don't want to do permanency planning. There is a reluctance to plan for the future since people are feeling better," observes Jeff Reynolds. But he points out a contradiction: "What's the good of living longer if you are wracked with guilt or fear about disclosure. Living is harder than dying."
Protease inhibitors are slowly changing HIV/AIDS service delivery in the suburbs and everywhere else. Once deathly ill individuals are now free to pursue other interests. Freed momentarily from a debilitating health crisis, they can address other issues, like going back to work, or "what do I do with the rest of my life since I'm not dying anymore?"
Clients are now coming to agencies with a whole new complex set of needs, things like substance abuse needs, mental health needs, and long-term housing needs -- concerns that stretch the capacity and can be beyond the scope of some agencies. Infected individuals now living longer have fewer resources at their disposal, so they come to AIDS service providers looking for help.
Agencies are no longer just dealing with the nice, tragic, well-behaved, grateful gay men who were channeling Greta Garbo in Camille. HIV-positive people who seek assistance now may have prison records or have spent most of their lives on the streets. Yes, even in suburbia.
Part of the change in the perception of people with AIDS seeking services is a direct result of the backlash against poor and disenfranchised populations. It's indicative of a kind of "circle the wagons" mentality of special-interest groups and politicians who shall remain nameless. Protect us from the hordes of the unwashed, like undocumented aliens and welfare mothers.
Often people who need help from institutions are not respected by the people there to provide the help. Spend an hour in any welfare office and see what I mean. Applicants and clients are expected to behave in a particular way, with extreme gratitude bordering on obsequiousness the hoped-for response. Earlier this year, the New York Times ran an article, lambasting one agency for things like having candles on the tables at their dinner program.
The attitude is that people who need help should get particular forms of help, nothing too fancy or frivolous. And people who need help must be deserving of that help. Charles McCarren calls them "the worthy poor." The director of one suburban agency complained that, unlike their clients of yore, clients now were content to "take their methadone and sit in front of the television." Although he was rightly decrying the current apathetic state of AIDS activism and advocacy, the comment was vaguely reminiscent of the Clarence Thomas comment about his "welfare queen" sister.
In the opinion of many, "those people should be doing something to help themselves." Instead, HIV-positive people or people with AIDS come demanding good services now without expecting to have to do anything in return. Funny, wasn't that what many of us were fighting for back in the old days? Ironically, it's the price of our success, the work of AIDS advocates and activists. People also go where the services are. Lesley Stein says that people from the Bronx go to Westchester for services just as people from the 'burbs go into the city. Their priority is where to get the best services. That's also part of our success.
The changing demographics of the epidemic have also contributed to the current crisis, in the suburbs as in the city. Although the number of people dying from AIDS-related problems has decreased, the decrease is predominantly in the white gay male community. In the United States, we are still seeing 40,000 new infections a year. More and more of these are people of color, including young gay men of color. The increase of black and Latina women with children seeking services has stretched the resources of agencies founded by gay men to serve their community.
Agencies are forced to develop creative responses. The People with AIDS Coalition of Long Island runs a recreational support group for infected adolescents. Called Kids Helping Kids, it's the only one on Long Island. Personal Experience Speakers from the Mid-Hudson Valley AIDS Task Force speak on HIV/AIDS in their various communities, including synagogues and churches. The protease cocktail has changed the priorities of the AIDS industry. Reconfiguration to meet client needs means serious changes for some agencies. Only time will tell us what happens.
Money
The issue everyone I spoke with agreed was universal was the need for more funding. Interesting fact: Last year, the CDC conducted a cost-effectiveness study of HIV prevention interventions. What they learned, much to their surprise, was that approximately 60 percent of HIV prevention funding goes to projects working with the "general population." That means that all HIV prevention efforts directed toward at-risk populations (IDUs, MSMs ... you know, the people who actually have AIDS or HIV) are done out of the remaining 40 percent. That 40 percent is what most AIDS agencies are fighting, sometimes viciously, to get a piece of. Looking back at statistics, we see that the AIDS epidemic has essentially remained in the populations we saw in the '80s. What is wrong with this picture?
In the suburbs, as everywhere else, everybody is fighting for the same small sliver of the funding pie. For example, Long Island has about thirty AIDS organizations, but, according to Barry Feldstein, nobody tries to fundraise together. "Organizations want to keep their own identity, so they won't merge," he says. Yet everyone is doing more and more work with less and less money. Organizations are becoming increasingly professional, which is another mixed blessing. "Gone are the days of wearing Doc Martens and earrings to work," says Reynolds. "We are becoming far less confrontive and more collaborative."
Although Reynolds had something else in mind, I agree. Despite the problems of funding and increased caseloads, the coordination, breadth, and continuum of services have increased and improved. One of the achievements of the suburban organizations I spoke with was their ability to collaborate with other institutions. The city government in Mt. Vernon is a staunch supporter of the Urban League's Needle Exchange Program. Members of churches and synagogues in Westchester address their congregations about HIV/AIDS. Area high schools participate in LIAAC's AIDS Walk. Graffiti artists do HIV/AIDS education. PWAC runs support groups for kids and prisoners.
My years in HIV/AIDS work have taught me that communities and organizations in urban areas seem to polarize very quickly and easily. Collaboration ain't all that easy in the big city. Perhaps I am frustrated by it because it is my only context. I understand the suburbs are no utopia, but the limited resources of the suburbs seem to demand some form of collaboration. I was struck by what Lesey Stein from Westchester said: "One of the things that marks this region is that there is a lot of cooperation and collaboration. We know each other. We've worked with each other. We have a long track record of working for clients. We're justifiably proud of that."
None of the obstacles or issues I discussed with suburban service providers were anything new. As some sage said, The more things change, the more they stay the same. Yes, there are differences, but HIV in the 'burbs ain't all that different from AIDS in the big city. Looking at HIV/AIDS in the suburbs compared to urban HIV/AIDS, the inescapable conclusion is that in many ways it's the same but different.
Robert Vázquez-Pacheco is a freelance consultant in organizational development. He has been a regular columnist in SIDAhora and has written for Alive & Kicking, a Philadelphia PWA journal.
Thanks ...
In researching this article, I spoke with people who are working every day to see that the HIV population beyond the tunnels receives needed services and support. I want both to thank them for their help and to pass their names and numbers on to readers who may want to use their services:
Jeff Reynolds, Long Island Association for AIDS Care (LIAAC), (516) 385-2451
Barry Feldstein and Steve Feket, PWAC of Long Island, (516) 377-4242
Charles McCarren, Catholic Charities of Long Island, (516) 623-7400
Karen Kun, New Jersey Women and AIDS Network, (732) 846-4462
Tom Bowie, AIDS Project Hartford, (860) 951-4833
Nina Brown, Hyacinth AIDS Foundation (New Jersey), (201) 451-3039
Lesley Stein, Mid-Hudson Valley AIDS Task Force, (914) 785-8200
Joanne Gardner, Yonkers Community Action Center, (914) 423-0865
Larry Hilton, Urban League of Mt. Vernon, (914) 428-5407
Howard Cutler, Jewish Family Services of MetroWest (New Jersey), (973) 740-1233
And special thanks to Tracie Gardner Wright and Andrew Spieldenner for their help.
... and an Invitation
The hard realities of time and space didn't let me talk to as many folks as I wanted to in preparing this article. Unfortunately, what this means is that the voices of actual HIV-positive people and people living with AIDS in the suburbs are missing.
Body Positive and the author invite suburban HIV-positives, people with AIDS, and their loved ones to share your experiences with us. Your letters and comments will help fill out what is now an incomplete picture, and we would like to publish a selection of them in a future issue. Please write to:
Editor
Body Positive
19 Fulton Street, Suite 308B
New York, NY 10038
Back to the December 1998 Issue of Body Positive Magazine.