At Your Service: About the AIDS Hotline
The California AIDS Hotline, a program of the San Francisco AIDS Foundation, provides information about HIV and AIDS, emotional support, and referrals in English, Spanish, and Filipino dialects to all residents of California.
It is staffed by more than 100 volunteers, who complete a 32-hour training program to prepare them for their work, and a small group of paid staff that coordinates schedules and provides supervision and support during each hotline shift. The toll-free number (800-367-AIDS) operates from 9 AM to 9 PM weekdays and 10 AM to 6 PM on weekends.
Hotline Phone Numbers
800-367-AIDS
Toll free for California
415-863-AIDS
Inside San Francisco or outside California
888-225-AIDS
For the deaf and hearing impaired
415-487-8014
To volunteer as a Hotline Health Educator
Complementing the Hotline is our new referral website www.AIDSHotline.org, which contains information on 1,300 organizations providing HIV/AIDS services throughout California. An important resource for the general public, the website is also a key resource for hotline volunteers who use it extensively in doing their work.
The hotline provides life-saving information to Californians on a wide spectrum of issues, including HIV testing, transmission, trends, and AIDS treatments. The hotline receives more than 90,000 calls each year. All calls are anonymous and confidential.
In addition to phone calls, the hotline responds to hundreds of email questions in English and in Spanish from all over the world. It is interesting to note, that most of the emails from South America and Europe are usually from an individual concerned about how HIV is transmitted, while emails from countries in Africa come predominately from organizations looking for educational information, resources, or donations. AIDS Hotline can be reached via email at contact-us@AIDSHotline.org.
California Callers: Gender and Age Data

Category
% of Calls
Male
67%
Female
32%
Unknown
1%
16 and under
2%
17 - 24
20%
25 - 34
37%
35 - 44
26%
45 - 54
11%
55 - 65
3%
66 and over
1%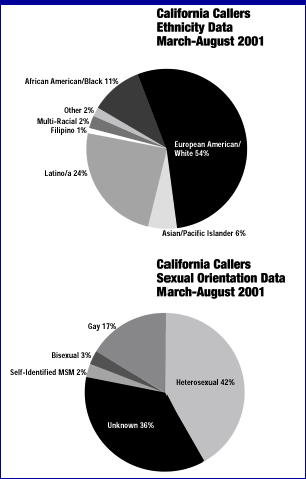 Back to the SFAF OUTReach November 2001 contents page.