In 1989, two years before receiving his HIV-positive diagnosis, poet and writer Dennis Rhodes wrote a series of candid letters to New York psychotherapist Daniel Bloom. The letters remain relevant today, and over the past few years Rhodes has shared several of them with Body Positive readers in the "Personal Perspective" column of the magazine.
This month, in honor of Father's Day and Gay Pride Month, we are honored to publish what Rhodes calls "a heartfelt, deeply personal tribute to my father -- in many ways, my most important, and climactic, letter to Dan."

Dear Dan:
Recently I went to see Diane Eichenbaum, the astrologer. I say "the" astrologer because Diane is in a class by herself: She's elegant, mature, very down to earth, and she doesn't take herself too seriously. I had my chart done for the first time. I went to see Diane at the suggestion of Lorraine, my psychic. Am I a New Yorker or what?
Diane told me some insightful, provocative things, not the least of which is that my rising sign is Scorpio. That revelation hit me right on the chin: So that's where all my sexual energy -- and compulsion -- comes from! I should have known. I've never known a Scorpio who didn't have sex seeping from his pores.
My session with Diane was a potpourri of admonitions, insights, and prognostications. She told me that I have to keep working on my compulsions. When it comes to sex, she said, I tend to cultivate friendships from initial sexual encounters. She's right on that score. She said I would do well to put sex down the list. I agree with her, but even if I did put sex on the bottom of the list, I'd probably turn the list upside down so it would be right back on top. I'm resourceful, you know.
Diane said it's obvious I'm having an extraordinary year. The reason is clear and compelling: Pluto is my rising sign. That happens very, very rarely. And as Diane noted in her commanding yet sweet-as-honey Southern accent, "Darling, when that happens, you're going to change -- there's no doubt about it!"
Diane revealed that Pluto leaped onto Scorpio in January of this year. Boy, did it! As soon as New Year's Day was over, I unsuspectingly embarked on the most raucous, exhilirating, painful, hopeful, scary, and promising year of my adult life. The facts and the events are simple enough, but the emotions surrounding them are complex: I lost my job; my dog, Dusty, died; my doctor died of AIDS; two friends, one close and one not-so-close, died of lung cancer; I started working in an AIDS clinic and saw the intransigence of death. And, despite all this, perhaps because of it, I found the courage, had the sheer guts, to stare down my compulsions. After years of alternately accommodating and fleeing my ubiquitous, chameleon-like demons, I have the balls to turn my back on them. Sometimes for hours, sometimes for days. I have strength I did not have before.
Had circumstances (fate?) not sent me to Diane, I may not have learned -- and nurtured -- the source of that strength.
Diane looked at my chart, looked at me, and with a touch of sadness said it was clear that my father had been destined to leave me.
She told me something in no uncertain terms. She said that my best energy comes from my father. And I must forgive my father to free that energy and to benefit from it. She said this would happen within a year.
For 33 years, my father had been a shadow, a vague and lifeless presence off in a neglected corner of my heart. For 33 years, as I anguished and grappled with the destructive legacy of my grandmother, as I learned to come to grips with the unintentioned yet devastating abandonment by my mother, my father was there. He was waiting. Waiting for me to slog through the thicket.
And he waited in a hell much greater than my own.
---
My father worked on the railroad. So did his father. And his brother. America, which once had a use -- and a reverence -- for its railroads, treated its railroad workers well. They in turn were able to provide for their families well.
Railroad workers do not pay into the Social Security system. Rather, there is something called the Railroad Retirement Board that administers pensions and other benefits.
The Railroad Retirement Board, which I assume is a legacy of the New Deal, played a key, sustaining role in my life; month after month, year after year, throughout my adolescence, my mother would receive two checks -- one for herself and one for my brother and me.
These benefits were generous, and they allowed my mother to finish raising us with dignity. I lived with my mother for twelve years after she came home from the hospital in 1964. While my inner emotions were tumultuous, and although my mother continued her symbiotic, tense relationship with her mother, our outward lives had a kind of normalcy. Even a serenity, by comparison to the time before my mother's emotional breakdown.
Often, after the Railroad checks arrived at the beginning of a month, my mother would be sad. She would cry, just a little, and tell me what my father used to say to her: "Marion, if anything ever happens to me, you and the kids will be well provided for." Sometimes he would say this to her for no particular reason when he was going off to work. Sometimes he would say it to her when he was mailing in his union dues. Always, he would say it with the natural pride of a young man who worked hard to take care of his family.
Small clues, snippets of other people's memories, fondly though dimly remembered stories and quotes, converge to give me a tantalizing, embryonic picture of my father. Like an artist in critical need of timely inspiration, the right model or setting, and the proper balance of light and color, I reach out with eyes wide open and go about the work of recreating my father.
I am not ashamed to think of my father as an ordinary man. The "ordinary men" of his generation did things that I call extraordinary. They went off as teenagers to fight World War II, and when it was won they came back and dove lustily into a country pregnant with opportunity. The United States exploded after the War and had an energy and promise I may not see in my own lifetime.
My father joined the Navy at the age of 17. There was no need to encourage this -- and no stopping him! He dropped out of Memorial High School in West New York. There was a job to be done, a great adventure to go on. When you're called to go overseas and kick Hitler in the ass, the Saturday afternoon varsity football game pales by comparison.
My father was cocky enough to know he'd come back alive. He had no intention of being a name on some war memorial. He had every intention of coming home and marrying his high school sweetheart, Marion.
My father served on a number of ships. One of them was called the Sea Runner. In 1943, the Associated Press ran an amusing little story nationwide: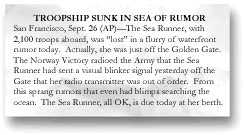 Dan, I like to think of that story as an allegory: My father is signaling me that all is well. What seemed hopelessly lost . . . is not at all. Accompanying the yellowed newsclip is a carbon copy of a memo from the Commanding Officer of the Sea Runner, commending my father's skills as a signalman. "On his own initiative, and during his off watch periods, he has assisted with signal watches and has proven himself fully competent to stand a signal watch. . . . Despite the fact that he knew there was no provision whereby he could strike for signalman or attend a signal school while in Armed Guard, he took seven of the progress tests for signalman third class, passing with high marks."
That's my dad he's talking about.
I have to tell you something I am most ashamed of. Those musty and faded documents and photos, mostly of my father's service in the Navy, are housed in an old and brittle Fruit of the Loom underwear box. The box looks to be forty years old. It was given to me four years ago. You'll remember I told you that some, by no means all, of my mother's possessions, which had been lost, had miraculously resurfaced. Twenty-three years later.
My mother gave me this sad little box full of disjointed memorabilia. Until this year I'd kept it shunted off in a corner of a closet. I was embarrassed by its meager contents -- it even contained my father's unemployment reporting book from just after his discharge from the Navy. It contained, incongruously, a set of picture postcards from the Painted Desert and the Petrified Forest that my father had sent to his mother. It also had a silly and flowery certificate given to my father when he crossed the equator for the first time, bound for Australia. And the box contained something I recoiled from -- a blurred photo of my father, bloated, drunk, and looking far older than his years, with a beer bottle in the foreground. That photo told me my father was an alcoholic.
When I am ashamed of, Dan, is that I once could not wait to give that box back to my mother.
I had not even remotely begun to know, or truly care, who that man was. My father had died when I was two years old, and his doing that made my childhood into a hell. I know I did not hate him. But loving him was out of the question. I was prepared to dispense with that box and to let my mother attend to her own deluded memories of a man who had cheated on her and who had left her a young widow.
---
Diane looked at my chart. She looked me straight in the eye and said, "Your best energy comes from your father. There is no question that you must forgive him."
I left Diane's presence with the uneasy feeling that the actual, true life I was to lead was on hold. Something must happen between me and my father. I did not know what it was. Or how and when it would happen.
---
I need to tell you now about the saddest day of my life. For years, my willful, almost belligerent, optimism kept me from uttering the word "sad," much less feeling it. But the act, one day last year, of being a dutiful son caused great pain and sadness. These have since given way to a muted, slowly blossoming, joy.
Thirteen years ago, when I graduated from college, my mother's -- and my own -- Railroad Retirement benefits came to an end. For me, they would never resume, and it was time to make my own way in the world. The arcane and complex bureaucratic scheme of things allowed my mother's benefits to resume when she turned 60. This meant a wait of twelve years.
It was a very long twelve years. My mother's only income was her receipt of my father's modest Veteran's pension. I thanked God for this, and I did my part by faithfully, unfailingly sending my mother money each time I got paid. I am proud and satisfied to have stacks of canceled checks representing my love and loyalty to my mother. For her part, I've never seen a person so frugal and able to stretch a dollar from here to Cleveland. Sometimes she complained mildly, never vociferously, about the dearth of money. And like all of her other struggles, she survived and managed with great dignity.
During that frustrating and challenging dozen years, my mother would, in a melancholy way, look ahead to the renewal of her benefits. There could only be relief in this expectancy. But when the day finally came it would seem, quite starkly, that my mother was growing old. And it would mean the aching of old wounds that had only seemed, to the naked eye, to heal. Wounds that merely accommodated themselves to a resolve that life must, after all, go on.
I should have known that, when it came, that day would be as gray and dreary as it is possible for a day to be. I awoke early and I felt immediately a grave sense of duty. The ensuing year has helped me understand why I felt so heavy-hearted and passive on that day: I was undertaking a great task at the behest of my father, and I was to feel what I as an infant could not feel 32 years before. For me, in a special and inscrutable way, this was the day of my father's funeral.
It had occurred to me that the responsibilities at hand should be discharged with dignity. And style. So I had arranged to be picked up in Manhattan by a black corporate sedan with driver. I needed to take my mother to Newark, New Jersey, and I certainly had no intention of taking her by bus.
I glided through the Lincoln Tunnel feeling gloomy and lost in thought. But I felt oddly self-assured. I felt purposeful, and I knew I was in the throes of some rite of passage.
My mother was dressed and ready, as she was for any occasion. There was an immediate, unvoiced understanding between us that words on this day were to be kept to a minimum. There was no need to discuss in detail the task at hand: Twelve years of waiting had made us both ready. Our silence on the ride out to Newark in the rain was eloquent and rich. I looked at my mother out of the corner of my eye. And with an imagination fueled by love and tenderness, I saw her in the backseat of another black sedan 22 years before. I knew she was reliving that long-ago, impossible day. And it was merciful that in the reliving she had her grown son beside her.
Newark, New Jersey, is a place of failed dreams and lingering nightmares. Like so many blighted American cities, where despair coexists with concrete, you can, if you look closely, see little sprouts of life and hope in the cracks of crumbled sidewalks. It is certainly no place to be a child. But ours is a society that often gives harsh choices, or none at all.
It was an improbable place for my mother and me to be that day. But I, and she, had spent a lifetime in improbable places. We shared a bond of resolute hope. Fellow travelers, we endured, and stayed the course, through the flat tires, the derailments, the unavoidable detours, and a few crash landings.
This was clearly the safe arrival at the end of a long trip.
Our appointment at the Railroad Retirement Board was for 11:00 a.m. We were a little early, so I took my mother for a cup of coffee in a nondescript but clean little coffee shop. This was in the lobby of the Board's office building. Soon it was time to go upstairs. I could feel us both emotionally bracing ourselves.
I will always be grateful that at a moment when my mother and I needed another human being to be kind and gentle to us, one was. I had feared being attended to by a cold, impersonal bureaucrat. Rather, a pleasant black woman in her 30s called us into her office. It was a drab office, but her easy though businesslike manner gave it some warmth. On the walls were prints of old locomotives.
It certainly was not her intention to cause pain. That was the farthest thing from her mind. She had a job to do. It was a routine job and seated before her were two routine people on a routine day.
Eager as always to please and sweetly diligent, my mother produced a frayed and weary envelope from her purse. From the envelope she took yellowed, limp pieces of paper. She handed them to the bureaucrat across the desk. The woman, giving just as much attention as her job required, and no more, thumbed through them. She mumbled what each one was: birth certificates, marriage certificate, death certificate . . .
Death certificate!
Startled, I reached my hand out to the woman and said, "May I see that?" She handed it to me.
I gingerly unfolded a document I'd never seen, a document I'd never imagined or wanted to know existed. I lowered my head and I struggled successfully to maintain my equilibrium. Tears clouded my eyes, and I dared not let any run down my face. Through these tears I looked at the notation cause of death, and under it I saw words, very long words, impassively clinic. Words with stark finality. Words that purported to tell me why my father died, that were typed and filed away 32 years before, blithely sending the "survivor" of the "deceased" into chaos.
I was just lately an infant, barely wailing, when the disaster happened. I suspect it happened at night; I associate the night with disasters. I may have been put to bed, and I may have been uneasy and wakeful.
It is recorded that at the first instant when the Titanic hit the iceberg, those passengers who had retired for the night felt a small, imperceptible -- yet unsettling -- jolt. Many went right back to sleep.
I'm sure that in the dead of night I felt the jolt. And the following day, with the wreckage and debris of my father's life around me, I started to learn, young as I was, the hard and bitter lessons of survival. A great handicap for me was that I hardly knew what happened. I have lived a lifetime in post-traumatic shock.
Now, as an adult, holding my father's death certificate, I knew, but infinitely more important, I felt what happened. For everyone else, he had died in 1956. For me, he died on this cold, unforgiving day in 1988. And it was as a man, sensitive to the bone but strong to the core, that I accepted the loss.
The paperwork was done. The bureaucrat told us that my mother would receive her first check in October. Three months away.
Outside in the hall neither my mother nor I could speak. I knew she was biting her lower lip to stifle tears. I held my tears at bay. There would be time later. And I knew our thoughts were the same. They were my father's words, my father's trust and longing, made real: "If anything ever happens to me, you'll be well provided for."
I had done my duty as a man. I had discharged an enormous responsibility. And with the task completed, the Child was truly Father to the Man.
Back in the lobby of that drab office building, I had an odd and sudden impulse to leave by the side exit, although we had come in by the front. I took my mother in hand, and we turned a corner. There, incongruously, just before the exit, was a small and nondescript jewelry stand. A slight, bespectacled old man was hunched behind a glass counter.
It suddenly seemed important to me to buy my mother something nice, to cheer us both up.
I scrutinized the objects in the case -- gold watches, bracelets, necklaces, brooches, all glinting in the dirty fluorescent light. My eyes fixed on an exquisite, fragile-looking pendant: three white pearls and a gold leaf on a delicate gold chain.
With no warning, a clear and forthright voice, coming from no one in the room and audible only to me, said, "Buy this for your mother." Since it is not my wont to disobey my father, I took out my MasterCard and bought his gift to my mother.
Outside on the sidewalk, I held the pendant reverently in my hand. To my mother I pointed out the obvious: The three pearls stood for what was most precious and dear to my father. His wife. His older son. And his younger son.
It was a day when loss hung heavy in the air.
I did not know then what a turning point it was in my life. The loss, being fully realized, would never again diminish me. My father was desperately reaching out to me, and I was almost ready to respond.
---
"Your best energy comes from your father. You must forgive your father to free that energy."
Diane Eichenbaum's admonition was an arrow of truth embedded in my psyche. I had no doubt that something tremendous was going to happen. I was on my guard, and watchful.
I want to tell you very simply what happened. No embellishments. No melodramatic flourishes.
Two months ago, I was lying awake on the sofa. It was about 1:00 a.m. The Little Bear was asleep on his bed across the room. My eyes had adjusted to the darkness and moonlight, white and pure, filtered through lace curtains, making fluid, kaleidoscopic patterns on the ceiling.
I felt peaceful and my mind was clear.
I began to think of my father. And I realized, with a startling matter-of-factness, that all of my life I had been thinking about him in the wrong way. I had always grappled with, anguished over, the question of, Do I love my father? Should I love my father? Does he deserve my love?
Those were impossible issues for me to deal with. His death, his abandonment, had caused too much pain. In my heart, he was bound to be the loser in the face of such questions.
But they were the wrong questions. The right question was, Does my father love me?
I had been looking at it all backwards. Now I turned it around. And the result was explosive. Does my father love me? Did he love me when I was a child? Did he love me on the morning of the day he died?
Of course he did.
My answer to such questions could not be anything but yes.
The night was still and I lay there in a state of astonishment.
This night, this moment, was a very long time coming.
It had always been my pain that obsessed me.
Now it was my father's pain that mattered.
We Catholics have a belief in a place called purgatory. According to my dictionary, it is a place where penitent souls are purified.
Ever since my father died, my mother and I would speak of him as being in heaven. I know now that he was not at all in heaven. For 33 years, he was in this sad and frustrating waystation. Purgatory. Thirty-three years which I know felt like one million years to him. One million bitter, terrible years. My father, with the impetuous temperament of the 17-year-old boy who went off to join the Navy, must have suffered greatly.
He had to wait those million years because only one thing could free him and allow him to enter heaven. The forgiveness of his younger son.
He had to sit and wait and suffer until Dennis worked things out, until Dennis was hit one night with that profound and redeeming truth: His father loves him.
I did what had to be done. I reached up my arms toward the ceiling, the sky beyond, toward my father and toward heaven. I said in a voice quite soft, but which echoed in my father's ears like thunder, "Father, I forgive you. And I accept your love for me."
Instantly, I felt cold from head to toe. Chilled to the bone. It was a fleeting sensation. I knew what it was. At the utterance of my words, my father, that patient, stoic soul, passed into heaven. And he made sure he touched me as he did.
It was not a moment important in the annals of mankind, as when the curtain of the Temple was rent from top to bottom. But it was a moment that restarted the sweep-hand of my life. I had emerged from calamity and disaster, and I discovered where the strength to do it had come from.
This was a rare privilege I was granted. Jesus Christ suffered at the behest of his father, and yet his father gave him the strength to endure that suffering.
My life has changed forever. I will never be the same. I am a different person, Dan, from the man who first walked into your office.
Whatever life confronts us with, my dad and I will see it through!
-- Dennis
Back to the
June 2000
issue of
Body Positive
magazine.