Ron Drummond
At the time his positive test results were given to him, Ron was about to become a buddy to a Gay Men's Health Crisis client. He went ahead with his assignment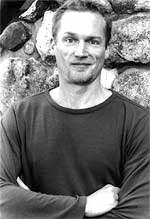 Seated on one end of a couch in a Chelsea apartment he shares with his lover, poet Ron Drummond is wrapping up the interview he's granted Body Positive. Across the room, up a small flight of stairs, his computer monitor glows. To the left, outside large sliding-glass doors, some of the plants in his garden lie dormant, while others bloom. "Poetry," Ron is saying, "connects you to traditions that existed way before you and presumably will exist way after you. At the same time as you are creating your own tradition, you've got company. It's a literary version of a cloud of saints. Poetry connects you with something bigger than yourself."
The Big Picture
Ron, it seems, has always been part of something bigger than himself, literarily as well as figuratively. Born on Long Island in 1955, he was the seventh of ten children. When he was 16, the large Drummond family made a big move to Illinois. There, Ron finished high school to become part of a larger student body at Northwestern University. With a B.A. in his luggage, he moved to one of the largest states in the Union; then, after three years in California, in 1980 he returned to New York, the Big Apple, pursuing the same big career goal as a big number of other New Yorkers--a career in the theatre. Perhaps most impressive, Ron and his lover, Terry, have been together eighteen happy years, a huge achievement in a changing world where it may or may not be easier to have a gay relationship.
And, in 1987 when he discovered he was HIV-positive, Ron was part of two things bigger than himself, two things that have helped him live life with HIV, and life period. One, he was hooked into a gay community; and two, he was deeply involved in a community of faith. Ron had for some years been part of a study that examined the sexual activities of gay men and the sociological effects of AIDS on the healthy as well as the health-challenged. The study required that Ron have blood taken regularly and that he regularly answer questions about his sexual activities and his feelings about illness, death, and dying. Ron is modest. He doesn't brag. But his commitment to the study no doubt had something to do with his social consciousness, his avoidance of self-centeredness. In fact, at the time his positive test results were given to him through that study, Ron was about to become a buddy to a Gay Men's Health Crisis client. He went ahead with his assignment.
About the community of faith, Ron says, "When I found out I was positive, I already had a support group of sorts--a gay Bible study group that I attended. I was very grateful to have the support of those friends. While I may not go to weekly meetings now, it's something that's been really important to me--to continue to learn from and be open to people who are looking at faith issues." Ron continues to nurture his faith by attending two annual Christian retreats, one in summer and one in winter. "I do pray," he says, "though sometimes it's very short--'Lord, help me.'" In "Why I Kick at Night," as in other poems, Ron sometimes extends those short prayers, blending them with his signature gratitude and optimism, his humor: "Paul tells me my kicks are prayers not put into words, unuttered groanings / that can't be heard. It's all a gift. Amen to Paul."
The Changing Picture
All of this is not to say that testing positive has not presented challenges. "Terry and I had a long honeymoon and my testing positive was an explosion in the middle of it. The honeymoon's not totally ended, but my new status profoundly changed us for a period of time. I was upset because I felt the way I looked at the world changed without my asking it to. Terry wanted the relationship to go on as it was."
How Ron's view of the world changed is complicated, as complicated as you might expect considering that Ron has experienced the pandemic both pre- and post-protease inhibitors. On the one hand, he never thought HIV would take his life. On the other, "When I first went on the new meds and in three months saw my viral level go to undetectable, there was a feeling of relief, confusion, and disorientation. I think the lowered count raised the question, 'What am I going to do with the rest of my life?' Now, if I didn't believe I was going to die, why the relief? On some level, I must have thought I was to going to die."
How Ron's relationship changed is no less complicated. Just as dealing with HIV as Ron--an individual--involves developing a combination of mental outlooks and day-to-day activities ("What am I going to do with the rest of my life?"), so does dealing with HIV as the infected partner in a serodiscordant relationship. "A lot of activities Terry and I did with each other were already safe. We were using rubbers. But now there was no question about it. And to be aware of that is also to be aware of something bigger than you." Where day-to-day aspects are concerned, Ron confesses, "I had friends who were positive that I really bonded with after I found out about my status. Terry felt excluded because, by circumstance, he was. He understood; still, it was awkward." How has Ron given Terry equal consideration? "I made some changes. My goal was to be a company manager. The dues-paying travel necessary to become a major company manager was out of the question--I didn't want to do anything that might risk the security of my relationship. I took a full-time job as a comptroller for a commercial talent agency. I did that for six years. That stability was good for a while. And then it was boring."
Poetry lovers can be grateful, then, that Ron was committed to a third thing bigger than himself--his relationship--because the humdrum of a full-time job eventually solidified his long-time interest in writing. "Specializing in finances was not my territory. I took up a poetry workshop at the Upper West Side YMCA, where I met a group of gay poets who I'm still in touch with."
"I also think the writing came out of my being positive, trying to find words for what I was going through." What Ron was and still is going through is something that requires vigilance. "When you're dealing with something that doesn't have a lot of answers you become tuned in to your body. And that's a good thing. I take better care of myself than I would if I wasn't positive. I work out, and if I'm away from a gym, as I was when I went on writing fellowships this past summer, I'm resourceful. I row or canoe or jump rope. At the same time, I don't want to be too detached from other people. That's the danger. That's also the danger of walking around angry about it all the time. You can become about 'it.' I'm always working with that."
---
Ron's plans include learning to write "a better prose sentence" and studying with more poets. "I love being a student," he says, adding, "I do think that maybe by my seventies I'll be attempting plays, and then in my nineties the ultimate writing form, the song lyric. In my youth I started off as a soprano, a boy soprano. I sang higher than a lot of girls."
Ron would also like to continue applying for writing fellowships and submitting poems to journals. Since he began writing seriously in 1995, he's been awarded fellowships by the Ragdale Foundation, the Virginia Center for the Creative Arts, and the Blue Mountain Center, and his poems have appeared in a variety of publications, from community magazines and journals like Art & Understanding and the James White Review to general literary journals like Phoebe, Northwest Review, and The Journal.
In the meantime, he works and gardens. "The part of gardening that's related to HIV," Ron says, "is that with HIV you're always learning what's in your control and what's not and just kind of balancing that and doing what you can healthwise to keep well. Gardening at first is something you think you can control, but instead it teaches you. You find out that every corner of the garden gets a different kind of sunlight and exposure. You find out what all the ecologies in one little 45x20 plot are and let it tell you what it wants."
And then, proving that he's the consummate poet who avoids clichés and clichéd ways of looking at the world, Ron adds, "I had a weird meditation one day plucking out weeds. At some point, I was in awe of them and their stubbornness and in awe of HIV. You can see it as the enemy and still be in awe of its stubbornness. It's just one more dimension."
If It Helps
I have never had sex with your estranged boyfriend.
I've never even groped his buttocks playfully (on purpose).
We've kissed hello on the cheeks (I prefer
his fresh shaved, although I have found
the gray in his stubble surprisingly titillating).
But then, you and I have kissed that way in greeting
and we haven't had sex, have we?
Clearly, one of us would have remembered
if we had.
Ron Drummond
Steven Cordova is a New York poet and activist, and a frequent contributor to Body Positive.
Back to the
April 2000
Issue of
Body Positive
Magazine.