I ride because I can. I ride for those who cannot. I ride because too many won't. This is a common sentiment among AIDS Ride Positive Pedelers, or Pos Peds. We are a group of riders who come together from all walks of life and choose to participate in one or more of the many AIDS Rides around the country, fully disclosing our HIV-positive status by wearing special jerseys and bright orange flags on our bicycles.
San Francisco rider Jonathon Pon founded the Positive Pedelers several years ago. Pon had a vision of HIV-positive riders supporting each other throughout training, fundraising and along the ride route. As visibility of Pos Peds grew in California, its tradition spread to AIDS Rides around the country. Each AIDS Ride now has a Pos Ped team recognized with the jerseys and flags, and participation in the opening and closing ceremonies. Jonathon passed away last year and leaves a legacy in the Pos Peds for all rides dedicated to raising money and awareness for AIDS. For that I thank him.
Over the past few years I have felt fortunate to participate in the Heartland AIDS Ride as a member of Pos Ped. I have been inspired and hopefully inspired others. What I do know is that I've joined others in making a powerful statement about how we view HIV.
This was not always the case though. The first year I rode in an AIDS Ride, I discovered how I could be "stopped" in the face of fear and judgment. In 1998, I arrived in Minneapolis for my first AIDS Ride experience. I was terrified yet exhilarated as I had trained for months, raised the needed donations to participate and now only had to prove to myself I could ride a bike from Minneapolis to Chicago. At the registration site, I saw a table for the Pos Peds and suddenly my fears and what I would later interpret as selfishness arose. I recall telling a friend that I could never do that, I mean why would I ever want to ride a bike through rural Wisconsin waving a flag screaming "I'm infected -- come look at me." I felt that I didn't need to be an activist on the ride. I had done my share of lying on Capitol steps, confronting politicians, and demanding better access to services and funding. Why would I need to do that on the AIDS Ride?
By day three of the event I learned the error of my thinking. I saw the Pos Peds riding with their flags and jerseys. They were not being confrontational by waving their orange flags in peoples' faces. Nor were they demanding attention or monopolizing other riders' time with their ideals. Nor was there shame in riding through central Wisconsin with visible symbols disclosing positive status. Most importantly though was my impression of grace and bravery in sharing with the ride community and the world that there is power in openness. I learned that day that with a very simple gesture I could contribute to an entire community. I learned that in a sense, I had made a choice to be selfish about who I am. I realized that I was participating in the ride with a selfish intent, one of proving to myself that I could ride my bike from Minneapolis to Chicago. My focus on the ride was on the specifics I could get out of it rather than being part of an experience shared by the entire ride community.
This realization opened up possibilities that I couldn't imagine. After proving to myself that I could do the ride, I had a feeling I could accomplish anything I put my heart and mind to completing. I could take on the world without selfish intent, sharing myself fully; clearly available to what others in the world had to offer. I chose to take on the ride again. This time without regard for myself, but really doing the event for others -- helping other riders along, helping the beneficiaries provide services to their clients, being part of an event that knows no emotional boundaries and is only limited by the actions and beliefs of those participating.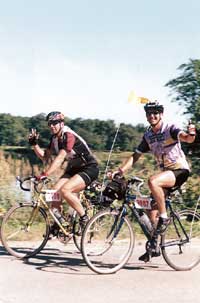 I arrived in Minneapolis the next year with a new sense of freedom. My first stop that year was the Pos Ped table where I joined the team. Admittedly, it was a little scary, but also comforting to know that I was joining a team of other riders who undoubtedly have similar experiences as my own and go through many of the same fears and stopping points as I do. As I signed my name and picked up my jersey and bright orange flag, I felt a feeling of joy knowing that I was going to ride as a flag-waving Pos Ped cheerleader. I was a force of nature rather than a selfish victim of circumstances. I was unstoppable in my conviction to make the ride as empowering for others as it had been for me the previous year.
As I reunited with old friends, some from the last ride and others from long before in college, I suddenly faced the fear of disclosure. I realized this was the first test. I had to not only face the issue of telling old friends I am positive, but also I had to face the fact that I felt like a selfish jerk the year before. As we were going through registration lines, I remember hearing from Anna, an old friend from college who had also done the ride the year prior, "That's a great jersey, where did you get it?" As beads of sweat started building on my forehead, I told her it was a Pos Ped jersey. After a very brief moment of silence she responded with indelible warmth and just said, "I love you, Jeff." Others around us in line started asking about the Pos Peds and I was suddenly rushed with such unbelievable support from complete strangers that I started to understand what the AIDS Ride community is about. I was surrounded by people who, for whatever their reason, are driven by the possibility to make a difference in the world. I understood that without even knowing me, they cared for me, my well-being, and my presence on the ride.
As the ride continued that year, selfishness and insecurity decided to rear its ugly head again. Was this another test? After riding for hours in a torrential downpour of rain, following a night of virtually no sleep because of rain, I decided I couldn't go on for one more turn of the wheel. It was sheer misery. As I was struggling with each pedal stroke, I knew it was perfectly OK to give up. Anybody would agree that being positive, I probably should not be out riding in pouring rain and strong winds, basically freezing my ass off. Just when I was ready to pull over and wait for a sag wagon, another rider came up behind me, looking as exhausted and "over it" as I was, and told me that if I could do it he could too. Together we rode in a downpour for another ten miles until we reached the next pit stop. Again I was given a chance to move beyond my own limits while supporting another rider in expanding his horizons.
The generosity of all the riders and crew continued in what has become the reputation of kindness on the AIDS Rides. People simply go out of their way to help others. I frequently took the opportunity to cheer riders up steep hills, visit with children selling lemonade along the ride route, talking with spectators about why I do the AIDS Ride and how important the Pos Peds are both for me as an individual and for the entire ride experience. We provide a source of information on HIV and AIDS as well as giving a face and personality to the disease.
Last year on the AIDS Ride, I met a young woman who was riding for the first time. She was riding for her brother who had passed away from AIDS the year prior. Doing the ride was her way of trying to let go of her brother, as her knowledge of the details of his illness was very minor. As we spoke while riding through the rolling hills of Wisconsin, she gave me the gift of remembering her brother as the active wild person she knew. She told me how I reminded her of her brother. I don't know, perhaps it was the heat or humidity or something, but I felt a unique connection to her. As we rode, she seemed to realize that her anger toward her brother's HIV infection was more sadness over her loss. She thanked me for being so open about being positive, how it does and doesn't impact my life. After all, with the exception of a few circumstances caused by meds, my life has only altered where I have allowed it to or caused it to.
The impact of riding as a Pos Ped is different for everyone. For many like myself, it is a place of freedom where the fear of discrimination is replaced by respect and compassion. It is an opportunity to give something back to the world. For others it is a form of activism and visibility; a chance to have our collective voices be heard. Whatever the case, Pos Peds has given me the gift of moving beyond my perceived selfish limitations and the opportunity to open myself to the compassion offered by others, for others.
Jeffrey Allen is the Events Coordinator at Test Positive Aware Network. For more information on Pos Peds, please contact him at jeffrey@tpan.com.