Decatur/Atlanta, GA
Time: 3:07 p.m.
eulogia, (Greek): meaning praise or blessing. This is the time to give thanks for a person's life and to honor his or her memory. This is not the time to bring up painful or difficult memories but to emphasize the good we can find in all people.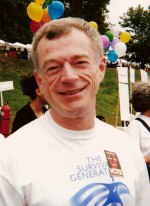 Dan Dunable
It has been well over a year since my friend Dan Dunable died. We think he died on October 4th ... but we are really not sure ... we don't know, we are guessing. What we do know is that he was dead when we found him on Wednesday, October 4, 2006. "We" included me, Butch, Jon, the Atlanta Police Department and the Atlanta Fire Department. It was a circus and a nightmare.
This is how it all happened: My friend Saul called me. He called while I was in my qualitative research class and left me a message. When I called him back, he asked me if I had talked to Dan. I asked him why and he told me that Dan's mother had been calling everyone, asking if they had heard from Dan, because she could not get in touch with him. I told Saul that I would swing by Dan's apartment on the way to pick up some Mexican food. If he was home, I was going to tell him that I thought it was mean to make his mommy worry and that he should call her back ASAP.
When I got to Dan's apartment complex, I knew something was wrong because an ambulance pulled up right behind me. Because Dan lived in a gated community, one of his neighbors had to let me in. Once inside the complex, I saw Dan's car in the parking lot. Dan's ex-boyfriend and one of our mutual friends were standing on the sidewalk in front of Dan's apartment. I got out of the car and immediately asked, "What the f** is going on?" I was informed that Dan's ex (Jon) and close friend (Butch) had knocked on the door of Dan's apartment for several minutes. When they received no answer, they immediately called the police.
The police arrived first. Once they realized that they had no way of opening Dan's door, they called the fire department for help. The fire department arrived within minutes and broke open the door. The police told all of us to wait outside of Dan's apartment. A few minutes later, a policewoman came out and told us, "I'm sorry, he is gone." I asked her to clarify what she meant and she told us that Dan was dead. I began to cry and thought about the fact that my friend was no longer alive, and that someone was going to have to tell his mom that her child was no longer living. Jon called Dan's brother in Washington, D.C., and he called his mom to tell her that Dan was dead.
After Jon called Dan's brother, the medical examiner arrived to investigate Dan's death. The medical examiner says that Dan died from a stroke. The medical examiner said he had not been dead that long. I guess it doesn't matter how he died, but yet ... it does. It doesn't matter because Dan is dead and I will never see him again. It does matter because Dan's T-cell count was good, he was adherent to his meds, he went to the doctor, and he exercised ... so I don't understand why he is dead. Did he die because of his HIV, because of the medications ... or was it something else? I don't know.
Dan was an HIV treatment advocate. He had a wealth of HIV knowledge. It was absolutely amazing. He was probably one of the most knowledgeable people I knew. Keep in mind that this man had NO medical background. He worked at Macy's for years as one of the top salesmen in the company. He was a self-educated HIV treatment expert. He taught himself everything he knew about HIV by becoming involved: attending conferences, searching the Internet and talking to "experts" in the field. He was amazingly humble and could explain anything to you about HIV. He was not arrogant or cocky. He would shy away from praise.
Because of his dedication to HIV knowledge, he became "the" Atlanta resource for HIV treatment information. Due to his expertise, he was asked to be a member of several local advisory boards and gave input and treatment recommendations to pharmaceutical companies. He advocated for the AIDS Drug Assistance Program, attended local, national and international AIDS conferences. He wrote articles for several publications. He was a valuable resource to our community. He was a role model. He was not simply a patient or a person with an "illness." He was self-empowered and involved in his healthcare. He understood that he was primarily responsible for his healthcare, and that everyone else was simply a resource in the journey towards optimal health. He embraced this ideology and lived a long time because of it.
While Dan was employed at Atlanta's AIDS Survival Project's Treatment Resource Center, it became the most influential and respected resource of its kind in the Southeast. He helped lots of people ... he probably helped save lots of people's lives. Unfortunately, the Treatment Resource Center doesn't really exist anymore. The main newsletter that he wrote for doesn't come out in its original format ... and I wonder ... what would Dan think about that?
I think becoming actively involved in the pursuit of knowledge is essential to staying alive with HIV. As the old ACT-UP slogan reminds us, Knowledge=Power and Action=Life. For the newly diagnosed ... and for those who have been living long with HIV ... learning everything you can about HIV is the only way to make sure that the meds you are taking are appropriate for YOUR body. Learning everything you can about HIV is the only way to make sure that you are taking the BEST combination for your body and your life circumstance. It is OK to question ... because you have a right to know what is being "done" to your body.
Furthermore, learning everything you can about these drugs and this virus allows for your voice to be heard on a local, state and federal level ... because when you are knowledgeable, you can articulate your needs to the gatekeepers.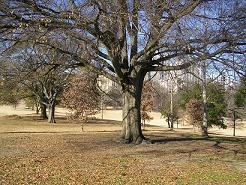 Dan's ashes were scattered around this tree in Piedmont Park in Atlanta, Georgia
In the spirit of remembering Dan, I ask you, dear readers: Are you INVOLVED in the construction of your treatment plan?
Do you know what the drugs do once they get in your body?
Do you know the history of HIV treatment activism?
Do you know how hard people fought in the early years of the epidemic, essentially changing the way in which drug approval is accomplished?
Do you know how your HIV meds interact with the other medications you are taking?
Do you know if there is something better coming down the pike?
Do you know what companies make the drugs you are taking ... and why they created the drugs?
Do you know which clinical trials you qualify for?
These are all important questions ... and questions that Dan could answer if he were alive. His death took away a great resource and I will miss him for the rest of my life. His resource in this fight needs to be replenished ... so it is up to you to become involved so that you can live ... so that others can benefit from your knowledge ... and so that the fight for better HIV treatment can continue.
To learn more about the history of HIV treatment advocacy, and for current advocacy news, check out the following resources:
Steven Epstein. 1998. Impure Science: AIDS, Activism and the Politics of Knowledge. University of California Press.
Paula Treichler. 1999. How to Have a Theory in an Epidemic. Duke University Press.
Project Inform: www.projinf.org/
Health GAP: www.healthgap.org/
Community HIV/AIDS Mobilization Project: www.champnetwork.org/

To learn more about Dan Dunable and his contribution to HIV treatment knowledge, check out his articles on The Body:
To contact Terri, please e-mail twilder@thebody.com.