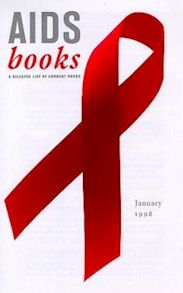 NUTRITION and HEALTH | THE BASICS | LAW | CULTURE and CONTROVERSY | PERSONAL STORIES
[The Body is pleased to provide easy ordering of the following books in association with one of the largest bookstores on the Internet, Amazon.com. The Body provides links for individual books to the Amazon.com online bookstore, and Amazon.com handles all book purchases via their website. Amazon.com will be responsible for all aspects of processing and fulfilling orders, including payment processing, cancellations, returns and handling customer service.
Please note: when you order from Amazon through our site, it will be clear to Amazon that you've ordered through an AIDS site.]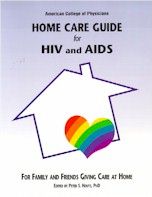 American College of Physicians Home Care Guide for HIV and AIDS 
Peter S. Houts, editor. Philadelphia: American College of Physicians, 1998. 362.1969-H
A jargon-free manual designed to assist caregivers who provide for their loved ones at home. The book addresses the medical, social and psychological needs of the PWA and provides the caregiver with enough practical information on how to meet those needs. A step-by-step manual for anyone who takes care of a PWA at home.
Cooking for Life: A Guide to Nutrition and Food Safety for the HIV-Positive Community 
Robert H. Lehmann. New York: Dell Publishing, 1997. 616.9792-L
Diet and nutrition advice designed to help people with HIV boost their immune systems and maintain lean body mass. Includes practical information on nutrition, exercise, food and water safety, dietary problems and recipes.
Positive Cooking: Cooking for People Living with HIV 
Lisa McMillan, Jill Jarvie, and Janet Brauer. Garden City Park, New York: Avery Publishing, 1997. 616.9792-M
In over 200 easy-to-prepare recipes, this informative nutrition reference and cookbook includes information on the basics of nutrition therapy, vitamin and mineral supplements, caloric intake, weight maintenance, and food safety. Also included are special symptom-specific weekly meal plans (i.e. one-week meal plan for fatigue, nausea, weight gain, etc.) to help correct immediate eating problems.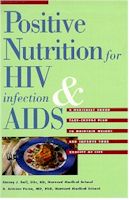 Positive Nutrition for HIV Infection & AIDS 
Stacey J. Bell and R. Armour Forse. Minneapolis, MN: Chronimed, 1996. 616.9792-B
People with HIV have unique dietary requirements. The authors offer a self-help manual designed to educate and empower PWAs and their caregivers. The book examines the role of proper nutrition to assist medicine in the well being of PWAs.
Take Control: Living with HIV and AIDS 
Nathan Clum. Los Angeles: AIDS Project Los Angeles, 1996. 362.1969-C
A hands-on approach to living with HIV and AIDS with lots of life affirming ideas for getting the best medical care and staying healthy. A review after each section makes this book easy to use.
There is Hope: Learning to Live with HIV 
Janice Ferri and Jill Schwendeman. 3rd edition. Mount Prospect, IL: The HIV Coalition, 1997. 362.1969-T
Written primarily for those newly-diagnosed with HIV, this informative volume is a user-friendly guide that helps people motivate their health and living habits on the premise of their being long-time survivors. Includes extensive resource listings of AIDS/HIV hotlines, support groups, physicians, hospitals, hospice care, and legal matters. Appendices include alphabetical listing of resources by region, health care monitoring worksheets, and other valuable information.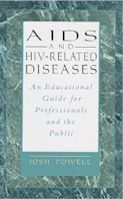 AIDS and HIV-Related Diseases: An Educational Guide for Professionals and the Public  
Josh Powell. New York: Insight Books, 1996. 616.9792-P 
An overview of AIDS including a description of HIV, methods of transmission, history of the disease, issues of testing, progression of the disease, treatment options, descriptions of populations most likely to contract the disease and AIDS education.
Questions & Answers on AIDS 
 Lyn R. Frumkin and John M. Leonard. 3rd edition. Oradell, NJ: Medical Economics Books, 1997. 616.9792-F 
144 questions with straightforward, easy to read answers on the cause, transmission, diagnosis, treatment and public policy of AIDS. Contains an appendix of current HIV/AIDS Internet sites, a bibliography and a list of support organizations by state.
Children Who Lose Their Parents to HIV/AIDS: Agency Guidelines for Adoptive and Kinship Placement 
Lisa Merkel-Holguin. Washington, DC: Child Welfare League of America, 1996. 362.73-M 
For professional and lay persons, this book counsels on the placement and adoption of orphaned children, and support services for HIV-positive parents and caregivers. The processes of selecting and recruiting adoptive families and preparing families and children for placement are examined. Includes a state-by-state appendix of child welfare agencies working with HIV affected families.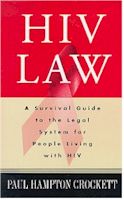 HIV Law: A Survival Guide to the Legal System for People Living with HIV 
Paul Hampton Crockett. New York: Three Rivers Press, 1997. 344.7304-C 
An up-to-date source of legal information covering such topics as health and life insurance, social security services, as well as estate planning and wills. Crockett has written a useful guide that answers many of the basic questions that people with HIV need to know. A glossary and source guide is appended.
The Rights of People Who Are HIV Positive 
William B. Rubenstein, Ruth Eisenberg, and Lawrence O. Gostin. Carbondale, IL: Southern Illinois University Press, 1996. 344.7304-R 
Using the question-and-answer format, the ACLU handbook provides a wealth of information in an easily accessible manner. Divided into four general categories, the book focuses on ensuring fundamental human rights of people with HIV when dealing with the evolving legal system in respect to HIV/AIDS. An invaluable title for caregivers, families and lawyers.
A Crisis of Meaning: How Gay Men Are Making Sense of AIDS 
Steven Schwartzberg. New York: Oxford University Press, 1996. 362.1969-S
Psychotherapist Schwartzberg interviews 19 men living with HIV and shows how gay men are finding ways to rebuild a world of meaning amid the trauma and uncertainty of the AIDS crisis. The book celebrates the resilience of the human spirit.
Cry Bloody Murder: A Tale of Tainted Blood 
Elaine DePrince. New York: Random House, 1997. 362.1969-D 
The author lost her two young hemophiliac sons to AIDS when they received HIV-infected blood products mistakenly approved by the Food and Drug Administration. This book is an account of her anger, pain and sorrow, but also her strength to fight against government bureaucracy in the face of ongoing mistakes and ignorance.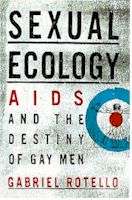 Sexual Ecology: AIDS and the Destiny of Gay Men 
Gabriel Rotello. New York: Dutton, 1997. 362.1969-R
The reasons AIDS has struck the gay male community in America so hard and what needs to be done to contain the disease are the basic subjects of this book. Rotello argues that valuing monogamy in relationships is the best way for the gay community to survive.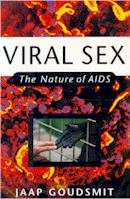 Viral Sex: The Nature of AIDS 
Jaap Goudsmit. New York: Oxford University Press, 1997. 614.5993-G
A provocative, well researched discussion of the origin and evolution of HIV. A history of science's attempt to understand the nature of HIV in order to control the spread of the virus. Much research surrounds monkey habitats of the African rain forests and their role in the modern AIDS epidemic.
hardcover | paperback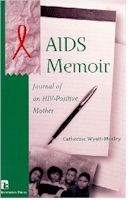 AIDS Memoir: Journal of an HIV-Positive Mother 
Catherine Wyatt-Morley. West Hartford, CT: Kumarian Press, 1997. B-Wyatt-Morley
Soon after her diagnosis, the author began keeping a journal of her daily thoughts and experiences with HIV/AIDS. It is a record of her emotional and physical struggles with her disease, the burden of hospital stays and coping with keeping her family together. Relying strongly on her faith, she writes a "journal of hope" which helps her find a way to help others.
Being Positive: The Lives of Men and Women with HIV 
Robert Klitzman. Chicago: Ivan R. Dee, 1997. 362.1969-K
HIV-positive New Yorkers from all walks of life share their stories, their lives and reveal their souls. Dr. Klitzman shapes these narratives demonstrating how people cope with being HIV positive and provides a compassionate analysis of their lives.
Honor Thy Children: One Family's Journey to Wholeness 
Molly Fumia. Berkeley, CA: Conari Press, 1997. 306.8508-F
AIDS destroys some families, strengthens others. Sometimes it does both. A Japanese-American family struggles to understand and accept their two gay sons and finds their love stronger than their cultural heritage when AIDS comes into the picture.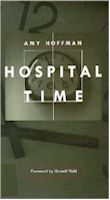 Hospital Time 
Amy Hoffman. Durham, NC: Duke University Press, 1997. 362.1969-H
The author, primary caregiver to her friend Mike Riegle during the final stage of his life, relates the emotional and psychological toll of caring for someone suffering from AIDS. This is a memoir of both the patient and caregiver, their struggle with illness, hospitalization, grief and loss.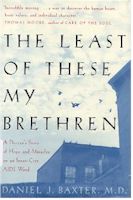 The Least of These My Brethren 
Daniel Baxter. New York: Harmony Books, 1997. 362.1969-B
The stories of Dr. Baxter's patients from the city's neediest at the Spellman Center, an AIDS unit at St. Claire's Hospital in New York City, are told in unflinching detail. Revealing Baxter's own vulnerability, the book provides rich and rewarding insights in the tenacity and strengths of the human spirit.
My Brother 
Jamaica Kincaid. New York: Farrar, Straus and Giroux, 1997. B-Kincaid
This powerful account of the death of the author's brother from AIDS is a mirror of Kincaid's family relationships, as well as a portrait of a culture still rooted in ignorance, denial, and indifference to AIDS.
A Positive Life: Portraits of Women Living with HIV 
Interviews by River Huston; Photography by Mary Berridge. Philadelphia: Running Press, 1997. 362.1969-H
These 31 photographic portraits of HIV-positive women are a testament to their strength as they have struggled with their diagnosis. All from diverse backgrounds, the women candidly discuss such issues as getting tested, HIV discrimination, being an HIV-positive parent, renewing their lives, and battling medical bureaucracy.
To find out more about these books, click here.