Queens Positive
The Queens Health Network's Comprehensive AIDS Program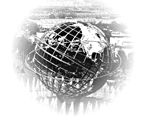 In the world of health care, Queens may not evoke the image of world-class care often associated with Manhattan, but that image would not be quite right. In fact, when it comes to HIV/AIDS, Queens offers some of the best and most comprehensive care available anywhere.
Mention Queens and, depending on whom you're talking to, you may evoke any of a range of images. Thanks to television, Queens is seen as a working class borough populated by lovable bigots (Archie Bunker), irascible retirees (Seinfeld buddy George Costanza's parents), and ditsy but sexy women with thick accents and big hair (Fran Drescher's Nanny). To a Manhattanite, Queens may simply be the boondocks. When asked by a tourist from Little Rock who bumped into Woody Allen in a Manhattan bar if he had ever met anyone from Arkansas before, Woody quipped, "No, but I once met a couple of people from Queens." Queens is also, of course, the home of the Mets and New York City's airports, and to those who delight in international cuisine, it is known as a place with some of the finest dining experiences in the city.
In the world of health care, Queens may not evoke the image of world-class care often associated with Manhattan, but that image would not be quite right. In fact, when it comes to HIV/AIDS, Queens offers some of the best and most comprehensive care available anywhere. This is especially important given that the prevalence of HIV/AIDS in Queens is one of the highest in New York City. The community of Queens has faced the AIDS epidemic head on, developing and fostering health care institutions, a full array of community-based organizations, and numerous advocacy groups.
Queens Health Network
Kelly J. is a 34-year-old Queens woman. When she was diagnosed with AIDS in 1996, she immediately began receiving treatment from the AIDS Adult Treatment Program at Elmhurst Hospital Center. As the problems and difficulties brought on by the disease worsened over time -- eventually making her unable to work -- she has found that one of the most important benefits of her regular visits to the Adult Infectious Disease (ID) Clinic at Elmhurst is the feeling of genuine concern and support she receives from the staff. "I always feel better when I come to the clinic," she says. "I know that I can talk to anyone here. The doctors, nurses, and social workers are not only educated [about this disease], but they are truly compassionate. They give you the courage to open up and express what you feel, which really helps me deal with one of the hardest things about AIDS -- releasing stress."
Kelly's experience reflects the philosophy of caring for individuals as people -- not just as patients -- that is a vital characteristic of the HIV/AIDS Programs at both Elmhurst Hospital Center and Queens Hospital Center, the two member hospitals of the Queens Health Network.
An Integrated HIV/AIDS Service Delivery System
The Queens Health Network, or QHN, is affiliated with the Mount Sinai School of Medicine. It is the largest provider of HIV/AIDS services in the western and southern regions of the borough, currently providing services to over 1,200 active HIV-infected individuals.
The QHN AIDS Program has its origins in the adult immunology clinics of Queens Hospital and Elmhurst Hospital, which began providing health care to the HIV/AIDS patient population in 1981 and 1985 respectively. Both clinics grew steadily to encompass expanding sets of services, larger facilities -- the Elmhurst program now occupies an entire wing of the hospital -- and full-time, multiple-discipline staffs of health care professionals, plus administrative and support staff. With the unification of the two programs in recent years, communities throughout the borough are offered expanded access to the range of services provided by a comprehensive health care system. The QHN AIDS Program addresses patients' medical, psychosocial, entitlement, and legal needs through integrated services and programs that ensure continuity of care and constant monitoring of quality.
To ensure maximum coordination of services, the Adult ID Programs at the two hospitals are directly linked, under one leadership structure, to the hospitals' HIV services for women, for children, and for adolescents, and also to a variety of community-based organizations with whom linkage agreements are maintained. Other linked HIV/AIDS services include a home care program and counseling and testing within the hospitals and through outreach to local schools and community-based organizations.
"The intent of our program's structure has been to provide state-of-the-art HIV care in a one-stop-shopping environment," according to Dr. Joseph Masci, the program founder and HIV Associate Medical Director of the Queens Health Network. "The cohesion of this multifaceted program permits the rapid integration of new therapies, access to clinical trials, and innovative approaches to nursing and social services. Our goal is to further expand access to counseling and testing services, maintain high quality primary care and specialty services, and continue to promote risk reduction through outreach and education."
Comprehensive AIDS Services
The major components of the QHN AIDS Program are described below. Support for these programs and services comes from the federal government under Titles I, III, and IV of the Ryan White CARE Act and from the New York State Department of Health AIDS Institute.
Adult Outpatient Services
Both Elmhurst and Queens Hospitals maintain comprehensive outpatient HIV/AIDS programs in their Adult ID Clinics to address the primary care needs of the HIV/AIDS patient population. Primary medical care, individual and group counseling, and treatment education/nutrition counseling are provided by a qualified team of physicians, nurses, social workers, pharmacists, and nutritionists. Referrals are also made and coordinated to medical sub-specialty services, including ophthalmology, gynecology, gastroenterology, oncology, dermatology, and neurology. In addition, the Department of Psychiatry has a Mentally Ill Chemical Abuser (MICA) program specifically tailored for its HIV-positive clients.
The Ryan White Mental Health Program provides a wide array of services to people with HIV and AIDS, including assessment and evaluation, individual counseling, family and couples counseling, support groups, group and individualized sessions for women and gay men, pharmacological treatment, relaxation training, and case management. Services are also available to families and members of a client's support system. Other services available include crisis intervention, assistance with entitlement benefits, and comprehensive home health services, including nursing care, physical therapy, and home attendants. Patient advisory groups meet regularly with the staff to address patients' issues and concerns about clinic services. Legal counseling by attorneys from the Gay Men's Health Crisis Center and Queens Legal Services is available during regular weekly hours at the Elmhurst location.
Pediatric Immunology Services
A Pediatric Immunology Service provides comprehensive primary HIV care for infants and children. Also delivered are state-of-the-art HIV therapy, current diagnostic testing, and appropriate referrals to subspecialists. A Case Management Program offers supportive counseling and access to entitlements.
HIV-infected and -affected children and their siblings can take part in activities that enhance their development and social growth in the Child Life Program's fully equipped playroom. This program also provides counseling that helps children understand the illness and develops their ability to cope with the disease process. Child care is also provided to ease baby sitting difficulties and ensure that parents can attend their clinic appointments.
Through treatment education services, patients and their families are counseled regarding medication compliance, appropriate nutrition, and drug-food interactions, and are provided education regarding the benefits and availability of clinical trials.
Women's Initiative Early Identification and Intervention Services
Voluntary prenatal counseling and testing are provided in both hospitals' prenatal clinics, as well as through inpatient obstetrical services. HIV-infected pregnant women are referred directly to the hospitals' high-risk obstetrical services. Infected women are followed in parallel in the Adult ID Clinic and turned over to the Adult ID Program for care after delivery. To reduce the risk of perinatal transmission, infected mothers routinely receive prenatal AZT therapy. Patients also have access to clinical trials.
Adolescent Services
HIV-infected adolescents and their affected siblings and families receive services through a separate clinic with direct linkages to the adult and pediatric programs. Professionals trained in adolescent health offer psychosocial support and entitlement services. The Adolescent Service also provides general adolescent care, extensive outreach, and education to high-risk youth.
Collage
Collage is an outreach program designed to ensure that all clients meeting the program criteria receive the medical and social services they need to stay healthy. The case managers who staff the program do more than talk with clients; they provide concrete help to Medicaid-eligible clients and families who are living with HIV/AIDS or may be at risk for being infected. Collage case managers serve as hands that help get things done and feet that help people get where they need to go. Collage helps people with child care needs, housing needs, and problems with public assistance benefits, and are able to arrange direct services for individuals who are having difficulty performing daily activities.
Research
The appointment of a full-time research coordinator in October 1998 demonstrates Elmhurst Hospital Center's commitment to research in HIV and AIDS. This new position has created increased discussion among the staff about what type of research should be initiated. The staff has identified that one of the richest resources available is the community's large and ethnically diverse patient population. Further, they agree that "responsible research" should be done with patients and not to patients.
Queens Health Network's Partners
In order to provide coordinated and comprehensive care to both consumers and their families, the Queens Health Network works closely with community-based organizations within Queens and throughout the city. Specifically, through the organization and maintenance of three HIV Care Networks that span the borough, providers and consumers work closely to enhance the coordination of existing services, to identify service/resource gaps, to advocate for services and unmet needs, and to develop strategies for expanding HIV services -- all to enhance and ensure access to and knowledge of treatment for people living with HIV and AIDS in Queens.
The largest of the three networks is the Queens HIV Care Network, or QHCN, originally known as the Jamaica Southeast Queens HIV Care Network. This New York Urban League program is a formal consortium of over forty public and not-for-profit health care, support service, and community-based organizations, and over thirty community members and people living with HIV/AIDS in Queens. The work of QHCN is done by five subcommittees. QHCN has recently sponsored a one-day conference and case management forums. It publishes and distributes a monthly newsletter called Queens Alert! and participates in the education of both our state legislators and our City Council members on the needs of people with HIV/AIDS in Queens. QHCN has also sponsored a retreat for HIV-positive individuals and was involved in the development of a needs assessment for women and children.
The Western Queens HIV Care Network, or WQHCN, was founded in 1991 to provide a much-needed venue for care providers to meet face to face in order to link services and share information regarding resources. It was through these initial meetings that the alarming rates of HIV infection among gay Latinos in the area was identified and the call for services in Spanish made. Elmhurst Hospital Center has worked intimately with WQHCN, and two of the committee's co-chairs have been Elmhurst staff. WQHCN's membership includes over twenty active organizations and consumers and has a mailing list of close to seventy members.
The Northwestern Queens HIV Caregivers Network, or NQHCN, operates under the auspices of Steinway Child and Family Services, Inc., and has been in existence for approximately five years. The NQHCN has fifty to 75 active members and a mailing list of close to 200 providers and consumers.
The first community-based organization in Queens dedicated solely to serving HIV/AIDS-infected and -affected residents and their loved ones was founded in 1986. It was the AIDS Center of Queens County, ACQC, and its road has not been an easy one. ACQC's presence in the community resulted in numerous incidents of discrimination, hate mail, and threats; rocks were thrown through the window and ACQC's troubles were often featured on the nightly news. Despite opposition, demand for services increased, and in 1998 ACQC moved to its current headquarters in Rego Park.
Today, ACQC provides services to more than 900 clients each month and education to tens of thousands more from offices in Rego Park, Jamaica, and Far Rockaway. The agency has a staff of 76 and utilizes the services of 100 volunteers and 100 peer educators. ACQC offers a full array of services to HIV-infected and -affected individuals and families, including case management, counseling, legal services, harm reduction, education/prevention, and housing.
The Queens Health Network works closely with the HIV Advocacy Project at Queens Legal Services. The HIV Advocacy Project was established in 1994 to provide free legal services to Queens residents living with HIV/AIDS. The project has assisted over 1,400 people with a multitude of legal problems. The majority of clients are people of color, 25 to 45 years of age, and about half are women. The project has recently developed a Neighborhood-Based Intake Initiative, through which attorneys and legal advocates meet with clients at community-based organizations. The Neighborhood- Based Intake Initiative currently provides services at the Addabbo Family Health Center and at Elmhurst Hospital Center's ID Clinic. Project staff also conduct home and hospital visits. "Through the Neighborhood-Based Intake Initiative, we are more like a law office on wheels," explains Tracy Welsh, the HIV Advocacy Project's Director. "So, if clients can't come to us, we go to them."
Another innovative program of the HIV Advocacy Project involves a multidisciplinary approach to permanency planning. A social worker has been hired to work closely with the legal team and HIV-positive parents to develop permanency plans for their children. The project is also active in providing the community with information about legal rights.
The Center for Children and Families (CC+F) was founded in 1919 with the mission to protect children from abuse and neglect. Since the early '90s, CC+F has evolved beyond its original mission to extend its target population to include individuals infected or affected by HIV/AIDS. The HIV Services Genesis Program has four components: The Care Program; the HOPE Players, for adolescent peer educators; the HOPE Program, for adult peer educators; and SafeHome, the first transitional housing for homeless or at-risk youth. It also offers comprehensive, round-the-clock mental health and outreach services for homeless and street youth at risk for HIV infection.
Steinway Child and Family Service, Inc. (SCFS) is a 27-year-old not-for-profit human service organization with headquarters in Long Island City, Queens. In addition to general mental health/child abuse prevention programs, SCFS has programs specifically targeting HIV-infected or -affected individuals, including the CAPE Program (Case Management, Advocacy, Prevention, and Education) and the Scattered-Site Housing Program that provides residences for homeless families infected or affected by HIV/AIDS. Presently the program has 180 units of housing, making it the largest provider of scattered-site housing in Queens. The program also offers case management, mental health services, substance abuse counseling, community health education, and resident management services.
The borough of Queens has become the new home for thousands of immigrants from countries throughout the world. In fact, West Queens is described by many experts as the most ethnically diverse community in the country, if not the world! Immigrants from over 100 nations reside in this stretch of land alone, as well as throughout the entire borough. In 1994, an estimated 33,877 immigrants settled in Queens.
In order to provide adequate services in a sensitive manner to this diverse and varied community, community-based organizations have formed that target this expanding community. The Hispanic AIDS Forum (HAF) is New York City's only Latino-run AIDS organization offering innovative prevention services to the city's Latino population. The Queens Service Center of HAF provides a full array of services, in both English and Spanish, to over 250 active clients, 95 percent of whom are monolingual Spanish immigrants. The Air Bridge Program coordinates services for HIV-positive individuals traveling between Puerto Rico and New York City. APICHA is the Asian & Pacific Islander Coalition on HIV/AIDS, a community- based organization that provides information and services. Its mission is to combat AIDS-related discrimination and to empower the Asian and Pacific Islander community. Through its Bilingual Peer Advocate Program, it provides translation services in approximately fifteen languages, and through its Department of Client Services it offers culturally sensitive case management and related services.
The Queens Reach Initiative (QRI), is a program of the Queens Child Guidance Center and provides mental health services to any person who is infected or affected by HIV/AIDS. The unique aspect of QRI is that all services are offered free of charge to individuals who have no insurance or who are underinsured. Psychiatric social workers provide services in Spanish, Portuguese, Korean, Mandarin, Cantonese, and Hindi. Family, couple, and individual counseling are available, as well as parenting support groups, teen groups, women's groups, and, soon, a medication group.
Southeast Clergy for Community Empowerment, Inc. (SQCCE) was formed in 1984 by the African-American clergy in southeast Queens. It was the founders' belief that a dedicated coalition of the churches could address the most pressing issues and problems of the community that were beyond the scope and reach of individual church members. SQCCE turned its attention to the ever-increasing AIDS epidemic hitting the African-American community -- southeast Queens has one of the highest rates of HIV infection among African-Americans in New York City, and consequently the United States. SQCCE provides HIV prevention and education, case management, and outreach services to children, teenagers, men, and women who are infected or affected or who are at risk for HIV infection. Emergency food and clothes are provided for persons living with HIV/AIDS, as are sleeping bags for the homeless. SQCCE is presently preparing for its fifth annual AIDS Walk-a-thon/Health Fair on September 25, 1999 and are seeking sponsors.
The Women's Prison Association & Home, Inc. (WPA) provides services for Queens women who are HIV-positive and have a history of involvement with the criminal justice system. WPA offers individual counseling in the home, support groups, case management, housing advocacy, legal assistance, employment and vocational training, parenting skills, family reunification assistance, and many other services to meet the multiple needs of women involved in the criminal justice system.
Regardless of any preconceptions you may have had about Queens being "just one of those outer boroughs," in actuality it is a vibrant community. A source of community pride is that this borough offers comprehensive state-of-the art HIV/AIDS care and a wide variety of community-based organizations that reflect the diversity of the population.
Telephone Numbers And Contacts

Elmhurst Hospital Center
(718) 334-4000
Adult HIV Counseling and Testing Program
(718) 334-3740
Adolescent Health Services
(718) 334-3834
For HIV Counseling and Testing
(718) 334-1667, 1669
Adult ID Program
(718) 334-3969
Collage
(718) 334-1270
Pediatric ID Clinic
(718) 334-3699, 3704
Research Coordinator
(718) 334-1691
Ryan White Mental Health Program
(718) 334-5370
Queens Hospital Center
(718) 883-3000
Adult ID Program
(718) 883-3640
Adolescent Clinic
(718) 883-3131
HIV Counseling and Testing Program
(718) 883-2155
Mental Health Program
(718) 883-2725
Pediatric ID Clinic
(718) 883-3316
AIDS Center of Queens County
(718) 896-2500
APICHA
(718) 457-9662
Hispanic AIDS Forum, Inc
(718) 803-2766
Queens HIV Care Network, Sean Wiebersch
(718) 297-7272
Queens Legal Services, HIV Advocacy Project
(718) 657-8611
Queens Reach Initiative, Queens Child Guidance, Rosa Bramble Weed
(718) 458-4481
Southeast Queens Clergy for Community Empowerment, Inc., LaTonja Brantley
(718) 297-0720
Steinway Child and Family Services, Inc.
(718) 389-5100
Western Queens HIV Care Network, Neil Laundreville
(718) 334-3954
Women's Prison Association & Home, Heather Christensen
(718) 797-0300
The authors wish to thank all of the CBOs who supplied information about their programs.
Karen Bernstein is the Network Coordinator of the Ryan White Title IV Program at the Queens Health Network. Benny Turner is Assistant Director of Provider Relations and Network Development -- Community Health Network at Elmhurst Hospital Center.
Back to the August 1999 Issue of Body Positive Magazine