Q&A: Congresswoman Maxine Waters, Legislator and Activist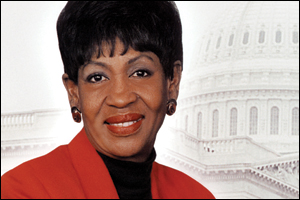 Just elected to her 10th term in Congress, California lawmaker Maxine Waters is one of the most powerful people of color in the history of American politics -- and not to mention, one of the most powerful women. A staunch advocate for the poor as well as Black and Brown people, Rep. Waters has helped lead our nation's fight against AIDS for more than a decade. She convened the first congressional meeting on AIDS in Black America. She also spearheaded the Minority AIDS Initiative (PDF), a $156 million program launched in 1998 to address HIV/AIDS in minority communities that has grown to about $400 million today.
But with the epidemic found in 2008 to be 40 percent larger than federal officials had previously estimated and primarily focused in Black communities, Waters is pushing President Obama to step up his commitment to eradicating the disease by earmarking more federal dollars for AIDS prevention, treatment and other services. We asked her to share her perspectives.
President Obama's most recent HIV/AIDS budget proposed a 2 percent increase over prior spending. What does the administration need do to end HIV/AIDS?
Money is always key, and we appreciate any increase in spending, but we'd like to have more. [I, along with other members of Congress,] would like him to talk about AIDS more in speeches. He must insist that his AIDS czar have a greater presence. And we would like President Obama to make AIDS one of his top priorities.
Recently you circulated a letter asking the House Appropriations Committee to increase AIDS funding by over 50 percent. How many of your colleagues signed on?
Fifty-seven members signed my bill. I am happy with the support we've received.
A couple of years ago you sponsored legislation that would mandate HIV testing for federal-prison inmates. Where does that stand, and what do you think about Governor Schwarzenegger's move to cut care for HIV-positive state-prison inmates?
We passed that legislation on the House side; we're now awaiting the Senate's approval. They're backed up with bills. [But now that health care reform has passed,] we're anxious to get the Senate to move on to this and other legislation.
Regarding Governor Schwarzenegger, I am outraged by his lack of leadership. He has had a poor tenure and he's led California to the brink. My heart cries out for all the people affected by the cuts he's proposing, including AIDS, home-supported health care, education -- you name it. California is last in the nation in handling its budget responsibly. I am anxious for his term to be over.
AIDS Drug Assistance Program (ADAP) budgets are being cut nationwide while ADAP waiting lists continue to grow. Do you worry that ADAP is targeted because it assists low-income people with HIV/AIDS?
As we struggle in this economic crisis with budget cuts, we must set priorities and be good advocates for the important issues. ADAP is at the top of many of our agendas. We can continue being supportive -- speaking up about funding, writing letters and rallying around those in need. [As legislators] we're constantly flooded with requests to support many issues and programs, ADAP included. We will do the best we can.
Given the current fiscal resource constraints, our dysfunctional political system and the state of HIV/AIDS, what must HIV-negative Black Americans do to help end the epidemic?
First we must educate ourselves about what HIV is and is not. We must all talk with young people about how it is contracted and how they can protect themselves. We must encourage all of our institutions -- schools, churches, sororities, fraternities and labor unions, places that are high-level and people-intensive -- to [provide workshops and host discussions] aimed at ending the epidemic. We have not done enough of that; we think someone else is doing it. We must make this education a part of our daily lives.
With nearly 25,000 Black people newly infected each year and almost 40 percent of them under age 29 (PDF), do you worry that we will eventually be wiped out?
I'm more optimistic than that. This is difficult work, but it's not impossible. I've been increasingly pleased about the growing support from the Black religious community. [In the 1990s] we were demonized by ignorant pastors who blamed AIDS on the gay community and had no intention of dealing with it. We now have many ministers promoting safe sex, holding discussions or distributing information on AIDS in the church. Some even have AIDS ministries. It's very important that we have a national ministerial community trying to come up with solutions for ending this epidemic.
Tomika Anderson is a freelance writer based in Brooklyn, New York. Her work has appeared in Essence_,_ POZ_,_ Real Health and Ebony magazines, among others.