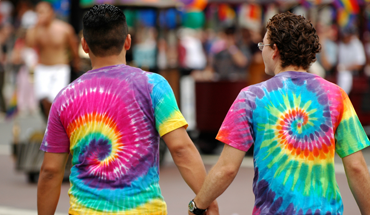 What is "Pride," really? Is it still a relevant concept in U.S. society? Is it still radical?
This June, TheBody.com celebrates Lesbian, Gay, Bisexual and Transgender (LGBT) Pride Month by launching our special Pride2010@TheBody.com feature section. In this section, which we'll update throughout the month, you can locate events in your area, read a huge range of first-person perspectives from members of the community, show us your Pride and enjoy our online Pride Month art collection.
We think our Pride2010@TheBody.com feature is a compelling, illuminating, thoughtful look at Pride Month from many angles -- heck, we wouldn't be bringing it to you otherwise. But as we were planning out what to put in this section, we kept coming back to a central question, one we didn't have an easy answer to: What does Pride mean today, and how does it relate to the ever-evolving HIV/AIDS pandemic?
This question was one of the reasons we asked you to take part in our "Faces of Pride" photo gallery. We know the concept of Pride can mean different things to different people. For some, it can be the thrill of attending their first (or 15th) parade. For others, it means paying homage to trailblazers such as Harvey Milk, Bayard Rustin and Audre Lorde for paving the way. Still others simply use it as an excuse to party with friends at 11:30 in the morning. (We'll leave it to you to say whether that's when the party is starting or ending.)
This year has already brought many new reasons for members of the LGBT community in the U.S. to be proud. Marriage equality became a reality for gay and lesbian couples in both New Hampshire and Washington, D.C., and President Obama struck down the HIV travel ban. And numerous bills on state and local levels were passed dealing with employment discrimination, domestic partnerships and anti-gay bullying.
On the pop culture end, television shows such as Grey's Anatomy, Brothers & Sisters, Glee, Ugly Betty, TRANSform Me and Modern Family all gave the viewing public a look at the broad spectrum of the LGBT community -- sometimes playing into stereotypes, sure, but often providing a more nuanced view of what it is to be gay in a very heterosexual-oriented society. From a news standpoint, there has also been an influx of stories in print, on television and on the radio reporting on issues such as gay families, the repeal of the "Don't Ask, Don't Tell" law, hate crimes and trans violence, coming out, LGBT youth, HIV rates among gay and bisexual men, and homophobia and the church.
And thanks to the star power of celebrities such as Rachel Maddow, Lee Daniels, Dustin Lance Black, Wanda Sykes, Ellen DeGeneres, Lt. Dan Choi and Congressman Barney Frank, more and more openly gay voices are making an impact on both LGBT and straight communities.
"It feels as if for nearly every step forward the LGBT community has recently taken, it's also taken a step back."
That said, it feels as if for nearly every step forward the LGBT community has recently taken, it's also taken a step back. The marriage equality issue remains one of the sorest spots in U.S. politics; while it advances in some states, it stagnates in others (New York, for instance, rejected a gay marriage bill in December, as did New Jersey in January). And many LGBT advocates are unhappy with what they feel is lukewarm support from a president they initially felt would spearhead a new wave of equality-ensuring measures shortly after he took office. Meanwhile, homophobia remains very much alive and well throughout much of the country; for every public face who advocates for LGBT rights, it seems there's at least one public face who condemns them.
In addition, the notion of Pride becomes blurred among LGBT people, given that "The Movement" does have some inner demons to work out: racism, sexism, classism, transphobia, ageism and AIDS-phobia. This hypocrisy only divides the marginalized of the marginalized and creates for many a sense of resentment, anger and isolation within a community that should be cohesive given everything that is at stake.
So where does that leave us, exactly? Has Pride lost its way, or has its path simply changed?
"For those who would write Pride off as too mainstream and completely irrelevant, there are constant reminders that tell us otherwise."
It's hard to deny that Pride and The Movement have changed over the past 40 years. What began in 1970 as a grassroots march to fight for liberation and commemorate the Stonewall Riots in New York City has morphed into a well-organized, corporate-sponsored fete in numerous cities across the country. But for those who would write Pride off as too mainstream and completely irrelevant, there are constant reminders that tell us otherwise.
Think about the Malawian couple of Steven Monjeza and Tiwonge Chimbalanga, who were arrested in December 2009 because simply being gay is illegal in their country; they were only just recently pardoned by President Bingu wa Mutharika due to intense scrutiny and pressure from aid donors and human rights groups. Or high schoolers, such as Constance McMillen, who are denied the right to attend their prom with their same-sex date. Think about the violent murders and attacks of Lateisha Green and Jorge Steven López Mercado, or how in Florida gay and lesbian couples are legally banned from adopting children. Think about the people who live in countries such as Jamaica, Uganda and Iran, who may never see a Pride parade anytime soon, because homophobia is so deeply ingrained in the national identity.
Even if Pride as a concept is no longer what it once was in the U.S., there are many corners of the world in which it is all that and more. Heck, there are many corners of our own country in which it's hard to believe anything has changed regarding LGBT rights since 1970. And maybe that's the solution to the riddle that's been nagging at us since we started planning our Pride Month feature. "What is Pride?" There is no single answer. It depends on who you are, where you live, what you've seen and done, and what's been done to you. We hope the feature we've created highlights the complex, multifaceted nature of the LGBT community in today's world. And where it falls short, we hope you'll add your own thoughts (or signs!) to keep the discussion alive and healthy.
As this year's Pride Month comes and goes, enjoy it, reflect on our successes, and don't lose sight of how much more work needs to be done.