Paul, welcome to This Positive Life.
Hi Terri. Thanks for having me. It's a pleasure to be here.
Let's start with you telling our readers and listeners about your personal history of living with HIV; specifically, how did you find out you were HIV positive?
I found that I was HIV positive back in 1985. I went to a public health clinic with my partner at the time and another couple, took the test, and found out two nervous weeks later that I was indeed positive. My partner, fortunately for him, was not positive. That's how I found out for sure that I was HIV positive. I'd suspected that I had been [positive] for some time, given that I was a gay male who lived in New York City who knew a lot of people who were getting sick and ended up dying. It was unsettling to hear, but not a big surprise.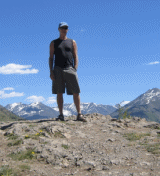 About Paul
Age: 49
Home: Australia
Diagnosed: 1985
Paul has been living with HIV for 27 years without ever needing to take treatment. He never thought much of it until the day a friend said to him, "You haven't been sick. ... Why do you think that you're doing so well?" Paul soon discovered he was one of the lucky few positive folks known as "long-term nonprogressors" -- people who have HIV, but whose CD4 count stays high and viral load stays low for a long time without the help of medications. In this interview, Paul discusses his life and explains how he's happily become a guinea pig for HIV researchers hoping to figure out what makes him tick.
You got tested in New York City?
Actually, in Southern California.
How long do you think you'd been living with HIV before you tested positive?
It's believed by myself and numerous doctors that I actually became infected in 1981. In the summer of 1981, I had a severe illness, which is now considered the classic symptoms of a person seroconverting to positive. I was quite ill for two weeks. At that time, as you probably know, and the listeners and readers might know, HIV was just beginning to really break loose in New York City and in other places. There were so many guys who were having night sweats and fevers, and losing a lot of weight, and the skin cancers were appearing. So it's believed that I became HIV infected in 1981 while living in New York City. I was 20 years old.
I'm assuming several years later you had a CD4 count done when that was available. What was your first CD4 count?
I've always been at a normal range. I think the first CD4 count I had was at the beginning when they were doing them, so that would have been in the early '90s. I think I was in the 900s or low 1,000s.
What is your CD4 count now?
It's 1,024.
You have been told that you're what we call a long-term non-progressor.
Yes, that's correct.
What exactly is the definition of that term?
There are a few variables. Basically it's someone who is HIV positive, and they're able to maintain a normal T-cell count -- that would be between 800 and 1,300. They also have an undetectable viral load. The measure of "undetectable" right now is under 50. They have no symptoms, no opportunistic infections. [Someone who fits this description --] and [if this is sustained] for seven years or more -- would be considered a long-term non-progressor. Of course, they are not on any HIV medications, and have never been on HIV medications.
You're not taking any antiretrovirals at this time?
Yes, that's correct.
And you never have?
Right, I'm not taking any now and I never have.
So do you take any supplements, or do yoga?
That's an interesting question. I did when I was much younger; I took lots of supplements, but for whatever reason I got out of the habit. I have had a highly physically active life. I'm 49 now so it's tapered off a bit. Throughout the full course of my infection, when I was much younger, in '81 through the '80s, I was a ballet dancer. I swam, lifted weights, did yoga; in terms of physical activities, that's what I did then. Now these days I'm more inclined to go on a long walk or hike, swim. I still meditate and do yoga occasionally, but no supplements at this time.
What has your health been like since your diagnosis?
"The good news I suppose is I'm a long-term non-progressor, which is very, very good. I've never been symptomatic for anything HIV related."
It's been pretty varied. The good news I suppose is I'm a long-term non-progressor, which is very, very good. I've never been symptomatic for anything HIV related.
Curiously -- and I think some of the researchers are interested in this -- I was exposed to toxic mold in the building site I worked in, in a retail store for a few years, and I became very ill. At that point, I had chronic bronchitis, developed asthma, esophagitis -- inflammation of the esophagus. I became quite ill for a few years.
Interestingly, at that point, you would think that that would have affected my HIV health, but I still was undetectable. My viral load was still in the normal range. I can say I have been blessed with maintaining my good long-term health.
When did you realize that something was different about your experience living with HIV? You read things in the newspaper, you see things in the media, or you have friends who may be challenged by some symptoms. When did you think, "I'm not having those experiences"?
That's a good question because it wasn't something that occurred to me until I was asked by my best friend. I think we were talking and my friend said, "Gee, Paul, you haven't been sick" and it's like 1991. I've been positive officially since '85. Many people I knew at that point had gotten sick and many had died at some point.
Back then there weren't any medications for people. My friend said, "Well, gee, why do you think that you're doing so well?"
It occurred to me in 1991 that there was something different about me. I just thought it was good fortune, or being very blessed. Then as the '90s progressed and I came to the desert southwest U.S., my physician said, "You seem to be what might be termed a long-term non-progressor." It was just a vague term. I still felt very, very fortunate.
Terri, it was all so scary because at that point you could get as sick and get quite ill. I never knew. I always just assumed that my turn would come. I just assumed HIV, back then, was fatal, pretty much totally fatal for anybody who had it, and that my time would come.
Then I went through the '90s and still maintained my good HIV health. It wasn't until around 2000 that I really realized that there might be something in this term long-term non-progressor.
I did some Internet searches for long-term non-progressor and found bits and pieces of information, nothing really solidly. A few years ago I did an Internet search and found that there was a study at the U.S. National Institutes of Health [NIH], and that people like us existed. There were researchers out there who were seeking us to participate in the research, in hopes of finding a therapeutic vaccine or cure. It's been a long time that I've had HIV, and it's just was a slow, slow dawning on me that there was something different about me.
Are you in clinical trials right now, to look at this specific issue?
Yes, I'm in several clinical trials right now. I'm in Dr. Bruce Walker at Harvard's elite controller study. I'm also in a study at the National Institutes of Health, their long-term non-progressors study.
I'm a permanent resident of Australia. I live in a small coastal town. I'm in a trial there, a research study with Professor David Cooper at the University of New South Wales in Sydney. So I'm in three ongoing research trials.
Are they all the same trial, or are they all looking at non-progressors but from a different angle?
Right, they are all looking at long-term non-progressors. There are some similarities in the types of things they are looking at. They do have decidedly different things that they're looking at. I guess when you do a research study, you have to have a theory and try to either prove it or disprove it.
My understanding of it is not that great, but the Harvard group is working with the Human Genome Project at the Broad Institute on the elite controller study. There are long-term non-progressors, like myself, who are also called "elite controllers." I think one reason why I am one is because I've been positive for so long, and I've been really able to control the virus.
So Bruce Walker's working with the Human Genome Project, in a partnership about elite controllers, though I don't know the specifics. The National Institutes of Health has had their LTNP [long-term non-progressor] study ongoing for many years. I've been e-mailing Stephen Migueles from the NIH. Their study has been going on for 12 years. That would be one of the longest research studies going on [focusing on] long-term non-progressors. He said to me, in an e-mail, that their median time for their long-term non-progressors is 17 years.
Professor David Cooper in Sydney, I'm not sure what his angle is, but his study's been going on quite a long time as well.
Do you know how many people are in the Harvard study?
Yes, I just found out this information a couple of days ago. They break down their study into two different components. There's a lead of elite controllers, and there are 127 of these controllers [people who have had HIV for years that have never had a detectable viral load or taken HIV medications]. They're also looking at people called viremic controllers. Those are people who are able to control the virus under 2,000 copies for one year or more without medication. There are 142 viremic controllers in the Harvard study.
Do you have a regular doctor that you see outside of the clinical trials?
Yes. In Australia I have a general practitioner. At my age, there are odds and ends that have come up [laugh]. I am joyously happy to say and also sad to say that I'm middle-aged, though it's a blessing really. I have bipolar disorder, so my general practitioner helps me with that more than any other health issue I have.
So he doesn't address your HIV at all, or peripherally?
At this point, because I'm doing so well with the HIV and because I participate in three ongoing trials, I get my blood taken as most people would with HIV -- they get their blood taken every three to six months I believe. I get mine taken on average every six months in one study or another, so they can follow my viral load, if I have one. They can monitor that, and also whatever my T-cell count is. My T-cell count has remained basically stable for the whole time it has been taken, so, 15 years or so.
You've mentioned that you were diagnosed with bipolar disorder.
Yes.
Was this after your HIV diagnosis or before?
It was after, it was sometime after. In '85 I got my HIV-positive test results. When I found out I had bipolar disorder, I believe it was in 1999. It was a big blow to hear that. It was also a relief. It was a relief, in that I had problems all my life, and now I know there was a reason for it. It was this thing called bipolar disorder. Basically with that information I got, I was able to start a course of treatment, of medication and therapy.
When you say you knew about this all of your life, do you mean even as a child, or it was in your adult life?
I had a problem, what we would now call a mood disorder, probably since my middle teens. But it was never looked at and diagnosed. I had been diagnosed with having depression by my general practitioner years earlier, and I was put on medication for that. But bipolar disorder was altogether different from having depression; and the treatment was different.
Do you feel like there's any connection between your bipolar disorder and the fact that you're living with HIV? Do you think that that complicates it, or that it's not related?
I think it could be related insomuch as with bipolar disorder, one of the things you look at to remain stable are triggers -- things that can trigger a change in behavior or a change in attitude or a change in reaction.
If I were to be actively ill with HIV, that would be a huge stressor, which could then trigger a possible manic reaction or depressive episode. My being well with HIV is certainly helping my bipolar.
A lot of what we look at with bipolar disorder are the triggers and stressors and how to have a life that's manageable, with as little stress as possible.
For our listeners who may not know what bipolar disorder is, could you give a definition, maybe in lay language?
It used to be called manic depression. If you look at it that way, as far as I understand it, it's a chemical imbalance in the brain. You can have periods of [what are called] "manic highs," and depressive lows. Those can often last for years. You can be manic for years, you can be depressive for years. Or you can also do this thing called rapid cycling, which is what I tend to have. You go through very manic highs. It's like being on a wild carnival ride. Then you can plummet into depression for these 8 to 12 hour cycles, which is a nightmare [laughs]. It's like constantly being on a roller coaster that you have no control over.
If you're diagnosed and if you're medicated, and have talk therapy and counseling on how to deal with the stressors in your life, then you're able to control it. People who have a good outcome, and I have a very good outcome with bipolar disorder, they're able to control it and live a relatively normal life. Meaning you might be able to hold down a job, have good relations with family, coworkers and friends.
What we would consider a normal life is often difficult for people with bipolar disorder, because of the biochemical imbalance in the brain. It just goes out of wack. It's like an electrical short circuit; a person can't have control over their behavior when their brain chemistry is so imbalanced. So, for bipolar disorder, it's very important to get a proper diagnosis and proper treatment.
Since we're talking about psychosocial issues, emotional issues, I was curious as to your experience living with HIV as a non-progressor, versus people in your life who are progressing in their illness, and how this might affect you emotionally. You've been witness to a lot of things -- stories in the paper or people in your own life who may have gotten sick and possibly died.
Right. Certainly as an out gay male when I was 18, and becoming infected in 1981, I was 20 at that point, and then officially becoming HIV positive in 1985, I knew a lot of people who became sick and that was distressing in itself, for me.
Then throughout the '80s and most of the '90s, assuming that would happen to me as well was a very stressful and tense time. It felt like the Grim Reaper was hunting me and any day my card would be called, and that would be it. For probably 10 to 15 years, I assumed that my turn would come.
Seeing people who you loved and admired around you suffering and dying, or taking AZT [zidovudine, Retrovir] and suffering on that, and then dying a horrible death. A good portion of my life, I was in a lot of distress.
Yet at the same time, there was what they sometimes term "survivor's guilt" -- here I am doing really well. I don't really prescribe to guilt per se, but you do feel very conflicting emotions about why are you so lucky, and other people are dying.
Today it's a bit different because there are effective medications, at least in the Western world, where we have access to medication and treatment that have better qualities of life and better outcomes for people. Still, a lot of people don't do well on medication. I think 15,000 people a year in the U.S. die from HIV/AIDS.
"I've taken it, for myself, as a mission to do all that I can to help in research, both in Australia and the U.S."
To that end, that's why I, being a long-term non-progressor, participate in research. It's believed among many researchers that long-term non-progressors have in our white blood cells, or DNA, or whatever molecularly, something that could be the key to the virus, to coming up with a vaccine or cure. I've taken it, for myself, as a mission to do all that I can to help in research, both in Australia and the U.S.
I give blood, probably four to five times a year -- not just give blood, but there's a couple of procedures that I undergo at Harvard and the NIH called apheresis or leukapheresis, which is you're lying in a bed, and they put a tube in your arm. For about an hour and a half, they take out your blood. They take out your white blood cells, spin them around and give you back your red blood cells.
It's interesting because you're talking about how I feel about this. This year on my birthday, July 16th, I had that procedure at the NIH. I told Stephen Migueles, the main researcher there, I said it's really a privilege for me to be spending my birthday there. I turned 49. What a blessing is that. To be giving back, I hope in a tangible way, to the community but hopefully to the world at large. It's sort of a sobering, humbling position to be in.
Not a day goes by, Terri, that I don't feel incredibly fortunate and incredibly blessed that I've been given another healthy day. It's phenomenal. When I was 30, I often thought, what would it be like to be 40? Do I get to be 40? Do I get to be alive? Do I get to be healthy?
It sounds like your feelings about having HIV have changed over time. Maybe in the beginning it was a little bit more antagonistic, maybe more a relationship based in fear.
There was a lot of fear there, too. I have to say at the same time, when I was diagnosed positive, I don't know why this was, but I just decided, well, here you go [Laughs]. This is not sounding like a good outcome. I decided to make the most of every day that I could. To try to be as positive a person as I could be, to give back to the community, to be kinder to people, to appreciate the little things around me. It really bothered my partner at the time. He was really angry and pissed off and hurt and upset about my diagnosis, my HIV-positive test results.
I just decided not to focus on all the scary stuff. I didn't want to live every day being scared and frightened for myself. I'm not going to have much of a quality of life in the near term if I'm just frightened. Then I thought, well, if the time comes and I'm ill, and I'm suffering, then I'll try to deal with that as best I can at the time. I didn't go into it with a bad mindset.
Are you a religious or spiritual person?
Yes, I'm a very spiritual person, since I was a teenager. I've studied different kinds of metaphysical things and philosophies and religions: Buddhism; Vedanta, a branch of the Hindu faith. I meditate every day. But not like a Christian religion.
What is a typical day like for you? Do you work?
I do work. My partner and I have a bed and breakfast along the ocean in Australia.
Oh wow.
Yes, yes, I'm very fortunate, Terri. I've been the luckiest person I know actually. Because of the bipolar condition, I'm not able to do a lot. I get up in the morning and have my coffee; check the Internet, check e-mail, check online to see if there are reservations or inquiries for the bed and breakfast.
If it's the busiest season, summer there, which is Christmas through February, I will greet the guests, make breakfast; I act as a host at the B & B [bed and breakfast], suggest places they can go on the coast to visit and to tour, and some great beaches. I see them off for the day, and clean up after breakfast. If people have checked out, we'll change the rooms. If people are checking in, we usually know about what time they will be checking in and then we greet them and act as the host.
By the end of the day, I'm ready to not deal with the guests anymore and just have a quiet dinner with my partner.
That's the busy season, which is about three months out of the year. The rest of the year I have a pretty quiet life. I go for walks. I'm working on a memoir, partially around me being a long-term non-progressor, about that and having bipolar disorder, and circling through different things in my life, and what it's like to now be living a good life, and how it is to be fortunate with that. So I'm working on that.
I write poetry, I've been a published poet. I'm also on national radio in Australia, a segment on a national program called "Country Viewpoint." I work on different essays about small town country life.
How long have you been with your partner?
Five years.
Is your partner also living with HIV?
No he's not, he's negative.
Well that brings up, of course, a question about serodiscordant couples. How does that work as far as your sex life?
Well, you're always safe. You just sort of get on with it. To me it's, you know [laughs], you're supposed to have safe sex. That's the way you don't infect others, and you don't put others at risk. You practice safe sex, and it's not a problem really.
"It could be a drag, I suppose, to have to wear a condom. Given what your alternative is -- to come down with a chronic or fatal disease -- I don't see what the big deal is about wearing a condom."
I know in the popular culture today, there are seemingly a lot of people who don't want to have safe sex. I don't personally understand that. It can be a drag, I suppose, to have to wear a condom. Given what your alternative is -- to come down with a chronic or fatal disease -- I don't see what the big deal is about wearing a condom.
I'm assuming that the latex condoms that you get in Australia are of the same quality and . . .
Same quality, same brands, yes.
As what we find in the United States.
Yes, exactly.
I asked that because certainly health educators will say make sure you buy condoms that are manufactured by the United States, because some of the testing and standards may be a little different in other countries.
Well, that's going into a whole global issue. I know we get so many products, food products, pharmaceuticals now from China. Just because it says "Made in the USA," what does that mean? Does that mean that the box was made in the USA?
[Laughs] Right!
[Laughs] That's very dubious. That's about issues larger than where something that's being branded is made. We have to have faith in where things are made. That's a test of our faith that things are safe and effective based on where they're made.
I'm curious as to what made you move to Australia?
Oh, that's an interesting story [Laughs]. I had met this fellow and we were dating. I had just come back to the city in the southwest from New York. I was not doing terribly well because of the bipolar. I was doing OK, but not feeling so great. I was stable on medications and all that, but not feeling terribly good about things.
Anyway, so we were dating, and this fellow knew that I was in the hospitality field. I was a chef for many years. One day he calls me up and says "I need to talk to you." I go, oh no, what does that mean? We were talking and he says "Well, you know I have a bed and breakfast in Australia. I need a manager, and perhaps you'd like to come and manage my bed and breakfast." So I'm like oh. We were dating, but we weren't committed. He gave me free round-trip airfare and said you can leave whenever you want. I thought, well, that's not a bad deal [Laughs].
"In Australia, gay and lesbian couples can sponsor one another for immigration. So he sponsored me for immigration. After two and a half years, I just got my permanent residency in January for Australia."
So I went, and then over time our relationship became more and more serious, and more and more dedicated to one another. Over time he sponsored me as his partner for immigration. In Australia, gay and lesbian couples can sponsor one another for immigration. So he sponsored me for immigration. After two and a half years, I just got my permanent residency in January for Australia.
Congratulations!
Thank you very much. That was an arduous trip because they have a rule in Australia that, if you are HIV positive, you can't immigrate into their country. They don't want you. That's based on health care assessment, in terms of the associated cost. I was able to -- working with researchers I work with -- get letters of support saying that I was a long-term non-progressor. I was not likely to develop any health care costs associated with HIV. We think that's why we prevailed on it; it was based on the long-term non-progressor [status]. Although we're not sure, they didn't give us a reason why we prevailed.
Interestingly enough, along those lines, last year 10 people with HIV were able to immigrate to Australia. Now the prime minister, it being an election year, is saying we don't want anyone with HIV to come here. He said some draconian thing a few weeks back, that they perhaps didn't even want anyone with HIV to visit. That's been dropped. That caused a huge uproar. You might have had something in The Body on that. I know the magazine POZ had something on that.
Do you have dual citizenship between Australia and the United States?
Yes. Right now I'm a citizen of the U.S. I have a permanent residency visa for Australia. I have to wait two years before I can become a citizen in Australia. At that point I will do that. Also, there is an agreement between the two countries: You can carry dual citizenship, so I'll maintain my American citizenship as well.
If you dropped your United States citizenship, wouldn't that affect your coming into the U.S. as an HIV-positive person?
As I understand the law now, you're not allowed to come in if you're HIV positive.
That's why I ask, if you dropped your United States citizenship, would that be a challenge for you to come over to the States to participate in the clinical trials?
It would be. The way that I understand it, people do get around the U.S. law not allowing HIV-positive people to enter the U.S. all the time. If you put your medication in different vials or ship them to a friend, or there's other things that you can do. I don't think they really have been cracking down on that in the U.S. for many years. But it does give you cause for thought: What would happen if they didn't let me back into the country I was born and raised in, paid taxes in, was a good citizen in? I think any time you immigrate there are complex issues to deal with, and certainly that would be one.
What is the health care system like in Australia?
It's excellent actually. If you're a legal resident, which pretty much everyone is, if you have a work visa or a school visa, or anything like that other than a tourist visa, you're entitled to the national health care system, which is free to everybody. If you draw an income there, I think 1 percent of your income goes to health care costs. So everybody pays there. Everyone has access to it.
You can get private health care as well, and you get added bonuses to that. So the health care system there is great. You don't have, like in other countries, I don't know what it is, in the U.S. there are 49 million people who don't have health insurance. Even if you need to go to an emergency room, you can go to an emergency room. Or if you need to see a doctor, you can see a doctor. If you need specialized care, you get specialized care.
One thing that's really interesting, and I found this just shocking when I moved here: My bipolar medication, if I don't have insurance in the U.S., comes to $1,100 a month. If you're bipolar and you can't work, $1,100 a month is nearly impossible, especially if you have to pay rent and buy food. In Australia, the same medication, the same dosage, is $95 a month. It's a much better system.
Let me ask you about your friends and family. I'm curious about when you first found out about your HIV status in the mid-80s, what were your family and friends' reactions when you told them that?
The second part of the question is, how have these relationships changed since you've been living so long? Would you say that maybe their reactions were different, and now that you've been living longer, maybe they have a different opinion or perspective about the HIV diagnosis?
I think initially we were all shocked, some of my friends and family. I didn't tell my folks when I found out. It seemed like it would have been a burden to them. Since I was well, it would have been a burden to them to hear that. So I didn't tell my folks. I told my brothers and all my best friends.
Everyone rallied around me. People started praying for me, and offering words of encouragement and support. Friends said -- this is a long time ago, too -- my friends said if you ever get ill or need help, you can stay with us and we'll take care of you. There were really strong voices of support, not just encouragement, but support. I felt, if I did have a bad outcome, I would be taken care of. That certainly took a bit of pressure off me in terms of what might happen to me.
At the time I did finally tell my folks, my parents. I told them that I was having health problems associated with a toxic mold incident, because I felt that my health might indeed be in jeopardy. I actually had to quit where I was working, and I needed some financial help, so I thought that I needed to tell them why I was quitting. So I told them I think in '95.
Moving forward to the second part of your question, I think we're all -- my friends and family -- there's a sense of wonder and amazement that I'm still doing so well. We just feel that I'm a very blessed individual to have had this outcome. We don't know why, we just shrug our shoulders and look heavenward, if you will.
"I still wonder if at some point I might stop being a long-term non-progressor. There's not a day that goes by that I take for granted."
What a blessing this is! I wonder, I don't dwell on it, but I still wonder if at some point I might stop being a long-term non-progressor. There's not a day that goes by that I take for granted, meaning I really appreciate every day that goes by. We're collectively holding our breath. We don't think about it too much, and hope that my good fortune continues.
Have you kind of mentally made plans, like if all of a sudden I started progressing, what would that be like? What would my life be like?
I haven't put a lot of thought into to it, other than I know that I'm in a country that will take care of me. In the U.S., depending I suppose on what state you live in, you may or may not get health assistance.
In Australia, if you're not able to work and you're ill, you have public housing assistance, you have food assistance. All of your medications and your doctors will be paid for. If I were to get ill, I'm in a country that will take care of me. That's a huge relief to me.
I think that I would feel that things would be a bit better for me now if I were to get ill than certainly in the '80s when there were no HIV medications. I think that I would be in as good a position as anybody who would be diagnosed now, to have a likely better outcome.
So if there was a change in your health, you would not be opposed to going on medication?
I would have to look at the current research. I think they say now that if your T cells drop [below a certain point you should start taking antiretroviral therapy.] Different people have different ways of looking at it. I read someplace that if your T cells drop below 350, you should go on meds. Perhaps not until then.
I think for the newly diagnosed, some physicians advocate early HIV medication treatments. I don't know where I would go with that. I think the medications that are coming out these days, some are better with less side effects. Some people can't take those. Some side effects are really horrendous; they can give you a poor quality of life.
I would think I would try to not go on medication until I thought it was necessary. Well not what I thought, but in consultation with my physician. Since I'm in all these different research projects, I have access to some of the best researchers on HIV in the world. I would seek their advice as well. I would be treated, however, in Australia.
Were you, throughout the years, ever tempted to start medication? I would imagine in '85 it may have been very tempting.
It would've but then there was nothing in '85. I don't know when AZT came out.
I think it was '87.
Did it come along that early? OK. I knew someone who went on it in '89. It's hard to say if he had a rough go with it because of the medication, or because his health was deteriorating. I don't know if I would've been. I was well, and I was not getting [sick]. The tests weren't as well developed as they are now.
When I got to the southwestern town that I lived in part of the year [in the U.S.], I had a very good physician here and he said that he thought, based on my numbers and my health, there's absolutely no reason for you to consider going on medication. That he'd seen patients who had problems with medication, so why mess up a good thing if you're well, if your numbers are good. He didn't see it as being necessary as a preventative. So it never occurred to me to do that. It's interesting in relation to that that there could be some more long-term non-progressors who would be treatment na?ve, if they hadn't gone on meds, say, back in the '90s.
What do you feel, on a daily basis, is your contribution to you staying well? I'm curious about your diet. You've talked about your positive attitude and that you walk. I'm curious about some other things that maybe you do that we haven't talked about.
In terms of being well, I'll give a little back story about myself when I was living in New York City. Back in 2000 I became unwell with the bipolar condition -- I wasn't on medication at that point. I became very manic and checked myself into a psych ward, which isn't a place anyone ever wants to go to if they don't have to. I realized at that point that my main job in life was to be well.
Getting back to your question, so what do I do to be well? I get regular sleep. I go to bed basically at the same time every night. I get up the same time every day. I don't do drugs. People can do them if they want. But I don't do cocaine or speed or marijuana. I don't smoke cigarettes. I do drink coffee. I do have wine. I do have an excellent diet. Being a chef it's quite easy for me to prepare tasty, nutritious meals, so my diet is really good.
I have a wonderful support system of family and friends, people who are nurturing, encouraging and supportive of me. I work in a business based at home, so I'm my own boss. I don't have the stressors of having an angry boss of or dysfunctional coworkers. I live in a small town of 1,000 people that's surrounded by ocean and a national park. I'm surrounded by wildlife.
I have a very quiet, tranquil life when I'm back in Australia. I swim, either in summer in the ocean or the pool in the winter, three days a week. I go for walks everyday, I meditate regularly. I pray.
Gosh, what else do I do [Laughs]? I do this with all regularity. All of that is a fundamental part of my life. I don't think, I need to do this or I need to do that. It's just a part of my life. I've been doing that a long time, for many, many years anyway. I do it more consciously, because I know by doing all of those things, that I'll be even more well with the bipolar disorder. This will keep me out of the psych ward, which is the primary goal: to never have to go back into a psychiatric ward.
Are there ever times when maybe you miss your swim for the week? Can you tell the difference, like "I feel a little off this week. I can tell I missed swimming or walking."
Yet another good question. It's interesting. When I was much younger I was a ballet dancer, so I was dancing 60 hours a week and swimming and doing all of that. I'm a bit addicted to being in good shape. Now that I'm older and I don't have as much time or the pool's further away, if I don't swim for a week or two weeks, I really notice a difference. I don't feel as at peace with myself, as calm, as fit. Maybe it's the matter of endorphins or oxygenating the blood, I'm not sure.
When I realize that I haven't been for a swim or been for a long walk, and I go, "Well this is the day," and because I live next to a national forest, I can just get up and go for a long walk and half hour out in the bush, in the forest, and feel reenergized. So I do notice that, very much so.
It's coming close to the end of us chatting. I was curious about what your fears or your hopes are for the next generation, as people face the risk of HIV.
My fears are that people won't practice safe sex, because it's simple to do that, to wear a condom. I mean that's kind of a no-brainer. I think that if you go to bars and clubs, they even give out free condoms. Public health services will do that. I don't think they're particularly difficult to access.
I think there's problems with drugs, where sometimes people aren't as mindful as they need to be when they're having sex. They need to have a better forethought about that, and be prepared, carry some with them perhaps if they think they're going to be in the position to have sex. They should be safe.
My hopes are many. My hopes that better medications will come along that are more affordable, that access to them in developing countries will be affordable on their standard of living and not based on what we would charge here.
My hopes are, and partly why I'm participating in research into long-term non-progressors, is that we may be able to develop therapeutic vaccines or even a cure in time. I know that's a long trajectory to get there, but there are many people diligently working on this. My hopes would be that that would happen as well.
I tend to be more optimistic. I think we made great progress since I was likely infected in '81. People then were dazed, confused and scared to death. We've come a long way. More people are being saved. I hope that people will take precautions and get tested.
If you think you're positive, or you might be exposed, give a good think about it and perhaps consider getting tested. If you are positive, a good way to stay healthy is to get treatment with medication. I know that I was putting down the U.S. health care system, but I do think for many people with HIV, for health care access, the U.S. is probably OK and they can get HIV treatment. At least in blue states.
[Laughs]
Sorry, didn't mean to get political on you there [Laughs].
[Laughs] Right. I just thought of something that I wanted to ask you. You've mentioned a couple of times that you think you were infected in '81. What makes you think you were infected in '81?
I'd had sexual relations, sexual intercourse, with a few guys, who later became very sick with things that would be considered precursors to getting AIDS and dying. One fellow I saw about a month later, he was very scared and very nervous, and I went over to his place. He showed me these purple lesions on his hands. That would be the beginning of the end for him. I have no doubt that that's when I was infected.
If I can just say one thing, if I'm allowed to say something?
Sure.
I have a friend that I met through the Harvard elite controller studies. Her name is Loreen Willenberg, and she is probably familiar to readers and listeners at The Body. [For The Body's interview with Loreen, click here.] She and I had been talking sometime about trying to start a non-profit foundation for long-term non-progressors, that would get word out over the Internet for some of us who are looking for information about research studies, that they might find easy access on the Internet to information about the studies and whatnot. We're hoping to call that the Zephyr Foundation.
I wanted to let listeners know that we're looking to try to help researchers recruit more people. There are actually many research studies around the country and around the world and there's a difficulty finding them if you're a long-term non-progressor.
We're hoping to get this thing going called Zephyr Foundation. Depending on what kind of funding there could be, there could be money in that that could actually assist long-term non-progressors get to some of these studies: airfare, hotel costs.
There's a prominent study here in the U.S. that I can't get to. I can't afford to go to the location where it's being held, and they can't afford to fly me there. Seems to me that that's a missed opportunity. There's a researcher in Europe as well who's welcomed me to that study, and I can't get there. I can't afford it and they don't have the money.
The Zephyr Foundation, if it were to come about and hopefully it will, would go towards helping fund long-term non-progressors to participate in studies. That's something that Loreen Willenberg and I are trying to work out.
I want to thank you, Paul, for chatting with us today.
This transcript has been lightly edited for clarity.
Click here to e-mail Paul.
Studies Enrolling Long-Term Nonprogressors
Copyright © 2008 Body Health Resources Corporation. All rights reserved.