The arrival of effective HIV treatment in the mid-90s created new challenges -- among them how to provide these life-saving medications to those who needed them. Enter the AIDS Drug Assistance Programs, or ADAPs, designed to provide medications for people without health insurance whose incomes are too high for Medicaid.
ADAPs were created by the Ryan White Comprehensive AIDS Resources Emergency (CARE) Act -- the nation's only legislation aimed at providing healthcare for people with HIV. The Act currently provides about $2 billion dollars annually for healthcare, support services, and drug assistance programs.
As the legislation has changed over the years, so has ADAP. For example, 1996 saw the introduction of the earmark formula, meaning that funding is distributed using a complex calculation based on each state's actual number of people living with AIDS. Four years later, the law was modified to allow ADAPs to buy insurance coverage for their clients.
There are 58 ADAPs (for each of the 50 states and eight territories), with total spending of $1.4 billion (of which $775 million comes from the federal government), serving nearly 146,000 clients each year. Over 43% of those on ADAP live below the Federal Poverty Level (FPL -- a yearly income below $10,400), and 75% live below 200% of the FPL.
Once designed as the safety net of last resort, ADAPs have had to serve more people than ever before, and this growth shows no signs of slowing down. Yet ADAPs remain vastly underfunded at both the federal and state levels.
One Size Does Not Fit All
ADAP funding is awarded in the form of grants, but implementation varies from state to state. Each state determines who can enroll, how its program is run, what drugs are covered, and what it will do to control costs. Unlike Medicaid and Medicare, ADAPs have a fixed budget, so in order to avoid running out of money at the end of the year, programs have sometimes had to adopt extreme measures like waiting lists, which have led to patients literally dying while awaiting coverage.
Every state requires that ADAP clients have HIV. However, that's pretty much where the similarities end. Some states tie eligibility to CD4 counts, while others do not. All states have income limits, but they vary widely.
Medications covered also vary from state to state. For example, California, Louisiana, and Wisconsin cover 31 HIV drugs and drug combo pills, while Illinois covers 28 and Virginia only 26. And in some states with tight budgets, other medications required to combat side effects (such as prescription-strength antacids, statins to control cholesterol, and pain medications) have been dropped altogether.
The complexity of the ADAP model does not stop at the state level. It is compounded by the existence of other federal programs that offer access to care for people with HIV but which add an additional and unnecessary level of bureaucracy and red tape.
The Interplay Between ADAP, Medicare, and Medicaid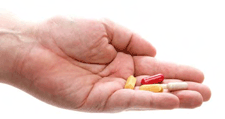 Navigating the ADAP maze is made more complicated by connections with other federal programs such as Medicare (the federal health insurance program for the aged and disabled) and Medicaid (the federal and state health insurance program for the poor). ADAP enrollment is often temporary, as clients are forced into ADAP when their existing benefits change, or as they await their acceptance into other programs like Medicaid.
Medicaid provides a wider range of care and services than ADAPs, and its price tag is much higher. On average, ADAPs spend about $12,000 annually on each person with HIV, compared with $40,000 spent by Medicaid. And Medicaid has its own challenges, among them finding healthcare providers who are willing to accept its low payments. Providers may also stop accepting Medicaid, leaving their patients to find new providers on their own.
Another important source of HIV care in the U.S. is Medicare, serving over 100,000 people with HIV who are over the age of 65 or who are disabled. On January 1, 2006, Medicare Part D prescription drug benefits went into effect -- but the program is clearly not designed to fully cover the high cost of HIV medications (see "Medicare Part D: Fixing Part of the Problem").
Medicare clients who also receive any ADAP services are required to enroll in Medicare Part D, and some also rely on ADAP for help with premiums, deductibles and, co-payments. This can be a problem because ADAPs cover far fewer drugs than Medicare.
Also, Part D clients who are not eligible for low-income subsidies may be required to pay a large part of their drug costs. Many are left with "true out-of-pocket expenses" (TrOOP) totaling more than $2,500 each year. You see, Part D stops paying for medications when a certain cap is reached. People must then pay for their drugs themselves until "catastrophic coverage" kicks in. This is called the "donut hole" and recurs year after year. In some cases, ADAP can pay for drugs during the donut hole, but this does not count toward filling in the hole.
Richard Fortenbery, Director of the Tennessee AIDS Care and Treatment Improvement Coalition (TACTIC), said, "The law does not allow ADAP expenditures to count toward the donut hole, leaving these people in limbo. They can literally go broke trying to pay for their deductibles and co-payments. Worse, many ADAPs refuse to provide lifesaving drugs to those in the donut hole, though this is allowed by the federal government."
According to the Congressional Budget Office, this problem could be fixed for as little as $100 million, but until there is political pressure to change the current policy, many Medicare clients remain stuck in the hole.
ADAP, Activism, and Politics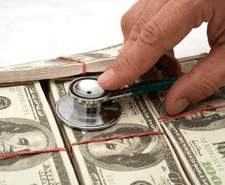 Despite its wealth, the U.S. is all too familiar with people waiting in long lines to obtain "life, liberty and the pursuit of happiness" as articulated in the Declaration of Independence. In the 1930s, long lines formed to receive food during the Great Depression. In the 1960s, poverty-stricken areas of the South stirred the national conscience, and the "Great Society" was launched to alleviate poverty, hunger, and homelessness. Yet in 2008, hundreds of Americans are still waiting to receive access to life-saving HIV medications.
Like every other federal program, ADAPs have found themselves competing for their share of a shrinking pie. The politics behind this competition is bipartisan, in that both parties have won small victories for ADAPs. But just as often, both parties have failed this vital program. Some might argue that politicians are willfully blind when they fail to provide ADAPs with the funding needed. The perpetual waiting lists are evidence enough!
Under the direction of former House Speaker Newt Gingrich from 1995 to 1999, federal funding for ADAPs fared relatively well, as that conservative icon understood the preventative importance of the program. During that time, ADAP funding increased from $51.9 million to $460.6 million. Gingrich certainly didn't achieve this success alone -- bipartisan support for the increases was common. The last major influx of funds occurred in 2003, when Congress approved an increase of nearly $100 million. Since then, however, ADAPs have been perpetually underfunded at the federal level as both Republican- and Democrat-controlled Congresses have passed only small increases. These increases have not kept pace with demand, resulting in waiting lists and in some cases even death.
Both Presidents Bill Clinton and George W. Bush have supported ADAP funding increases -- but many argue that both should have done more. In 2004, the waiting lists became so large that President Bush approved a one-time influx to the tune of $20 million to alleviate the problem. While if fell far short of what was needed (an estimated $180 million), Bush at least could have continued the additional funding. But he failed to do so, and the problem has only worsened. Currently, ADAPs are in need of an additional $168 million ($135 million in federal funding and $33 in state funding) to serve their approximately 386 new clients per month.
"Unless ADAP supporters adopt a different advocacy approach, I'm afraid we'll continue down the path of small increases to the program," said Bill Arnold, Executive Director of the Title II Community AIDS National Network (TIICANN) and Director of the National ADAP Working Group. "A coordinated, aggressive campaign is the only thing that will lead to adequate funding next year and beyond. Advocacy must start at the grassroots level in communities, where the need is felt first, and then move upward to our national leadership."
In the battle for more ADAP funding, policy leaders have emerged in both parties. In recent years, however, it is regional politics that have prevailed over partisan politics. Rural politicians -- mainly from southern states -- have found themselves at odds with those representing larger metropolitan areas. This is not a partisan battle, with friends and foes in each political party.
Members of Congress from states with high numbers of AIDS cases argue that diverting funds from their large cities would prove disastrous. But trends in rural communities, as well as communities of color, have changed the face of AIDS. This transformation is evidenced by increasing new infections and AIDS-related deaths in rural communities, especially among African-Americans.
According to the Southern AIDS Coalition, 9 of the 15 states with the highest rates of new HIV infections are in the South. Additionally, 58% of the AIDS cases reported in 2006 among blacks occurred in the South, yet blacks represent only 19% of Southerners. As of 2006, 52% of people living with HIV and 41% of people living with AIDS were from the South.
For a brief moment in April 2008 all seemed wonderful in the ADAP world, as waiting lists nationwide were eliminated. But the champagne was no sooner flowing when the news flash came in: WAITING LISTS RETURN! Now the AIDS community found itself back to an all-too-familiar truth.
"The South has become the new HIV epicenter in the U.S.," noted Kathie Hiers, Executive Director of AIDS Alabama and Co-Chair of the Southern AIDS Coalition. "As HIV programs continue to be underfunded, the health disparities faced by impoverished Southerners with HIV have grown. If the U.S. sees 50,000 new infections each year, then 22,500 of those are in the South." Hiers questions how these people, most of whom are living in poverty, can obtain proper medical care without increased funding. And since HIV treatment has been proven to reduce new transmissions, she argues that healthcare in America must become a priority if we ever hope to end this epidemic.
During the latest round of Ryan White debates in Congress, southern and western Congressional delegations battled northeastern delegations for a larger piece of the pie. Some advocates argued that the majority of people with HIV in the U.S. still live in the same states where the epidemic first took hold. More than half of all people with AIDS live in New York, California, Florida, Texas, and Pennsylvania; and almost half of new AIDS cases reported in 2006 were in these same five states. States like New York argued that they have an older, more costly epidemic, with thousands of new cases reported each year, and both urban and rural epidemics.
As the HIV community scrambled to find a middle ground that would appease both sides, it became clear that the process would fail those who needed it most -- people living with the disease. Important issues like the ability to continue ADAP coverage when moving to a new state, and the difference in drugs covered by different states (and other federal programs, like Medicaid), got lost. Sadly, after all the debate Ryan White funding received only a paltry bump -- in fact, one of the lowest in history.
AIDS advocates can agree on one premise -- robbing Peter to pay Paul is not the solution. The ongoing failures have led them to change their tactics and renew their commitments.
Ongoing Problems and Possible Solutions
For a brief moment in April 2008 all seemed wonderful in the ADAP world as waiting lists nationwide were eliminated. What had once seemed like an impossible dream was now a reality. But the champagne was no sooner flowing when the news flash came in: WAITING LISTS RETURN! Now the AIDS community found itself back to an all-too-familiar truth.
In July 2008 it was reported that two states, Indiana and Montana, had a total of 35 people waiting to receive ADAP. Despite federal grants being awarded to those states just three months earlier, poor economic conditions and the lack of infrastructure reforms resulted once again in people with HIV waiting for their medications. The ADAP fiscal year ends on March 31 and ADAP grants were released on April 7 -- so it didn't take long for waiting lists to return. And it's only a matter of time before more states follow suit.
What Next?
Our nation awaits the end of an era: the White House has been occupied by either a Bush or Clinton for 20 years. For some, that end cannot come soon enough. We don't yet know what the new era will bring. One thing is certain though -- AIDS activists are taking nothing for granted as they prepare for an aggressive movement to improve Ryan White and the ADAPs. People with HIV deserve nothing less.
Brandon Macsata is Managing Partner of The Macsata-Kornegay Group, and CEO of the ADAP Advocacy Association (aaa+).
Want to read more articles in the Fall 2008 issue of Achieve? Click here.