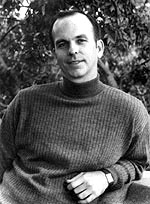 In 1987 I was 34 years old. My first poem was published in Christopher Street magazine and I felt excited and optimistic about the small community of writers, poets mostly, with whom I had come into contact in New York City.
Many of these writers were part of the gay community and participated in its lively, flourishing downtown culture. The most influential for me was Assotto Saint, a Haitian-American poet and performance artist, who was to play a pivotal role in my development. But there were other local and national writers on the scene as well--David Craig Austin, Allen Barnett, Walter Borawski, Melvin Dixon, David Frechette, Essex Hemphill, and Paul Monette.
What I could not have foreseen then was how every single one of these writers would be dead inside of ten years. They died along with others of their generation, including eight of my closest personal friends. They were gone before I reached the age of 45.
Crisis
AIDS was not new to the scene in 1987. Everyone had been touched by it. At that time there was no effective treatment, no "cocktail" to slow the disease. Panic was still rampant, and most of my friends were HIV-positive and living with the virus. What was key to me was that my seropositive friends were living openly and defiantly, and for the most part were still survivors and not victims. We began to write about AIDS as though we were living in a time of war and forced occupation. The political climate was charged. Those infected were plunged into an adversarial struggle, a struggle to gain basic services and to manage their medical treatments and their finances. Conversations were about drugs, doctor appointments, hospitalizations, and the dramatic stories of tragic endings, defiant deaths.
A Poetry of Crisis and Witness was born overnight. Our writing became focused on the political and upon preserving our personal histories. Writing became elegiac, a refuge for enormous chaotic outpourings of universal grief. Writing sometimes in a Kafkaesque style, we tried to express the irony and insanity of those early years, years filled with bureaucracy and the total loss of separation between church and state.
In an age of biased AIDS journalism and increasing medical disinformation, there was a tremendous need to put a human face on the disease and to deal overnight with the disruptive way it affected daily existence. There was a call to counter the negative press, which sought to victimize and demonize the gay men and minorities who first contracted the disease. There was also a need to make visible something that was lacerating the gay community, to raise a cry of alarm to the rest of the world that here was a truly insidious and tragic disease, striking men and women in their prime.
At the epicenter, in New York, terrible things were happening. As a healthcare worker by day, I saw the toll the disease was taking on the medical system. Many writers, journalists, professionals, and activists began to focus on the crisis, bringing their intelligence and insight to bear upon the medical establishment and the media at large. Many fine gay activist organizations took their start during the early AIDS years--Gay Men's Health Crisis and the Gay and Lesbian Alliance Against Defamation for example. It is perhaps the untold story of this plague how both healthcare and the media were transformed by the bold, challenging, and provocative questions and demands of that early generation of HIV-infected men and women.
Witness
As a poet, I felt in the immediacy of verse a means to respond swiftly to the AIDS debacle. I was joined in this opinion by Assotto. Spending time to nurse his own life partner, Assotto often said that he had little time to write prose. Poetry was a means to record on paper a swift testament to the ones he loved so well and defiantly, to set the record straight on issues of political oppression and AIDS hypocrisy. As a young man, I found my life more and more diverted by the call to join forces with this movement--this movement to respond, to advocate, to bear witness, and to speak out on issues not only regarding AIDS but regarding "being gay."
Poetry, more than any other medium, seemed ideally suited toward conveying the sense of boundless emotion and praise I felt toward my friends. I read the World War I poet Winfred Owen, and began to understand his sense of pathos and mortality. I too was witnessing an entire generation of America's best and brightest being annihilated.
Poetry can safeguard the spirit in times of war and plague and societal strife. It has the power to transcend and to create a communal voice, a sense of universal understanding. Like choral voices of old, poetry in those years sang of the staggering defeats of the gay, lesbian, and minority communities. This defeat nonetheless brought with it a certain honor and place in history. There were universal outpourings of defiance and incredible acts of valor and compassion. AIDS poetry became an invocation to the reader to join in a communal sense of grief mixed with outrage at the incredible intolerance that surrounded the disease.
AIDS verse focused on the strange ironies of linking love, sex, religion, and death. The body and desire became important subjects for AIDS poetry. As scientists turned their microscopes with ever-greater focus upon the AIDS virus and the human subject, so poets were forced to magnify and dissect with greater clarity the elements of modern love, sexuality, science, and death.
AIDS poetry needed to redress the enormous perceived distances between "the general public" and "the AIDS infected," between "doctor" and "patient," between "straight" and "gay" by examining the language of political and medical expediency and finding common bonds of the human in all of us. The inanimate worlds of high-tech medicine and drug nomenclature became part of the imagistic landscape of AIDS figurative language. Religious metaphors and allegory were superimposed on ever-more-alienated life views and experiences in order to show the ironies inherent in the catechism of hatred that had swept many organized religious institutions. Also, the natural world and the æsthetic world underwent an extreme and isolating scrutiny. Mark Doty, Richard McCann, and Carl Phillips, among others, showed us how the familiar poetic terrain of romanticized nature and an ornate cultural past held a certain glow of sadness. By focusing on these worlds, Doty brought out just how far older poetic concepts of "emotion recollected in tranquility," "transcendence and sublimity," and the "visionary experience" had been diminished in the post-industrial age. Other writers, such as Paul Monette, would rave in outspoken concern at the blinders on American popular culture, which lacked the decorum of an ancient past or a learned Western tradition to dignify and immortalize modern death.
The medical and journalistic language surrounding AIDS collided with conventional poetic speech. AIDS verse was called upon to subvert and appropriate, defuse and disarm the harsh and impersonal vocabulary of science and find a way to talk about things in society long denied and repressed.
Not only AIDS, but breast cancer as well as many other once-taboo subjects became subject matter for exploration in American poetry. The powerful linkage of sex with death as a theme pervaded the culture. It had to be explored especially because it touched upon the deep guilt and self-hatred long at work with internalized homophobia. The dissolution of youth needed to be addressed as well in a culture intoxicatingly focused upon preserving youth at all costs and promoting an idealized view of the body.
AIDS forced science and society to divorce the physical act of sex from the context of religious morality. Sex had to be looked at in new clinical ways, ways that confronted age-old secrecy and sublimation. This move undid in a few short years many lifetimes of deeply seated moral views.
The disease, with its harsh and violent attacks upon the body, called attention to the physical in a new and shocking way that proved disturbing. It gave the poet the role of demystifying more and more intimate areas of what was once deemed the private and to seek ever more knowledge about the forbidden. The sanctity of medical and religious language was questioned for its use to suppress access to life-saving AIDS treatments. Love poetry and erotic poetry were revitalized in the time of AIDS as poets turned their focus toward their desire in the face of powerful myths and assumptions.
Tradition of Crisis and Witness
American poetry came to a darker realism. Poetry has always dealt with death and the sorrows of mortality. Perhaps it is for my generation to be compared in the future to the World War I poets who defiantly tried to sound the alarm and describe the horrors they had witnessed even from the trenches, or who saw in the quiet reaches of Modernist urban life a sense of loss and personal sorrow. Sentimentality haunts the work of these war poets, as does a sense of spiritual awakening. We must remember they were young when they died, very young, and yet in that youth they carried an amazing precision of language.
AIDS is now very much a part of all of our lives. It has shaped my life as it has shaped others. It is for the next generation of writers to move beyond the crippling despair and panic we faced.
If poetry had acted as wake-up alarm and churchbell, initially tolling the coming of disaster and the call for mourning and prayer, it now seems the role of fiction and prose to tell us who we were back then, what we learned, and how we were forever changed.
Now that it is National Poetry Month, we should remember how American poetry in the twentieth century was irrevocably shaped by the advent of AIDS. AIDS verse is a collective experience, reminding us of the great works of Greek tragedy. AIDS poetry also represents the crippling psychological displacements of writers who were very much alienated in their time from a society or a politic that did not minister to their needs or understand their struggles. Poets in every era have been forced to find new relationships between the personal and the political. Just as the conservative 'fifties, the anti-Vietnam War protests, and the revitalized feminist movement were formative for the poetry of earlier decades, the demonstrations of ACT UP and Queer Nation provoked and shaped the poetry of AIDS writers.
AIDS poetry, with perhaps no greater exactitude, has fixed the disease at that first moment of its slow and malicious spread, documenting the small, unseen ways it has infected us all--heart, soul, and language. As American poetry moves on, it is important to acknowledge this cultural legacy and its continued influence.
Walter Holland is the author of A Journal of the Plague Years: Poems 1979-1992 and a novel, The March. His poems have appeared in numerous journals and anthologies, including Poets for Life and The Columbia Anthology of Gay Literature.
A JOURNAL OF THE PLAGUE YEARS
I remember dancing in July on the banks of the Hudson in the City,
the way some of us, innocent then, reported the rumors
we had heard. I remember you, a doctor, discussing your work
on the wards of San Francisco and the way we worried about
our friends and the way you stood in the elevator
pushing an i.v. stand, not really speaking--the calls
at night and the endless plans to move from the city and the fevers
you had and the pills by your bed and the vigil I kept until
you died. I remember the party for your birthday, the way
you wore a floral-print shirt, an amused smile on your thin
face, the flash of my camera filling the room, sudden,
startling even now. Then Scott fell ill soon after and Raymond
was said to have disappeared, no word of funeral or forwarding
address, just unanswered calls to his mother--the never knowing
if he had died and the way I watched Robert stare at the panel they'd
made for Kyle--the way we stood astonished in a room spread full
of names, the fabric of the quilt unfurled, silk-like, brilliant.

Walter Holland
"A Journal of the Plague Years" is the title poem from Walter Holland's 1992 collection A Journal of the Plague Years: Poems 1979-1992, published by Magic City Press, and is reprinted with permission. It has also appeared elsewhere, most notably in the Columbia Anthology of Gay Literature, published by the Columbia University Press in 1998.
Back to the
April 2000
Issue of
Body Positive
Magazine.