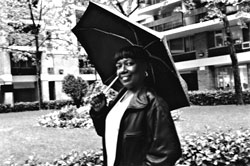 Phyllis Anderson is that rare thing -- you might almost call it a phenomenon -- Phyllis is a native New Yorker. Family and friends, school and work, relationships, marriage -- life's everyday experiences and joys -- Phyllis has had them all here. But out-of-the-ordinary experiences and suffering are a part of the life in the city too. And Phyllis has had her share of those in the hefty forms of addiction, incarceration, being HIV-positive, and having breast cancer. The thing is, Phyllis Anderson has come out on top of it all and, through her now eight-year tenure as an HIV peer educator, so has New York City.
Drugs and Diagnosis
Phyllis's story is familiar to Power of Example readers and to people in recovery. She used for a long time, from about the age of 20 until she was about 40. First it was intravenous heroin and cocaine, then crack cocaine. She was a "functional addict" for a time: She went to work. She married an active addict. They paid their bills. Then Phyllis stopped going to her bookkeeping jobs. After a while she chose to live on the street. Eventually she was arrested for attempted burglary and went to prison. In prison she got help. And, finally, she got clean and sober.
A large part of being helped to live clean and sober means helping yourself. It's not only the way that Phyllis let herself be helped and helped herself, but the way she took to helping others that really stands out.
"Ten years ago, I was using cocaine," Phyllis says to me and to my tape recorder in a downtown café where we have just met. "I had gone to my doctor, and he says, 'Who's managing your HIV?' And I had never been tested at that point. And I said, 'Nobody. I don't have HIV.' A year and a half later I went to prison and I got tested and I was, in fact, positive. Actually, I was diagnosed eight years ago, but I always say ten because of that incident.
"Right before I got arrested my every-week thing was 'I'm gonna go in a program.' And I guess God said, 'Okay, you wanna go in a program? I'm going to send you to one -- one that you will be certain to stay in. You can't just leave cause you don't like the structure.'
"I went to this program in jail by choice. It wasn't that I was mandated. First, though, I worked in the prison laundry from February to July '92, and then I just couldn't take general population anymore. It was so dirty. Women were fighting. I was scared to get sick. Every time I thought about being positive I had an asthma attack or a seizure. And I would have three, five, seven seizures at a time, one right behind another."
Step By Step
Luckily for Phyllis and for other inmates, there was the STEP Program. STEP, which stands for Self-Taught Empowerment and Pride, is a Department of Correctional Services program that is still in existence. "What I liked about STEP was you met in the morning," says Phyllis. "You know? You had morning meetings. 'How do you feel?' they'd ask us. Then you went to school. There were computer classes. A John Jay law project. GED. And so forth. They also had twelve-step meetings. And every day they had substance abuse education for two-and-a-half hours. No laying around. You got up at 5:00 in the morning.
"Plus, every morning you GIed. [GI means General Inspection.] Every night you GIed. And it's washing walls, washing floors. This is the most immaculate place. Beds are tight. You can bounce a quarter off them.
"Before, when I was in general population, I never talked about HIV. I had brochures and stuff. I put them under my mattress. I never read them. I never read them. When I got into STEP in July, I stood up and I said I was positive. Then another girl stood up, said she was positive. Then another girl stood up, said she was positive. So the three of us started Group Linkage. STEP was for substance abuse only, not HIV. So then, more women started saying they were positive. I had my last seizure August 4.
"By then, I was calling agencies on the outside, asking them to send information. And writing them, having them send information in. I was doing all this outreach right in STEP! It started with one woman standing up saying she was positive in July. And in October, by the time I left, there were thirteen women in my support group. We wrote a proposal. We submitted it to Corrections. They said, 'Go ahead.' That was the first time inmates ever wrote a proposal for such a thing.
"STEP was so great, what they did for us. They said, 'Look, you ladies need nutrition.' So they would have fruit sent for us, and juice, for our meeting. We met once a week, every Thursday."
Standing Up
"I was released to Stand Up Harlem. And there I met people who had been positive five, eight years! These people were well and healthy and working and I was like, 'I don't know what they're doing, but that's what I wanna do.' I got that feeling that I could manage this. I could live with it."
Phyllis has not only lived with it, she became the first Stand Up client to become a salaried employee. "I remember the director saying, 'The first day you were there you just took over my group. You just started facilitating.' And he always told me, he said he saw potential in me. He said, 'You already had it. All we did here was refine it.'"
And so began Phyllis's career as an educator. Her work has been recognized with awards, most recently the Outstanding Woman Award for Achievement Over Adversity from St. Mary's Hospital and a Recognition of Service award from the Substance Abuse Intervention Division at Rikers Island. That career has taken her to work for Body Positive and other area organizations, and has put her on the board of directors of a Red Ribbon Project in Colorado. Every year, Phyllis makes the trip to Vail, Colorado, to educate students in schools and adults at public events. Between presentations, she finds some time to relax with her friends.
Phyllis talks about her work: "I just love people. I don't want to see anybody suffer. I had to let people know you could be a woman of color, you could be positive, an ex-offender and formerly homeless person, and still get a job. Because a lot of people think if you're an ex-offender and you're positive, 'Who's gonna hire me?' Maybe you might not start at the position you had prior to incarceration, but you work your way up."
Going back to the topic of Stand Up Harlem, Phyllis says, "I stayed there for two years. I worked with them as long as I could. Until I underwent radiation." In 1997, Phyllis discovered she had breast cancer. And though cancer was an experience that she says was harder than discovering she was HIV-positive, she underwent radiation therapy and has been in remission since. "My T-cells are a little over 500 and my viral load is 2,500, which is, I think, excellent for someone who's never taken meds. And I think a lot has to do with the radiation, because when I started I was at 1,150 T-cells and, like, they're coming up. But it's so slow. And I have to remember: Be patient."
Patience isn't always easy for New Yorkers, even for non-natives like myself, and I see some of that quality in Phyllis. "When I make [twelve-step] meetings," she says, "it's to share my gratitude. I really can't see people five or seven years in recovery and still stuck on the same situations as the first year. Either you address them or you turn them over. I guess I'm being judgmental."
And I don't agree with all of Phyllis' educational message. "When I go to schools," she says, "it's very important I teach abstinence." I think about calling her on this. I wish that I could quote statistics about the number of young people having sex. Then I think of an Eastern proverb that goes something like "Those who don't do should stay out of the way of those who do." I decide to view Phyllis's teaching sexual abstinence as a naïveté that's rare, contradictory, charming in a New Yorker.
One of Phyllis's greatest teaching tools has to be her presence, her body. Phyllis, at 51, looks great! "When I present to one particular agency, it's anywhere from 75 to 125 men -- it floors them. It floors them! They're in treatment. And I go there and I'm dressed and they're looking and I say, 'You see how I look? You engage in unprotected sex with women or men that you don't know, that you're not in a monogamous relationship with -- they very well could look like me.' So I give them something to think about. Treatment programs, they do eight hours or weekend passes, and I ask, 'Can I see from a show of hands who had a pass? Did you put yourself at risk?' The next group is getting ready to go out on a pass. So it keeps it real fresh for them. You know?"
---
A handsome young man approaches our table and says the café is closing. By this time, Phyllis has told me her twelve-step sponsor is a gay man she loves because "he calls me on my shit." So as I walk Phyllis to the subway, I'm feeling pretty comfortable with her. We hug and wish each other good luck. Phyllis has a long ride home to the Bronx. Tomorrow she will get up and she will do more work.
Steven Cordova is a writer and poet who lives in New York City. He is an executive assistant at the National Gay and Lesbian Task Force and a frequent contributor to Body Positive_._
Back to the
July 2000
Issue of
Body Positive
Magazine.