A Personal History of the Epidemic
"My own personal history of the epidemic is no different from that of any other man of my generation who has lived at ground zero and survived to tell the tales."
Where the Rainbow Ends, Jameson Currier's first novel, will be published this month by Overlook Press. Its writing was partially supported by a fiction grant from the Arch and Bruce Brown Foundation, which cited the novel's historical depiction of the gay and lesbian community during the AIDS crisis.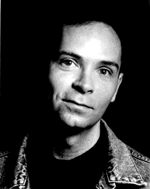 I have been actively writing about AIDS for fourteen years now, both in fiction and nonfiction, poetry and prose, grappling with issues and themes and searching for some sort of understanding of how the plague has shaped our lives. The landscape of my personal life, particularly my years in New York City, is littered with the ghosts of friends, clients, colleagues, boyfriends, and lovers who have died from AIDS.
I clearly remember the day in Central Park, a summer morning in 1981, waiting to meet my friend Kevin and reading an item in The New York Times about a rare cancer being found in gay men. That morning is ingrained in my consciousness as vividly as the day I heard that Kennedy had been shot. My immediate reaction was one of confusion and skepticism, but I was also aware of being caught up in an historical moment, and uncertain how the future would play itself out.
That feeling of being caught up in history is the genesis of my first novel, Where the Rainbow Ends. It is the story of a young Southern expatriate, Robbie Taylor, who, like myself, arrives optimistically in Manhattan in the late 1970s and meets a new circle of friends. Though the novel tackles many themes, among them the importance of family and friends to gay men and lesbians, the plot follows the chronology of the first decade of the AIDS epidemic. Robbie's journey through these years finds him confronting many historical and personal markers of the plague: being tested for HIV, the unveiling of the AIDS Quilt, attending local Act Up meetings and national demonstrations.
Where the Rainbow Ends is an outgrowth of the discussions of family values that colored the Presidential campaign of 1992. Like the Biblical Job, Robbie assembles one family, loses it, and assembles another. My own personal years in the epidemic have followed a similar pattern; through the friends that I have lost, I have found other, new friends.
During the six years I spent writing the novel, however, I witnessed the epidemic change. When I had finished the first draft, it was clear to me that the perception of HIV infection was not as bleak as when I had started, thanks in part to the advancements of science and medicine. As journalists and gay writers began proclaiming the demise of the plague, I considered shelving the novel instead of rewriting it, worried that it did not reflect the prevailing optimistic notion that AIDS was becoming a manageable disease. But a friend, another writer, convinced me otherwise, telling me that I should not stop writing about AIDS even if I had to approach my manuscript as an historical novel. These, he said, were stories that had to be told and retold, to prove that there had been men who have lived and loved and been lost at too early an age.
Things have surely improved since those early years when friends became ill and before AIDS and HIV could be named. But I confess, I am still haunted by the first few friends who became sick. Their memories still come back to me as I walk through the city between jobs and appointments. I still remember the loft on 28th Street where Kevin lived, still remember Mike working out at the Body Center on Sixth Avenue before the gym was transformed by David Barton. I still remember the night David assembled a group of us at the Zeigfeld to watch a badly reviewed Warren Beatty movie. My anxiety during those years has now been replaced with a melancholy sorrow dulled even further by the passage of time. But often, while riding in a stuffy elevator filled with people in heavy winter coats and jammed in together, I can still recall the first visit I made to a friend in the hospital, feeling the hot breaths of my fear bouncing against the face mask I wore and being forced back down my throat.
Not long ago a friend reminded me that the epidemic is not really over. He is HIV-positive and still fighting the same daily battle for health that he has been fighting since he found out his diagnosis twelve years before. AIDS is never over, he said, for any of us who have survived losing someone to this irrational infection. Like the characters I had created in my stories and my novel, my friend's personal history also incorporated the historical markers of the epidemic. He had bought tickets to that first fund-raiser at the circus at Madison Square Garden; he had delivered hot meals to homebound men in Hell's Kitchen; he had done the AIDS Walk in the rain; and he had demonstrated at the NIH.
My own personal history within the years of the epidemic is no different from that of any other man of my generation who has lived at ground zero and survived to tell the tales. I have volunteered, cared for, and buried more friends that I wish to admit. Another friend once commented to me before he died that gay life had come of age through dealing with this suffering, that gay men had been changed forever, and that change should be what I must now address in my writing. My life today is certainly nothing like I expected it to be when I arrived in Manhattan all those years ago.
There are many reasons I have never stopped writing about AIDS. AIDS summons up the greatest themes in literature, among them sex and death and faith, themes that are universal and prominent in every life. Anyone who has lost a loved one to death, untimely or by nature, can read about AIDS and understand the emotions it forces into place. Anyone who has acted as a carepartner for someone who has been ill will understand the compassion necessary to tending the sick. Anyone facing death from a life-threatening illness should be able to find strength and companionship in AIDS writings. Anyone interested in uncovering the heart of the human soul should read writings about AIDS.
But more than any of these reasons, my writing about AIDS is fueled by a combination of grief and guilt. I am an HIV-negative gay man who has survived the epidemic thus far. Is there a reason that I have been spared when so many others have died? Have I endured simply because of luck or fate? I still write about AIDS, not just because I have survived but because it is part of my history. AIDS has changed me, even though HIV has not infected me. It has, nonetheless, affected my world. It has made me the person I am today. I write about AIDS because I am still alive.
Back to the November 1998 Issue of Body Positive Magazine.