On November 29, 2001, the San Francisco AIDS Foundation (SFAF) announced the launch of the Pangaea Global AIDS Foundation, a new organization dedicated to working on HIV/AIDS at the international level, particularly in the developing world. (Pangaea is the hypothetical supercontinent that included all the landmasses of the earth; the single landmass presumably split apart about 200 million years ago. The word comes from Greek pan, or all, combined with gaia, or earth.)
An affiliate of SFAF, the Pangaea Foundation will concentrate its efforts on increasing access to life-sustaining HIV treatment and care and supporting the development of an effective HIV vaccine. Eric Goosby, M.D., a renowned HIV clinician and policy expert, is Pangaea's chief executive officer and chief medical officer.
According to the World Health Organization (WHO), 40 million people today are living with HIV/AIDS, 95% of whom live in the developing world and have little or no access to HIV treatment. "Our aim is to address this unacceptable disparity," said Dr. Goosby. "Using existing infrastructure in partnership with local organizations, our goal is to create sustainable, locally controlled systems of care that can be leveraged and expanded to other regions."
"To effectively control the spread of HIV, treatment and prevention efforts must be combined." According to Dr. Goosby, "If medical systems are available to bring large populations into care, we stand a much better chance not only of treating HIV but also of changing the risk behavior that spreads the disease."
Sub-Saharan Africa, home to the vast majority of the world's HIV/AIDS cases, is the launching point for the Pangaea Global AIDS Foundation's activities. In this region, where the response to HIV/AIDS has not generally included sustained medical treatment, projects aimed at expanding medical care are vitally needed.
BETA spoke with Dr. Goosby, CEO, and René Durazzo, programs deputy director of Pangaea, about the inception of the new global foundation.
Creation of a New Organization
BETA: What inspired the creation of Pangaea?
PANGAEA: In late winter 2000 we began to examine SFAF's end [mission] statement, particularly the goal "to end the pandemic." [The agency's end statement, representative of its most fundamental mission, is: "Committed to ending the pandemic and human suffering caused by HIV."] The board of directors really drove this effort. We had to ask ourselves, what are we doing that is responsive to the pandemic, i.e., to HIV/AIDS from a global standpoint? The board was clear that it meant pandemic and that it was serious about its global commitment. The question then became where, and how?
The subsequent exploration of the state of the global pandemic took several months, as we evaluated where need was greatest and where we could have the biggest impact. In addition, our activities needed to be consistent with the board-defined values of the agency. [The board has defined SFAF's core values to be: choice, integrity, effectiveness, justice, knowledge, and compassion.]
BETA: Could you describe the main criteria you used to determine where and how to proceed?
PANGAEA: We came up with a set of criteria to help with the selection of local partners and projects. We determined that whatever we do must have a high impact, by which we mean fostering large, systematic change that will profoundly impact people's health. Any effort we initiate also must be sustainable, or lasting. It is also important that any initiative be leverageable, meaning that a project can start small but over time will be expected to foster change that can be replicated across an entire country or region. For example, by starting clinics in one area, we can create a model of care that will be replicable throughout an entire country. Also important are local control and capacity, which are key for sustainability. We want to help build local expertise (health-care skills, management) and infrastructure.
BETA: Can you explain what you mean by capacity?
PANGAEA: Among other things, capacity primarily means creation of infrastructure that includes as a key component having securely put in place people who can develop and manage systems; management training is a large part of capacity. Though not a terribly exciting aspect, much of the heart and soul and success of these programs will be building that kind of administrative and managerial capacity. Aside from resources, long-term continuity of management structures is also often lacking in developing settings -- changes of administration and management alone can wipe out a project.
BETA: What else do local partners have to offer?
PANGAEA: First, and maybe most importantly, we want to be sure we have shared values. That is, what we propose and construct also must be compatible with the values of the local partners and vice versa. If any conflicts of values emerged -- e.g., if the local partners did not consider "choice" to be a value, meaning giving people information and options with which to make their own, individualized choices, rather than directives -- then there could be no collaboration. Our local partners on the ground are champions: strong minded individuals committed to working with and embracing the project with as much enthusiasm and leadership as we can bring ourselves. Many of the projects we've looked at were begun by the local connection; the projects we're actually embarking on were initiated way before the creation of Pangaea. Those individuals or local partners not only initiated but also developed and still steer the projects, providing local control and expertise.
BETA: One of the criteria stipulates the necessity of working in countries "nonhostile to HIV work." What does this mean precisely?
PANGAEA: Working in countries nonhostile to HIV/AIDS work is important because we don't want to be swimming upstream. Although there is hostility, primarily in the form of lack of support from the government, around HIV/AIDS in South Africa, there's enough support throughout the country -- divorced from the leadership of the country -- that we feel there is a positive environment for doing our work.
Our final criterion for engaging is locating "identifiable resources." Identifiable resources are those that are clearly necessary. These are evaluated by going in and finding the holes in the existing structure. For example, when we ask a local partner what it is they'd like to do, they might say, treat sexually transmitted infections (STIs) and opportunistic infections (OIs). We'd next ask, what is not in place right now for you to do so? The answer to that question is the answer to "identifiable resources," which can run a gamut from physical space in which to see and treat patients, to trained personnel to do so, to pharmaceutical resources. And we proceed from there to fill in the holes that both parties agree represent unmet minimal needs required to achieve a goal.
There's also a certain scale of funding that's necessary for us to have a high impact. For example, Pfizer donated $11 million to support the hospital in Uganda [described below], and that's the magnitude we're looking at; over the long haul we need a fairly large infusion of capital. We're not going to pursue something if we cannot get the resources and money to support it.
We're not operating from the assumption that we will fund or even try to fund every request that comes our way; in fact, we're still narrowing our role. Our standpoint is that as one of many players, we can play a specific, disciplined role in the areas in which we work.
Sub-Saharan Africa as Launching Point
BETA: It's clear that the majority of HIV/AIDS cases in the world are in sub-Saharan Africa, but many other regions today also are experiencing rises in numbers of people with HIV/AIDS. How you are deciding where to work?
PANGAEA: We decided to begin in Africa for a number of reasons. First, the vast majority of world cases are there. From an epidemiologic perspective, the epidemic there has already peaked. From a prevention perspective, then, you could say that we should go to Eastern Europe, or Southeast Asia, or China, to try to beat the epidemic before it hits a similar statistical trajectory as it has in parts of Africa. Some people have already written Africa off from a care and even a prevention standpoint.
But the largest number of cases is in Africa, and we have drugs, and models of care, that can be afforded to that part of the world. It's an ethical issue: you can't write off the continent. Even in countries with a 30% infection rate, that means 70% are not infected. Starting in Africa made sense in terms of needs, impact, and the fact that we had already forged good relations with partners there.
We want to experience strong success in these areas and test our ideas, learn our limitations, adapt, and grow, before beginning projects in other areas of the world.
BETA: What specific projects or sites are you now engaged in?
PANGAEA: Currently Pangaea has formed partnerships around pilot initiatives in three sub-Saharan African countries: Rwanda, South Africa, and Uganda.
The HIV Treatment and Access Partnership (HTAP) is an initiative designed to bring together hospitals and community clinics in Rwanda (at two sites) and South Africa (at three sites). We plan to capitalize on existing medical infrastructure and to develop a sustainable capacity to provide treatment for HIV disease and for related OIs. Another aim is to facilitate home-based practical support for people living with HIV/AIDS. Pangaea is working with the Rwandan government to develop a Rwandan standard of care [the level of care that all persons with a particular illness should receive, below which care would be considered substandard] and to develop a system of medical care and services for HIV-positive people in or near the Rwandan capital of Kigali. This continuum of medical care and services will then serve as a model for expansion to the entire country. Three sites in Kigali are ready to begin operations. By the end of 2001, the standard of care in Rwanda will have been finalized, and by spring 2002 the staff will be trained in antiretrovirals and the standard of care, and the systems for administering the standard of care will be in place. The standard of care covers all the basics, from diagnosing to treating HIV disease.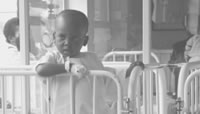 In addition, Pangaea is developing partnerships with nongovernmental organizations (NGOs) in South Africa for the expansion of mother-to-child transmission (MTCT) prevention programs to include the treatment of STIs and OIs, and the introduction of antiretroviral therapy. [See "The Dilemma of Breast Feeding" in this issue for news from a recent conference on the prevention of MTCT.]
In Uganda, we have the Uganda HIV Treatment and Training Center, a joint initiative with Makerere University in Kampala, Pfizer, Pangaea, and the Academic Alliance for AIDS Care and Prevention in Africa. The objective of this project is to construct and operate a facility to train health-care workers, provide treatment to people living with HIV/AIDS, conduct research to strengthen protocols of care, and support prevention programs. In the Uganda project, we are the fiscal agent and grant administrator, and less involved with the program piece. As such, we are charged with constructing legal, administrative, and managerial structures to support program development, and with oversight of budgetary, employment, and expense systems needed to administer an $11 million Pfizer grant over three years.
We also are involved in an HIV vaccine preparedness project that entails working in partnership with the International AIDS Vaccine Initiative (IAVI) and our HTAP partners. In this way we are supporting HIV vaccine community education and preparedness efforts underway in South Africa.
BETA: What other initiatives are being planned in South Africa?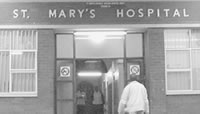 PANGAEA: Also in South Africa, we are bringing together three clinics in order to provide treatment to a few thousand people. Those three clinics are Chris Hani Baragwanath Hospital in Soweto, St. Mary's in KwaZulu-Natal, and a third in the Western Cape (still to be determined). Chris Hani Baragwanath is well established and sophisticated; it's actually the largest hospital in the world. St. Mary's, an hour north of Durban, is in a rural area called Marion Hill; it's a good hospital but with almost no existing HIV capacity, even though the majority of the hospital's current cases are HIV-related. The three sites will establish a collaboration by which they can share resources, program development, medical expertise, and a standard of care, which should be of great benefit to all three because all have very different strengths to offer. Other benefits of the collaboration include purchasing power and funding. It will be easier to procure drugs for three sites because of the numbers (i.e., larger quantities and buying in bulk). Funders are likely to be more interested in a strong, promising effort such as this three-clinic collaboration. The collaboration also allows broad regional representation, permitting a look at how medical care is provided across the country, which will also help sites learn from each other.
The health department in the Western Cape is moving forward with an aggressive plan to create a network of clinics to treat people. They've also bumped up against the drug access issue. But the Western Cape would like to partner with our other sites so that they are not operating in isolation regionally, and can pool their resources and their expertise. At this time the head of the AIDS programs in the Western Cape is sorting out which clinic he would want to become a participant in this collaboration.
BETA: What's currently happening at the various sites?
PANGAEA: We're about to launch in Rwanda, and expect to launch in early 2002 in South Africa. "Launch" simply means accepting patients for treatment.
Getting HIV medical care to people with HIV/AIDS is at the core of it all. When all the pieces -- building the medical and care infrastructure that will allow drug delivery and ongoing care to people -- are in place, we can deliver HIV care and also impact general health care and delivery. We will have transformed not just the systems for HIV/AIDS care but also for tuberculosis and malaria and STIs and general care. We expect to have good residual impact beyond HIV/AIDS, although that is where we will start.
BETA: How does vaccine preparedness fit within the current plan?
PANGAEA: We believe that if people with HIV/AIDS have a strong incentive to come in for treatment and anti-HIV drugs, then they will have been brought into an environment in which the prevention discussion, which includes vaccines, can begin. The linkage to treatment is only one way, but we believe a crucial way, of approaching prevention. That was a problem here in the U.S. -- for a long time, prevention and care operated in two very different worlds. But in a short time, working in South Africa and Rwanda, we hope to test our theory that a well organized and operated clinic can do good local prevention work while treating HIV/AIDS. For instance, we hope that treating HIV/AIDS will help reduce infection rates, both via the education provided and by lower infectiousness linked to antiretroviral treatment for HIV-positive people.
About vaccines specifically, our overall focus will be to make sure that communities are prepared to accept a vaccine through the medical system we've worked to stabilize. Vaccine delivery will be made through the medical infrastructure, an approach that we believe will be effective.
We also are currently hard at work to define populations at high risk for HIV/AIDS, to inform our prevention and vaccine efforts. When all the pieces are in place... we will have transformed not just the systems for HIV/AIDS care, but also those for tuberculosis, malaria, STIs, and general care.
BETA: What are the most immediate challenges ahead?
PANGAEA: Although the clinical settings we've currently designated are all very different from one another, I'd say the biggest practical challenges are drug procurement and supply, and training enough health professionals to support these kinds of efforts. Even after partnerships with clinics and hospitals are secured -- and even after funding is taken care of -- we still will need more doctors, more trained nurses, more lab technicians, and drugs.
In a broader sense, to work successfully, we need to build bridges of trust by doing what we say we're going to do. The politics around all of these projects are very sensitive, particularly in South Africa, and it takes time to understand the political and social nuances and landscapes. Our partners are operating with a certain degree of risk in moving ahead with these efforts, in light of the national policy on HIV. [Ed. note: Led by South African president Thabo Mbeki, who publicly does not recognize HIV as the cause of AIDS, the government has declined to support most HIV/AIDS treatment and even prevention projects.]
Unless these initiatives build good, solid infrastructure to sustain and manage these projects over the long term, we will have wasted a tremendous amount of resources. That is something we need to consider when we develop these projects, because they will disintegrate very rapidly if the systems put in place are not robust.
For more information about Pangaea, contact Gustavo Suárez at 415-487-3031 or gsuarez@sfaf.org.
Eric Goosby, M.D.
Chief Executive Officer
Pangaea Global AIDS Foundation
Dr. Goosby was treating patients at San Francisco General Hospital (SFGH) when AIDS first began to take its devastating toll on the city. In 1986 he became AIDS Activity Division Attending Physician, and the following year was appointed associate medical director of SFGH's AIDS Clinic. During his tenure, he conceived of a new method for providing sophisticated treatment to HIV-infected intravenous drug users and established three medical facilities located in methadone treatment centers. He was also the principal investigator for numerous AIDS Clinical Trial Group (ACTG) studies.
In 1991 Dr. Goosby moved to a position in the federal government when he was named director of HIV Services at the U.S. Public Health Service/Health Resources and Services Administration. While there, he administered the Ryan White CARE Act, overseeing the distribution of federal funds and the planning of services in 52 AIDS epicenters in the U.S. and its territories. Dr. Goosby was the principal architect in defining the "continuum of care." It was through his leadership that the continuum of medical care was reconceptualized to include social and support services to retain people in care.
In 1994 Dr. Goosby became director of the Office of HIV/AIDS Policy in the U.S. Department of Health and Human Services (DHHS). In this position, he was a strong advocate for responsible government policy in the areas of HIV/AIDS prevention, treatment, and research. Dr. Goosby also had full budgetary responsibility (over $2.5 billion) and worked with Congress on all AIDS-related issues.
In 1995 Dr. Goosby created and chaired the DHHS Guideline Committee on Standards for the Use of Protease Inhibitors. This committee defined how to use protease inhibitors with the already existing antiretrovirals: who to treat, what drugs to start with, how to change drugs, and so forth. The committee later expanded into the use of protease inhibitors for children and pregnant women. In 1997, while still in his position at DHHS, Dr. Goosby acted as interim director of the National AIDS Policy Office at the White House, reporting directly to President Clinton as his senior advisor on HIV/AIDS-related issues.
In 2000, while working as the director of HIV/AIDS Policy at DHHS, Dr. Goosby served as deputy director of the National AIDS Policy Office. In this role he helped conceive of and orchestrate the dialogue for the Minority AIDS Initiative, reauthorization of the Ryan White CARE Act, needle exchange, and the need for a coordinated response to the global pandemic of HIV/AIDS.
Earlier this summer Dr. Goosby moved back to the Bay Area to accept the position of chief executive officer and chief medical officer for the Pangaea Global AIDS Foundation, an affiliate of the San Francisco AIDS Foundation.
Dr. Goosby has published extensively on HIV/AIDS treatment, prevention, and policy, and maintains an active portfolio of ongoing research.
Back to the SFAF BETA Winter 2002 contents page.