Overweight Teen Girls More Likely to Start Sex Early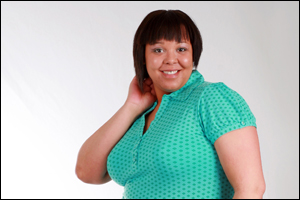 The amount of food their daughters are consuming, or the extra pounds they are packing on, may now be the least of parents' worries. According to a recent study (registration required) presented at the annual meeting of the American Congress of Obstetricians and Gynecologists (AGOG), overweight teenage girls are more likely than normal-weight teens to start having sex early, take on multiple partners and forgo using condoms. The South Carolina researchers who worked on the study found that overweight girls were nearly three times as likely as teens of average weight to have sex before age 13, and 30 percent more likely to have had sex with more than three partners during adolescence.
Margaret S. Villers, M.D., assistant professor of obstetrics and gynecology at the Medical University of South Carolina, and her team analyzed data from 21,773 teenage girls who had taken part in the Centers for Disease Control and Prevention's Youth Risk Behavior Survey, given annually to a representative sample of students at 20 middle schools and high schools nationwide. The study found that 6 percent of thinner teens had sex before age 13, while 22 percent of overweight teens and 15 percent of obese teens had engaged in intercourse. Among normal-weight teens, 39 percent had had sex with more than three partners, compared with 45 percent of overweight teens and 47 percent of obese teens.
"These youngsters desire to be attractive, liked, and sometimes they are extremely vulnerable because socially they have not dated, they have not been popular," says UCLA psychology professor Gail E. Wyatt, PhD., associate director of the UCLA AIDS Institute. "Our boys have sports and can find popularity and acceptance, but Black girls don't have that. Many are searching to find something to make them popular or more acceptable, and therein lies the dilemma."
Unfortunately, because many overweight teens develop sooner and look like women earlier, they garner attention from boys at a younger age. Dr. Villers believes they are also being pressured to have sex. Compounding matters, many are not using condoms or other birth control. "Studies have specifically looked at this issue in African American girls," she says. "Overweight girls were afraid of rejection from their partners. Their sexual activity may be an issue of fear of rejection from someone who finds them attractive. Unfortunately, these girls become overweight or obese, lonely, isolated and then vulnerable to being revictimized."
How can Black parents with conservative sexual values create dialogue with their teenage girls that fosters sexual self-esteem? "Encourage daughters to see themselves with worth and value, no matter how they look," explains Dr. Villers. "We need to teach our girls that they are important and their opinions matter. A teen pregnancy can affect the entire future of a girl's life. STDs can have unforeseen impact, including infertility, HIV disease or cervical cancer. By valuing their bodies and protecting themselves, teenage girls have a say in their future. Our current [abstinence-only and/or lack of] sex education isn't working. We need to reexamine how we educate our teen girls."
In addition to discussions about the birds and the bees at home and sex ed at school, Dr. Wyatt encourages a multifaceted approach. "We need churches to help educate youth about sexuality so they understand their bodies. We need to use the resources in our community, and we need to offer parenting courses so that parents learn how to parent their teens and navigate what they're going through."
LaShieka Purvis Hunter is a freelance writer and editor based in Bay Shore, N.Y.