Overcoming the Fear in Prison: The HAAP Experience
In a small office area in the activities section, the men of HAAP go about their duties. It is like almost any office of today with people at computer terminals entering data for upcoming classes, seminars or other special events. The difference is that these workers are inmates of the Oregon State Penitentiary (OSP) in Salem, Oregon.
In March 1991, a study done by the National Commission on AIDS recommended that, "All inmates should receive HIV education." In 1993, a program created by inmates and called OASIS, started presenting classes to inform inmates about HIV/AIDS. Due to certain difficulties, the administrations shut that program down. However, that did not deter the effort of prisoners to provide HIV prevention and AIDS awareness education to one another.
As they continued, their renewed efforts became known as the HIV/AIDS Awareness Program (HAAP). Various people came and went, but the program still maintained its goal to train and educate. HIV education of inmates is imperative, as it has been estimated that as much as 20 percent of the total U.S. prison population is HIV-positive. Though in Oregon the proportion is much lower, this figure is still several times higher in prisons than it is in the general population. High risk behaviors include injecting drug use, unprotected sex and tattooing, even though these practices are against the rules. Condoms and bleach are contraband, so people who continue to practice risk behaviors while incarcerated cannot do so safely.
Now, the HIV/AIDS Awareness Program has been incorporated as a nonprofit organization. This has allowed HAAP to receive grants and donations to help them continue their education programs. They continue to educate peer facilitators, who teach classes for all inmates who enter the institution. New arrivals go through a three-week Admission and Orientation class, and one week is HAAP's to cover the wide variety of health-related information they need to know to stay healthy in the prison environment.
Peer education has proven the most effective way to reach difficult populations, according to Catherine Knox, administrator of Health Services for the Oregon Department of Corrections. Peer education facilitators go through an extensive six-month long training course in anatomy, the immune system, communicable diseases, hepatitis, tuberculosis, sexually transmitted diseases (STDs), viruses, HIV, risk behaviors, and pharmacology, plus one class session with a person with AIDS (PWA). On top of this, they are trained by the American Red Cross to be certified as Basic HIV Instructors, who then advance to become HIV facilitators.
An Inmate-Based Program
HAAP is an inmate-based health and wellness information program created by and for inmates to educate prisoners about HIV and AIDS as well as many other health related topics. HAAP 's Program Coordinator, inmate Charles White, leads a five-member team who are responsible for all the office functions, including an office manager, a computer specialist, research specialist and an outreach coordinator.
HAAP also tries to create a more tolerable living environment for diverse individuals through education and awareness. Because being gay carries the stigma of AIDS, acts of mental, verbal, sexual and physical abuse are not uncommon. HAAP works to change these paradigms and stereotypes to create a safer environment for HIV-positive and all inmates. Education dispels the ignorance, misinformation, fear and discrimination. Prisoner misconceptions about HIV infection are often the motivation behind hurtful, dangerous and often life-threatening behavior, making life even more unbearable. HAAP's overall goal is to present a message of tolerance and compassion.
I have seen this behavior on several occasions. I have witnessed HIV-positive inmates forced to live in a different cell or be denied the opportunity to work because they were not wanted. Although not a gay organization, HAAP helps to alleviate some of the hurtful and judgmental attitudes that are prevalent in prison. I know they are making a difference because conditions have improved over the years. Being indifferent used to mean a single cell and possible isolation that added to the feeling of being discriminated against.
Some people, upon discovering they were HIV positive, committed suicide because they could not handle the news. With today's advances in medicine, it is not the death sentence it once was. People are living longer, but some people are taking a lot of things for granted and becoming complacent about prevention.
Hepatitis C is surpassing HIV/AIDS as the major new health concern both in and out of prison. By some statistics, 30 percent of males and 40 percent of females entering the prison system are infected with hepatitis C. As many as 80 percent of all inmates entering prison have had no health education and very little medical care. Both HIV and hepatitis C can be contracted in similar ways and many of the same precautions need to be taken. HAAP has had great success in working with outside community organizations, like the Hepatitis C Awareness Project, to bring information about living with or preventing chronic illnesses like HIV and hepatitis C to prisoners.
S.P.I.C.E. and Total Wellness
HAAP bases their belief of total wellness on the acronym S.P.I.C.E., which stands for Spiritual, Physical, Intellectual, Community, and Emotional well being. Beyond the peer education classes, Admission and Orientation classes, and special seminars presented on a monthly basis, HAAP also works to help bring in outside people to do seminars in the wellness scope of S.P.I.C.E.
Jacki Gethner, a reflexologist and massage therapist from Portland, Oregon, volunteers her time to come in and present seminars on a wide range of topics. She has delivered information on foot reflexology, flow body treatment, Reiki life-force energy, and speaks about how these relate to your body and how they function. Recently, Jackie went to Durban, South Africa, for the 2000 International AIDS Conference, where she presented a workshop called "Weaving a Basket of Self-Care." Jackie was moved by the support, both spiritual and financial, she received from OSP inmates to help with her trip.
Other examples of wellness programs offered by HAAP include a Kundalini Yoga seminar that was presented by Lani O'Callahan and Amazing Grace. They demonstrated moves to help keep they body limber and in-shape. Another event was a forgiveness workshop which was presented in our prison chapel over several evenings. All these workshops are designed to help reduce stress on the body. Stress can play a large role in how well the body fights off disease. In fighting HIV and hepatitis C, overall body health goes a long way to keep the immune system functioning in an optimal and healthy manner.
HAAP continues to add to its educational programs. This year, the Red Cross has begun to train HAAP's inmate facilitators in prevention skills for the first time. This qualifies HAAP volunteer educators to present this specialized training to the general prison population. The training was made available by a grant from the Elizabeth Taylor AIDS Foundation, one of two grants received by HAAP in 2000.
The second grant was from McKenzie River Gathering, a foundation committed to supporting works of social change. The grant will help HAAP continue to educate and inform incarcerated persons with HIV/AIDS, and work toward creating a more tolerable living environment inside the penitentiary by changing attitudes and behavior associated with this disease.
Valuing Diversity
HAAP tries to reach a wide variety of prisoners with increasingly diverse ethnic backgrounds by training members of each group as peer educators. These include inmates of African, Asian, Pacific Islander, European, Latino, and Native American descent, in part because inmates respond better to someone from their own ethnic background. The board for HAAP is also selected from each cultural group at OSP, and from diverse groups from the community.
Support from the outside community is important since it is easy to feel forgotten in prison, especially if you are part of a minority group. It is also a way for people to remain connected to their community. HAAP has been able to draw the outside groups together, which is something that had not been done previously.
In 1998, HAAP sent Karen Campbell, OSP staff advisor, as their representative to the United States Conference on AIDS in Dallas, Texas. Karen presented a workshop discussing the various parts needed to create a successful prison-based peer education program. This helped spread the word to outside individuals who could promote similar programs in other institutions. A video produced at OSP called Prisoners at Risk is used in institutions in Washington, California, Pennsylvania, Georgia, and Missouri.
Inmate Charles White, the coordinator of HAAP, who provided much of the material used for this article, is hoping to be released soon to continue this work in the outside community. He is looking forward to presenting a roundtable discussion on community agency support in Atlanta, Georgia, in October, at the National AIDS Council convention. He says it is important to build community support as 90 percent of HIV-positive inmates will return to the community. They need places to go where treatment and support is available. Transition back to the free world is hard enough without having to face the added burden of being HIV-positive.
White said he feels a lot of HAAP's success during the last two years is due to its ability to build bridges across the gaps between diverse groups. He goes to key people within these groups, even the hard-core convicts who have been incarcerated for long periods of time, and builds trust. HAAP then uses that person to reach a certain group. Due to this outreach, there are guys who have been down 20 years who come to the program to learn how to protect themselves.
The chairperson of the Oregon Coalition for AIDS Education comes in to offer support and is impressed by HAAP's outreach to the inmate population. She says this is not being done well on the streets. There is a lack of organization and communication between service providers. HAAP is helping to pull some of these providers together.
Building Awareness
HAAP prints a bimonthly newsletter called Awareness News that goes both to inmates and to outside supporters. It reaches around 600 people, but they would like to increase circulation to more than 1000. HAAP is in the process of putting together a pre-release harm reduction class working with outside supporters to provide places to go and how to receive needed medication and support.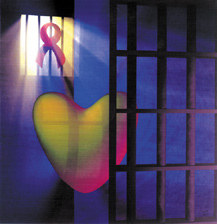 Illustration from the cover of
Voices from Within
Education is the main continuing goal of HAAP. They have a research specialist who has 30 years experience in pharmaceutical sales who constantly updates or develops new curricula, writes scientific and educational materials, and gets answers to all medically or scientifically related questions. He is one of the key peer-education facilitators and also keeps abreast of the new drugs being tested, since everyone hopes for a medical breakthrough.
Andrew is a 38-year-old, HIV-positive inmate who has lived with AIDS for fifteen years. He has now been incarcerated for three years on a fifty-year sentence. In 1985, he was told he was HIV-positive. The life span at that time was not as long as it is now. I asked him to what he owes his survival. He told me that he was one of the few people in the US who, in the early days of AIDS, was fortunate enough to participate in new drug clinical trials. He also had an excellent doctor on the streets who kept up on all the latest technology and had exceptional funding to try new ideas.
When Andrew first came to OSP, the nature of his crime, coupled with his having AIDS, made it really hard to fit into the prison community. His biggest fear was that he did not want to die in prison. He said, "It made me stronger toward dealing with death and I'm now at peace with it." The first and only support he had were a group of three or four HIV-positive men who got together in the recreation yard. They put up with a lot of ridicule and name calling, but continued to seek one another out to share their concerns and fears about their health care.
The stigma that goes with having AIDS is very hard to deal with. Andrew said that it has been hard to get and keep a job for very long. Staff is more accepting now than when he first came in. More education is needed among correctional staff to improve awareness and increase compassion for prisoners living with AIDS. HAAP would like to work on the possibility of offering information seminars to officers in the future.
I asked Andrew about the medical care in prison. He says they have a special doctor who deals with the AIDS patients. He also gets assistance by way of a weekly support group for PWAs, which was not available when he first arrived. There are only five or six who take advantage of the group. However, Andrew says it gives them a chance to see their charts and blood work.
Andrew has not been on any drugs for over a year now, having built up a resistance to all the drugs available to him. He said he is fearful of going back on drugs due to the side effects. Andrew has improved his health through lifestyle changes. He is now in a running program and says he feels much better than he has in a long time. Andrew is due to go back on medication this month since his T-cell count is down to ten.
Andrew used to do volunteer work for HAAP, but found it difficult because he has good and bad days. He would get really tired due to the drug regimen he was on at the time. He has been through the HAAP peer-education training and is a Red Cross-certified facilitator. Andrew used to speak with various inmate groups about what it is like being in prison and living with AIDS, but often found this difficult due to personal issues with his self-esteem. "It is hard having every new prisoner walking through the front door knowing I have AIDS right off the bat," he says. He would like to get back into helping again. I asked how HAAP helped him when he entered prison. His reply was, "I learned more about my body and how to care for it than I ever did on the streets, and I became involved with a group of people who accepted me for who I am."
Staff Advisor
Karen Campbell, the staff advisor for HAAP, said, "Working with HAAP has been a very positive experience." She went on to say that she had life experiences with friends who died of AIDS. She has enjoyed using the skills inside prison that she learned on the streets from 1987 through 1989.
Karen feels that HAAP's outreach has caused a dramatic increase in the interest and participation of prisoners. She said, "Oregon is one of only three states that allows peer facilitators in AIDS programs." Testing inmates is voluntary, but Oregon's reinfection rate inside the prison is estimated to be less than one percent. HAAP believes this low rate is due in part to their prevention efforts through education.
James, a HAAP volunteer for over a year, said, "My time with HAAP has changed my outlook toward other people." James will soon be released and hopes to carry the HAAP message of HIV prevention, and compassion for people living with AIDS, back to his community.
Inmate White adds that HAAP is grateful for the ability to carry out their work while incarcerated. The key to HAAP's success has been its ability to operate inside the maximum security walls of the Oregon State Penitentiary while building bridges with groups of culturally diverse prisoners, the prison administration, and the outside community.
Even those with little or no hope of returning to that outside community still care about it. Lifers Unlimited, an inmate club which offers support to prisoners serving life sentences while trying to give back to their community, has worked with HAAP to bring a little happiness to the lives of children infected or affected by HIV/AIDS. Recently, they gave a gift of 90 stuffed bears, hand sewn entirely by lifers at OSP, to Camp Starlight and Us Northwest pediatric AIDS support groups. Judith Rizzio, HAAP representative and board member, accepted the stuffed animals on behalf of these children's organizations. This stuffed animal project is one of the many ways Lifers Unlimited has supported HAAP while showing their compassion for others struggling with the AIDS crisis.
James G. Fuller, a freelance writer, is an inmate at the Oregon State Penitentiary.
Back to the
May 2001
Issue of
Body Positive
Magazine.