New Activists in New Mexico
Outstanding Youth Gather in Albuquerque for Hardcore Advocacy Training
Last week, during advocacy training at the fourth-annual Youth AIDS Institute (YAI), session leader Johnny Guaylupo showed slides of himself getting arrested during civil disobedience actions. Still, not everyone was signing up to lay down in the middle of traffic.
"I'm big on following rules," said Jeremy Turner, of Evansville, Indiana, one of YAI's 15 participants, "We have to follow the rules we set for ourselves. Shouldn't we also be following the government's rules?"
Turner's question provoked exactly the kind of discussion that YAI, held this year on the campus of University of New Mexico in Albuquerque, was designed to elicit. The purpose of YAI is for young AIDS activists, many living with HIV, to benefit from the skills and knowledge of those who have come before them, then take that information back to their home towns and engage in a real-life AIDS advocacy project.
This year's participants, who ranged in age from 16 to 26 and hailed from Puerto Rico, Michigan, New Mexico, New York and beyond, were already exceptionally experienced. Among the participants were case managers, researchers, outreach workers and even an author. YAIer Marvelyn Brown's memoir The Naked Truth: Young, beautiful and (HIV) positive will be published this year by HarperCollins Publishers.
"People With Passion"
The week started with a bang last Wednesday with participants benefiting from the wisdom of two guest speakers: New Mexico Health Department Andrew Gans, who spoke about HIV prevention in his state, and Housing Works president and CEO Charles King, who discussed youth's role in the civil rights and AIDS movements.
Thursday non-profit consultant and YAI organizer Jeremy Grandstaff led a session about leadership, and there were also sessions about back-to-back seminars. On Thursday there were sessions on leadership seminars on major AIDS issues and how to tackler them, as well as time devoted to the Campaign to End AIDS projects AIDSVote and the Stand Against AIDS Campaign to End AIDS projects AIDSVote and Stand Against AIDS. On Friday young activists took over with a policy panel. Maralis Mercado explained the Centers for Disease Control projections of new infections that are expected to rise from the long-touted 40,000; Chelsea Gulden, 26, presented her findings comparing different sexual education programs in her home state of North Carolina, where schools can only teach abstinence-until-marriage-only HIV prevention, and teachers have to report to parents any questions children ask about sex; Turner spoke about CDC's Diffusion of Effective Behavioral Interventions (DEBIs) and the challenges they pose, and Carrie Rheingans told of her experience with needle exchange in Michigan.
Even these "policy wonks," as organizer Christine Campbell affectionately called them, said YAI sharpened their skills. "It was great being surrounded by so many people with passion," Rheingans, 26, said. "I see the agenda to end AIDS and how it's achievable, and how we can turn the fight against AIDS to fight other social justice issues." She is planning to create an outline for an advocacy program that can be replicated by groups of students at University of Michigan students, and in the longer term, start Ann Arbor's first formal Latino AIDS outreach program.
Gulden has been a case worker and activist since shortly after her diagnosis in 2003 -- even appearing on Oprah with fellow YAIer Brown in 2006 -- but said YAI was still eye-opening. "I've gotten to brush up on existing skills and perfect the 'elevator conversation' where I can talk about AIDS advocacy in 30 seconds," she said.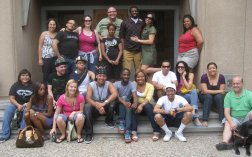 YAI Class of 2008!
Gulden brought along two of her clients, Joshua Lee Campbell and George Montgomery, who plan to begin their activism careers with an HIV awareness and testing campaign at Johnson C. Smith University. Campbell and Montgomery say the school is the only one in Charlotte, N.C., where such programs have been cut. Campbell, who was diagnosed with HIV in 2006, said "We are going to start campaigning to the students and petitioning department heads that this is something that's really needed."
Albuquerque resident Melissa Pacheco, who, at 16 years of age was the youngster of the YAI crew, said she plans to do testing and education in different pueblos outside her city. "It's not just about the testing," she said. "It's good to talk to them and give HIV education."
And what about Turner, who challenged the idea of civil disobedience as advocacy tactic? He won't be getting arrested any time soon but is enthusiastic about the upcoming Stand Against AIDS, C2EA's multi-armed cross-country road trip to the Mississippi presidential debate on September 26. "I can't make it to Mississippi but I can meet the caravaners in Louisville with sandwiches and ice. Even though I'm not a lay-down-on-the-street person, sandwich people are also important," he said.