This is the second in a four-part series examining the strategy's impact on Black communities. This article is cross-posted from the Aug. 31 edition of Black AIDS Weekly_, the newsletter of the Black AIDS Institute._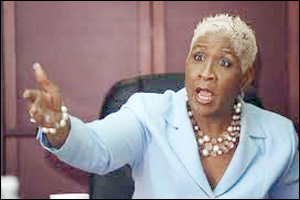 In July, when the Obama administration launched its National HIV/AIDS Strategy, a spokesperson for New York City-based Housing Works challenged the strategy's goal of reducing new infections by 25 percent. But the group's national organizing director, Larry Bryant, describes as "ambitious" the second leg of the administration's strategy: increasing access to care.
Linking to Care During Cutbacks
The lofty goals the administration plans to accomplish by 2015 include the following:
Rapidly connecting to care and treatment an additional 8,255 newly diagnosed people each year;
Increasing by almost 23,000 annually the number of clients receiving continuous treatment under Ryan White CARE Act programs;
Finding housing for almost 20,000 clients of Ryan White programs.
While the strategy aims high, its ambitions are "still problematic," Bryant says. For starters, "The strategy hopes to increase the proportion of newly diagnosed patients linked to care to 85 percent. But their metric is the Ryan White CARE Act, which represents only a fraction of persons living with HIV/AIDS," Bryant claims, referring to the national program that provides affordable care to low-income, uninsured and underinsured people living with HIV/AIDS (PLWHA). Ryan White programs "cover only about 18 percent" of those receiving HIV/AIDS services, according to Housing Works. But that estimate may be an outlier. According to federal data, the Ryan White CARE Act is estimated to reach more than a half million people with HIV annually. There are approximately 1.1 million PLWHA in the U.S.
What's more, government cutbacks are crippling AIDS Drug Assistance Programs (ADAP), the state-federal partnerships that provide life-sustaining antiretroviral meds to low-income people with HIV/AIDS, many of whom could not otherwise afford the $25,000 annual cost of treatment. Clients of ADAP, which is a Ryan White program, are disproportionately Black (pdf).
Some of the longest ADAP waiting lists exist in Southern states, where HIV/AIDS is spreading fastest (pdf) and where the NHAS will focus resources. "South Carolina has the <a href"="http://www.kff.org/hivaids/upload/3029-09.pdf" "="" target="_blank">eighth-highest HIV rate (pdf) in the country and now has zero state funding for ADAP," says Bambi W. Gaddist, Dr.P.H., founder and executive director of the South Carolina HIV/AIDS Council, referring to that state legislature's decision to eliminate its ADAP budget.
"There's nothing about the AIDS Drug Assistance Program in the strategy," adds Bryant. "If you're not addressing ADAP, you're not increasing access to care."
From Dr. Gaddist's perspective, the NHAS "merely acknowledges" the epidemic in the Southern states. "There is no mandate. It doesn't force Republican-dominated state legislatures to prioritize this disease," she says.
Expanding the Number of HIV-Care Providers
Increasing the number of AIDS doctors and health specialists is the second step the administration will take to improve access to care. Today, not enough HIV/AIDS specialists treat PLWHA, a situation on track to get worse, and too few health providers offer culturally competent care.
The strategy notes that health-care reform will help train more physicians and ensure that they are more diverse. "That could be a huge benefit to the Black community, because we are disproportionately underinsured or lack insurance," says David J. Malebranche, M.D., M.P.H., assistant professor of medicine at Emory University and an expert in HIV risk factors associated with Black men who have sex with men (MSM).
But the strategy "doesn't address African Americans' historic lack of access to doctors," Dr. Gaddist says. "Across the South, Black folks have almost zero access to care."
"Here in Georgia, patient care is fragmented and siloed," Dr. Malebranche adds. "It's even a challenge to find quality dentistry for an HIV-positive person here."
"Of course, many of the improvements around health-care reform won't be realized until 2014. A lot can happen between now and then. And a lot could happen in November, and we could be back to square one," he notes, alluding to promises made by House Republican leadership to repeal health-care reform if they win a majority.
Helping With Housing
The final plank of increasing access to care helps people obtain treatment for co-occurring health conditions and supports their basic needs, such as housing.
The strategy's housing plan "didn't go far enough," says Bryant. "We needed a comprehensive plan on emergency housing and supportive and harm-reduction housing. And there was almost no recognition of the homeless. In Washington, D.C., alone, 700 people are on the waiting list for HIV housing."
To focus prevention efforts, Housing Works suggests that the homeless and those with unstable housing be recognized as a high-risk group. "If you eliminate homelessness, you eliminate much of our nation's HIV/AIDS epidemic," Bryant observes.
Bryant agrees with Drs. Gaddist and Malebranche that you can't increase access to care without mandating accountability. "The strategy is a good starting point," he says. "But how do you get states, especially the conservative and Southern states, to follow suit -- especially when it comes to saving lives?"
Rod McCullom has written and produced for ABC News and NBC, and his reporting and analysis have appeared in Ebony, The Advocate, ColorLines and other media.