For Minority Communities: AIDS Prevention Ads with Impact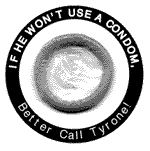 A new buzz word, complacency, has emerged from the recent Atlanta meeting of the Centers for Disease Control and Prevention and other healthcare organizations. The term is used defensively to echo the frustration federal health officials feel about the alarming rise in new HIV infections among all segments of minority communities -- the gay, the young, the heterosexual (both men and women). "It is clear that people are becoming complacent about prevention," said one government official.
Recent studies by the National Minority AIDS Council portray an epidemic among blacks disproportionate to their representation -- 13% -- within America's general population:
One in fifty black men and one in sixty black women are infected with HIV.

In 1997, 45 percent of diagnosed AIDS cases were among black Americans, compared to 33 percent among whites.

The rate of reported AIDS cases per 100,000 during 1998 for black men was 125, compared to 17.8 for white men; the rate for black women was 49.8, vs. 2.4 for white women.

In New York City, blacks comprised 44 percent of reported AIDS cases through 1998.
So disturbing were these statistics that in May 1998 the Congressional Black Caucus, led by Congresswoman Maxine Waters, asked Health and Human Services Secretary Donna Shalala to declare HIV/AIDS a public health emergency in the black community.
Clearly, African-Americans are not getting the message. But is complacency the problem? Many blacks continue to make decisions based on the perceived message from the Centers for Disease Control more than a decade ago, i.e., that AIDS was, for the most part, a homosexual (and white) disease. The CDC has since expanded HIV prevention ads to heterosexuals, but blacks have not been reached. Even the June 1999 report from the Gay Men's Health Crisis of New York City, which showed a substantial drop in HIV infections among homosexual men as well as a significant increase in safer sex practices, noted that "black and Hispanic gay men were less likely to engage in risk reduction," despite the onslaught of prevention and education messages from the gay community. The complacency lies not with at-risk individuals but with service providers.
Public health advocates have often called for safer sex campaigns directed at the communities that need them most. "We were very slow overall in targeting gay men of color and women, and that speaks to the kinds of differentials in rates we see today," according to an administrator at a large AIDS service organization, as quoted in The New York Times. A quick glance at past ads pinpoints the problem.
One of the most successful safer sex campaigns of the '90s warned, "Don't Leave Home Without Them!" -- condoms, that is. This wonderful appropriation of the American Express slogan reached an uncountable many but had real impact (for obvious reasons) on only select members of society. The difference between providing information and having an impact cannot be overestimated. Minorities, barred since birth from the mainstream, have learned to give short shrift to words from whites. The AIDS prevention and education message must be reinvented to reach blacks.
Willie Brown, the mayor of San Francisco and an African-American, favors black-run media campaigns: "We have a better sense of how to access the black community. They aren't going to be moved by the traditional arguments. You've got to invent the methods by which you communicate with African-Americans."
The possibilities are endless: "If He Won't Use a Condom, Better Call Tyrone," a reference to the song by pop star Erykah Badu. Similar slogans can be found for Hispanics among lyrics by salsa queen Celia Cruz, with her strong, take-no-stuff attitude. Jamaican youths are open to the words of Jah, reggae and Rasta. Haitian and Dominican men should be warned of the danger in pursuing "cocomordan," the biting vagina of certain prostitutes. Graffiti and comic-book art, used with great success in AIDS-education street slogans in Brazil, have enormous potential as forms of communication with minority youths. And soon, we must teach African immigrants that disease is not a result of displeased or dishonorable ancestors.
Government health agencies should abandon their useless and unproductive blame-the-victim charge of complacency and get busy with the task at hand -- translating the AIDS prevention and education message into language, affect, and imagery that have major impact in minority communities.
Gyavira Lasana is a poet and former editor of the CAMBA HIV/AIDS Report. This is his first contribution to Body Positive.
Back to the November 1999 Issue of Body Positive Magazine.