The Meet Rack
Getting a Date if You're HIV+
Photographs are by Tomás Gaspar, whose work was featured in the Electric Blanket (Visual AIDS Artists' Caucus). In 1998 his AIDS photography received recognition at the World AIDS Conference in Geneva, Switzerland. His work is currently represented by bridgesgallery.com.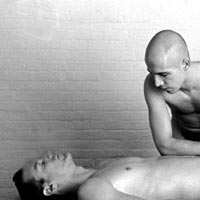 For people living with HIV, or PWHIVs as we're known, Dating is a frontier that is explored only after crossing the treacherous waters of Meeting New People. Fortunately, there are life-preserving flotation devices to help people with HIV cross those waters with some degree of safety and security.
Dating Criteria
I was first diagnosed with HIV in 1993. Within months, my HIV-negative boyfriend rejected me. The diagnosis was more than our already unstable relationship could take. I was suddenly single and without much hope of finding a date.
Eventually, however, natural desires took over. I needed companionship. I decided that I would date only other HIV-positive people. PWHIVs would understand exactly what I was experiencing. PWHIVs would not require education about the disease. So, to meet people, I used services specifically designed for PWHIVs.
After several unsuccessful dates with PWHIVs, however, my thinking changed. PWHIVs were also "sick." If we both became ill at the same time, who would take care of me? I turned to places where I'd meet a more general population. When I met HIV-negative people, however, disclosing my HIV status or discussing the need for safer sex was difficult.
After an encounter with PCP in 1997, everything changed again. I went on disability and became an AIDS activist; I came "out" publicly about my HIV status. Today, many people know my HIV status before they know anything else about me. When I meet a potential date who doesn't know, I tell him right up front, without any shame or disgrace.
The current strategy solves the disclosure problem as far as my HIV status is concerned; any man who is interested in dating me knows what he's getting. On the other hand, this approach creates another problem. How do I deal with the man who hears me speaking publicly about my HIV status, then drags me off to a corner to whisper in my ear, "I'm HIV-positive, too"? Although sympathetic, I'm not interested in dating that person. I don't want to whisper anymore.
In HIV support groups, a primary topic of discussion is how to meet potential dates. Inevitably, participants spell out their criteria: "Only other people with HIV!" "Only people who are negative!" "Doesn't matter, as long as the person loves me."
My criteria most closely match the last statement. It has taken me seven years beyond diagnosis to get here though. I was once the whisperer in the corner. Before launching into The Meet Rack, people living with HIV might give some thought to expectations for potential dates and how criteria might inhibit or support efforts.
Bars and Clubs
Bars and nightclubs are full of people looking for potential dates. Some of those people even have experience with HIV. People living with HIV should be aware, however, of some of the dangers in pursuing potential mates in these environments.
Bars and clubs promote and serve many social and entertainment purposes. PWHIVs have every right and reason to participate along with the "negatrons" of the world. We also have every right and reason to seek potential dates in those environments, if we so choose. PWHIVs must keep in mind, however, that the primary business of most bars and clubs is to sell alcohol. In some clubs, the business of certain patrons is to sell drugs. Drugs and alcohol lower inhibitions and compromise your ability to negotiate safer sex. Studies have also shown that alcohol and drug use have a devastating effect on the immune system. PWHIVs should be aware that certain businesses profit by damaging people's immune systems.
PWHIVs who seek dates in bars and clubs should also be prepared for rejection. In a pool of several hundred "club kids," chances are good that some will be HIV-phobic. When you think about it, though, didn't we risk rejection before we were diagnosed? Rejection is never easy to take, but it is a real possibility in The Dating Game.
People who live in large metropolitan areas have a distinct advantage in the bar and club scene. In New York, for example, everyone seems to be living with HIV. If a person isn't infected, that person probably has an HIV-positive friend, neighbor, or relative. After years of education, people in larger cities are rarely surprised by or ignorant about HIV. But that's not the case everywhere. Following my battle against PCP, I returned to my hometown of Baltimore to be close to my family and to get treatment at Johns Hopkins Hospital. I was surprised to learn how unsophisticated the HIV-affected community is here in "the provinces." Men in gay bars in Baltimore regularly rejected me because of my HIV status.
In contrast, during a visit to New York City last year, I met a very nice man in a gay bar. As we negotiated a one-night stand, I disclosed my HIV status. Although he is HIV-negative, this man was delightfully unconcerned. We decided to have only safer sex -- and boy, did we! I've gone back to date him several times since then. This man accepts me and understands some of the issues related to AIDS. My HIV-negative friend has undergone treatments for cancer that left his immune system compromised. He understands the importance of maintaining good health. You never know when or where you might meet someone nice, negative, health-conscious, and HIV-aware.
Support Groups, Volunteer Programs, and Social Events
HIV support groups offer various opportunities to meet potential dates. Some groups are strictly therapeutic and forbid group members from socializing outside of the session, and there are good reasons for this. Anyone who has ever attended a support group knows that a lot of time is spent talking about dating. Few people can discuss dating issues openly and honestly when last night's date is sitting in the room. Even in groups that forbid fraternizing, however, you can learn about how and where others are meeting potential dates.
Some support groups have educational or social purposes. If everyone is there for information about new HIV treatments, for example, many of the participants may be HIV-positive. At the coffee break, consider saying hello to the hunk sitting three rows back, or ask the pretty woman at the end of the row if she'd like to get together sometime. You might get a date and important HIV treatment information both at the same time!
Service organizations for PWHIVs always need volunteers. In New York City, Body Positive, Gay Men's Health Crisis, Friends In Deed, and many other AIDS service organizations have active volunteer programs, as do other organizations across the country. This shouldn't be considered a primary date pool, though. Clients are there to receive services, often in critical situations, not to meet potential sex partners. Volunteers are there to help provide those services. It is a trust relationship, and most ASOs have rules designed to protect clients against getting hit on by the people who are there to help them. At GMHC, for example, the volunteer agreement contains a strict prohibition against volunteers socializing with clients -- although not with each other -- outside the scope of the volunteer job. At Body Positive, Helpline volunteers do not give their full names to callers. Nevertheless, volunteering a few hours a week can be great fun and a great opportunity to meet people who are HIV-aware. And expanding your social circle also expands your dating potential.
Some service organizations provide social events. Groups such as Body Positive sponsor low-cost events. Date Bait offers regular social events for gay men with HIV, some of them in conjunction with Body Positive. POZ magazine sponsors an annual POZ Life Expo in many cities. These events take place in healthful, nonthreatening environments and include activities that encourage people to meet.
Rather than spending money in nightclubs, buy a ticket to a benefit dinner or party for one of the HIV service organizations. (You might meet a better class of people than those found in bars.) Most cities also have an AIDS Walk to raise money for service organizations. Walking a mile or two with other folks is a great way to get exercise, meet new people, and support your local organizations.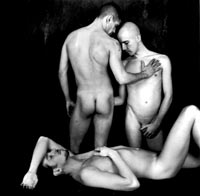 Personal Ads
Responding to or placing personal ads is another method of meeting new people. I've had little success with personal ads, myself. In contrast, though, my sister found her very nice husband that way. If you place or respond to ads such as Body Positive's "Positive Connections" or other publications designed for PWHIVs, you are sure to find other people interested in meeting people like yourself.
In general-interest publications, readers might be more cautious. Even in gay-focused magazines such as HX, LGNY, or the New York Blade, many of the advertisements contain phrases like "drug and disease free" or "HIV-, you be too." Just stay away, even if the ad describes the person of your dreams. There's no point in asking for trouble.
Telephone services tend to be expensive (as high as $4.99 per minute) and sex-focused. Many of them also offer "live, one-on-one connections." On these "phone sex" lines, I've mostly "met" people who want to masturbate while we invent and describe our fantasies.
In the mid-'90s, at least one telephone service in New York City offered personal ads specifically for PWHIVs. When I tried it, I met a very nice man who shared many of my interests. I found the service difficult to negotiate, though. (Was I supposed to press "1" or "2"? Oh, no! I pressed the wrong one! Now I have to start over again!) Other folks must have had the same problem; the service shut down within a year or so.
Straight people might look at ads in The Village Voice, Time Out New York, and other general-interest publications. The Voice is an especially good possibility because its readership tends to be young, hip, and HIV-aware. Sadly, though, the heterosexual community seems to be about ten to fifteen years behind the gay world in its acceptance of PWHIVs.
Some ads state specifically, "I'm HIV+, looking for love, etc." Keep in mind that no one from the newspaper or magazine checks out statements in personal ads. Anyone who has tried personal ads knows that advertisers are not always honest. To protect yourself from serial killers and HIV-phobic loonies, be sure to meet at a public place, and let other people know what you are planning in case there's trouble.
Dating Services
Another way to meet potential dates is through "personal introduction services" (both gay and straight). These dating services solve the disclosure problem. If you tell the service that you are HIV-positive and only interested in other people who are HIV-friendly, you are introduced only to people who meet your criteria.
A good example for gay men is ManMate, which offers services in New York, New Jersey, Connecticut, Pennsylvania, Delaware, and Massachusetts. ManMate claims more than 4,000 professionally oriented gay men among its membership, including men living with HIV.
Like most services, ManMate requires members to complete a "compatibility form," or survey of interests, desires, and goals, followed by a personal interview. ManMate then matches your profile to men with common interests. Compatible profiles are shown to both members. If both like what they see, ManMate arranges for the members to meet.
The problem with these dating services is that they tend to be very expensive. ManMate's membership rates start at $175 for students and escalate to $425 for a six-month phone-in period, plus one year listing in their files. Services such as Options can be even more expensive. Many people with HIV cannot afford these rates. In my experience, these services also attract people who are uncomfortable disclosing their HIV status publicly or privately.
Internet-Based Services
Internet-based services offer the newest opportunities to meet potential dates. On the Internet, users may place and respond to personal ads, chat "live" with folks with shared interests, and even have "live" cybersex with other people from around the world.
Internet service providers (ISPs), such as America Online (AOL) and Microsoft Network (MSN) allow subscribers to create chat rooms. These rooms are usually named after a particular area of interest. Look for member-created rooms with names like "HIV+ M4M" (HIV-positive men seeking men) or "HIV+ M4F" (HIV-positive men seeking females). In addition to member-created chats, AOL offers online HIV support groups, AOL-created chat rooms, and live chat sessions with HIV health experts.
Many sites on the Internet's World Wide Web also offer chat rooms and personal ad services. At OutPersonals, for example, gay subscribers may place personal ads and even post pictures of themselves. OutPersonals also offers the "Love Dog" service, which sends an e-mail to the subscriber every time a new personal ad matches his or her requirements.
Some web-based services also offer live "video chat." Most often, these services are sex-focused (rather than "dating-" or "meeting-focused") and provide an opportunity to have live, safer sex for those who want to have the voyeur experience. Services such as Hook Up Now, ICQ, and iVisit are low-cost or free. I've never tried to meet anyone in person by using these Internet videocam services, but I know that I look better in the grainy, jumpy video transmissions than I do live -- and I'll bet that my exhibitionist partners do, too. These services also allow for a certain amount of fantasy play. Accessories such as a swimsuit, camouflage boxers, or a leather harness can spark all sorts of fantasies for you and your video-chat "date."
The problem is that you must have a way to access the Internet. A home computer (and a video camera, if you want to video chat) can be expensive. Subscribing to AOL or MSN costs about $20-25 per month. Erols/RCN and Starpower offer unlimited access for as low as $9.95 per month, but you usually must pay for a year in advance. Some web-based services also require an additional fee.
Many libraries offer free public-access computers with Internet connections. Websites such as Yahoo! and HoTMaiL offer free e-mail accounts. People who want to place or respond to online personal ads might consider using the library's equipment to set up an e-mail account and access web-based services. Getting naked for the camera or masturbating over someone's video is generally not recommended in the library's public computer room, but as long as your activity is not too "sexy," most librarians will not object to your using the equipment to place or respond to personals.
You should be wary about expressing too much personal information on the Internet. When choosing an e-mail address or a "screen name," go for something descriptive ("Baltimoral") rather than identifying ("DougRose"). For online personal ads, apply the same warnings about meeting as for ads in print media.
In chat rooms, avoid sharing your address, telephone number, or workplace address with strangers. If you are considering a meeting, send an e-mail that gives only your telephone number (or even better, ask your chat partner to send his or her number to you). Speak with the person on the telephone first, then set up a meeting in a public place, and let friends know what you are planning.
Get That Date!
Now you are ready to confront the treacherous waters of Meeting New People. Try one of these devices. If you don't meet someone satisfactory, try a different one. Even if you meet someone who's not "dating" material, you may make a new friend. Before you know it, though, you surely will be crossing into the Dating Frontier. Like anyone else, people with HIV need and deserve loving companionship. Like everyone else, we face the challenge of possible rejection in the process. The good news is we are not alone; we can make choices, too. Good luck to you, and best wishes for meeting the person of your dreams.
To meet new people, Doug Rose volunteers for Maryland's AIDS Legislative Committee, a statewide lobbying group, and as an editor at the Baltimore Gay Paper_. Readers who wish to contact him may send an e-mail to bgpbooks@aol.com._
OPPOSITES ATTRACT
A Do-It-Yourself Heterosexual HIV Dating Service
Several years ago, Gene from Baltimore was diagnosed with HIV. Gene's girlfriend didn't want to date him after the diagnosis, though they remain friendly to this day. Gene tried meeting women in bars, but most straight women were not interested in dating a man with HIV.
Gene found a web-based chat service for HIV-positive heterosexuals. During months of chatting there, he found that other HIV-positive straight people in Baltimore were looking for dates, but not finding them in the bars or clubs. Gene suggested that they start a support group with regular meetings. The group would give them a chance to meet face to face, compare experiences, and maybe even find a date.
Gene went to the People with AIDS/HIV Coalition (PWAC) of Baltimore and requested a space for the support group. To help create new options for HIV-positive heterosexuals, Gene created his own website. He found www.freewwweb.com, a free service that would allow him to create his own website complete with a chat room. Gene learned to design web pages and created www.hivstraight.com. He sent e-mail announcements to folks he had met in the other chat room. Before he knew it, people from around the world were coming to his site to chat.
Meanwhile, his request for space and support from PWAC came through. He hung posters in clinics, pharmacies, and other locations where straight people with HIV might gather. Gene and other Baltimore-area straight PWHIVs began weekly meetings at the Maryland Community Resource Center. The group was called Opposites Attract.
After some time, Gene realized that it was boring just to talk about how hard it is to get a date when you are straight and HIV-positive. Gene asked pharmacists, doctors, alternative therapy specialists, and others to visit the group and speak on topics related to HIV. The group also wanted regular social events for heterosexual PWHIVs. The first event was a birthday party for Gene. The partygoers donated cash and/or refreshments for the party, and Gene used the money he collected to make a donation to PWAC and to buy software to improve his website.
Opposites Attract now plans trips to the beach, parties, bowling nights, events for children with HIV, and other similar activities nearly every month. The website now includes chat rooms, personal ads, message boards, links to medical and political advocacy information, a special area for women with HIV, photographs from events for straight PWHIVs, and links to other support sites.
"I have met a woman that I have been dating since June," says Gene. "I've made lots of new friends. It's been a lot of work, but now at least I feel like there's some hope."
If you don't have an HIV support group or social event in your area, consider starting one yourself. If you need advice, contact Gene at www.hivstraight.com, or write to the PWAC at pozbalto@aol.com. Gene's the expert, and he'll be happy to give you advice.
Back to the
June 2000
issue of
Body Positive
magazine.