If an HIV diagnosis is considered to be a "tough pill to swallow," then imagine that a diagnosis of HIV-2 would be like trying to swallow the whole bottle at once. Well, maybe it's not that bad, but for Martell Randolph it has been the toughest obstacle that she's ever had to overcome.
The diagnosis came in 2000, and was as unexpected as it was ironic. Martell was working in the development department at the Gay Men's Health Crisis in New York City. She'd always wanted to be involved in HIV, and happened upon the job by way of reference from a friend.
When she suddenly became very ill, without any explanation as to the cause, HIV was the last thing that she expected. When her doctor suggested that she be tested for it, just to be able to "rule it out," Martell agreed. She sincerely believed that she didn't have anything to worry about. Little did she know, she had every reason to be concerned.
The original test came back inconclusive. The follow-up test came back the same. At that point in time, the test that was used to detect HIV-1 was not able to detect HIV-2. It would be some time before she would come into contact with a doctor who had experience working with people in Africa who were infected with HIV-2, who was eventually able to officially diagnose her.
She believes that she contracted it in the early 90's, while living in Europe. She'd dated a man there who was originally from West Africa. Though it is rare in comparison to HIV-1, it is the dominant type in West Africa and other developing regions of the world. At that time, she was told that there were no more than 30 known cases of HIV-2 in the U.S.
Because it is so rare, many healthcare providers were clueless about how to treat it, and about how it differs from HIV-1. Even today, many still are. Martell knew immediately that if she was to have any chance at survival, it was imperative that she educate herself extensively about the virus.
She learned that though the differences between the two types are slight, and still not fully understood, they are terribly significant.
HIV-2 is thought to develop at a slower pace than HIV-1, but to be more virulent in its later stages. It is also believed to be more easily transmissible from women to men. Lastly, and probably most important to Martell at the time of her diagnosis, all of the existing non-nucleoside reverse transcriptase inhibitors (Sustiva and Viramune) are completely ineffective against it.
Another pertinent difference has to do with viral load testing. The standard method of diagnostic testing used for managing HIV includes regular viral load and CD4 measurements. The viral load assay, or test, used to measure HIV-2, however, is different from the one that is used to detect HIV-1, and it is not commonly available in the U.S. Therefore, for the first four years after being diagnosed, Martell received treatment based solely on her CD4 count, which was determined to be only 27 at the time.
As odd as it may sound, she was started on Kaletra monotherapy. Not surprisingly, she developed all of the mutations associated with resistance to Kaletra, knocking out a majority of the protease inhibitors (PIs) as options for a sustainable treatment regimen.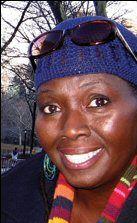 Martell connected with a researcher in the Netherlands who happened to be treating lots of people who had migrated there from regions in Africa where HIV-2 is most prevalent. He agreed to conduct a viral load assay for her at no cost, if she could have a sample of her blood shipped to him. To this day, that's still the only way that she knows of to have the test done.
Thankfully, she was able to recover from her initial illness and, with the help of second-generation protease inhibitors and a couple of nucleoside reverse transcriptase inhibitors, her health has stabilized. Unfortunately though, possibly due to the early mistakes made regarding treatment with monotherapy, she is currently not able to increase her CD4 count above 270, at 11%. Her viral load, however, remains steady at 1,100, and she says that she feels as healthy as she did before she was diagnosed.
Because it is so rare, many healthcare providers were clueless about how to treat it, and about how it differs from HIV-1
Martell has dedicated her life to learning as much as she can about HIV-1 and HIV-2, and to sharing that information with others. She left New York City in 2003 for warmer days in Los Angeles. There, she works with several organizations and is on the community advisory boards of a couple of different pharmaceutical companies. She is also registered with various speakers bureaus, helping others to understand that their lives are not defined by their HIV status.
Practicing what she preaches, Martell has allowed her love for writing, and for the English language in particular, to redefine her own life. She is currently pursuing a degree in English literature, and happily engaged to an Australian man who she describes as her soul mate. They plan to marry and live in the U.S., but immigration laws regarding people who are living with HIV are extremely tough.
Martell, however, is no stranger to adversity. She refuses to see the glass as anything but half full, and is determined not to allow this minor bump in the road to get her down. "[Living with this virus] has built character in me," she says. "Life is full of challenges, and this has given me the assertiveness to ask questions, to get involved, and to seek out the information that can help myself and others to live long and healthy lives."
To connect with Martell, click here.
Got a comment on this article? Write to us at publications@tpan.com.
---
This article was provided by Test Positive Aware Network. It is part of the publication Positively Aware.
About Martell Randolph
Home: Los Angeles, Calif.
Diagnosed: 2000