Living With Hepatitis C: A Survivor's Guide
An excerpt from Living with Hepatitis C: A Survivor's Guide (Fourth Edition), Hatherleigh Press, 2006, List $15.95
Overview of HIV Co-Infection
What Is HIV/AIDS? The human immunodeficiency virus (HIV) destroys the immune system that helps the body fight illness and infection. HIV infects lymphocytes, the main immune cells in the body, and causes acquired immunodeficiency syndrome (AIDS). Severe damage to the immune system results in susceptibility to a wide array of infections and malignancy (cancer). These latter complications are collectively called AIDS-defining illness.
According to the Centers for Disease Control and Prevention (CDC) 2003 figures, an estimated 1,039,000 to 1,185,000 people were living with HIV in the United States.The cumulative estimated number of persons diagnosed with AIDS through 2003 was 929,985.
Are You at Risk for Co-Infection? Many people with HIV infection are also infected with the hepatitis C virus (HCV) because some behaviors that transmit HIV also transmit hepatitis C (such as sharing intravenous drug needles or receiving blood transfusions, organ transplants, or hemophilia treatment before tests screened the nation's blood supply). When HIV patients are infected with both HIV and HCV, it is called an HIV/HCV co-infection. Approximately 60 to 80 percent of patients who acquired HIV from intravenous drug use and 16 to 25 percent of patients who acquired HIV from sexual contact are co-infected with HCV. In the U.S., there are 200,000 to 300,000 persons with co-infection, representing about 5 percent of all cases of HCV.
In my experience, HIV treatment clinics diagnose most cases of hepatitis C and HIV co-infection because symptoms relating to HIV usually show up before those of hepatitis C. In fact, I have diagnosed unsuspected HIV in only a handful of patients with chronic hepatitis C (despite routine HIV testing of our hepatitis C population) during my years directing our hepatology clinics.
I'm a vet. In 1996 I had outpatient treatment, and my blood came back positive for HIV. The diagnosis threw me. I just gave up.

It was an avalanche. Where am I going? What am I going to do? Then this year rolled around. My doctor wanted me to take a hepatitis B shot.That's when I found out I had hepatitis C.

Joel
Testing Problems. Researchers have documented that antibody tests for hepatitis C in patients with HIV may fluctuate; spontaneous conversion of hepatitis C from positive to negative antibodies may occur.
For these reasons, if you have HIV infection I recommend that you be screened for HCV using tests that detect HCV RNA (see chapter 2 on HCV RNA testing), such as polymerase chain reaction (PCR) assay for HCV RNA. Despite the shortcomings of detection of HCV by use of antibody tests in patients with HIV, the data from the following studies described below are still useful in identifying trends.
Population Trends. Risk of co-infection with hepatitis C relates to how HIV was acquired. Patients who acquired HIV from bloodborne routes, as opposed to sexual routes, are more likely to be coinfected with hepatitis C. Patients who acquired HIV from intravenous drug use have a 60 to 80 percent chance of also harboring hepatitis C. Hemophiliacs who acquired HIV from transfusion with unpasteurized plasma-derived factor VIII concentrates have rates of co-infection of hepatitis C greater than 70 percent. These co-infection statistics are strikingly elevated when one compares them to the hepatitis C prevalence of 16 to 25 percent among male homosexuals with HIV without history of either transfusions or intravenous drug use.
_When they told me I had HIV and they could keep me alive for five years tops, I was terrified. I thought I'd be dead very soon. I fell off the wagon after six months of sobriety. Figuring it didn't make any difference, I drank, I did drugs -- anything to numb myself. I suppose that's how I got hepatitis C in the first place.

Carl

_
Resource: For information on co-infection with HIV and hepatitis, access this website: www.hivandhepatitis.com.
Current Treatment of HIV Infection (HAART)
What is HIV? HIV is an RNA virus acquired by blood-borne routes or sexual activity.The virus, first identified in 1983 as the cause of AIDS, was given the name human T-cell lymphotropic virus type III (HTLVIII) in the United States because of its known association with lymphocytes. HIV infects the body's immune cells (lymphocytes), which then become dysfunctional or nonfunctional, or die, thus severely impairing the body's immune system. Before current effective anti-HIV therapy, most patients succumbed to either the ravages of infectious disease or malignancy (AIDS).
_I've known 35 people who died from AIDS since 1985. When they put me on AZT, I figured I had two years left.That's what I had seen. The only thing that kept me going was taking care of my friend Jonathon, who went blind a month before he died. It was very hard.

Bill

_
Highly Active Anti-Retroviral Therapies (HAART). Certain classes of drugs, reverse transcriptase inhibitors, polymerase inhibitors, and protease inhibitors, dramatically altered the course of HIV infection. Today, most patients with HIV are treated with a combination of three to four drugs, and they experience significant improvement. HAART has improved patients' survival in HIV/AIDS from less than 5 years to over 20 years.
_Seven years after my HIV diagnosis, the nurses called me at work. My T-cells were 160. I had AIDS! Confused, depressed, I flunked the memory tests and a CT scan showed I had a shrinkage of the brain. They put me on AZT.

Four years later, I went on HAART. My T-cells went up. Now I'm more scared of hepatitis C than HIV. After 14 years of being HIVpositive, you learn to deal with it, but this hepatitis thing is new. I'm dealing with all that uncertainty all over again.

John

_
How effective are these highly active anti-retroviral therapies (HAART)? Steven C. Johnson, M.D., Associate Professor of Medicine and Director of the University Hospital HIV/AIDS Clinical Program, University of Colorado Health Sciences Center, recently reviewed outcomes over a three-year period.1 From 1995 through 1997 the percentage of HIV/AIDS patients treated with HAART increased from less than 10 percent to over 80 percent.The rate of hospitalization fell from 6.4 to 1.1 inpatient days per patient-year. Decreases in days of hospitalization resulted in significant cost reductions.The incidence of the three major opportunistic infections (infections that develop only because of the patient's immune deficiency) -- pneumocystis pneumonia,mycobacterium avium complex disease, and cytomegalovirus retinitis (CMV) -- decreased dramatically. Death from opportunistic infection or advanced HIV declined markedly from 15 percent of the clinic population in 1994 to 2 percent in 1998.
Hepatitis and end-stage liver disease, however, emerged as an important cause of sickness and death in this population. In 1995 hepatitis and liver disease accounted for only 4 percent of deaths, but two years later the number rose to 14 percent! Now, in the year 2005, cirrhosis due to chronic hepatitis C is a leading cause of both morbidity and mortality in patients with HIV infection on HAART therapy.
Resources: For more information about HIV/AIDS and sexually transmitted diseases, contact the CDC Info Hotline: 1-800-CDC-INFO or 1-800-232-4636, or the CDC website: www.cdc.gov.
Impact of HCV in HIV-Infected Persons
Effect of Hepatitis C (HCV) Infection on HIV. Some studies have suggested that HCV infection may increase the rate of progression of HIV infection to AIDS and AIDS-defining illness. Other studies have not observed this effect. Although there is no consistent evidence for a direct effect of hepatitis C on HIV, the major clinical issue is clear: hepatitis C can complicate therapy of HIV. Currently, the Federal Drug Administration has licensed more than 20 drugs for treatment of HIV in the United States. Nearly all of these medications, but in particular the protease inhibitors, are metabolized by the liver.
As liver disease due to hepatitis C progresses from hepatitis to cirrhosis, the liver is less able to metabolize these compounds. Changes in liver function may make it necessary to change either the drugs used or the doses of individual drugs. In addition, the anti-HIV drugs may be toxic to the liver. Instances of liver enzyme elevations, jaundice, and even fatal cases of severe liver toxicity from anti-HIV medications are well documented. Certain anti-HIV drugs, particularly the nucleoside reverse transcriptase inhibitors DDI, DDC, or D4T, may interact with ribavirin and increase risk of lactic acidosis, pancreatitis, and liver failure. Careful monitoring of electrolytes, kidney function, liver tests, blood counts, amylase, and lipase is necessary in patients on a combination of anti-HIV and anti-HCV treatments.
_I had never heard of hepatitis C before. I figured I already had HIV-AIDS, so what difference did hepatitis C make? My doctors pulled me off all my AIDS meds twice because my liver enzymes went crazy. My whole body went crazy. I was nauseous and had vomiting. Turned out I had a fungus in my esophagus from not being on the medications. I'm sick if I take the medicine and sick if I don't.

Anna

_
Effect of HIV Infection on HCV Infection. As described in preceding chapters, a chronic hepatitis C patient's own immune system can injure the liver as the immune system tries to destroy infected liver cells (immune-mediated injury). In contrast, after a transplant the viral levels are very high due to the use of immunosuppressive medications, and the virus itself destroys liver cells.Thus, HIV infection, which destroys components of the immune response, may either slow or accelerate liver disease due to hepatitis C.
Because HIV infection affects the immune system, it might impair a patient's immune response to hepatitis C and result in higher levels of the hepatitis C virus. One French study compared 75 patients with hepatitis C to 75 patients co-infected with hepatitis C and HIV. Coinfected patients were more likely to have positive HCV RNA in their blood, and their HCV RNA levels were significantly higher. However, the level of HCV RNA did not correlate with CD4 count (a measure of the degree of immune deficiency), p24 antigen levels (a specific HIV protein), or HIV RNA level.
In contrast, a German study of 21 co-infected hemophiliacs and 22 hemophiliacs with isolated hepatitis C failed to show a difference in HCV RNA viral levels between these two groups. Another study retrospectively examined stored serum for HCV RNA levels in groups of hemophiliacs infected with hepatitis C.Those who subsequently developed HIV experienced a significant increase in HCV RNA level, which correlated with the reduction in CD4 count.
One fear is that HAART medications may actually accelerate the progression of hepatitis C to cirrhosis and therefore compromise the effectiveness of therapy against HIV. Researchers examined this issue in a study of HAART therapy in 51 patients with "HCV-related chronic liver disease." HAART therapy was associated with an increase in HCV RNA viral load and elevations in liver enzymes (AST/ALT) within one to three months of starting treatment. Liver biopsies revealed liver cell injury and inflammation. Seven patients were taken off HAART due to signs of liver failure. This effect was mainly due to HAART because a much smaller number of patients not on HAART (four out of 148) experienced symptoms of liver failure. However, the worsened liver inflammation noted early in HAART therapy had largely subsided by nine months on HAART. Additional research is needed in this area.
A recent study examined the development of abnormal liver tests after 394 HIV patients began HAART treatment. Seven percent were co-infected with hepatitis B and 14 percent had hepatitis C.The risk of developing abnormal liver tests was greater in HIV patients who had chronic hepatitis (37 percent in co-infected patients vs. 12 percent in HIV patients without either HBV or HCV). Although inconclusive, these data suggest that the immune deficiency caused by HIV may promote hepatitis C viral replication and potentially hasten the progression of liver disease.
Does HIV Co-Infection Affect the Rate of Progression of Liver Disease?
The CDC has reported that the percentage of HIV patients with death due to liver disease steadily increased from 1987 to 1997. According to data from the U.S. National Vital Statistics System, the percent of death certificates listing "sequelae (consequences) of chronic liver disease" increased from 1.3 percent in 1987, to 2.2 percent in 1995, to 3.5 percent in 1997.
Further analysis of death certificates indicated that liver disease caused, contributed, or was secondarily involved in approximately 10 percent of all deaths in 1997. Patients dying with a diagnosis of chronic hepatitis C increased from 0.9 percent in 1995 to 2.3 percent in 1997 (tests for hepatitis C were not available until 1990). Patients dying with a diagnosis of chronic hepatitis B increased from 0.5 percent in 1987, to 0.8 percent in 1995, to 1.3 percent in 1997.
The observed increase in deaths related to "sequelae of chronic liver disease" exceeded the expected frequency by 46 percent. It is not known whether the increase in mortality rate was due to use of HAART medications, increased activity of hepatitis viruses, or reflected the natural progression of hepatitis B and C occurring in HIV patients who now live longer.
Only a few studies have examined the association between HIV infection and acceleration in liver disease related to hepatitis C. One large retrospective series from Spain examined 547 patients who acquired hepatitis C by blood-borne routes and found that 116 of these patients were co-infected with HIV. The researchers observed that coinfected people took less time to develop cirrhosis. At ten years of HCV infection, 14.9 percent of co-infected patients had cirrhosis, compared to only 2.6 percent of those infected only with hepatitis C.
A French series of 210 patients with hepatitis C, 60 of whom were co-infected with HIV, suggested that the incidence of cirrhosis was 3.5 times higher in co-infected patients. Another study from Spain examined liver histology and found that co-infected patients had more severe liver inflammation and later stages of fibrosis.
None of these studies were controlled or randomized, so it is not clear whether liver disease is truly more aggressive in this population. However, these limited studies do suggest that hepatitis C-related liver disease may accelerate under the influence of immune deficiency. We need more careful investigation in controlled trials.
Antiviral Therapy of Hepatitis C in Patients Co-Infected with HIV
Pegylated Interferon Plus Ribavirin, the Current Standard. Older studies and reports indicated that rates of sustained virologic response with interferon monotherapy and the combination of interferon plus ribavirin were approximately 50 percent lower in co-infected patients compared to patients with HCV mono-infection. Since the third edition of Living with Hepatitis C: A Survivor's Guide, three randomized controlled trials of pegylated interferon plus ribavirin have been published:ACTG 5071,APRICOT, and RIBAVIC.The remainder of this section describes the results from these trials and highlights the promises and pitfalls of the current standard-of-treatment, pegylated interferon plus ribavirin.
The study by the AIDS Clinical Trials Group,ACTG 5071, randomized 133 patients with co-infection to treatment with either interferon plus ribavirin versus pegylated interferon (Pegasys) plus ribavirin. Seventy- eight percent were infected with HCV genotype 1, 33 percent were Black, and 82 percent had high levels of HCV RNA (greater than 1 million IU HCV RNA/ml). Rates of sustained virologic response were significantly higher with pegylated interferon plus ribavirin (27 percent versus 12 percent for all patients; 14 percent versus 6 percent for patients infected with HCV genotype 1) (Figure 12A).
In the APRICOT study 860 patients were assigned to either pegylated interferon (Pegasys) plus ribavirin, interferon plus ribavirin, or pegylated interferon monotherapy. Only 61 percent were infected with HCV genotype 1, 11 percent were Black, and 72 percent had high level HCV RNA (greater than 800,000 IU HCV RNA/ml). Rates of sustained virologic response were highest in patients treated with pegylated interferon plus ribavirin (40, 20, and 12 percent, respectively) (Figure 12A).The sustained virologic response for patients with HCV genotype 1 was nearly 30 percent.
In RIBAVIC, 412 patients were randomized to either pegylated interferon (Peg-Intron) plus ribavirin or interferon plus ribavirin. Fifty-eight percent of patients were infected with either HCV genotype 1 or 4. Rates of sustained virologic response were 26 percent for pegylated interferon plus ribavirin and 18 percent for interferon plus ribavirin (Figure 12A). Interpretation of the results from RIBAVIC is compromised by a 42 percent dropout rate for patients in the trial.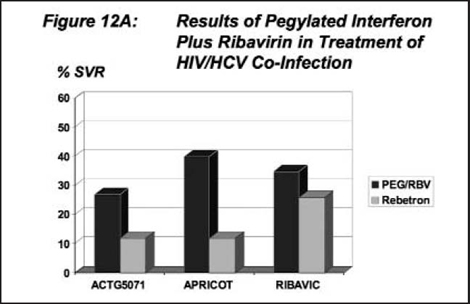 Figure 12A: Rates of sustained virologic response (% SVR) from the three large trials of pegylated interferon plus ribavirin for treatment of patients with HIV/HCV co-infection are shown. Results are displayed against the comparator therapy, Rebetron, which was the combination of standard nonpegylated interferon plus ribavirin. Characteristics of the three trials, ACTG5071, APRICOT, and RIBAVIC, are discussed in the text.
The range of rates of sustained virologic response in patients with HIV/HCV co-infection, 26 to 40 percent, observed in these three trials is far below the reported rate of approximately 55 percent for patients with HCV mono-infection. In APRICOT, the study with the highest response rates, sustained virologic response for patients with HCV genotype 1 was only 30 percent.This is far below the reported rate of approximately 40 to 45 percent observed in patients with HCV mono-infection.Thus, although current treatment with pegylated interferon plus ribavirin has improved outcomes, it is still effective in only a minority of patients and is not as effective in HIV/HCV co-infection as it is in HCV mono-infection.
Are New Treatments on the Horizon for Co-Infected Patients? We are on the brink of a new era in the treatment of hepatitis C. Several new drugs and therapeutic approaches are under development, but primarily in HCV mono-infected patients. The treatments which seem to offer the most promise include viramidine as a ribavirin substitute, HCV-specific protease inhibitors, and HCV-specific polymerase inhibitors, and others (see chapter 14).The new anti-HCV drugs will need to be cautiously and carefully evaluated in co-infected patients on HAART therapy due to the possibility of adverse interactions between HIV and HCV drugs. In the absence of cure, long-term, lowdose treatment pegylated interferon monotherapy to halt disease progression is currently being evaluated in SLAM-C, an ACTG trial.Your doctor may be able to tell you if you are a candidate for participating in trials of any of these therapies.
Resources: For more information about treatment and trials, call the following hotlines and information services:
AIDS Info: 800-448-0440 or 1-800-TRIALS-A
Project Inform: 800-822-7422
Co-Infection with Hepatitis B
_The worst thing for me is the fatigue. Although everyone with hepatitis seems to suffer to some degree, my experience has been extreme. My doctor thinks that maybe because I have two viruses, B and C, my body fights twice as hard and causes me to be increasingly more tired.

Mel

_
How Common is HBV/HCV Co-infection? Ten to fifteen percent of persons with chronic hepatitis B have active HCV infection. Stated from the perspective of HCV, less that 5 percent of persons with chronic hepatitis C are actively infected and have chronic hepatitis B. However, serologic studies of patients with chronic hepatitis C indicate that a much higher proportion, up to one-third, may have been exposed to HBV. At least a proportion of these patients harbor HBV in a quiescent or dormant state; HBV can be activated when the patient's immune system is altered by disease or treatments such as steroids, anti-cancer drugs, or immunosuppressive medications. Given the current estimates of a minimum of 1.25 million persons in the United States with chronic hepatitis B, I calculate that there are at least 125,000 to 187,500 US residents actively co-infected with both HCV and HBV.
A journey of a thousand miles must begin with a single step.

Lao-tzu
Reference
Johnson, S. A. Hageman, H. Wing,M.Grodesky,N. Bathurst,P. Romfh, W. Williams. Effect of Antiretroviral Therapy on Clinical Outcomes and Cost in a University-Based HIV/AIDS Program: 1995?1997. Abstract 42211, 12th World AIDS Conference, Geneva, Switzerland, June 23?July 3, 1998.
From Living with Hepatitis C: A Survivor's Guide (Fourth Edition), By Gregory T. Everson, M.D., F.A.C.P and Hedy Weingberg. Copyright 2006. Excerpted with permission from Hatherleigh Press.