A Little Guy Named Charlie
I first met Charlie at my future in-laws' house. Devin and I were heading out there from Tucson for lunch on one of our first weekends together. I can remember the expression on Dev's face, his eyes all sparkling and this huge grin. "Well, you passed the test with my folks, but this last one is an important one for me," he said. I was already nervous as it was, having to sit down and chat with his parents. That comment gave me a sudden extra dose of nerves. I shrugged it off though, didn't want him to see me sweat. I had seen pictures of Charlie and was told about him. But, I had yet to officially meet him.
Now, before I go any further with this story I want to explain myself. Charlie is not a person. Charlie is a very small miniature Dachshund. He has a sharp black coat and a serious stare. I have never known Dachshunds in my life. I am more used to the bigger dogs. My boy, Nitro, is living at home in California with my father. Nitro, whom I've had since he was a pup, is a red-nosed Pit Bull. So, I was at odds with what this little Charlie might be all about. Devin and the family had built him up as this hardnosed, serious dog.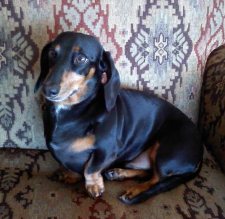 Charlie.
How serious could our meeting really be? I thought to myself. Are they serious? The future of our relationship is all but placed in the hands of this little miniaturized dog? Ok, I'd gladly play along with it, I guessed.
So we end up at the house and Devin is now flowing with excitement. We ring the doorbell and instantly I hear this enormous howl of barking. I mean, the bark sounded fierce and not coming from anything small. It was loud and demanding, almost as if Charlie was saying Don't try me 'cause I got something for you buddy. It surprised me at first because I had his picture in my head.
The door opens and this little guy immediately runs up on Devin. Devin naturally goes down and picks Charlie up and the little dude begins to shower him with endless kisses. A moment passes and Devin introduces me to Charlie. Before he can finish his sentence, Charlie jumps out of his arms and runs up on me! There he was, barking and growling and all the while rubbing his front paws on my legs. I just stood there, hoping he would accept me.
I thought Charlie wasn't into me until I noticed his tail wagging through all of this. He was simply checking me out and saying hello. And that's how our relationship started. Charlie and I clicked from the get go. I remember after our lunch I went over to sit on the couch. This little guy runs right up onto my lap and starts licking my face. I responded by rubbing his cute little ears and head. And in the corner of my eye I could see Devin smiling. I had passed the final test. With Charlie's acceptance I was officially a part of the family.
Now, let me tell you something about Charlie. I had this impression that all small dogs were pretty much weak and easily intimidated. Boy was I clueless on that note. When Devin, Charlie and I moved out to Virginia for work, I started running on certain trails. Now, if you are from Virginia you can appreciate what I mean about some of these running trails. They are very hilly and enduring in length. I started taking Charlie on these runs. Believe it or not, Charlie would not only run right next to me, but HE would be pulling ME along near the end of those runs. This little guy has some power. He always seems to be full of energy and life.
On our walks, Charlie would make sure of who to snarl at and who not to. He is extremely protective, and particular about who is allowed near him and his two dads. As far as children go though, Charlie puts on another face. He loves it when kids shower him with attention. I can remember a time when we were coming back from a drive. These two little girls just ran up on him. They thought he was so cute and wanted to pet him. I was nervous because I thought maybe Charlie would snap at them but he just rolled on his back and demanded they rub his tummy, tail wagging and paws moving about.
And all of that has really impressed me. To get to experience this little guy and to have him in my life has really helped me. It has helped me learn not to be quick to judge. I have as much respect and admiration for Charlie and his abilities as I do for Nitro.
Charlie has also helped me with slowing down. Sometimes when I would come off of work late I would feel so out of it. Or, if I had a messed up day, I would not be looking forward to home. But, there in the car with his head shaking, Charlie would be waiting to greet me. Devin would pick me up with him and I always knew that Charlie would be happy to see me.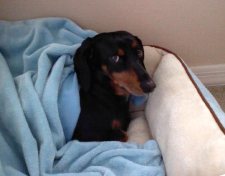 Charlie in bed.
That's what I truly love about Charlie. No matter what type of mood I am in or how bad a time I've had, it didn't matter to Charlie. He was there ready to show only love and affection. I am so proud and honored to call him our son.
I think about this and realize that we could learn a lot from our pets. We can learn a lot from children. For me, they continually show me to not take life so serious. They show us that it really isn't THAT important how work went, or how an event went. What counts is how we feel about the people we hang close to in our lives. What matters is how we treat each other. How we show each other how to slow down every now and then when things aren't looking so good. How we spend time with each other and how precious that time is because it can be cut short at a moment's notice.
I have learned a lot from my son, Charlie. He adds an extra piece of love between me and Devin. And, for me, that's what counts. I look at Charlie's eyes and still see that all he wants for us is to be happy and to make it. So, if you have a little one at home, I want you to do this for me. Stop what you are doing and watch them. Listen to what they are telling you. Enjoy the time you have with them. You can learn a lot. I know I have, from a little guy named Charlie.