Sometimes, it pays to daydream in class. One day last February, Timothy Critzer, a successful accounting professional living with HIV, did just that. The reverie changed his life and, he hopes, the lives of others recently diagnosed with HIV.
"I was sitting in an herbology class, drinking kava tea, listening to my instructor kind of drone on," Critzer recounts.
"She was reading the handout she gave us, so I was kind of tuning out. And I just had this thought pop into my head that I needed to write a book, a book to help people who are newly diagnosed with HIV. I started brainstorming right there and in 15 minutes I'd basically written the table of contents."
Critzer worked fast because he knew exactly what he was going to create; the kind of book he wished had been available four years earlier when he was got his HIV diagnosis.
The result is a quick read with a long title: I Just Found Out I Have HIV ... Now What? Firsthand Practical Advice to Guide You Gently From Crisis to Living in Peace With HIV and AIDS.
That title describes the book in apt detail. There's a companion workbook, too.
Emotional Needs Count, Too
"When you find out, they hand you a bunch of pills and tell you you're going to be OK," Critzer says. "What I would have liked was someone to tell me what's going to happen next, and how to be OK -- not just medically but emotionally."
Critzer's attempt to do just that reads more like a letter to a friend than a self-help manual or a didactic medical book.
I was going to die soon anyway, so why not go out with a bang? I had no idea what to do next and no concept of what I should be doing for myself to survive in the short or long term. All I could think about was the stories I had heard about AIDS, those gruesome media images and all the other bad stuff out there that I immediately applied to my own hopeless situation. Does any of this sound familiar to you? If so, you are in crisis, my friend.
Critzer aims to move readers out of that crisis and into a peaceful co-existence with HIV.
"Studies have shown that people who integrate HIV rather than fight it on an emotional level are the ones who have a better experience with it healthwise," he says.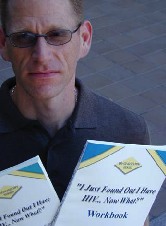 Author Timothy Critzer
That's one of the few mentions of studies or facts you'll hear from Critzer. As a writer, he's not big on research or empirical data. Instead, the book offers what he calls "tribal knowledge": wisdom which, while common, hasn't been written down.
"When someone's in crisis, you don't want to be throwing a lot of numbers and figures at them. The goal is to reach out to them on a human, emotional level. I never wanted to dictate behavior or point people in one direction or another. I wanted to lay out options for them and let them take the path that seemed most fitting for their life."
HIV took Critzer, an Ohio native who came to California by way of Chicago, followed by Seattle, off the path of a successful accounting career and onto the steep, narrow road of entrepreneurship.
He left his accounting career, and set up his own company called "Be Healthy for Life." Job one: promotion, publication and distribution of his book.
Critzer decided to do it himself, rather than seek a big-name publisher. That search could have taken years, and he didn't want to wait. In addition, Critzer's accounting acumen helped him conclude the financial and editorial arrangements of a traditional contract with a publisher wasn't for him. He self-published, and managed to get Amazon.com, Barnes & Noble and other booksellers to offer his paperback.
"With this kind of book it was so important to get it into the hands of people with HIV that I thought it was important for me to maintain control because it's such a personal story and it's told in such a personal, informal way."
"I'm not a writer anyway," he says, "I'm actually a teacher-healer-counselor type and this was a project that was channeled through me, and this is the form in which it came."
A Matter of Faith
Critzer's experience as an HIV survivor taught him to have faith in himself and his own decisions.
After taking medications his doctors prescribed for three years, he stopped. At the same time, he adopted new eating and sleeping habits and began to meditate. "I changed everything in my life," he recalls. The changes in his life helped him move to a higher level of health during the past year.
"What I want to illustrate to people is, 'you are in control.'"
A man in control of his health, his work and his destiny, Timothy Critzer hopes to lead other HIV-positive people down the same path.
| | |
| --- | --- |
| | Ron Mackovich is a volunteer in AIDS Project Los Angeles' Publications Program. |