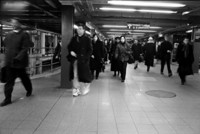 Feeling good ... and frustrated? Tired of watching the stock market soar, friends getting new apartments? Worried about credit card living, deferred tax bills -- even retirement? The source of all this may be the fact that you're on disability instead of working for a paycheck.
The Dilemma
A significant number of people with HIV are feeling better. Yet many wonder how to let go of disability-related benefits safely so that they can once again grab for that brass ring called work.
Media hype hasn't helped much. Television and magazines don't talk about the people who were doing just fine, and then crashed, the people who graduated from HIV-related symptoms to heart attacks. The grapevine isn't much better. There we hear a lot from those who tried and failed, but little from those who have succeeded and want to leave the world of HIV far behind. And what about the trapeze act of moving from one drug protocol to another?
The chasm between work-related and disability-related benefits was hard enough to cross the first time, hard enough to make you think twice before going back to work. What if you had to claw your way back yet again to the disability side of the gulf?
Returning to work can be a catch-22 situation. After years of guerilla warfare with insurers and public agencies, showing even a slight interest in working again may prompt a cancellation of hard-won benefits -- or at least an anxiety-provoking review.
Returning to work is unexplored territory. Fewer than 1 percent of people on Social Security, whatever their disability, ever make it back to the world of work. This means that many disability and benefits professionals, including employees of the Social Security Administration, have little experience in this complicated task. It's important that you double-check any advice given, and get agency statements in writing. And think at least twice about possible future implications of the actions you take today.
Potential Solutions
The first step on the road back to work is to assess your individual situation -- how HIV has manifested itself in your life, and your needs and wants.
Timeframe: All financial decisions depend on time. How long is the period being planned for?
Until protease inhibitors, HIV meant a high degree of unpredictability. That meant being unable to perform predictably on the job, and that in turn meant having income and benefits no longer linked to work.
The new treatments have lengthened our planning times. And now there are tests that help identify long-term nonprogressors and give us an idea of how well we may respond to future treatments.
The first step is to remap your life. How long do you want to work until you retire? How long do you want to work until you review whether you want to continue? Planning is the key.
Lifestages: Our needs and wants depend a lot on the stage of life we're in. In our 20s we may want to move around a lot and may see disability benefits as death. In our 30s we're in no mood to sit life out while our peers build careers, relationships, and assets. In our 40s we may be happy to take a time-out and use disability benefits to have a full-blown midlife crisis. We may see our 50s as the last chance to make it and have a nest egg for retirement. In our 60s disability may blend into retirement ... except for those whose private or group disability benefits expire at age 65. In our 70s we may yearn for opportunities to give back at a time when our own needs loom larger.
Coping Style: Our needs and wants depend a great deal on how we've adapted to HIV -- whether we took it as a defeat, treated it as a type of limbo, looked at it as an indefinite vacation, or saw it as a second chance to discover ourselves.
Goals: Our goals help define whether and how we will return to work. Do we want to earn more money, recapture missing group employment benefits, or find self-expression in a new career? For some it's enough to return to a past job, for others to move to a new company, for some to forge a new career or enter a new industry, and for a few to have their own business. The key is to be specific and concrete, deeply introspective: To thine own self be true.
The Costs of Working: Much depends on how much you're willing to invest now in work. In the United States we put paid work first. After being on disability, some people learn that human values, personal growth, quality of life, or relationships are more important to them. People on disability ask new questions: How important is a job? What am I willing to sacrifice to have paid work in my life?
Change is costly. It takes time -- great gobs of time -- for planning, guesstimating, and role-playing. And work itself creates new costs in addition to new income -- grooming, clothing, eating out, training, transportation. A return to work is an exercise in business planning.
Support and Advice: Most people need help even contemplating this major transition -- from peers, support groups, therapists, physicians, financial advisors, lawyers, and career counselors. If most people had no preparation, training, or experience in moving from work to disability, fewer still know the way back. A common mistake is to seek professional advice for immediate problems rather than to explore possibilities that they may not have been aware of.
Photo by Fredda Tone
The advice given here is limited by the space available. It is background information. Take action only after checking other sources, especially written descriptions of your own benefits. Work with someone qualified and experienced, and only after a full disclosure of your circumstances and a thorough exploration of options.
These are ballpark observations, not aisle and seat numbers.
Back to the February 1999 Issue of Body Positive Magazine