LIFEbeat: Building Bridges, Making Music
In the third week of my new job at LIFEbeat, the Music Industry Fights AIDS, Tim Rosta, who was then executive director, came into my office and said, "Get your coat on, we're going downtown to see Sarah McLachlan." I thought he was kidding. Still, I grabbed my coat and followed him out the door. In the cab, Tim explained that Sarah was in New York shooting the cover of her upcoming album, Surfacing, at a studio in the meat-packing district. We were going simply, "to hang out with her."
This was my initiation, in 1996, into LIFEbeat, the music industry, and the way this small, larger-than-life national non-profit HIV/AIDS fundraising and prevention-education organization worked. As program manager at LIFEbeat, my responsibilities would include overseeing Tour Outreach, the then fledgling concert-outreach program and the newly acquired Hearts & Voices program, where musicians went into acute-care wards to perform for hospitalized people with AIDS. Going to "hang out with Sarah McLachlan" had not been in my job description. I was so psyched!
We arrived at a newly renovated and very hip warehouse just off Gansevoort Street and were ushered into a large room with many cameras and several people milling about. Within minutes, from across the room, a voice, "TIM!" Tim had met Sarah at the first of a series of LIFEbeat-produced fundraising concerts entitled, "The Beat Goes On." Sarah, as well as Jon Secada, Seal, Melissa Etheridge and Milla, had agreed to play for the AIDS charity event, which was aired on the cable music channel VH-1. As with all of LIFEbeat's events, a percentage of proceeds was granted to non-profit HIV/AIDS organizations. At that time, Sarah was an up-and-coming Canadian singer/songwriter with a core group of followers. Since then, her popularity had grown dramatically. But she was still nowhere near the sensation she'd become in the next year. It was still half a year before the launch of the first-ever all-women Lilith Fair Tour.
We spent the next couple of hours sitting around the studio chatting, eating the various delicacies the studio catering offered, listening to a rough cut off the new album by Sarah, who had a voice like silk, a radiant smile, and a business mind that would soon make her millions of dollars. At some point, Tim nudged me and smiled, "This sucks, huh?" And then we spent the rest of the afternoon shoe shopping in SoHo with Sarah!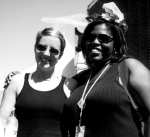 Sarah McLachlan with LIFEbeat's Sonya Lockett
Music, Touring, and Raising Money
And what did all this have to do with AIDS? I wondered on the train ride back home. Nothing. And everything. In the convoluted world of HIV/AIDS work, fundraising and the industry that mass-produces music, this was a day at work. Yes, it seemed like we were slacking off with Sarah McLachlan. But, unbeknownst to me at the time, we were actually solidifying a lucrative relationship. This trip, the others that had come before it and the many that would come after became the foundation that enabled LIFEbeat to be chosen in the coming year as one of two national organizations to receive money from the formidable new festival. LIFEbeat's involvement with the Lilith Fair Tour also dynamically boosted LIFEbeat's ability to perform its HIV/AIDS prevention awareness and outreach, setting a precedent that would enable LIFEbeat to reach thousands of youth. All that from shoe-shopping.
Establishing relationships with artists is LIFEbeat's bread and butter and arguably LIFEbeat's strongest asset. From both a fundraising and HIV awareness perspective, it is not hard to see how the involvement of musicians is important to LIFEbeat. Not only do artists enable concerts to happen or draw people to events, musicians are powerful role models and conduits for reaching adolescents. Few public figures or domains, outside of Hollywood and sports, can boast the kind of impact musicians and music have on teens. Working with musicians to raise needed funds and to be a voice behind HIV prevention messages provides much needed exposure for the issues and places LIFEbeat in an important position to make change. And the relationship goes both ways.
As with Sarah, back in 1994, it is often young artists who lend their name and time. While it behooves these young acts to get involved with LIFEbeat because it is good and nice and an important cause, musicians and their managers also recognize that LIFEbeat provides much needed positive exposure. When LIFEbeat puts together a concert to air on MTV on World AIDS Day, as it has for the last two years, LIFEbeat provides significant exposure for a young group. For a band like 98 Degrees, for example, to be featured performing for World AIDS Day 2000 tells fans they care -- and also gets them into the potential living room of 179 million homes worldwide.
Establishing positive relationships with musicians is one way of getting LIFEbeat's message out there. But what is their overall mission? Since its inception, LIFEbeat's goal has been to capitalize on the music industry's unparalleled reach into youth culture, its unlimited capacity to mainstream messages and its obvious fundraising potential in order to raise awareness about HIV/AIDS and resources for HIV/AIDS organizations. LIFEbeat was established in 1992 by music promoter/manager, Bob Caviano, a craggy industry veteran and Grace Jones' manager; with the help of Tim Rosta, a member of the protest group ACT UP; and Daniel Glass, a music industry executive. Tired of the silence within the industry, Caviano, who had AIDS himself, sought to stir his colleagues up and get some money for service providers in the process. He also wanted to provide money for other music industry professionals with HIV/AIDS who needed assistance. Out of this initial vision, two distinct and separate tracks developed over the years: fundraising/special events and programs.
LIFEbeat's fundraising has largely centered around special events, the majority being concerts and/or music and festival-like events. These have included:
The Beat Goes On, the original concert series which yielded three shows and launched LIFEbeat onto the fundraising scene;

UrbanAID, a concert focused on urban culture which sought to highlight the disproportionate numbers of African Americans and Latinos becoming infected;

SkateAID, an in-line skate pledge event with music;

CounterAID, celebrity signings at record retailers in New York, Miami and Los Angeles;

BoardAID, the most successful of the concert series which blended snowboarding, music and a festival-like atmosphere to focus on teens; and, most recently,

World AIDS Day concerts on MTV, Levi's and LIFEbeat present Music with a Message.
In addition to the concerts, LIFEbeat has sought to mobilize fans through their AFTERparty series, sponsored by Rolling Stone, a series of parties hosted after concerts where fans are invited to come meet the musicians themselves. As well, industry-based breakfasts have become a recent effort where individuals from different aspects of the music business are honored.
One of the most successful and exciting fundraising endeavors in recent history are ticket surcharges. The notion of adding a ticket surcharge for LIFEbeat was launched, originally, by Bill Brusca of Irving Plaza who committed to donating 25 cents for every ticket for every show held at the venue. Universal Concerts, who run Universal Amphitheatre in Los Angeles followed, although Irving Plaza has remained committed while Universal has not. LIFEbeat decided to apply this venue-specific concept to national tours and by doing so created for itself a remarkable and innovative fundraising concept. The concept is simple: add a surcharge to each ticket sold for each show along a national tour. The sum total is donated directly to LIFEbeat. As Barri Cillie, LIFEbeat's Development Director attests, "It's a unique fundraising effort. It's an easy way for the industry to get involved and to help. It also allows the artists to participate easily -- they're already doing a performance, so they don't have to go out of their way, or do anything extra. And, they can involve their fans. It's an amazing fundraising tool."
Through ticket surcharges, LIFEbeat involves everybody: the fan, the venue, the artists and the tour itself. And, where events and concerts require an intense number of employee hours to coordinate an often unwieldy number of details and interested parties, ticket surcharges employ a relatively easy and focused approach. For an organization that boasts only nine full-time and three part-time employees, this is no small issue. The bulk of the effort happens up front, establishing relationships and negotiating with artists' managers and tour owners to add the surcharge. Beyond that, its keeping track of the money that comes in. It's a much more efficient system overall. As Sonya Lockett, LIFEbeat's Communications Manager, explained, this kind of fundraising alleviates the pressure to "get everything out in one shot. Events are more difficult because you have to raise funds, get LIFEbeat's name out there and get the messaging out -- all in one shot." Ticket surcharges enable a longer term, more meaningful approach. Since 1997, LIFEbeat has raised over half a million dollars through ticket surcharges alone. Artists and tours include: LIVE, H.O.R.D.E, Rod Stewart, TLC, Tina Turner, Ozzfest, and Luther Vandross.
LIFEbeat's fundraising efforts have raised approximately one million dollars each year since it began, $1.25 million of which it has granted to organizations and $90,000 of which was granted to individuals within the music industry with HIV/AIDS who needed assistance. The rest has gone to support its own programs, Hearts & Voices and Tour Outreach.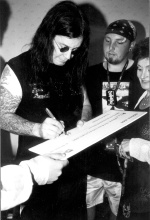 Ozzy Osbourne signs a $100,000 check presented to LIFEbeat. The proceeds were from the 25-cent ticket surcharge from the 2000 Ozzfest Tour. LIFEbeat rep Chris Abrego and Sharon Osbourne look on.
Lifting "Hearts & Voices"
LIFEbeat's Hearts & Voices became a program of LIFEbeat in 1996. When LIFEbeat took it over, Hearts & Voices was largely a cabaret- and Broadway-inspired volunteer corps who went into acute-care wards to perform for hospitalized people with AIDS. As new treatments began to work and patient demographics began to change, LIFEbeat expanded the program to include residential care facilities and a significantly diversified cadre of musicians. Currently, LIFEbeat volunteers, both performers and helpers, visit two acute-care wards and two long-term care facilities weekly and seven more monthly. In a magical merging of talent and vibrancy, hospital patients or facility residents are often treated to some of the best performances around. Branford Marsalis, Jewel, Jon Secada, Phoebe Snow, Ethan Hawke (yes, the actor), and many others have turned out to perform in the tiniest of rooms with the barest acoustics for the sake of giving.
I'll never forget going to a Hearts & Voices show for the first time. It was at the secure unit of St. Clare's hospital where inmates from the Riker's Island prison were treated. We sat in a little box of a room -- there were six of us, three in wheelchairs. A long-time volunteer and Broadway music director, Seth Rudetsky, ran the show there and booked the performers. There were two that night: Lauren Mufson, a Broadway performer, and Betty Buckley, the renowned Tony Award-winning star of Cats and other Broadway shows (and the mother in the '70s TV hit Eight is Enough). Lauren's performance was dynamic; she belted out snappy tunes and got everyone clapping.
Then Betty Buckley got up. It is not an overstatement to say that the experience rocked my world. Her voice suspended us all as we truly felt the power of music. I worked very hard not to cry. And if I felt like that, I could only imagine what it felt like to be sitting in a wheelchair after being pumped with medication, out of jail in order to be sick in a hospital. Indeed, Program Director Peter Solomita confirmed, "many residents, especially in the long-term care facilities, have told me that the shows are the highlight of their week. They really look forward to them. One woman at an acute-care ward at Bellevue Hospital didn't want to come out of her room; she said she was too depressed. The volunteer convinced her to come to the show and afterwards she said it broke her depression."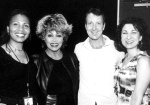 Rochelle Houge, LIFEbeat Tour rep; Tina Turner; Tim Roster, Former LIFEbeat Executive Director; Barri Cillie, LIFEbeat Development Director
On Tour
Tour Outreach works on the other end of the HIV/AIDS spectrum. Tour Outreach is LIFEbeat's HIV awareness and prevention effort and was officially started at the suggestion of Johnette Napolitano of Concrete Blonde who wanted condoms to be distributed at their shows. It made sense: here was a captive audience of adolescents (and adults) coming to listen to music and party. What better environment to distribute condoms and make sure everyone was supplied with information on HIV? The program was launched locally with dedicated volunteers and club hounds going to different venues around New York City.
Recognizing Tour Outreach's unlimited potential, LIFEbeat began to target clubs and shows -- beyond those that the volunteers had planned to go to anyway -- according to the concert-goers they knew specific bands would attract. By keeping on top of local concert dates, performers and venues, LIFEbeat is able to target its audience outreach. Increasingly, LIFEbeat has sought to reach younger crowds, including gay, African American and Latino youth. In fact, Erin Bennett, outreach manager for volunteers, clubs and events, suggested recently, "After receiving alarming statistics released by the White House in November 2000, LIFEbeat is steering its outreach focus specifically toward African American and Latino youth in the year 2001." Armed with fistfuls of condoms (male and female), lube, dental dams, and audience-appropriate HIV/AIDS information and hotline numbers, trained volunteers set up shop at the front of the venue or near a bathroom, anywhere management allows, talk to people, and distribute what they can.
Reaching youth in this environment works especially well because it isn't school. As current Executive Director Eric Gribin says, "LIFEbeat's unique outreach enables young people to speak directly to peer educators and volunteers at informal settings like concert events and in nightclubs where they are more relaxed and receptive to discussing safer sex and having their questions answered about HIV and AIDS." Essentially, as many youth-centered organizations have discovered, outreach can be made significantly more effective by targeting youth in environments they've chosen to be in. Likewise, because the program is paid for via fundraising events, no government restrictions or reporting requirements limit its potential. LIFEbeat have been present regularly at Irving Plaza, Bowery Ballroom, Roseland, Limelight, Tunnel and Sound Factory. Last year local Tour Outreach was able to distribute condoms and literature to an astounding 57,000 individuals.
Just after it began, Tour Outreach took on the challenge of taking its effort nationally, performing its outreach with the help of local AIDS Service Organizations (ASOs). After getting permission from a band going out on tour, LIFEbeat coordinates with ASOs in each city that the tour goes through. For example, if LIFEbeat were on the Dave Matthews tour and the tour went through Washington D.C., LIFEbeat would coordinate with Metro Teen AIDS in D.C. to be at the show on that date. This model enables youth to get pertinent local information and enables local service providers to reach a captive audience.
Each year Tour Outreach enables approximately 100 organizations in cities across the U.S to increase their outreach efforts in an environment to which they might not otherwise have access. For many ASOs, this represents both a needed break from their usual outreach efforts, and the opportunity to reach youth not otherwise listed in their strict funding targets. As Lori Swain, Executive Director of Metro Teen AIDS explained, "Metro Teen AIDS strives to maximize ways to reach youth by reaching youth on their own turf, Tour Outreach enables us to do that 100 percent." Swain explained that Tour Outreach also enabled them to reach more "mainstream" youth as well as youth not likely to attend groups at their center. And, let's face it, it's nice to be able to see a performance while you're out there. For organizations that work with peer educators, the shows are incentives or perks the organization is not otherwise able to offer. Swain explains, "While they're there to work, it's a cool thing for them to do -- and they recognize that."
In recent years, Tour Outreach and ticket surcharges have moved into center stage together, unifying the organization and its mission. Part of the support a tour agrees to when they add a ticket surcharge is the participation of LIFEbeat's outreach tables on the tour. Tours see the benefit of having LIFEbeat on board not just because of the work they are doing, but because it allows fans to actually experience what the money is going toward. Given this opportunity, Tour Outreach added a new dimension to its outreach efforts by sending trained LIFEbeat tour representatives on the road to perform in the trenches alongside the local ASOs.
On to Lilith Fair
The Lilith Fair Tour is a good example of the ticket surcharge and tour outreach working in tandem. When Sarah and the other owners of the tour named LIFEbeat as a national recipient of their donations, they also invited them to send a representative to work the booth they were providing. This enabled LIFEbeat to both coordinate with ASOs to be present as the local provider and for LIFEbeat representatives to conduct outreach in its own right. The effort raised LIFEbeat's profile enormously by providing visibility and contact with much larger audiences -- increasing fundraising opportunities and outreach contacts. Consider the numbers. Chloe Monahan, who is responsible for national Tour Outreach, estimates that in 2000 alone, LIFEbeat reached approximately 195,000 people and worked with between 90 and 100 different ASOs in 38 states, Washington, DC and throughout Canada. This kind of reach and its perfect fit with ticket surcharges has catapulted Tour Outreach into the organization's top priority.
It's almost four years after that initial shopping spree with Sarah McLachlan and I'm sitting in the Starbuck's on Spring Street in New York right next to LIFEbeat's offices. It all seems to come full circle as Sonya Lockett, LIFEbeat's Communications Manager, and I discuss the Lilith Fair Tour, now just a memory. Lockett experienced first-hand the real power behind LIFEbeat -- beyond the glitzy music industry relationships. She became involved with the organization when she was asked to represent LIFEbeat on tour with Lilith in the summer of 1998, the tour's last season. After spending the prior ten years working in public relations, she saw it as an opportunity to make a career change, as well as "make a difference." She liked LIFEbeat's approach to doing outreach because of its relationship to music and the entertainment industry and the ways it could reach youth.
As Sonya says, "For some people, it takes being wrapped in a pretty entertainment package [to hear the message]. This is especially true for young people." She experienced more than she anticipated on the road. In a poignant moment at the beginning of the tour, Lockett described watching, with fascination, very different approaches to the epidemic. As two mother-and-daughter sets approached the tables littered with condoms, one mother shielded the child's eyes and hurried her away. The other mother took it in stride, allowing her young daughter to put the condoms in her bag and take them home to daddy. For Lockett, this was an extraordinary example of the disparity between people's perspectives and why education was so necessary. But it wasn't just the concert-goers and the "numbers of young people getting HIV" that "fueled her." It was also watching the ASOs "do their thing." Indeed she says, "What motivated me during the tour was the ASOs I was working with. They made me feel like I just wanted to do more." Witnessing the expertise of outreach workers in action solidified Sonya's belief in continuing the fight.
And for me, that is the connection between shoe-shopping with a musician and making a difference.
LIFEbeat Event History
April 1992
Concert for life Screening At The Supper Club hosted by Yoko Ono, Nona Hendrix and Cyndi Lauper. LIFEbeat's first press conference and launch.
June 1992
LIFEbeat's first fundraising concert at Roseland. Pet Shop Boys and Salt N Pepa performed.
1992 - 1994, 1999
CounterAID
Music, fashion and entertainment celebrity signings at record retailers in New York, Miami and Los Angeles. A percentage of sales was donated to LIFEbeat. Stars include: TLC, Green Day, Coolio, Naomi Campbell, Ellen Degeneres, Tommy Lee, and many more.
1994 - 1997
The Beat Goes On
Concert series to benefit LIFEbeat televised on VH1. Shows were held in New York and Washington DC. Music artists and celebrity hosts included: Sarah McLachlan, k.d. lang, Seal, Melissa Etheridge, Gloria Estefan, Patti Smith, Bill Maher, Rosie O'Donnell, Jon Bon Jovi, Chaka Khan, Dave Matthews Band, Veronica Webb, and many more.
October 1995
UrbanAID
One-night concert to benefit LIFEbeat at Madison Square Garden. The show was simultaneously broadcast on BET and MTV. Performers included: Mary J. Blige, Notorious BIG, Puff Daddy, Jodeci, Brandy, Salt N Pepa, Wu Tang Clan, Naughty by Nature, and Queen Latifah.
September 1996
SkateAID
The first-ever in-line skate pledge event to benefit LIFEbeat hosted by Gary Dell'Abate and held in New York City.
1995 - present
LIFEbeat AFTERparty Series
Launched by Entertainment Weekly and now sponsored by Rolling Stone, this series of after concert parties are hosted by music artists to benefit LIFEbeat. Parties have been hosted for Hole, INXS, The Go-Go's, Blur, Jamiroquai, Busta Rhymes, Aimee Mann, Fiona Apple, Live, Garbage, Rufus Waunwright, Smashmouth, Sonic Youth, The Monkees, The O'Jays, Third Eye Blind, and Tony Bennett.
1994 - 1999
BoardAID
The original, longest-running, most prestigious, and widely publicized charitable event in all of the board-sports industries. Proceeds benefit LIFEbeat. Artists who have appeared at BoardAID include: The Beastie Boys, Porno for Pyros, Blink 182, and Wyclef Jean and the Refugee All-Stars.
December 1, 1998
World AIDS Day Performance for LIFEbeat's Hearts and Voices. Jewel gave a special, private performance for the residents of Rivington House on World AIDS Day in 1998.
December 1, 1999
Levi's and LIFEbeat present Music with a Message: World AIDS Day 1999. Some of the biggest names in music converged on stage at the Beacon Theater and raised more than $450,000 for HIV programs and education. Performers included 'NSYNC, Monica, Wyclef Jean, Destiny's Child, 112, and Joey McIntyre.
Gillian Murphy is a freelance writer and public health consultant who has worked in the HIV/AIDS field for the past nine years.
Back to the
April 2001
Issue of
Body Positive
Magazine.