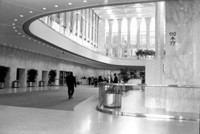 Medical insurance is the first line of defense with HIV, and your number-one priority in returning to work is to make sure you either improve or maintain your medical coverage.
When you went on disability, you probably learned a lot of things you never wanted to know about how benefits work. When you're thinking of returning to work, you will want to keep that information in mind as you weigh your options. And you do have a little bit of room to experiment: Social Security allows a twelve-month trial work period that you can use to test the waters before your benefits are terminated. More about that later; first let's review the ins and outs of disability benefits on and off the job.
Regulation
Regulations differ from state to state. This article will deal primarily with those of New York State, which are the strictest and most pro-patient regulations in the country. New Jersey's are also pretty good. In the rest of the country, you will have to see how your state stacks up to the New York-New Jersey gold standard. [In New York, call (212) 480-6400; in New Jersey, call (609) 292-5360.]
Keep in mind that self-insured plans, which are offered by most large companies, are not subject to state insurance regulations. They are regulated only under federal law, and poorly at that, and may offer much less protection. On the other hand, large companies are often generous with benefits. There are major differences between industries, so it is important to read the benefits booklet before taking that new job.
Medicare Pitfalls
The biggest problem with medical insurance when returning to work is Medicare. The biggest problem with Medicare for someone with HIV is that it doesn't pay for pharmaceuticals. Two Medicare features that are designed to protect seniors from overinsurance can work against people who are on Medicare because of disability:
First, you automatically become eligible for Medicare 29 months after you apply for Social Security. This often triggers the end of continued medical benefits from your last job (COBRA -- Consolidated Omnibus Budget Reconciliation Act -- benefits). And that means an end to drug benefits.
Second, once you're on Medicare, you can't buy individual medical insurance. Many people with HIV wake up to this fact too late, and then have to scramble to pay for their meds.
Medicare Solutions
Disability Extension of Medical Benefits: An immediate, though temporary, solution is to look for this common but often overlooked clause in many group medical policies: A disability extension of benefits provision is required by law in some states and is historically in many group plans. If you are disabled when COBRA ends or employment terminates, this clause continues medical coverage without charge for an additional twelve months for the disabling condition only.
When applying for this extension, make sure your physician describes your underlying condition as broadly as possible so that you are covered for all expenses that may arise related to your disability.
Even if you have new group coverage, a conversion policy, or new individual coverage, you should invoke the disability extension of previous benefits simply because this free insurance may end up lowering your overall out-of-pocket medical costs. Also, costs covered under an extension of benefits will not be deducted from any policy maximum in converted group policies.
ADAP (AIDS Drug Assistance Plan): If your income is $44,500 or less and you have liquid assets of $25,000 or less (IRAs and other tax-deferred income are counted at 50 percent of face value), you may be eligible for ADAP coverage. But bear in mind that ADAP coverage is restricted to an approved formulary and that this government program is subject to budgetary ups and downs. (Remember not too long ago, right after protease inhibitors were first launched? Even New York's ADAP was cut back, and other state plans were severely crippled.) Of course, ADAP won't help with non-HIV-related conditions. No program like ADAP can replace individual or group coverage ... and Medicare or Medicaid.
Veterans Coverage: If you are a veteran with an income of $22,000 or less, you are eligible for coverage through the veterans hospitals. If your income is higher, you are eligible on a space-available basis and possibly at greatly reduced fees (e.g., $2.00 per prescription).
Blind and Young People: Special rules apply if your corrected vision is less than 20/200 or if you are under the age of 22 and in school at least eight hours a week.
Return to Work and Medicare
Going back to work for a firm that offers group medical benefits may be the easiest way to restore lost medical coverage for drugs. If you have been on Medicare or Medicaid, that will usually count as previous medical coverage, protecting you from any preexisting-condition exclusion.
Even though your new employer's medical plan may seem to be enough coverage, in today's era of mean and miserly managed care you'll need every bit of coverage you can get. So keep your Medicare active by paying for Part B at the end of Social Security's twelve-month trial work period. Here's how it works:
Social Security allows people to work nine months in any five-year period without losing benefits. Determinations are based on calendar months when you actually get the money, not when you earned it, and the months need not be consecutive. Any amount of money can be earned during these nine months and you will continue to get your checks, but earnings of as little as $200 can make a month count toward your total of nine "working" months.
After nine months, your checks will continue for an additional three months while Social Security reviews your situation and determines whether you are still eligible for benefits. The investigation is supposed to focus on whether a consistent pattern of work has been established, and lucky freelance jobs interspersed with illness setbacks may not be seen as a true return to work.
Even if your checks are stopped because you are working regularly, there is still a safety net in effect for an additional 36 months. If you subsequently become unable to work for a month or more, simply call the Social Security Administration -- by phone, no paperwork necessary -- and you will receive a check for any month you were unable to work.
Medicare offers many advantages and savings, even in combination with individual or group medical plans. Most important, it offers unlimited home care and outpatient psychiatric care, benefits that are often severely limited in private plans. It may reduce or eliminate all deductibles and copayments. Its more reasonable rate schedule will apply, lowering the part of the bill that you pay. If you lose your job and your employer plan disappears, medicare doesn't. Medicare is always there, whether you have a job or not.
If you have become eligible for group medical benefits and then must return to Social Security disability because you cannot work anymore, you can continue your new benefits under COBRA regulations -- a full 29 months of medical coverage, including pharmaceuticals. And, in this highly competitive job market, medium and large employers often offer eligibility in their medical plans from day or month one of employment.
Continuing Medicare After the Trial Work Period
Medicare remains in effect throughout the nine-month trial work period and the three-month review period. Then, when Social Security payments stop, you'll remain eligible for Medicare for three more years.
You're entitled to Medicare Part A -- the part that covers major expenses such as hospitalization -- without charge during this 36-month period, and you may keep it after that by paying a premium (now $170 per month). You should do this. If you have a serious illness, your medical expenses come first, and even overlapping coverage is a good thing. This budget item ranks right up there with rent in importance.
The big mistake most people make when they go back to work is to stop paying for Part B -- the part that pays for most outpatient expenses, such as doctors' visits, X-rays, lab work, and other diagnostic procedures -- medical services you normally can't get from private or group medical coverage. This is the part of Medicare that keeps you off Medicaid and out of bankruptcy. At a monthly premium of $45.50 per month, Part B is a financial lifeline
If you stop paying for Part B, you will be able to reinstate it, but only at a price. You will have the option or re-enrolling only during January through March of any year. Moreover, although you'll have to pay the premium from January through June of the new enrollment year, your Part B coverage will kick in only from July onwards. And to add injury to insult, the premium will be increased by 10 percent for each year you didn't have Part B.
If you can't afford Part B, you may be able to get welfare to pay the premiums through its Specified Low-Income Medicare Beneficiary program. You are eligible for SLIMB if your gross monthly income, less any out-of-pocket medical expenses, is $1,896 or less. (SLIMB guidelines are available from Title II Community AIDS National Network, (202) 588-1775.) If your monthly earnings are under $1,427, welfare's Qualified Medicare Beneficiary (QMB) program will pay all your Medicare deductibles and copayments. If you can't afford the premium for Part A and your monthly income is less than $2,768, the Qualified Disabled Working Individual (QDWI) program will pick up the tab. (These income maximums are for individuals; those for families are higher. Also, the figures are revised in March of each year and may be out of date by the time you need the programs.)
Continuing Disability Review
One of the biggest hurdles posed by a return to work is that it can trigger a Continuing Disability Review by Social Security. If you flunk the CDR -- that is, if the review concludes that you are no longer disabled -- your Medicare or Medicaid stops.
But this isn't as great a problem as it could be. First, the simple fact that you are working does not by itself mean that you are not disabled, and Social Security cannot use that fact alone to change your status. A thorough examination of your medical records, just as was done when you applied for disability in the first place, is required before you can be ruled no longer disabled.
Practically speaking, Social Security has an enormous backlog of CDRs (even though Congress allocated billions a few years ago to enable the agency to catch up). If you return to work, you should decide whether to protect your disability status. If the answer is yes, you should take steps to ensure a good defense when and if a CDR arises (see sidebar).
If Social Security rules in its CDR that your disability is no more, you can appeal the decision to an Administrative Law Judge. In all Social Security matters, these judges have a track record of much higher approval rates than lower-level personnel. They may issue approvals if cases have been handled improperly, and they may assume that HIV-related symptoms constitute an underlying condition sufficient for a ruling of continued disability. The wheels can be put in motion by a phone call to the Social Security Administration asking for a review of your CDR.
Look for a major policy determination this year about whether Medicare can be continued simply because of an underlying condition. Current practice requires that it be a disabling underlying condition, but Congress has never clarified this point. Since millions of dollars in lost benefits are at stake, people with HIV and other chronic conditions, and the organizations that support them, should lobby for the more generous definition. This would enable many people with underlying conditions to keep their Medicare even though the condition was not immediately disabling.
Vocational Rehabilitation
It's not widely known, but you are allowed to keep your benefits, and are immune from the consequences of a CDR ruling that you are no longer disabled, if you are enrolled in a vocational rehabilitation program. And vocational rehab can be defined rather generously.
If you are worried that a CDR may go against you, it is prudent to establish a vocational rehab program for yourself. These programs offer many benefits for people with HIV, and will pay for all types of college courses and vocational training. In New York they are particularly generous -- supplemented by state funds -- and are usually available through VESID (Vocational and Educational Services for Individuals with Disabilities), 116 West 32nd Street, Sixth Floor, New York, NY 10001, (212) 630-2306.
Many people don't consider the vocational rehab option because of negative stereotypes. In fact, this approach is very flexible, and you can help write your own individual plan. The plan does not have to include educational coursework in order to protect your benefits. At the extreme, your state-approved vocational rehabilitation plan can simply mean that your return to work is monitored by a case manager at an AIDS service organization. The wording in the plan would be something on the order of "monitor my psychosocial adjustment to returning to the work world in light of my medical challenges." Thus regular casework on your behalf can itself be part of your state vocational rehabilitation plan. You should use the advice of a benefits professional to design a vocational rehab plan of this type.
When you approach vocational rehabilitation professionals, have a clear idea of what you want and how you want it structured. You'll get a reputation as an easy-to-deal-with client. You may have to press your right to these services, especially if you are asking for an individualized plan, but the financial benefits are worth it.
Individual Medical Insurance
People on disability in New York and New Jersey who are not yet Medicare eligible are allowed to get private individual medical insurance and to keep it even when they become Medicare eligible. This is a rare privilege that people in other states don't have, and it gives these lucky people powerful insurance that covers pharmaceuticals without having to qualify for ADAP, without having to spend down or impoverish themselves to qualify for Medicaid, without having to go through other eligibility hoops.
The problem is that many people become aware of this option only after they are Medicare-eligible -- when it's too late. Medicare is mandatory, and as long as they are on disability, they cannot get off Medicare to become eligible for individual medical coverage.
Going back to work can open a magic window -- briefly -- that will allow these people to purchase individual coverage and keep their Medicare benefits. It's all because of a little-known law that lets people pay their Part B premiums up to seven months after the initial due date. If you're one of these people, here's what you can do:
At the end of the trial work period, you are entitled to extend your Medicare Parts A and B when your Social Security checks stop. If you elect not to do so, however, you can honestly state that you are no longer covered by Medicare. You can then apply for individual medical insurance and check the box that says you don't have Medicare. It's the truth at that moment, and unlikely to be questioned; most health insurance intake personnel assume that Medicare stops when Social Security stops.
You can then repent of your rashness in letting Medicare get away and elect the extension retroactively -- in fact, back to the day the checks stopped. Thus you will have obtained your individual medical insurance while your Medicare Part B had lapsed, as required by law, only to reinstitute it later. (If the seven-month grace period has elapsed, you may still choose to reinstitute Part B, but this carries the penalties discussed above in the section on trial work period.)
Medicare Choice (HMO) Plans
Other states, such as Florida and California, offer Medicare Choice Plans that let you sign over your Medicare benefits in exchange for plans offering more services, including pharmaceuticals. The charge for these plans is usually small, but they may change the benefits offered or go in and out of business frequently. They do not offer the same security as group or individual medical benefits.
Catastrophic Medical Insurance
Once you are employed, you are again eligible for catastrophic medical insurance. These group plans, such as those offered by Workmen's Circle, (212) 889-6800, typically have only two major requirements: You must have a natural reason to be a part of the group, and you must be working at the time you apply. Thus this insurance can be obtained during a short trial work period. Do not get this insurance from employee associations (such as Civil Service of the New York State United Teachers) unless you are employed in that field.
These plans are inexpensive, with premiums of $400 to $500 per year, and offer comprehensive medical coverage. The deductible is high, typically $25,000, but can be satisfied by expenses paid for by other insurance, including Medicare or Medicaid. They will pay claims for several years up to their lifetime maximums of $1 or $2 million including pharmaceuticals.
Medigap Coverage
Medigap coverage is geared to the needs of seniors, not people with serious illness. It is expensive, and if it offers pharmaceutical coverage at all the annual maximum is typically $1,500. This is usually not a good option.
Medicaid
The bad news for Medicaid recipients is that any income and/or assets over the SSI (Supplemental Security Income) or AFDC (Aid to Families with Dependent Children) levels in your state may end your eligibility. The good news is that there are ways to get around this, and continue SSI and Medicaid even after you have returned to work:
Spend-Down: Medicaid allows income to be reduced by a "spend-down" equal to the amount of medical bills incurred in any given period. The bills don't have to be paid, just incurred, and may include Medicare and private medical insurance premiums.
For example, if you earn $800 but the eligibility level is $550, you are eligible for Medicaid if you have medical expenses of $250 or more that month. This alone may not seem like a great incentive to go back to work, but this adjusted, lower countable income may qualify you for other programs as well.
PASS (Plans for Achieving Self-Support) Accounts: Social Security allows recipients to earn and set aside income or gifts without limit to provide for future self-support, such as, for example, training or starting a business. To qualify, you must open a PASS account to receive the funds, and a self-support plan achievable in four years must be approved by a public or private agency. (For the requirements and procedures, get a copy of Working While Disabled: A Guide to Plans for Achieving Self-Support (PASS), publication #05-11017, from the Social Security Administration.)
To draw on these savings without jeopardizing your ability to bank your earned income and to continue Medicaid, get a credit card on the account; if your credit record is poor, this can be a secured card. You can then accumulate charges or cash advances on the credit card. As long as you make the minimum monthly payments and carry a balance on the credit card, your status is safe. But don't forget that you will have to pay off the credit card, and its accrued interest, at the end of the PASS period.
In addition, you may be offered disability and/or unemployment insurance on the card -- a common marketing move. Then, if you stop working because of health reasons, the insurance may pay your monthly minimum. Review a copy of the insurance contract to make sure this continues indefinitely; some plans pay only for one or two years. Bear in mind too that if the insurer decides to pay off your credit card balance, this may affect your PASS status and therefore your SSI and Medicaid benefits.
Do this only with extreme caution and careful planning.
AHIP (AIDS Health Insurance Program): One problem about leaving Medicaid and welfare to return to work is that premiums, deductibles, and copayments for private medical insurance can easily total $6,000 a year -- an amount that can lock many people into Medicaid and welfare benefits indefinitely. AHIP offers a way for people to get off Medicaid and welfare and acquire perhaps better medical care by paying the premium on individual or group insurance plans offered on their new jobs. If gross income remains below the AHIP qualification level of $1,257 a month, this program offers a way to obtain new improved coverage without unduly burdening the new income.
Section 1619: While SSI income benefits may be meager, the Medicaid that comes with it can be a lifesaver. Medicaid picks up the 20 percent copayment that Medicare doesn't, and pays for pharmaceuticals not covered by Medicare.
Section 1619 of the Social Security Act is little known and rarely used. It allows people who receive SSI to work and continue receiving benefits by waiving the Substantial Gainful Activity Rule if SSI and Medicaid contribute to your ability to work in spite of your medical condition. You need advance permission to invoke Section 1619.
To calculate a new countable Medicaid income, first deduct disability-related expenses. Then take off $85 as an income allowance, plus half of the remaining earned income. Compare the result to the SSI allowable income. Even if this new countable income is high enough to disallow your monthly SSI check, Section 1619 may allow you to continue to be eligible for Medicaid. These calculations are done by Social Security and transmitted to the state authorities responsible for Medicaid eligibility.
Since the idea is that you can remain on Medicaid as long as your new income doesn't equal the costs paid by Medicaid, you can continue to qualify for Medicaid under Section 1619 with an income up to about the average of $28,000 that is spent on people on Medicaid in New York.
This amount can be higher if you can show that your own medical and related expenses are higher than average -- which they often are for people with HIV. To do this, ask the Social Security office for an individual 1619 determination. This will include a computation of how much cash you spend on copays, how much Medicare and Medicaid spend on you, and how much any other insurance -- VA, ADAP, COBRA, Medicare -- spends on your medical expenses.
If it is determined, for example, that a total of $36,000 was spent on you, you are still considered poor enough to qualify for Medicaid even if your income is now $35,000. The key here is to know your rights, to be proactive, and to recognize the practical limits of the Social Security system. Getting an individual 1619 determination can take some time, and you may have to be rather insistent that all the figures be obtained. For example, if your Medicaid is provided under managed care, the Medicaid provider must recalculate the market cost of your care using rate tables and your medical records. If Social Security rules that you are no longer eligible for Medicaid, you can appeal this decision to an Administrative Law Judge who can subpoena this information. All this could drag on for quite some time -- during which you will remain Medicaid eligible.
New Legislation
In the fall of 1998, the Clinton administration announced plans to introduce legislation in 1999 that would allow people returning to work to purchase Medicaid coverage at reasonable rates. This would close a loophole that allowed insurers to charge extraordinarily high premiums for coverage that they were required to offer individuals without preexisting-condition exclusions.
Resources
Thomas P. McCormack, with whom the author consulted on preparation of this article, is a leading authority on Social Security, Medicare, and Medicaid regulations. He is the author of the AIDS Benefits Handbook and a frequent contributor to Body Positive. Among his relevant writings are:
"Can I Work While I'm on Social Security?" PWAC -- NY Newsline, May 1997
"Health Benefits Revised." Body Positive, January 1998.
"VA Benefits: Forgotten Resources for Forgotten People." Body Positive, October 1997.
Per Larson, author of the accompanying article, gives financial advice to people with HIV and other serious illnesses and conducts workshops at many healthcare and service organizations, such as Memorial Sloan Kettering, Cancer Care, Mothers of Children with AIDS, Friends In Deed, and Body Positive. He is the author of Gay Money and the following articles of interest to PWAs thinking of returning to work:
"It's Back to Work We Go" (teleconference). _Body Positiv_e, September 1998.
"Enough To Make You Sick: Protecting Disability Income." OUT, April 1998.
"Fine Whines: How To Keep Disability Benefits" POZ, April 1998.
"Disability: Hope for the Best, Plan for the Worst: Designing Your Financial Future -- Now That You Have One." Positively Aware, March/April 1997.
"Disability Benefits: The Other Shoe Is Dropping." In The LIFE, December 1997.
"HIV: Back To Work?" In The LIFE, March 1997.
"New AIDS Drugs and the Realities of Disability Benefits." LGNY, March 7, 1997.
"Money Matters: Challenges Posed by the New AIDS Drugs." LGNY, March 30, 1997.
Photo by Fredda Tone
Back to the February 1999 Issue of Body Positive Magazine