Current therapies for treating HIV infection are not without limitations.
Adherence, drug levels and viral resistance are all paramount concerns. Some clinicians predict that upwards of 50 percent of individuals being treated with approved antiretrovirals will experience treatment failure.
New drugs to slow HIV replication, such as fusion and integrase inhibitors, are needed. Enhancing or boosting the body's natural weapons against HIV is another area of current research.
Not a New Theory
Immune-based therapies are not new. Since scientists became aware that some individuals are able to control infection for long periods of time, they have been trying to figure out how.
Long-term non-progressors can stay healthy for years with low level viral replication and stable T-cell counts. Other individuals can be repeatedly exposed to HIV and remain uninfected.
Defective receptor genes, continuous exposure to HIV, individual genetic factors and structured treatment interruption (STI) are all theories being explored. Based on the idea that the immune system loses its natural ability to fight HIV, investigators (under carefully controlled study conditions) have attempted to jumpstart the immune system by letting viral load increase.
Most of the individuals taking an STI have seen their viral load return to its baseline level. There is also some concern that T-cells lost during an STI may be harder to recover. On the upside, investigators have seen that the body can increase its immune response to the virus.
The challenge is to discover ways to help our immune system gain control over HIV the way it does against many other chronic infections.
Fighting Chronic Infection
We know that a compromised or lowered immune response leaves a person more likely to develop an opportunistic infection. Infections are described as opportunistic simply because they take advantage of a weakened immune system.
Many pathogens (disease-causing agents) are present in our bodies all the time. These pathogens become a problem only when our immune systems fail to control them.
T-cells, or CD4 cells, are responsible for telling certain parts of the immune system what to do. HIV uses CD4 cells to make copies of itself and in the process kills the cell. This loss of CD4 cells weakens the ability of the immune system to fight infection.
One way a CD4 cell works is to direct another type of T-cell, a CD8 or killer cell, to kill the pathogen. Scientists theorize that it is not just CD4 cell loss that stops the body from fighting HIV. They believe that HIV may be reducing the ability of remaining CD4 cells from activating killer CD8 cells.
Not only do we have fewer CD4 cells to do the job, the ones left may be doing it less effectively.
Immune-Based Therapies and IL-2
Since we know HIV will eventually deplete our pool of T-cells, we need to find a different way of getting more T-cells and keeping the ones that we have.
Proteins known as cytokines are naturally found within our bodies. One class of cytokines are known as interleukins. In particular, interleukin-2 (IL-2) which has been studied the most shows the most promise.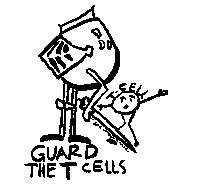 Within a test tube, IL-2 can proliferate, or make many more copies, of T-cells. IL-2 helps us to regenerate or grow T-cells all the time, as well as allows our bodies the ability to differentiate between which cells will become CD4 T-cells and which will become CD8 killer T-cells.
There are many other functions for IL-2 within the immune system. It stands to reason that if IL-2 can grow T-cells in a test tube, then it should be able to replenish a person's supply of T-cells in his or her body.
This thinking has led to many studies involving IL-2. However, since IL-2 will increase the number of T-cells a person has, it will also increase the number or copies of virus he or she will have.
IL-2 is usually only used when a person has an undetectable or low level of virus so that extra virus will not be produced by the new T-cells. Currently, IL-2 is being used only within research and is only recommended for persons who already have a high T-cell count.
Results from several trials have demonstrated that when IL-2 is administered by continuous IV infusion to people with T-cells that are higher than 300, for five days every two months, an average increase of more than 400 T-cells is seen.
Toxicities from IL-2 use are frequently seen, however, depending upon the amount that is given. Side effects from IL-2 can include fever, chills, uncontrollable shaking, nausea and vomiting.
Some trials are attempting to use IL-2 as a subcutaneous injection because it may be better tolerated. In studies of this kind, T-cells increased on the average of about 200, but viral load increased as well.
Trials of IL-2 are being conducted at UCLA and Harbor UCLA. Both studies are indicated for people with 50 to 299 T-cells and a viral load count of 10,000 or less.
John Slovick is a treatment advocate in AIDS Project Los Angeles' Client Health Education and Advocacy Unit. He may be reached by e-mail at jslovick@APLA.org or by calling (323) 993-1526. Ernie Rodriguez manages the CHEA unit. He may be reached by e-mail at erodriguez@APLA.org or by calling (323) 993-1486.