Issues In Integrative Medicine
Complementary and Alternative Medicine Conference: Part 1
On October 1, 1999, Body Positive, Inc., held the second of its annual conferences bringing together providers and consumers of HIV/AIDS-related services. Entitled "Integrating a Spectrum of HIV/AIDS Therapies: Maximizing Benefits of HAART with Complementary Care," the conference was designed to focus attention on the need for a multifaceted approach to dealing with HIV/AIDS.
The full-day conference brought the issue of integrative medicine to a diverse audience that included people living with HIV, medical practitioners, nurses, practitioners of complementary and alternative therapies, nutritionists, social service providers, and others. Our intent is to keep our lens focused on the need for increased attention to an integrative approach to HIV/AIDS, one in which complementary and alternative medicine -- CAM -- is at least as logistically accessible as a visit to hospital emergency room -- and a lot more convenient and comfortable. Our aim is to promote practical strategies for creating and integrating quality healthcare that addresses all aspects of health and well-being, and for making it accessible to people with HIV and AIDS.
This article is the first of a three-part series that will re-cap some of the highlights of the October 1 conference and will summarize portions of the morning session, including remarks of both practitioners and consumers.
Unfortunately, space does not permit us to reproduce all of the valuable comments offered by panelists and workshop leaders at the conference. If you would like a conference folder, or further information about any of the panel topics or workshops that you read about here, please call Rachel at the BP office, (212) 566-7333.
Two decades into the AIDS pandemic, we finally seem to be starting to agree that there is more to treating HIV than searching for a magic pill, or an enchanted drug cocktail. AIDS has proven to be the health problem of our age -- the disease that challenges western biomedical science's toxic approach to healing. It is a new kind of disease -- an illness that rips through the social and economic seams of diverse communities in the United States and entire populations throughout the world.
Almost twenty years after AIDS emerged in the United States, our country has only just begun to accept that AIDS is more than a health problem: AIDS affects the economic status, social well-being, and physical health of entire communities. Yet throughout the globe, and particularly in the United States, we have been painfully slow to accept the need for a multifaceted approach to treating AIDS.
A multifaceted approach is difficult, after all. Such an approach entails working with social structures, educational systems, and political processes -- not to mention striving for total physical and mental health. But meanwhile, as our country ponders the difficulties of really getting down to work on AIDS, stigma against people living with HIV/AIDS is still strong in our workplaces, social circles, and even some of our healthcare facilities. Something has to change.
While some members of our HIV/AIDS community have been fighting for the creation of just such a system for years, this subject is a new one for Body Positive. We hope to be able to bring you the expertise of our more seasoned colleagues on a regular basis, through Body Positive magazine, other publications, and, for New Yorkers, workshops and forums throughout the five boroughs.
The Morning Panelists
Thanks to a professionally diverse and extremely dedicated conference committee, the morning panel of our October 1 conference took the shape of a grand tour of current issues in integrative medicine. Rather than introducing the various types of complementary and alternative medicine, or CAM, therapies available, panelists addressed the practical utilization of those therapies within a context of "integrative medicine" -- that is, an expanded concept of medicine that encompasses all aspects of physical and mental well-being. The first four panelists addressed the roles of healthcare practitioners, CAM practitioners, and patients within today's largely fragmented health system.
Diverse though the panelists were, a common theme recurred in each presentation: Whether you are living with HIV/AIDS yourself, or you love someone who is living with HIV, or you work in the HIV community -- you must learn to be an advocate for yourself, for your treatment, and for the HIV community.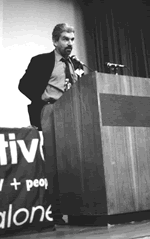 Advice From The Doctor: Talk To Your Medical Provider!
A medical practitioner, an Associate Clinical Professor of Medicine at Georgetown University, and a longtime advocate of integrating a spectrum of CAM and pharmaceutical therapies in the treatment of HIV, Dr. Richard Elion delivered the morning panel's opening address. Formerly a resident and doctor here in New York City, Dr. Elion now lives in Washington, D.C., where he offers the kind of medical practice that so many patients seek -- an environment in which CAM therapies are accorded the same level of respect that biomedical sciences receive, and in which patients are in control of their own regimens.
But Dr. Elion was quick to tell us that he was not always so accommodating. He was, after all, trained in the same medical schools as his less-accommodating colleagues. So, what happened in his life to turn him into the sensitive, caring doctor he is today?
According to Dr. Elion, his patients were his educators.
A turning point in his approach occurred when two needle sticks required him to go on HIV medications for three months as prophylaxis. As Dr. Elion put it, "That experience taught me a whole lot more empathy than I had before I was stuck, because I realized how incredibly hard it is [to take HIV medications] and how sick the drugs make you feel for the first couple months you take them."
Not every doctor gets a needle stick and goes through that process. But Dr. Elion assured audience members that there are doctors who recognize the difficulties that their patients face, and encouraged them to find them. He was adamant that patients get into the driver's seat and take their doctors exactly where they -- the patients -- want to go.
Dr. Elion assured the audience that such doctors exist and gave some advice about what to look for:
Your physician should provide you with clear and complete information, and should be able to translate the medical jargon for you so that you understand it well.
Your physician should be more interested in you than in your disease.
Your physician should demonstrate technical expertise -- that is, you should feel able to trust your doctor.
Your doctor should be committed to following up with you through a process of real communication.
And the hardest piece of all: Your doctor should like his or her job.
A good doctor can make a world of difference to a patient's success, no matter what treatments that patient chooses -- conventional, CAM, or both. Building a relationship with a physician changes the way a patient experiences HIV infection.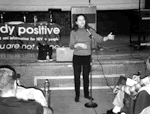 Recommendations From The Nutritionist: Take Charge Of Your Health!
Dr. Lark Lands is well-known in the HIV/AIDS community as Resident Guru of Nutrition. She travels across the country on a constant circuit of conference-hopping in order to educate diverse audiences about the need for total approaches to health through patient-centered responses to healing.
Good nutrition is the first step, says Dr. Lands, but the key to good health is to change our personal attitudes toward our bodies and wellness. We must stop relying on magic medical potions, and instead focus on the ongoing, day-to-day care of our bodies and our minds. Dr. Lands offers herself as an example: As a severe diabetic, her survival has depended on this total approach to health. "Survival" is a spare term for Dr. Lands, as anyone attending one of her workshops can attest. She is thriving. She is living proof of the value of integrated medicine.
In her words, Dr. Lands is dedicated to helping people create building blocks for living well in the HAART era. Those building blocks will make a life with HAART seem livable and happy, by using an integrated approach that minimizes problems and side effects from the drugs, while it helps the drugs to work as well as they possibly can, for as long as they possibly can.
The key? "What you need to do to manage this disease is integrate it into a life that seems livable to you. It's not easy. It's not fun. It's not simple. It takes an immense amount of work every day. Even if there's no immediate crisis, you simply have to put one foot in front of the other, and keep on keepin' on, and doing all the work ... when you don't really feel like it."
If you don't understand that point of view, you may not really believe it's worth the effort really to take care of yourself, and to do all of the things that the panelists and the workshop leaders at the conference go on to suggest. Dr. Lands encouraged everyone: Make a commitment to take charge of your health and your life -- or to help your clients take charge of their lives -- and then go on to fight this disease in a practical, integrated, day-to-day way.
What the Patients Say: Organize, Experiment Wisely, Read Everything, and Question the Establishment!
Next, Evan Ruderman and Chardelle Lassiter took the stage as patient advocates. Both women are living with AIDS, but each has experienced HIV very differently throughout the course of her infection. Together, they brought the experts' advice back to reality -- the daily reality of living with HIV/AIDS in New York City, with its maze of doctors' offices, "underground" treatments, and murky research.
What was perhaps most striking about the two women's statements was that each of them has experienced HIV infection in such a vastly different way from the other.
Evan's Experience
For Evan -- who was diagnosed in 1989, after she had already become sick -- HIV infection has meant ten years of hospitalizations, AZT, experimental therapies, doctors' offices, and underground treatment groups. She has twice come perilously close to death, and yet she maintains genuine optimism for the future of HIV treatment, and an overall, overwhelming "reverence for life."
Evan took the opportunity to urge that audience members really get involved in their own treatment decisions. While her point of view is not new to people living with HIV, Evan did suggest some new ways of approaching doctors and new ways of thinking about treatment. For instance:
Write your doctor a letter. First, thank her or him for all she or he has done for you. Then ask your doctor to help you to step into a new type of doctor-patient relationship, one in which greater communication takes place.

Organize patients within your own doctor's office. Take the initiative to form small groups of four to five people each, and schedule monthly meetings at which you'll get together and go line by line through your bloodwork. Talk about it with each other, and chart it together. Create a supportive way of keeping a diary of your vital statistics, of keeping track of what each person is doing, and of what's working for each of you. The biggest questions in the HIV treatment game revolve around creating individualized treatment regimens. By finding out what works and what doesn't, you will expand your knowledge about all types of treatment and be able to avoid the pitfalls that others have fallen into.

Get together with other patients and begin to put together materials that you can each bring to your respective doctors. These materials might be pamphlets about CAM therapies or research, or your group might put together its own quarterly newsletter. Compile information that might be helpful to your doctor. In many cases, doctors do care about these issues, but they simply don't have time to do their own research and read every article that comes along. Even if your doctor doesn't agree with, or value, everything you bring in, at the very least your activities are bound to start some conversation between the two of you.
Chardelle's View
Unlike Evan, Chardelle has been quite healthy since her 1988 HIV diagnosis. At that time, Chardelle's only treatment option was AZT -- not a real choice, as far as she was concerned. Chardelle decided to stay away from pharmaceuticals, and instead to live in a healthy and holistic fashion.
In 1995, for various personal reasons, Chardelle decided to become more active about her own treatment. She embarked on an odyssey of visits to doctors' offices, clinics, and hospitals -- none of which seemed to value her interest in nonbiomedical, CAM, care. The responses, as Chardelle put it, "ranged from contempt to dismissal." She noted that she emerged from the process "much more knowledgeable about treatments, but just as confused as ever."
Chardelle then shifted her direction, beginning a new journey into the realm of CAM therapies. By now, she has experimented with everything from acupuncture to aromatherapy to massage, and all the methods in between. Her lifesaver, however, has been her involvement with a support group for pharmaceutically naive people with HIV -- that is, people with HIV who have never used any conventional medications like AZT or protease inhibitors. The group meets once every two weeks to share participants' experiences, successes, and failures in a supportive environment that creates a safe space to ask questions, voice concerns, and explore fears.
Chardelle noted that several members of the group recently decided to try pharmaceuticals, which has introduced a new dynamic into the group. Yet she encouraged the audience to consider joining this group if they have questions about CAM therapies, and if they feel they might benefit from a safe space in which to explore some of those questions. The group is facilitated by Mark Niedzolkowski at the PWA Health Group, who can be contacted at (212) 255-0520.
Chardelle shares this part of her life in her poem "The Doctor's Office," printed as an accompaniment to this article.
The Doctor's Office
by Chardelle Lassiter
Here I am once again
in the doctor's office
getting prodded, poked, and probed
in every private orifice
There are capsules and pills
of all types and descriptions
There are needles, and vials
bloodwork, and prescriptions
I have been to so many places
amid a sea of strange faces
that don't know me from Adam
Yet, I'll go on trying
while they watch me dying and say
"sorry, but we can't save you, madam"
Perhaps if you take these forty pills every day
and drink your Megase
you won't waste away!
Nooo, we still can't cure you but we implore you
take a pill and don't forget your bill
Oh! We can't take personal checks,
and sorry, my dear, but we still don't quite know
this medication's full side effects
As I don't want to die
I must strictly comply
and follow the doctor's orders
though I've heard through the grapevine
that there is a cure
in a little town south of the border
Coming here makes me stressed!
Is it over? Can I get dressed?
Before I leave I make my next appointment
then stop at the pharmacy and wait some more
to get yet another tube of ointment
They don't know how long
all of this must go on
and they tell me "hold on" to
your end of this rope
They say: "research is ongoing and lab tests are showing
results of strong promise and hope"
Well, that's really good to hear!
I'll be among the first to cheer!
I pray you soon have much success!
While you're very kind
there are things I'd rather
do with my time
than spend it in
the doctor's office
"The Doctor's Office" will appear in Inner Noise and Other Sounds_, a collection of Chardelle Lassiter's poems soon to be published by DPW Graphics._
Coverage of the CAM Conference continues in the January Body Positive_, where we will present a call to action from individuals working on the national level. The "nuts-and-bolts" issues discussed in the afternoon will appear in February's issue._
Rachel Sacks is Co-Director of Community Outreach and Education at Body Positive, Inc., and organized the agency's CAM Conference.
Back to the December 1999 Issue of Body Positive Magazine