Housing Opportunities for Persons with AIDS (HOPWA) Program Summaries
1999 Executive Summaries of HOPWA Programs
"For too many Americans living with AIDS, poverty is nearly as much of a threat as the disease itself . . . Without our help, many would be forced to live in unfit housing or become homeless. These grants mean that people fighting AIDS won't have to fight to keep a roof over their heads."
-- Vice President Al Gore
HUD estimated that the FY99 HOPWA appropriation of $225 million will provide housing assistance to about 51,875 persons, including family members who reside with the persons living with HIV/AIDS in about 41,500 units of housing.
Each HOPWA jurisdiction has submitted to the Office of HIV/AIDS Housing a summary of activities encompasing the past 12 months of their 1998 program year. The summaries were compiled for and are a part of the 1999 HOPWA Program Report to Congress. States that have HOPWA-funded programs are shown in blue. To access a particular jurisdiction, you may click on the abbreviation for the state in which the program resides. The files are also available in PDF format.
HOPWA Programs by State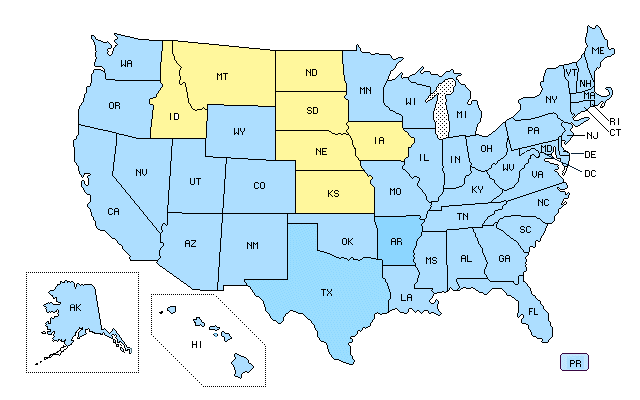 Office of HIV/AIDS Housing
451 Seventh Street, SW, Room 7212
Washington DC 20410
202-401-8939 (FAX)