Hospice And Supportive Care
People often have the wrong idea about hospice care. They think a hospice is a facility that people go to when death is just around the corner. Nothing could be further from the truth.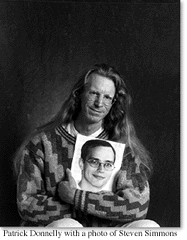 New York City has seen a welcome and dramatic decrease in the number of AIDS/HIV-related deaths this past year. Some statistics report the death rate dropped 30% compared to the rate in 1995. While this is marvelous, and we pray for even better reports this year, the sad reality is that many people are still dying from complications due to HIV disease/AIDS. What is particularly sad is that in New York, of those who die from these AIDS-related complications, fewer than 3% receive the palliative and supportive care offered by the city's seven hospices and supportive care programs.
There are many reasons for the underutilization of hospice services. There has been a great misunderstanding of what hospice and supportive or palliative care are and what they offer to someone living with HIV disease/AIDS. Hospice is a specialized program of care for the patient with a life-threatening illness.
The American Heritage Dictionary defines palliative as "relieving or soothing the symptoms of a disease or disorder without effecting a cure." The goal of any hospice or supportive care program is to keep the patient as comfortable as possible by relieving pain and other discomforting symptoms and to support both the patient and family by helping them to understand and manage what is happening. Hospice and supportive care view "family" in the broadest sense, including spouses, lovers, partners, children, and any loved one who forms the patient's basis for social and emotional support.
What It Is And Is Not
Hospice is often seen as a place to go to die when all hope is gone. The truth is that hospice is not a place. Hospice is NOT a residential or housing program, nor is it a nursing home. Hospice is a philosophy of care that places comfort and relief of pain before curative treatments. The vast majority of hospice patients receive hospice care right in their own homes. Hospice offers the hope that a patient can live with a sense of well being and shifts the focus of care to quality of life. Should a person be too ill to remain at home, care often can be arranged through a variety of nursing homes that have contracts with the various hospice programs.
Many patients, and even many doctors, believe that if a patient is accepted for hospice care they will no longer be under the care of the specialist who has been taking care of them for years throughout the course of their illness. Each hospice does have its own doctor. He/she works closely with the patient's primary care physician in determining an individualized treatment plan for each patient. The hospice medical director can become the patient's primary care physician if the patient chooses, but most patients prefer to maintain their relationship with the specialist who has been treating them all along. Hospices encourage every patient to retain their primary care physician, and can even assist in selecting one if the patient does not yet have one.
Hospice and supportive care offer skilled registered nurses who will visit the home and coordinate care with the patient's own doctor and the other members of the hospice/supportive care team. Social workers are available for counseling, support, and coordination of services with other community-based agencies. Each program offers pastoral care counselors to address both the spiritual needs of the patient and those of the other significant people in their life. Many hospice and supportive care programs offer services such as art or music therapy.
Many people are reluctant to choose hospice because they fear that they will not be treated for opportunistic infections, or will not have access to new treatments. With hospice though, the care and treatment the patient receives is determined on an individual basis by the patient and their physician.
While most hospice and supportive care is provided in the patient's home, there may come a time when hospitalization is needed. All certified hospice programs have access to inpatient units designed to meet your intermittent acute care needs. When it is appropriate and necessary, inpatient care may be provided in a hospice-contracted facility.
Hospice services are usually covered by most insurance policies, and H.M.O.s as well as Medicare and Medicaid. Even New York State's Uninsured Care Program known as ADAP+ (AIDS Drug Assistance Plan) covers hospice care. There is a lifetime homecare benefit cap with ADAP+ of $25,000. In hospice however, no one is refused services because of inability to pay.
Some people mistakenly see hospice care as "the end of the line." It is important to remember that hospice care is the patient's choice, and should their condition improve or stabilize to a point that hospice care is no longer needed, they can be discharged from the program. However, should their condition change again, they may be eligible to resume hospice services at a later time.
It has been asked recently if there is even a need at all for hospice care for PLWAs, considering the advance in treatments that we've seen in the past year or so. One doctor at a well known infectious disease clinic even asked why someone working with PLWAs would work for hospice saying, "We don't need hospice. We have protease inhibitors." Unfortunately, this is an inaccurate statement. Everyone working in hospice wishes it were true, but it is generally acceptable in the medical community that an alarming 15% of all patients taking protease inhibitors have developed resistance to the drugs. As good as the results are for most people, there are those for whom the drugs do not provide the expected benefits. The drug combinations are not easy to take, either. Scheduling each dose and making dietary accommodations, as well as some unpleasant side effects, have led many patients down a dangerous path of inconsistency. Strict adherence to the treatments are essential for success. It is becoming clear that new drugs that are not cross resistant with today's protease inhibitors are vital. [Editor's note: For more information on adherence, see the October 1997 issue of Body Positive for an article entitled, "HIV Treatment: The Importance of Adherence,"]
Hospice does not want to rain on anyone's parade and squelch the first notes of joy that have been sounded in the AIDS community since the epidemic began. On the other hand, hospice does not want our community to forget about those in our midst for whom the new treatments are not providing the life-extending benefits that were hoped for. Until there is a cure, hospice will continue to be available for anyone whose disease continues to progress in spite of treatment.
How is Quality Care Being Achieved
The question is sometimes asked if hospice hastens death. The answer is absolutely not. Hospice believes in the inherent dignity of all life, and is committed to helping its patients to live and enjoy life to the fullest extent possible. Some patients who do much better than they or their physician had anticipated attribute this to the quality of care they received and the relief of painful symptoms.
A Summary of Hospice Care Would Include
Management of pain and other physical symptoms.

The services of a hospice medical director who works closely with the patient's primary care physician to oversee care and treatment.

The services of certified social workers who can provide counseling and support as well as coordination of services with other community based-agencies; assistance with permanency planning for the care of children, as well as will and estate planning.

The services of registered nurses who visit the home and work closely with the patient's primary care physician to coordinate communication among team members, providing consistent monitoring of all services and prompt implementation of any necessary changes in treatment.

Assistance with personal care and activities of daily living provided by health care professionals, including home health aides or home attendants.

The services of pastoral care counselors who are available to address spiritual needs of both the patient and those of the significant people in the patient's life.

Support for significant others such as guidance in caregiving techniques as well as bereavement counseling.

Short-term inpatient care for symptom control.

Direct telephone access to hospice staff 24 hours a day, 7 days a week.

Trained volunteers to provide help and companionship for the patient or to give their primary caregiver respite.

Coordination of medications, therapies, supplies and equipment in the home.
In February 1997, a coalition of hospices and supportive care programs began a project to address the underutilization of hospice services by people living with HIV disease/AIDS in New York City. Named the New York City Hospices and Supportive Care AIDS Initiative, the project seeks to address the issues that prevent people with advanced disease progression from seeking hospice care. The project has three goals:
One: to promote programmatic expansions and development of a standard of care among the hospices that will encourage people with HIV disease/AIDS who have been experiencing significant disease progression to take advantage of the palliative and life-affirming care that hospice offers.

Two: to undertake cooperative efforts with healthcare and social service providers to make the community more aware of the services that are available through hospice and supportive care.

Three: to work with state legislators to ensure adequate and equitable financing of hospice care for people with HIV disease/AIDS.
Hospice and supportive care are life-affirming choices for any person who is experiencing advanced disease progression of a life-threatening illness. The services are best utilized if taken advantage of for a period of two to three months, rather than waiting until just days or moments before someone dies. The decision to initiate hospice care should be made when the disease has progressed to the point where decisions need to be made regarding aggressive, life-prolonging treatment.
An excellent option is to choose a hospice or supportive care program to provide your care long before such care might be needed, specifying your wishes in a legal document known as a "Medical Directive and Health Care Proxy." One does not need to be extremely ill to complete a Medical Directive and Health Care Proxy, but people who do so while they are well can help assure that their wishes regarding their care and treatment are respected should they one day become ill. A copy of a Medical Directive and Health Care Proxy can be obtained by writing to the AIDS Initiative at the above address.
Everyone working in health and social services is greatly encouraged by recent advances in the treatment of HIV disease as well as the many opportunistic infections that have been so problematic to us all. While we eagerly await the day when further advancements in treatments will make programs like hospice unnecessary for PLWAs, it is a comfort to know that, for now, the compassionate care of hospice is available.
You can contact the project at:
John A. Chermack, Project Director
The New York City Hospices and Supportive Care AIDS Initiative
Madison Square Station
P.O. Box Nine
New York, NY 10159-0009
Phone: (212) 420-2838
Fax: (212) 844-1802
e-mail: diazchermack@earthlink.net
The New York State
Hospice Association
21 Aviation Road
Albany, NY 11205
Phone: (518) 446-1483




For information on
hospice programs
in other states call:

The National Hospice Association
1901 North Moore Street
Suite 901
West Arlington, VA 22209
Phone: 1 (800) 658-8898
Back to the November 97 Issue of Body Positive Magazine.