HIV Prevention: Ain't No Mountain High Enough
The Catskill Rural AIDS Services Education Program
Joanne Westcott, Barb Cronk and Joan Cronauer have been the volunteer AIDS educators for Catskill Rural AIDS Services for over three years. To meet them without knowing anything about them, you would never imagine that these three women from a rural village in upstate New York talk graphically and factually about condom-use and how to clean needles . . . they pull no punches when talking about AIDS prevention.
Two of them are members of the volunteer Emergency Squad and one is on the local Board of Education. They are retired and active in their community. But AIDS has touched their lives. Thirteen years ago, Joanne's son died of complications of AIDS. Joan was his kindergarten teacher and Barb was his school bus driver. All three have a mission that comes from their loss. That mission is to educate their neighbors in this rural area of upstate New York about AIDS and how to prevent it. Rural areas pose a special challenge to AIDS educators and service providers. Joanne, Barb and Joan are part of the effort by Catskill Rural AIDS Services to bring the message of prevention to our rural region.
In the Mountains
Catskill Rural AIDS Services (CRAS) is based in Oneonta, New York, and provides support and HIV-prevention services for two rural counties with only private, non-governmental financial support.
Delaware and Otsego Counties are among the most rural of New York State. The 2000 census showed 48,055 people in Delaware County and 61,676 in Otsego County each within an area roughly the size of the state of Rhode Island. That translates, respectively, to around 33 and 61 persons per square mile. Oneonta is the only incorporated city in either county but would be considered a small town by most standards.
In this area of the western Catskills, agriculture remains the basis of the economy. It has been a destination for tourists and second home-owners for a very long time and there are several colleges which bring students from other areas. It is a region of rolling hills, green valleys, streams, farms and small towns.
Delaware County, in headwaters of the Delaware River, is a once-thriving farming region that has been economically depressed since shortly after World War II when much of the prime agricultural land was condemned to allow development of a series of reservoirs supplying water to New York City. This had a worsening effect on the economy of the area while also acting to preserve much of its natural beauty.
Otsego County is in the Susquehanna River basin. There is a major highway running through the county linking Albany to Binghamton, with Oneonta being equidistant to those cities. With a similar topography, Otsego County has also been a rural agricultural area with many small towns. Cooperstown, on the eastern end of the county is a major summer resort with The National Baseball Hall of Fame, Glimmerglass Opera and Otsego Lake. For area residents it is an important center for healthcare with its model rural hospital, Bassett Health Care. Both counties share a poverty level of around 15 percent and a median income of around $30,000.
There is a real lack of understanding about rural areas such as these. At last year's AIDS Policy Conference in New York City, CRAS organized a meeting for rural service providers and, much to our surprise, people showed up from Staten Island and Brooklyn. A woman from Staten Island referred to its "rural neighborhoods!" Many people think that if there are lots of trees and only a few apartment buildings, if it's pretty, then it's rural. But in rural communities, although the distances may be great, the web of relationships is tight: the pharmacist is your neighbor's father-in-law, a member of your church, the first husband of the postal clerk, and the brother of your insurance agent. When you drive down the road, go to the supermarket, sit in the doctor's waiting room or pick up your prescriptions, there are almost always people around who know you. That is what rural means. The problems of providing AIDS services and education in rural areas are not just geographical, but social and cultural as well. In this kind of tight-knit social milieu, when people feel unsure of how others will react to their being HIV-positive, they hide, isolate themselves, and try to be invisible. The consequences can be devastating when people assume that AIDS is a purely urban problem and, anyway, if AIDS were around in their community, they'd know about it. Joanne, Barb and Joan are devoted to attacking this dangerous idea.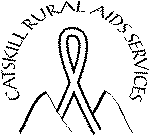 A Mandate for Prevention
When Catskill Rural AIDS Services organized in August 1997 as an independent, all-volunteer service provider, the founders added an HIV-prevention education mandate as a role secondary to providing support services to people infected with HIV and their families. It was understood how very important it was for those dealing with HIV/AIDS to have an organization working to reduce the stigma of the illness and to make sure that people in this region had the facts to avoid getting infected.
The heart of the education program was a seminar developed at Cornell University called "Talking with Kids About AIDS," a packaged educational program with manuals and teaching aids, taught to a group of 7 to 10 people. After taking the course, students are supposed to be able to teach their own course to other adults. Adults, whether parent, teacher or preacher, are instructed in order to relay factual information about HIV/AIDS to the children in their lives. This device seemed ideal and non-controversial in this rural area where AIDS education can become a hot potato especially when young people are involved. The "Three Education Ladies," as Joanne, Barb and Joan, came to be known, started out teaching this program.
It has not been easy gaining access to civic, religious and school groups. Often those in charge consider it highly risky even to entertain the idea of presenting a program about AIDS. Around seven years ago, at School Board Candidates' night at Margaretville Central School, also in Delaware County, two candidates fielded questions from the audience. A candidate, who won the election, was asked her position on AIDS education in the school and responded, raising her hands saying, "I can't even say the word, it's so terrible." It was horrifying but not surprising. AIDS and HIV were never mentioned in the local newspapers, radio or television, reinforcing the myth that it did not exist here. People living with HIV were heavily stigmatized and alienated or just plain invisible. The community service provider responsible for the area had offices in Johnson City near Binghamton, nearly 100 miles away from Margaretville. They provided few services to the rural parts of their service area.
Go Tell It In the Mountains
Slowly the tide has been changing and CRAS's education efforts, including the Education Ladies, have been critical to those changes. Two years ago, a graduate of Margaretville Central School living with AIDS, who had lost her husband to AIDS, asked the high school principal if she could present a program to the school. She did it with one of the Education Ladies and had the students glued to their seats. This year, Franklin Central School had the Education Ladies present their seminars to junior and senior high school students. Otsego and Delaware county social service employees, parents at Oneonta High School and an Otsego County Board of Cooperative Educational Services (BOCES) have also participated in the seminars or abbreviated versions of them.
In June, we sat in a small café in Delhi, New York, the county seat of Delaware County, with Joan, Joanne and Barb. One of them was telling us why it is so important for them to do presentations in area schools. "I was asked by a senior, a senior in high school: If she had AIDS and gave it to someone else, does that mean that she doesn't have it any more?" Joan went on to say that certainly not all of the students have ideas that are so off-base but almost all of them react to what they are saying.
When Joanne tells her story, the students begin to listen because their rationale that it won't affect them gets severely challenged. Although they started out adhering to the Cornell program and presenting it to adult groups, they have come to the conclusion that the focus should be kids: schools, scouts, 4-H and the like. They say that they don't know if it really makes a difference but they feel that they are doing something that at least makes an impression. Hopefully the message really gets through. Their impression is that most of the kids have heard about AIDS but for the most part, they have not been affected by it personally. What they hope to accomplish is to provide an opportunity for frank discussion with "three old ladies" who could have been their elementary school teachers.
Aside from the teaching program, there are two other programs of prevention education. One is a speakers bureau with PWAs who speak to groups such as students at SUNY Oneonta, Hamilton College, Colgate, the Catskill Women's Network, the Andes Roundtable, and nurses' training days. In rural areas it is initially anxiety-provoking to address community groups near home since you never know who will be in the audience when you "come out." However, everyone we know who has done this feels greatly satisfied, particularly with the questions asked at the end.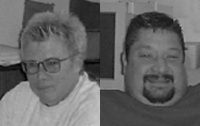 Executive Director Lea Folland (left) and Program Assistant Chuck Christoffers
Positive Outcomes
When asked to speak at the nurses training day, a client immediately agreed without thinking of the possible ramifications. Although he'd never spoken publicly about having AIDS he thought it was important that first-hand testimony be presented. He arrived at the Hartwick College classroom early enough to listen to the other presentors. Sitting in the audience, he saw one of his neighbors, a nurse at Margaretville Hospital (he lives outside of a village of 65 people). His immediate reaction was to get up and leave, but he decided to stay and started his talk by telling about that moment of panic and shame. When he finished, the neighbor came up to him, gave him a hug and told him that she was surprised that he didn't know she'd become a nurse because her late brother-in-law had been ill with AIDS and she had been one of his care-givers. Many doors were opened.
The same sort of experience occurred the next year when a client spoke to a group of fifty people in the small town of Andes. The woman who cleaned his house was in the audience and asked how this affected his HIV-negative partner. He asked if she had been aware that he was HIV positive and she said that she hadn't been. After that presentation, he continuously ran into people who had been in the audience and received very sympathetic comments. His act of going public surprised many who never considered AIDS to be an issue in our area.
Last April 7th, the Oneonta Daily Star newspaper ran an article entitled "Life Lessons." In it they stated: "problems faced by people trying to present information about AIDS prevention and awareness were brought home in a story about the life of Russell Hanson, who died of complications from the infection earlier this week. Hanson was remembered by many for having the courage to discuss the facts about AIDS with students in high schools and universities in the region."
"It's important that people understand that the disease is out there, that people can die," said Lea Folland, executive director of Catskill Rural AIDS Services. She said that the organization has been trying to get schools interested in having seminars for their students about sexually transmitted diseases, including AIDS. But so far, she said, the response shows a reluctance, which is discouraging because the disease can be prevented. During the latter part of the spring, the Board of Catskill Rural AIDS Services decided to intensify efforts with area schools.


From left: Chuck Christoffers and Lea Folland with Board Chair Andrew Weiss at the Catskill Rural AIDS Services in Oneonta, NY
Building Public Awareness
The other CRAS prevention program is an intense public relations campaign in the local media. We have raised enough money to run weekly ads for our hotline in the free shopper-newspapers that circulate in both counties. We make frequent press releases to area newspapers (which are generally weeklies), radio stations and cable-TV bulletin boards. Last year we were given a small grant from Cable Positive to produce a 30-second cable television public service announcement. Although many parts of the area do not have cable television service, Oneonta and many villages do. We produced a public service announcement aimed at the rural population with the basic message that AIDS is here and it is important to know the facts. Produced with the help of many volunteers and with the generous contribution of many hours from a local filmmaker, our public service announcement won Cable Positive's Tony Cox Award for the best PSA for the year 2000.
Media campaigns are difficult in a mountainous rural area. No one newspaper, radio station, TV station, or cable system, services the entire area, so disseminating information becomes incredibly complex. The primary tangible effect of our publicity, though, has been a significant increase in calls to our hotline. We know from personal experiences that it has also increased public understanding. Years ago, one of our predecessor organizations was refused a table at the Delaware County Fair because of pressure on and from county supervisors. Last year when a pilot anonymous-testing program came to an end, the CRAS Board President met with the head of the Public Health Committee and the county supervisors saw to it that the program continued.
CRAS sponsored a Pastoral Care Luncheon for the second time, called "When AIDS Comes to Church." Clergy from all of the religious institutions in both counties were invited to a luncheon to listen to the CRAS Executive Director and to colleagues from Woodstock and Albany. They encouraged the ministers to acknowledge the presence of HIV/AIDS in their communities, to open a door for people seeking their help.
With all this visibility and advocacy, it is clear that the wall of silence has begun to crumble. CRAS clients see more public support and feel that there is increased understanding and more clients have come out about their HIV status.
Last year, quite unexpectedly, the Masonic Lodge in Margaretville sent an unsolicited donation to CRAS to be used for prevention education. We still hear of some incidents of intolerance, but the obituaries of three of the five CRAS clients who died during the past eighteen months are a significant mark of important changes. Written by friends and family for publication in the Daily Star, the area's most widely distributed newspaper, all three explicitly mentioned struggles with AIDS. This almost never happened before. At the last AIDS funeral we attended in the village of Unadilla, when the congregation was asked to share its thoughts about the deceased, someone stood up and said, "I think he would want us to use the word AIDS." Those in the congregation, including Joanne the Education Lady, knew something important had happened.
Marc Osterweil is a Board member of Catskill Rural AIDS Services and is a volunteer in charge of public relations. Andrew Weiss is the president of the board.
Contact Information for Catskill Rural AIDS Services
Address: 66 Chestnut Street
Oneonta, NY 13820
Phone: (607) 436-9554 or (800) 976-2727
E-mail: crasmail@catskill.net
Web page: catskill-aids.org
Executive Director: Lea Folland
Office hours: Tuesday-Thursday 10am - 4pm; Friday 10am - 6pm