It was a typical scenario at Fez, a hip downtown bar filled with people chatting, drinking, and trying to catch up with each other at the end of a long day. It was the kind of place, with its dusky lighting, long, low couches, and over-stuffed pillows, that encouraged intimate conversation. A couple on one of the couches seemed unaware of anyone else -- their bodies curled toward one another, foreheads almost touching. Their whispers were broken only by an occasional laugh at some inside joke. The man's hand gently cradling the woman's ankle made it apparent that spring had sprung.
On the other side of town, a DJ was playing a selection of '70s disco hits while couples and small groups of three and four danced enthusiastically. The setting was brighter and less intimate than Fez, but couples huddled together with just as much intensity and friends called out and greeted each other, hugging and laughing each time someone new joined their group.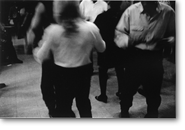 These are typical New York scenes with a not-so-typical purpose. Both the lovestruck couple and the dancers moving to the heavy bass of Grand Master Flash participate in socials designed as a way for straight, HIV-positive singles to meet. The socials act as an alternative to the more traditional ways of meeting people at which this community is often made to feel unwelcome.
Body Positive and Two Guys and a Girl, two New York City-based organizations, sponsor social events approximately once a month. "There was an obvious need to create something like this," says Two Guys and a Girl founder Thorner Harris, who, along with two friends produces events that create a space for singles to meet without the fear of disclosure. "It's all a matter of creating a community," Thorner explains. "There is no HIV-positive heterosexual community in this area."
While New York is home to over 150,000 HIV-positive people, many like Thorner Harris estimate that the number of heterosexuals infected with HIV hovers at around 10% of that figure. For the singles that make up that population there are very few resources available. Aware of the growing need for these singles to network, Carmen Navarro of Body Positive started a monthly Friday night social five years ago. She was responding to a need in the community. "We had sponsored gay socials for quite awhile but we were getting numerous calls on the hotline from heterosexuals who wanted to meet someone. I knew that sending them to support groups just wasn't enough."
The dances, which take place in the Duke Ellington Room of the Manhattan Plaza Building, have the air of a church social to them. No alcohol is served, creating a safe environment for those in recovery, and food donated from nearby bakeries is bountiful. At theme dances like the Valentine's Day fete, the New Year's bash, or the regular Friday night frolics, DJ Positive One creates the kind of beat that moves people. One couple merengues to everything, another seems joined at the hip, while still others dance by themselves just for the sheer joy of it. And though the events take place once a month, there is an air of friends greeting long-lost friends. Everyone is welcoming, even to newcomers. "What I try to do," says Carmen, "is pair up new people with regulars -- sort of a buddy system -- so no one feels left out. So many friendships have grown out of that."
The mix of people at these events is nearly as diverse as the mix of music. Blacks, whites and Latins, young and old, brush hips on the dance floor. Yet, the pervasive feeling throughout the room is that all are welcome. "I like it because you see all different kinds of people, but there's no arguing, no fighting," says Janice, who began attending the Body Positive socials in 1995. Ayisha, a Body Positive volunteer who has been attending the dances for two-and-a-half years, echoes her sentiments: "All types of people come here, married and single, because even though there's a lot of information out there, by coming here you can make connections and learn about so much more."
Sixty to eighty people attend every social and those who have been coming for years agree that attendance has jumped over 20% since the boom-box stuffed with homemade tapes was retired. However, the food and the music are secondary to the event itself. The Body Positive socials create a community and support network where people can share their thoughts and experiences with other HIV-positive straight singles. "It's harder for straight positive people to meet and form new friendships than for homosexuals. Heterosexuals have always had to contend with society pushing marriage and having babies; that doesn't stop for positive people and it just makes life harder," says Navarro. "Gay men have had an easier time of it. aids has been part of gay consciousness longer and positive people are much more easily accepted within the gay community. Even at gay positive tea dances, you'll find men who aren't positive and it's not a problem. You'd never find that at a straight positive social."
Thorner Harris agrees. "Serodiscordant relationships between two gay men within the gay community are acceptable, but when you impose the same kind of risks on a serodiscordant relationship between heterosexuals it's just not possible to establish a relationship. The gay community has had almost two decades of acceptance. This is not the case in the heterosexual community. It's changing slowly; after all, the situation isn't the same as it was ten years ago, five years ago, or even a year ago. In the gay community a 16-year-old will have grown-up with aids and safe sex as part of his consciousness and experience but a 16-year-old straight kid isn't thinking about a partner who is positive. Neither is a 20-year-old or even a 30-year-old for that matter. This is the big divider between the gay and straight communities -- and it all comes down to reproduction. Gay men aren't here to make a family. If they want to have a family they can adopt, but a straight person would like to have a mate they could do that with, and that makes an HIV-positive person that much less attractive. There is still so much stigma attached to a positive status in the heterosexual community. The baggage is just incredible.
"Aside from that," Thorner continues, "one of the greatest problems with this virus is that you feel so alone. You think to yourself, who can I share this with? In a normal life you'd be able to share with your family and friends, but often in this situation you can't. And even though people need to release their emotions, there's more to life than support groups. People shouldn't have to feel alone. This community exists! There are options where people like me can meet others and not feel so alone."
Ray, a regular at the Body Positive socials, agrees. "The socials do a lot for me spiritually and emotionally. Coming here I can meet other people who are in the same situation. It's a great place to socialize with people who can identify with your status."
Ray doesn't limit himself to the Body Positive socials; he attends socials thrown by Two Guys and a Girl as well. Thorner Harris and two friends started their socials in January 1995 because they felt that although Body Positive served one heterosexual community, it didn't serve all the heterosexual communities in New York.
"Two Guys and a Girl tries to serve another set of communities," Thorner explains. "This city is so diverse that there could be an infinite number of networking events to reflect the world and the communities we live in. Body Positive couldn't possibly serve all those communities and neither can we. We complement each other." And so the West Thirty-third Street Tenant's Association was born. "There are no apartment buildings on West 33rd Street," says Thorner with a laugh. "The Association was a front that allowed us to rent rooms at restaurants and bars without breaking any confidentiality issues."
The group often meets at bars and restaurants where there is a "mixed" crowd. These events, like the one at Fez, are known as "pin" events, named for the Keith Haring pin that participants wear to identify other members of the group. Private networking events are the main thrust of Two Guys and a Girl's energies, but the "pin" events were established to create diversity and to encourage all members of the straight HIV-positive community to attend no matter what their financial status. Though pin events -- as well as other events like the Chinese New Year's dinner or dancing at PolyEsthers -- usually include about 40 people between the ages of 30 to 40, the second anniversary party at the Now Bar was attended by well over 100 people, including those from as far away as Virginia and as young as 22. A few people in suits dot the landscape at any Two Guys and a Girl event, but they are always accompanied by those in jeans, sweaters, and mini-skirts.
For many participants of both socials the fear of disclosure has kept an otherwise active social life to a minimum. Self-doubt, self-loathing and fear can render someone helpless and alone. Socials have been able to provide a place to mingle without worrying about trying to develop serodiscordant relationships.
John, who snuggles next to Lisa on a couch at Fez, remembers with a great deal of sadness the one time he dated someone who was unaware of his status. "When it finally got to the point where we were becoming more intimate I knew I had to tell her. I was sick with fear but I did it. She ended up becoming hysterical and I had to comfort her for the rest of the evening. I never want to go through that again."
"This," he says, hugging Lisa, "is much better."
Linda -- a woman who attends the socials on a regular basis -- says it was fear that kept her home as well. "I thought no man would be interested in me when I found out I was positive, but I feel comfortable here and I've made quite a few friends through these socials. I even went to the Bahamas with a group from Two Guys and a Girl and had a wonderful time."
And love, ironically enough, can strike anyone at anytime. Thorner, who met his fiancée at an early social, marvels that his situation would lead him to meet "the most wonderful person in the world." Villard, who met Janice eight months ago at a Body Positive social, gazes lovingly at her and says proudly, "We're going to have a baby together." All this talk of love is nothing new to Carmen Navarro, who laughs as she says, "I hear about people hooking up all the time, dating, sometimes living together. That's great, but I think the important thing is people are developing connections. They have begun to socialize outside the socials and are forming their own networks of friends."
For many, meeting that "special someone" is not the primary reason for attending these socials. Annette Rodriguez, founder of Positive Lifestyles (the name of which may change in the future to Sundance to protect the anonymity and confidentiality of the participants), a newly-formed New Jersey-based singles social, realizes that for herself as well as many of her friends, "it's not about meeting someone, it's about making connections." For Annette, who recently lost her partner, it was hard to conceive of ever wanting to socialize again. But that's different now. "Friends are the one thing that heal the most," she says.
Body Positive Socials take place on the first Friday of every month at 400 W. 43rd Street, at The Duke Ellington Room from 6-9p.m.. There is a $5.00 suggested donation at the door. For more information please contact Body Positive at 566-7333.
Two Guys and a Girl socials are held once a month. For more information contact Thorner Harris at P.O. Box #251 or ThornerB@aol.com There is a $20.00 charge for private networking events.
Positive Lifestyles (Sundance) will also take place once a month. The fee is $20.00. For information contact Annette Rodriguez at 914-756-1531; by e-mail at Joannja@aol.com; or at P.O. Box 385, Monmouth Junction, New Jersey 08852.
Jessica Applestone is a freelance writer and publicist based in New York City. She is deeply involved with the buddy program at Gay Men's Health Crisis.
Editor's Note: Some of the names of people mentioned in this article have been changed to protect their anonymity.
Back to the May 97 Issue of Body Positive Magazine