[![HIV & Me: A Guide to Living With HIV for Hispanics](https://img.thebody.com/redesign/images/hisp/hisp_header_650.gif)](/content/art49550.html)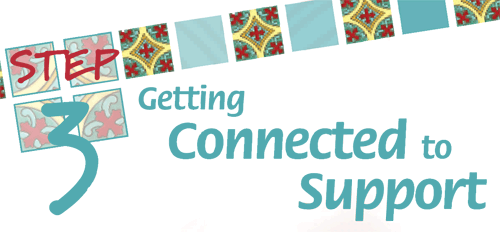 As we mentioned, nobody should face an HIV diagnosis alone. So, whatever your reservations, make sure you connect with other HIV-positive people. It's a key step towards solving both the emotional and practical problems of living with HIV. Knowing when you need help is vital. An HIV/AIDS organization can be a lifeline. Many such organizations have case managers who can help you move forward on many of your health care issues.
You'll find most, if not all, of the following at HIV/AIDS organizations:
HIV support groups
Mental health and substance abuse counseling
Case managers who can connect you to government aid you may need, such as Medicaid, disability insurance or medication assistance
Expert information on HIV and nutrition, fitness and other issues
HIV treatment information and adherence workshops to help with taking HIV medications
HIV prevention counseling, safer sex workshops and free condoms
Most big cities have several HIV/AIDS organizations geared to meet the needs of different populations. For help in finding a local organization, go online to www.thebody.com/hotlines.html or call the CDC Health Line at 1-800-232-4636.
For online information for anyone just diagnosed with HIV, visit: www.thebody.com/justdiagnosed.
"One of my friends who was sick told me to go to the San Francisco AIDS Foundation. I knew that I could learn a lot over there ... focus on getting healthy and learning about medications. That's why I'm still there, almost every day. They have different classes. Right now I'm taking a class on HIV medications."
-- Rubén Echeverría Hernández, diagnosed in 2002