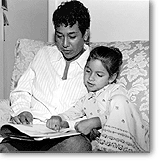 Living with HIV and AIDS is tough on anyone. The endless rounds of doctors' visits, the medications and their side effects, the uncertainty -- all take their toll on even the most well-informed and well-adjusted adults. How much harder, then, for the person with AIDS ("PWA") who's just a kid?
Children are not just small adults, and pediatric AIDS is not just AIDS Junior. From the way the virus behaves in the body, to treatment and prophylaxis, to issues of disclosure and discrimination, the HIV-positive child faces problems that parallel those facing adults, but which differ from them in important ways.
Born Positive
Almost all of today's HIV-positive children -- defined by the Centers for Disease Control as under the age of 13 -- contracted the virus from their infected mothers. Until a few years ago, the pregnant woman with HIV who chose to have her baby stood about a 25 percent chance of passing the virus on.
The news is much better today. With aggressive AZT treatment of the mother during pregnancy and of the infant for six weeks after birth, the transmission rate can be reduced to less than 10 percent. Early fears that the drug itself might cause birth defects have not materialized.
The importance of preventing transmission of the virus from mother to fetus cannot be overstated. PWAs today are looking forward to longer, healthier, more "normal" lives, and to many young women "normal" means having children.
While the news about reduced transmission rates is definitely good, Dr. Bill Borkowsky, Chief Investigator of AIDS Clinical Trials for Children at NYU/Bellevue Medical Center, warns that much research on AZT treatment during pregnancy remains to be done. He points out that six years ago, when this approach was first looked at, it was unusual for women to be receiving AZT, and their virus had not had the opportunity to build up a resistance to the drug. Since women are now routinely receiving the same aggressive treatment -- including AZT -- as men, and since AZT can build resistance within six to twelve months, it is increasingly likely that a woman who becomes pregnant may be infected with an AZT-resistant strain of the virus. At this point it is unclear just what effect AZT therapy during pregnancy will have on fetal transmission if the mother's virus is resistant.
In addition to looking at how many women may have AZT-resistant virus and the impact of AZT therapy on transmission of HIV to their children, researchers are looking at other possible interventions to prevent transmission without endangering the fetus. According to Dr. Borkowsky, the drug nevirapine (brand nameViramune), for example, may have a unique niche for pregnant women. The drug is extremely potent at inhibiting the virus, but builds up resistance very quickly. Current research is looking at the impact on transmission of administering a single dose of the drug to the woman while she is in labor and another to the baby two to three days after birth.
Finding Out
Many positive women learn their own HIV status only during pregnancy or after childbirth. Those who know they may be at risk often agree to be tested prenatally; others find out only after postnatal antibody testing of their children (mandatory in New York State).
Either way, these new mothers are faced with a period of uncertainty about their children's status. The newborn child of an HIV-positive mother carries its mother's antibodies, but not necessarily its mother's virus. (This is because the fetus receives its nutrients from its mother during pregnancy, but does not share its mother's blood. It is suspected that the majority of mother-child transmissions take place during birth, when the baby is more likely to be exposed to its mother's blood.) As soon as the baby is born, its mother's antibodies begin dying off. Unless the baby is manufacturing its own antibodies -- that is, unless the baby has the virus -- he or she will test negative for antibodies by about the age of 18 months.
The process of finding out can be brutal. Just ask Marlene Diaz, the mother of four-year-old Margaretha.
Marlene was tested at her own request when she was eight months pregnant. When she learned she was HIV-positive, she went through the same period of shock and fear as most newly diagnosed PWAs, but for her child as well as for herself
She knew that Margaretha would test antibody-positive. What she did not know was that she and Margaretha were part of a research project when, at two months of age, Margaretha was given a P24 antigen test. Marlene had received no counseling or explanation, and knew only that her and her baby's clinic visits were filled with lots of lab work, lots of drawing of blood. It was only when the P24 test came back positive that it was explained to her that, unlike an antibody test, this result showed Margaretha was truly HIV-positive, and would stay that way.
Marlene was devastated. Until then people had been telling her the chances were 70 percent in her favor, that Margaretha had 18 months to serorevert. "I was just not prepared. I knew my own status for, what, four months? I completely wigged out. I remember running from unit to unit on the first floor of St. Vincent's O'Toole Building, just like a chicken without a head, just grabbing any nurse, any provider, anybody with a white jacket on." Marlene is angry that she received no counseling, before or after, just the results about "the rest of your kid's life."
Treating Pediatric AIDS
It's not surprising that HIV works somewhat differently in infants and children, whose immune systems are immature, than it does in adults. The same T-cell or viral load count can mean vastly different things in adults and in infants and children.
Because the immune systems of children born with HIV has not fully developed, they may begin to show the symptoms of infection much more quickly than adults do. Unable to produce antibodies, they are particularly prone to repeated bouts of bacterial infections, especially ear and sinus infections, lung infections, and thrush.
A common problem, and one that can affect both a child's long-term health and other important aspects of his or her life, is "failure to thrive." Children with HIV often do not grow or gain weight normally. They may develop motor skills more slowly than others their age, and may learn to crawl, walk, and speak later than their HIV-negative playmates. In a child with a serious diarrhea or malabsorption problem, failure to thrive can be severe.
It can be difficult to know when and how to aggressively to treat HIV in children, especially the very young. For one thing, kids don't like getting stuck with needles or swallowing nasty-tasting medicines. For another, most medicines commonly used in HIV -- both those used to attack the virus and those used in treatment or prophylaxis of opportunistic infections -- were developed for adults. Only latterly, if at all, were they adapted for pediatric use.
There are currently only seven FDA-approved drugs for the treatment of HIV in children: the nucleoside reverse transcriptase inhibitors AZT, ddI, d4T, and 3TC; the non-nucleoside reverse transcriptase inhibitor Viramune (nevirapine), and the protease inhibitors Norvir (ritonavir) and Viracept (nelfinavir).
Except that the choice of drugs is more limited, the same issues confronting adults come into play with children, and they can be even more acute. Combination therapies involving protease inhibitors are particularly troublesome, even for many adults. Some drugs must be taken on a full stomach, while others require fasting before and/or after they are taken. Side effects can be unpleasant. Some drugs interact dangerously with others that may be being taken for HIV-related or non-HIV-related conditions. The regimen is very strict, with little leeway for when a dose is taken. The restrictions can be onerous even for adults, and for children they may prove impossible. And beginning a course of therapy that cannot be followed can lead to the development of drug-resistant virus, and further danger down the road.
Even the form of the medication can present problems. Margaretha Diaz is taking ddl, d4T, and Viracept. Viracept pills are huge, so Marlene tried the supposedly kid-friendly powder. But the dosage required was a massive 30 cc, and the powder can't be mixed with juice. Mixed with milk, it becomes very foamy and even a tiny bit coated Margaretha's tongue. It got so Marlene couldn't get near her daughter with anything in a syringe, and Margaretha was threatening to run away from home. Finally, Marlene got a pill cutter and began cutting the big Viracepts into quarters. She eased Margaretha onto taking them by having her practice with small capsules of children's antioxidants. These were dipped in butter to help them go down, and Margaretha was given rewards for taking her medicine.
Living With Pediatric AIDS
HIV or not, a child's life should be about more than survival. Kids need to play, they need to learn, and they need to be loved. In a family struggling with AIDS, these needs can be difficult to meet. The HIV-positive mother has her own health to worry about as well as that of her children, both positive and negative. Trying to care for her children, getting them to their doctors' appointments and to school and recreational activities, can take its toll on her own physical well-being. In some families, children may be being raised by elderly grandparents, or by other relatives who have taken in children after their mothers' death.
A major source of support for mothers and caregivers of HIV-positive children is networks -- formal and informal -- of others in the same circumstances. And it's more than support. These mothers are seeking ways to make their needs -- their demands -- known to those in power.
The Just Kids Foundation is an outgrowth of ACT-UP formed in 1990 and founded on the philosophy "that parents and caregivers of HIV-positive children are the experts and that they must be fully represented on all policy-making bodies." Founder Emily Gordon heads the all-volunteer organization, which operates a nationwide parents' hotline and a speakers' bureau, provides crisis intervention and recreational services, sponsors monthly meetings and educational forums for parents, publishes a quarterly newsletter, and makes referrals to a broad variety of services.
The organization has a list of 18 demands ranging from affordable health care, to services that enable families to stay together, to greater development of drug formulations for pediatric use. Gordon stresses the needs of the emerging population of HIV-positive adolescents -- children born with the virus, who weren't expected to live this long, and who are now entering their teenage years. Like others their age, they are rebelling and testing the limits of authority. Like others their age, they are discovering their own sexuality. Unlike others their age, they have HIV, and the consequences of teenage risk-taking can be even more serious than for their peers.
At Gay Men's Health Crisis, usually considered an adult HIV service organization, the Child Life Services program serves families in which either an adult or child, or both, is HIV-positive. According to Coordinator Marianne Hardart, Child Life offers a program of supportive services, recreational activities. and a nutrition program especially geared to families in which nutritional needs vary by age and by HIV status. GMHC's nutrition program is unique, says Hardart, in that it combines individual nutrition counseling that considers each family's and each family member's specific needs with skills-building cooking and shopping workshops and a food pantry through which families receive the nutritious foods they need.
Combining both the practical and the intangible is the Children's Hope Foundation ("CHF"). On the practical side is its Childcare Necessities Program, which distributes such childcare items as strollers, cribs, beds, and toys, and its Hospital Equipment Program, which distributes pediatric medical equipment to hospitals and clinics and occasionally to individual homes. CHF also distributes emergency funds to hospitals, clinics, and community-based organizations to meet the emergency needs of HIV-positive children, and it sponsors recreational events and parties for 3,300 children and family members each year.
On the intangible side are two unique programs sponsored by Children's Hope -- Pain Management for Children with HIV and AIDS, and the Disclosure Program. According to Liza Josephson, CHF's Executive Director, both were identified through the organization's ongoing survey process as unmet needs of parents and caregivers.
Many of the procedures that children with HIV must undergo are often painful, and more than a little frightening, especially given that children have very little say in how they are treated. Some busy healthcare professionals are unwilling to take extra time with their pediatric patients. To counter these problems, CHF researched and provides trainings for professionals and parents on pain-management techniques geared toward children and has distributed hundreds of "distraction tools" -- bubbles, pop-up books, cute Band-Aids -- and pain-management kits.
Among the thorniest problems facing parents and caregivers of HIV-positive children is the issue of disclosure. With adults, the issue revolves around whom you tell, what, and how much. In pediatric AIDS, it is compounded by having to decide what to tell the child about his or her own status and/or that of parents and siblings. The Children's Hope Foundation is working with the Incarnation Children's Center to aid parents and caregivers in finding age-appropriate ways to explain the medical and social issues involved and to deal with the emotional repercussions.
The other side of the disclosure issue, of course, is revealing the child's or parent's status to others in the family and the community. This becomes an especially serious issue as children enter school and parents must decide whether to inform a teacher or school nurse. Decisions are very individual and seem to depend a great deal on where the family lives. Some parents have found teachers, nurses, and school staff who are discreet and supportive. Others have faced continuing fear of the disease and discrimination against their children from those who should know better. According to professionals who work with parents, such as Emily Gordon of Just Kids and Marianne Hardart of Child Life Services at GMHC, disclosure decisions are as individual as the family. They stress that only the parent can decide how comfortable he or she is with telling someone at the school, and that once the child's HIV status is on paper and in a file cabinet, confidentiality cannot be guaranteed. (Editor's note: Body Positive's October issue featured an article on disclosure titled, "Should You Tell Your Children You Are HIV-Positive?" Contact Body Positive to receive a copy.)
Looking Ahead
The past decade has seen huge changes in the way we look at HIV and AIDS, in prevention strategies and medical treatments, and in the outlook for people with the virus. This is as true in the world of pediatric AIDS as it is among adult PWAs, and the changes that are already occurring show us where we are heading.
Research continues on ways to reduce further perinatal transmission of the virus. In addition, NYU/Bellevue's Dr. Borkowsky reports that studies are currently under way to determine whether early, vigorous treatment with antivirals can help change the course of the disease in children, perhaps eliminating infection or changing the balance of power in favor of the immune system. Other studies focus on whether various very potent drugs can help to restore seriously damaged immune systems in older children and to what extent positive results may be applicable to adults.
Finally, in part because fewer children are being born with the virus and in part because those who are born with the virus are living longer, the pediatric AIDS population is getting older. In fact, to a large extent it is moving out of the "pediatric" category altogether. Whether we are talking about research, prevention, treatment, or social services, it is clear that we must begin to address the specific needs of the growing number of adolescent and pre-adolescent PWAs.
Medication Regimen of Marlene and Margaretha
Like many other PWAs, Margaretha Diaz must conform her daily schedule to the demands of her medication regimen:
6:00 am: ddl on an empty stomach
7:00 am: breakfast
7:30 am: Viracept and d4T
Midday: lunch
2:30 pm: Viracept
4:00 pm: snack
6:00 pm: ddl on an empty stomach
7:00 pm: dinner
9:30 pm: Viracept
The rigid schedule would be pretty daunting for anyone. And Margaretha is only four years old.
Her mother Marlene confesses that it is sometimes hard to keep to the schedule, to get Margaretha up in the morning in time to get food in her stomach so she can take her first dose of Viracept and the d4T, to keep her up late enough for her last dose at night.
Marlene isn't with her daughter for her 2:30 dose of Viracept, but Margaretha's the only kid in pre-kindergarten at the McBurney Y who has her own beeper. When it sounds, she knows to get her bottled water and the Viracept (cut into small pieces; see article). Her teacher, who knows Margaretha's HIV status, supervises her while she takes her medication.
When Margaretha was born, Marlene had just learned her own status and did not yet know her way around the maze of treatments and services, rules and regulations, that come with having a positive child. But when, at eight months of age, Margaretha went from being a plump and healthy baby to one who suffered from severe diarrhea, malabsorption, and wasting, Marlene got educated fast. She talked to everyone she could find, took advantage of every opportunity. "I had so many good people that did favors for me and my daughter that I'm still very grateful for," she says. "What's different in the HIV community than in others is that there's this little underground network. If you ran out of meds, for example, and needed them -- nobody's going to admit that we squirrel away drugs, but you could get them."
Today Marlene is a leader in that community. She is a trustee of Just Kids, Co-Chair of the Board of Directors of the HIV Law Project, and a much sought-after speaker on women's and children's HIV issues. She has received awards from PRIDE (Puerto Rican Initiative to Develop Empowerment) and GMHC's Lesbian AIDS Project. Most recently she received the Katarina Haslip Award from the HIV Law Project and is being recognized by the U.S. Department of Health and Human Services (HHS) for her advocacy work.
In large part because of Marlene's advocacy work, Margaretha knows more about her own status than many HIV-positive children her age. She knows she and her mother take pills because there is something in their blood that can make them sick, and she knows the terms "HIV" and "AIDS" because of hearing Marlene talking on the phone.
Margaretha is a bright little girl, who was cheerful and well-behaved even after a hospital delay of three hours before she could receive her monthly round of IVIG (intravenous immunoglobulin, a common prophylactic in pediatric AIDS). She begins kindergarten next year, and she and Marlene will face a new set of challenges. For example, there is no rest period in kindergarten as there is in her pre-kindergarten class at the Y.
Marlene, who plans to disclose Margaretha's status to her teacher, is looking for a small magnet school for her daughter and has applied for a scholarship. Since Margaretha, like many HIV-positive children, is small for her age, Marlene is hoping to find a "bridge" school in which more than one grade is combined in a single classroom and where Margaretha won't always be the smallest kid in class. Mostly though, she is looking for somewhere progressive, a place that offers what every parent wants -- a good education, a safe learning environment, and a place where her daughter can shine.
Back to the February 1998 Issue of Body Positive Magazine.