The XVII International AIDS Conference (AIDS 2008) is as much about the myriad of events, protests and meetings that occur outside of the conference center as it is about the conference itself. These are excerpts from a speech given by UNAIDS Executive Director Peter Piot at a pre-conference event called "The Invisible Men: Gay Men and Other MSM [Men Who Have Sex With Men] in the Global HIV/AIDS Epidemic." The meeting was sponsored by the Global Forum on MSM & HIV.
It's good to be back, and good to see that the forum that was launched in Toronto two years ago is alive and expanding. I'm really proud that we are among your partners, as my name tag says.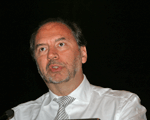 UNAIDS Executive Director Peter Piot
The last two years have seen a mix of real progress and also of some major drawbacks and regression in our struggle. Progress, surely, in terms of access to treatment in many countries, and also in terms of reaching out to populations of MSM, or gay populations, as our UNAIDS report showed. Although the report gives an overoptimistic view of what is actually happening on the ground. Because when we say that there is now about 50 percent of coverage with prevention services and activities for MSM, that's based on the information that comes from the countries that report. One can only speculate about the countries that did not report; I should say here that it's often high-income countries that did not report.
It shows, also, that we do know what works -- north, south, east and west -- despite whatever people may tell you. Latin America, including Mexico, already demonstrated to us in the '80s what works. In many countries, there have been many really successful programs with MSM. So we should make sure that we don't forget that, as we so often do in AIDS, and that we don't try to reinvent the wheel where the wheel is already rolling, and has been for quite a while.
That said, the epidemic never ceases to surprise us. What we are seeing today in Asia -- in about every single major city that we have looked at in China, Malaysia, Indonesia, Thailand and Vietnam -- are epidemics of HIV among MSM that remind me of what we saw in North America, Western Europe and Australia in the '80s. Just look at the figures and how fast HIV is rising in those populations; it's exactly the same. But the responses have not yet been adapted to that whatsoever, though they will have to be adapted in order to address the particular context.
We've also shown in UNAIDS studies that here in Latin America -- with a few exceptions like Peru and to a certain extent Mexico and Brazil -- funding for programs for MSM is disproportionately low. There's a terrible underfunding of programs for MSM, and yet this is the population where the epidemic is in most countries.
There's something that, as a straight man, I really have a hard time understanding, and that is this obsessive homophobia that I find, and which tells me that there's something going on in the heads of people that must mean that they are having a major problem with their own sexuality. [Applause.] There may be other explanations, but this is my opinion, and I have been everywhere in the world and have meet people like that, including in the UN system. But it is totally absurd, and it's also cruel. I think that the title of this meeting is only too apt. I'm really more and more convinced that homophobia is one of the top five obstacles to really stopping this epidemic. That's where I think we need to probably have a more scientific, businesslike approach to how we tackle this. There are some really fantastic programs, and here, I would really like to pay tribute to Jorge Saavedra and the Mexican government for supporting him with its anti-homophobia campaign, and the whole of the activist groups. But there are not too many countries where this is happening, and yet there are so many places where these programs are needed.
In a growing number of countries, we may be reaching a tipping point where working with MSM becomes really possible, and where we can see results. That didn't happen by coincidence. It's proof that some of our joint advocacy and insistence are bearing fruit. I feel strongly that our accountability in UNAIDS is not only to governments or our Program Coordination Board, but to the people. The charter of the UN says, "We the people," and so there is that kind of accountability, also. But it's much harder to translate into government structures, that's for sure.
We are also now seeing initiatives like the one I would really like to pay tribute to, and that's the amfAR (American Foundation for AIDS Research) initiative. [Applause.] I am eternally grateful to amfAR, because in 1985, I think it was, I got a grant to study something completely different while in Zaire, and that was trying to demonstrate that there is transmission from men to women, and women to men. amfAR is now pioneering this supporting community action on MSM, and against homophobia. We have been working very closely with amfAR, particularly in Asia.
Also, there are governments who care about these things. The governments of the Netherlands, Sweden and Norway do have specific funding. This is something that we should recognize, and we should probably try to establish some serious partnerships to think through what exactly can be done.
This new context holds huge opportunities, but there are also challenges. I know that you've been discussing this here at the meeting. Let me give you a few points. But before going into the AIDS-specific ones, let me say that, in terms of my own views, in addition to the AIDS-specific agenda, there is also the issue of gay rights. And I have been involved in that from way before UNAIDS even existed, and before there was an AIDS epidemic. We will get nowhere with our AIDS activities if the gay rights agenda is not progressing. We cannot isolate that. This connection between the AIDS response and the movement for gay rights is really essential. AIDS is a problem in many countries, because we are nowhere on this issue of gay rights. But, as has been so often the case, AIDS is now creating a small opening in this wall of homophobia and of legal obstacles to expressing one's sexuality.
So, I'd like to make a few points, and then I'll stop. The first challenge that I see -- besides the connection with the broader agenda of gay rights -- is to respond to the diverse MSM communities and identities. Knowing your epidemic also means knowing your community, and all the nuances that exist in every society, and across societies.
Secondly is that we have an obligation, collectively, where we can, to support the emerging gay groups, activities, etc. Where we see them emerging, we need to make sure that they are not silenced or shut down. That for me seems to be a real priority also in the UN system.
Thirdly, in places where we're still in the dark ages, we need to really develop some strategies in which we are careful to not only provide support, but also to not put our colleagues at risk by doing what seems to be the obvious. I'm thinking particularly of the whole of Africa, with the exception of South Africa, where we have a wonderful constitution, but implementation is still an issue. The Middle East is another area. We saw again in Uganda during the 2008 Implementers' Meeting, and again last week, how we need to make sure that we are also linking with a major human rights agenda when it comes to dealing with AIDS.
Last year, in November, I was in Managua, at CONCASIDA [for more information, read this UNAIDS article on CONCASIDA], and there were many sessions on MSM issues in the region, but also, several ones on horrible violence, which is kind of structurally tolerated.
[After the conclusion of his speech, Dr. Peter Piot then took questions from the audience. Here are his responses to several of those questions.]
On the first question, it was actually, I think, a British Medical Journal article you refer to, by Roger England. He represents a certain way of thinking that harks back to classic 20th century public health officials. We're in the 21st century, just to remind people. England's view is that there's too much money going to AIDS. That money is taking away from other health programs. That if you work on AIDS, you undermine health systems. And all you've got to do is to strengthen health systems, and then we would all be much better and everything would be solved.
You find this attitude also in the United Kingdom, and the Department for National Development. There's a strong group in the World Bank also saying things like that, and in the WHO [World Health Organization], also. It's really a school of thought. This is, to say the least, not evidence based. The contrary is true. In countries that have been suffering from inadequate investments in health systems and health services, it is actually AIDS action that has demonstrated that there is a problem. And the only action that has been taken to do something, has been through AIDS work. There is good evidence for that now. I'll come back to this in my speech during the opening ceremony of AIDS 2008; Margaret Chan will address this topic as well.
The second issue is the people who say, "Oh, AIDS is like any other health problem. We don't need something special." Well then, show me any other disease that prevents you from going to New York for a day if you're not American. [Applause.] Legally, that will soon be over in America, but there are still many other countries where that is the case -- where you are deported from the country when you are revealed to be HIV positive. There is a brochure that will be in the conference pack [that conference delegates receive], together with the International AIDS Society and the Global Fund release, about that, and information about the countries, also.
How can we operate through health services that are very often homophobic, per se, when there is a need to treat not only AIDS, but also gay health? I don't see it. How would we have harm reduction programs for injection drug users? I can go on and on. In countries that don't have a national health system or universal coverage, if we were to put so-called "mainstream AIDS" in there, I know what will happen with antiretroviral therapy. It will just disappear. So I think it's just a non-issue, as we saw in the recent article by Laurie Garrett in the International Herald Tribune, which basically said that we should not treat people, just let them die. Garrett doesn't say that, but that's what the implication is. These people have not understood that we feel strongly that there is a right to life, and there is a right to health. We have harm reduction. They are for demand reduction. It's demand reduction, and then controlling that demand, but who is then going to decide who the happy few are who will have access?
Now, about the gay health agenda, I fully agree with you. Where is this addressed in the system? Nowhere, as far as I know. That's a good point. I think that it really should be dealt with by the WHO. It's something I will discuss with the Director-General of the WHO, Margaret Chan, who really is very open to all these issues, and who will spend several days with us here. But I think it would be good if you would also contact our colleagues in the WHO, because there are people who are definitely open to this. Where it would be a problem is if this has to go through the government structures; if that is the case, then forget it. So it will have to have another technical input.
On the question of: How do we, as a UN system, address this link with rights? I would like to add the question, also, from our friend from Cameroon: What concrete steps are we taking? On the one hand, there are attempts in the Human Rights Council -- often led by Brazil -- to put the rights of sexual minorities on the agenda. These attempts have always failed. It doesn't even get put on the agenda for a vote. In the 2001 UN General Assembly Special Session on HIV/AIDS, there were 45 heads of state, so that was quite a gathering, and a really historic one when it comes to the history of AIDS response. The first thing that happened was the vote in the General Assembly on whether the International Gay and Lesbian Human Rights Commission could participate as an observer in a roundtable. So, pretty marginal as a want. We won the vote by one vote. One. If that vote were being held today, I think we would lose it because, as somebody said, there has also been some regression.
This transcript has been edited for clarity.