Grassrooters Get Results!
Judith Dillard and Lee Mentley Are Lobbying for Your Lives
Today, Judith Dillard is a treatment advocate for Women Alive, but at an earlier time, she was homeless and fighting to survive.
While Dillard is leading a more stable life today, she hasn't completely buried the past. Drawing from her experiences, she lobbies elected officials on HIV/AIDS issues, most recently as a participant in the California AIDS Lobby Day and AIDSWatch in Washington, DC.
According to Dillard, speaking out is especially important for women.
"Unless women in Los Angeles County stand up for themselves and speak out about our quality of life and our standards of care, and get involved in the decision-making processes, then we are always going to be left out," Dillard said.
"We need to become one in this epidemic," she continued. "I feel we are letting the politicians divide us up into white gay men, African Americans, and on and on. I think we should all come together as one voice because we are all fighting the same fight: the epidemic itself. We are fighting for our rights as people living with this disease.
"We need to stand up and be counted as one voice. If we do that, it would be a powerful voice. We can advocate for the right purposes."
Lobby We Must
AIDS Lobby Day, held in April, gave Judith Dillard and many other concerned people from all over California the opportunity to help educate their elected representatives about HIV/AIDS issues. Participants shared personal experiences to convey the need for appropriate funding for HIV/AIDS programs, access to quality healthcare and treatment for all people living with HIV/AIDS, and rational legislation and public policies that promote the health, welfare and civil rights of all people affected by HIV/AIDS.
"We can always get someone from the CDC (Centers for Disease Control and Prevention) to show charts to elected officials," said Rick Louis, AIDS Project Los Angeles' grassroots coordinator. "But individuals who live with HIV or who come from communities that have been heavily impacted by the epidemic are another kind of expert that can give elected officials a great insight as to why specific issues are important."
AIDS Lobby Day is the annual statewide HIV/AIDS lobbying and education event, sponsored by the California HIV Advocacy Coalition (CHAC). It allows California residents who are concerned about HIV/AIDS issues to meet with their State Senators, State Assembly members and their staffs, in order to show support for specific bills in the Legislature which could benefit people living with HIV/AIDS or help prevent new infections, as well as budget items which fund important programs and services.
This year, Lobby Day focused on maintaining sufficient funding for the AIDS Drug Assistance Program, as well as testing and prevention programs, and basic needs such as housing and employment.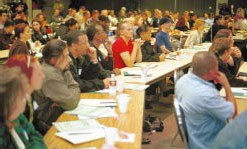 Activate! U., an annual political organizing workshop in Los Angeles, draws scores of individuals each year. Shown above are participants in this year's session. (Photo: Paul Antico)
Priorty Setting
Dillard particularly wants more money focused in the area of HIV prevention, housing and substance abuse. At first, she said, she was intimidated about speaking out about her life's experiences.
"If it takes me getting up there and saying I did survival sex when I was homeless even when I knew I was HIV positive; I would have sex for money without a condom, because all I was thinking about was surviving," she said. "If it takes all of my life experiences to get them to open their eyes to see that they need to put money out specifically to certain areas I will do that. Maybe my life wasn't in vain even though I did all of these things maybe it was for a purpose. This is the purpose, to show people that specific things have to happen, and other things can't keep happening if we are going to prevent the spread of this disease.
"There are still women out who are doing the same thing I was doing. We need to reach those women. That's my priority."
Person-to-Person Education
Lee Mentley, who lives in East Los Angeles, has also played an active part in the California HIV Advocacy Coalition. He participated in AIDS Lobby Day as well, and he too is interested in promoting prevention.
"I want to see an awareness that HIV/AIDS doesn't just affect people in West Hollywood. We've got to take the energy that we've taken to educate the gay community and it has to go out and educate the minority communities, because this is where the new demographics are," said Mentley.
"Person by person, it is so important that people are educated and the best way to educate them is to tell them personal stories," said Mentley. "We are going to talk to senators and legislators about specific legislations as laid out in our priorities that we get from California HIV Advocacy Coalition.
"But it's also important for them to hear stories and to know that people in their communities are impacted by HIV and AIDS, and what they can do to make things better."
For more information about how you can become involved in CHAC's and APLA's lobbying and advocacy efforts, call Rick Louis at (213) 201-1378.