Going Global
Thanks to One Enterprising Activist, C2EA's Message of Hope Makes Its Way to South Africa
Most South African AIDS activists remember 2006's XVI International AIDS Conference for one reason: the lemons and garlic that were prominently displayed at South Africa's exhibition booth. The global outrage over these "natural" treatments sidelined health minister Manto Tshabalala-Msimang and convinced president Thabo Mbeki to hand AIDS policy-making to those who don't share his denialist views, lest he embarass himself further.
But Yvette Raphael remembers the conference for a different reason: She passed a booth for the Campaign to End AIDS (C2EA), and was drawn to the heart in the group's logo. An HIV/AIDS coordinator who trains public sector employees about the disease, Raphael grabbed a handful of information, and read about C2EA when she returned to her home in Johannesburg. C2EA's grassroots message aligned with her own convictions. "C2EA carries a message of hope that eliminating AIDS is something that can be done now. In South Africa, the press makes it seem that it will take generations before that can happen," she said.
Raphael downloaded the C2EA logo from its website, plastered it on T-shirts, and on World AIDS Day she and her friends were decked out in C2EA gear. Along with the voluntary testing, counseling and AIDS assistance program offered by SASSETA, the organization that funds Raphael's outreach, she read a speech explaining the C2EA principles on how to reduce infections. She was greeted with rousing applause. "I told everyone, 'We need hope and there is an end. We just need to work within these principles,'" she said.
Although C2EA's strategy is to establish a strong presence in all U.S. states and territories before going global, "we're now international whether we like it or not," said Larry Bryant, C2EA national field organizer. "It's amazing what Yvette and other activists have done in Africa, without the resources we have here."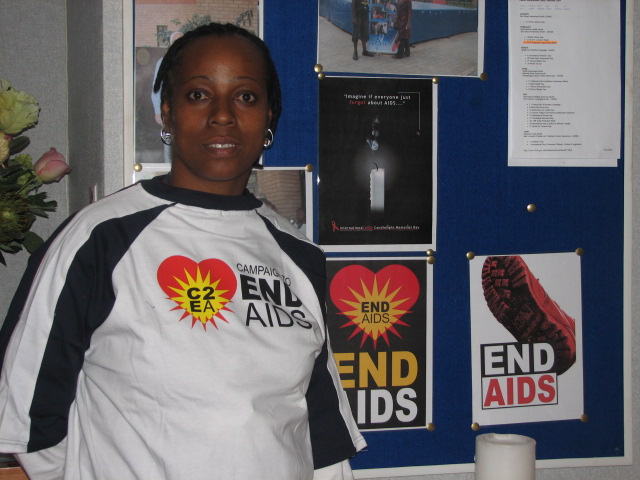 Raphael promoting C2EA on World AIDS Day
After the World AIDS Day event, Raphael e-mailed Bryant, who is providing her with advice on pursuing her activism. With Raphael's help, Bryant would like to expand C2EA's reach in South Africa where there are longstanding political disagreements between AIDS groups. "We'd love to use C2EA as a political venue to resolve our differences," Raphael said.
In 2005 5.5 million people were estimated to be living with HIV/AIDS in South Africa, more than 10 percent of the population. As in the U.S., women are disproportionately affected, accounting for approximately 55 percent of all new infections. Despite the country's various education campaigns, Raphael said many of the people she speaks with don't know how HIV is transmitted and think they are safe from the virus. "People think they are immune from getting HIV because they are married or because they are Black or White," she said.
Raphael has experienced the horror of burying relatives who have died of AIDS and doesn't want future generations to experience that pain. "I'd like my children and children's children not to see everyone living with AIDS," she said. "I want to live in an HIV free society."